Some links on this page are monetized by affiliate programs - see disclosure for details.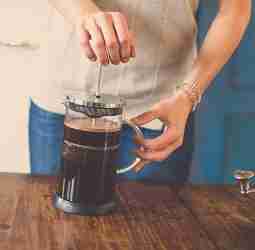 If you're a coffee drinker, you know just how important it is to make sure the coffee is brewed perfectly. Whether you're getting a burst of energy before work, drinking it with your after-dinner dessert, or just relaxing on a cool morning on your patio with a steaming hot cup of joe, it's always important that your coffee have just the right flavor – not too weak, not too strong.
While automatic brewers are very convenient, you might not get the right taste you're shooting for, especially when using an exotic blend. If your automatic brewer just isn't doing the job, consider purchasing a French press.
See The Top 10 Best French Presses of 2017
What is a French Press?
A French press is a device that is used to manually make coffee. This is a great way to get the freshest taste and the boldest flavor, whether just for yourself or for a crowd. With a French press, you simply add your ground coffee, followed by water that is the proper temperature. After allowing the water and grounds to sit for a few minutes, you use the plunger and lid of the press to slowly plunge the grounds to the bottom of the press.
Once this is done, most of the grounds will be trapped in the filter screen and the coffee is ready to serve. It will need to be served in cups immediately, as it will continue to brew if left in the press carafe. This is an easy way to brew coffee using just water and coffee grounds, so it's great for using just about anywhere where you don't have access to an automatic brewer or you just want a delicious cup of coffee.
What are the different types?
Before you purchase a French press, make sure you know what types to look for. There are advantages and disadvantages to each type, so understanding each type and what makes it different from the rest will help you make the most informed decision.
Glass models – These are the most common, and they produce excellent results. The glass is able to withstand the high temperatures required for the brewing process, and some are even double walled to keep it at just the right temperature until it's ready to serve. The main issues with these are that they can break if dropped and they are more expensive than other types.
Shatterproof plastic – You don't have to worry about these breaking if dropped on accident. However, you may find that they do not retain heat as well as glass.
Ceramic models – These come in a variety of different colors and shapes, and they are slightly more durable than glass, but they can still break if dropped. One of the drawbacks of this type is that you cannot see the coffee brewing, which many people enjoying watching.
Stainless steel – These are very modern and stylish. However, like ceramic, you cannot watch the process, and if the coffee is kept in the container for too long, it will become bitter.
French press travel mug – These are perfect for coffee breaks on the go. This allows you to brew your coffee and drink it all from the same container. The disadvantage is that it only makes one serving at a time.
What are the Advantages of Owning a French Press?
One advantage of owning a French press is that it's a very unique way to get the perfect cup of coffee without having to replace messy filters or having access to an automatic brewer. The process is fun to watch, and it's quite easy once you get the hang of it. These coffee makers are also very affordable, and the cost of ownership is actually less than other types of brewers, since you do not have to buy disposable filter, pods, or cups.
Which Products are Contenders for the Best French Press?
RITUAL French Press Coffee Press – If you're new to this type of brewing and want an easy-to-use system that doesn't cost a fortune, this model is the perfect choice. Even though it's inexpensive, don't mistake it for cheap. It has lots of features found on more expensive brewers, including thick, durable glass that is very heat-resistant and it even comes backed with a lifetime warranty.
KONA French Press Coffee, Espresso, and Tea Maker – This attractive press has everything you want in a quality product, from an innovative design, an easy to use plunger, and a comfortable handle. You can easily brew one full liter of delicious coffee in just minutes using this press. It is easy to clean when you're finished using it, and it's not just for regular coffee either – it's also great for espresso and hot tea.
SterlingPro Double Wall Stainless Steel French Coffee Press – The modern mirrored finish of this stainless steel press really makes it stand out from the rest. It is ideal for your home, office, or even to be given as a gift. It has a stainless, rust-resistant design inside and out, double walls to keep your hot beverage at the optimum temperature, and a unique double screen design that eliminates grounds in your coffee.
Considerations for Choosing the Right French Press
Whether you're replacing an old press or you want to give it a shot for the first time, you want to make sure you buy the best product at a price that's right for you. Before you make that purchase, evaluate each of the following four points in all models that are on your wish list.
Price
Price is always a big consideration in any purchase that you make, so first, you want to set yourself a budget. Instead of solely looking at price, though, make sure you consider all other features before making your final decision. A very cheap unit, for example, may break very easily, leading to costly replacements that can cost you more money than simply investing in a quality press the first time.
Warranty
You want to make sure your press works from the minute you take it out of the packaging throughout multiple uses. Make sure that the press you purchase comes backed with a warranty that protects you from defects in the glass carafe, issues with the lid or plunger, or other features that, if defective, will make your press unusable.
Material
Glass, stainless steel, plastic, and ceramic are just a few of the materials you have to choose from. Glass is the most common material, but you may want to consider the advantages of the other types, such as the shatterproof design of plastic or the modern appeal of stainless steel.
Brewing size
If you want to enjoy multiple cups of coffee or you're enjoying a hot cup with a friend or two, you want to make sure your press can make enough coffee the first time, so you can all sit down, chat, and enjoy your delicious, freshly brewed coffee.
Price
RITUAL Coffee Press
This press is available at an unbelievably low cost, making it one of the least expensive coffee brewers out there.
KONA Coffee, Espresso, and Tea Maker
This press retails for about average when compared to similar products.
SterlingPro Coffee Press
This is a high-end press, boasting the highest price tag of the group.
Warranty
RITUAL Coffee Press
You receive a lifetime guarantee on this press, so you know you're buying a quality product.
KONA Coffee, Espresso, and Tea Maker
This press comes backed with a 1-year warranty.
SterlingPro Coffee Press
This press comes backed with a lifetime warranty, so you can feel confident in your purchase.
Material
RITUAL Coffee Press
This press is primarily made with glass, so it provides quality results and looks great while doing it.
KONA Coffee, Espresso, and Tea Maker
This press is made from a combination of thick glass and metal.
SterlingPro Coffee Press
The Kona press has a stainless steel interior and exterior, with a unique mirrored finish on the outside that really stands out.
Brewing size
RITUAL Coffee Press
You can make a full 36 ounces of coffee every time you use this press, so it's plenty for yourself and to share.
KONA Coffee, Espresso, and Tea Maker
This brews 34 ounces at one time.
SterlingPro Coffee Press
You can enjoy 34 ounces of coffee with each press in this model.
Conclusion: Our French Press Reviews Are In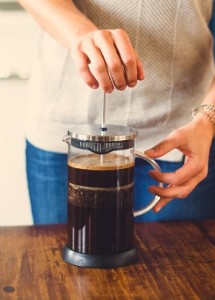 Forget about those expensive automatic brewers that just make a weak cup of coffee and try out this affordable press. Not only will you save money, but you'll also get plenty of flavor that's truly unmatched by other types of brewers. This traditional glass press not only looks great, but it allows you to watch the brewing process as well.
The precision filter removes extra grounds from your coffee, and the carafe and plunger/lid are easy to clean. It comes backed with a lifetime guarantee to ensure total satisfaction, and you just can't beat the price.
Pros:
It is affordable. Comes with a lifetime guarantee. It has a solid construction. It is very durable and stable. Easy to use. It works very well to produce great tasting coffee.
Cons:
While the all-glass construction looks great, it may be more prone to chips, cracks, and breaking over time.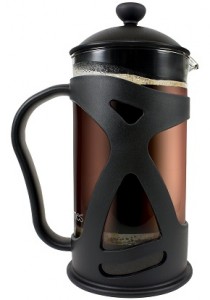 Go beyond just coffee with this press, which also lets you make your own espresso and hot teas with ease. This mid-priced press boasts a solid, well-crafted design that can withstand the hottest temperatures needed for coffee and tea. The protective outer shell not only adds an extra touch of style, but it also adds protection to the glass carafe.
The lid is BPA-free, and the overall design is very easy to use, even for beginners. It is dishwasher safe, so it's very easy to clean. It is ideal for home use, bringing in to the office, or even taking with you while you travel. The handle is comfortable to use, and the press is not only easy, but the attached screen also eliminates grounds in your drink.
Pros:
It is easy to use. It looks great. Very durable. It does a better job at removing grounds than less expensive presses. It works for coffee, tea, or espresso. The parts are dishwasher-safe. The stainless steel filter keeps your coffee tasting pure and delicious.
Cons:
It is not insulated, so the coffee or tea may get cooler quicker than with other presses. The warranty is not as good as other products. The screen feels a bit flimsy.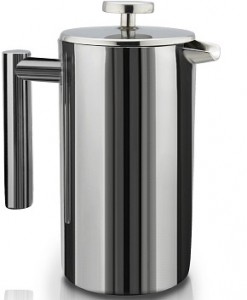 Whether you want a high-quality press for your own use or you're looking for a wedding, birthday, or Christmas gift for the coffee lover in your life, you can't go wrong by purchasing this great press. The mirrored finish is very modern and stylish, and the stainless steel interior and exterior keeps your coffee hot and is resistant to rust, so you can use it for years to come.
This is the only press that uses double screens to eliminate grounds in your coffee, ensuring the perfect cup each and every time. You can brew up to 34 ounces at one time quickly, quietly, and at just the right strength, all without the hassle and expense of an automatic brewer.
The double walled system keeps your coffee well-insulated throughout the brewing process, and with stainless steel, you don't have to worry about chips, cracks, and glass breaking if you accidentally drop it. It is easy to care for and maintain, and it's backed with a lifetime warranty.
Pros:
It is easy to use. It is very high-quality. The double wall stainless steel design provides you with plenty of insulation for coffee at just the right temperature. The double screens eliminate loose grounds in your cup. Mirrored finish looks great in your home or office.
Cons:
It is expensive. The stainless steel may dent if not cared for properly.
The Bottom Line
If you haven't tried the best French press, you may be missing out on some of the best coffee you've ever tasted. Using just grounds, hot water, and your press, you can have the perfect cup of coffee in just minutes. If you've decided to try pressing your coffee, the SterlingPro Coffee Press is a product you can count on for years to come. The combination of quality materials, a beautiful yet durable design, and the consistently good results make this brewer stand out above other presses and automatic machines.