Some links on this page are monetized by affiliate programs - see disclosure for details.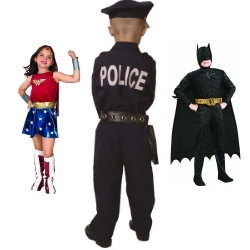 As we inch our way toward fall, we get ourselves prepared for sweaters, bonfires, and football, to name just a few things. But, perhaps the most important and exciting part of fall is Halloween. People of all ages celebrate this day by dressing up in costumes, eating candy, and watching scary movies. It's fun for everyone. But the people who have the most fun on Halloween are kids.
For kids, Halloween is an opportunity to dress up as characters that they're interested in, and go trick-or-treating with their friends. It's a day of excitement, joy, and innocence where the ultimate reward is candy. But what if your child can't come up with a costume for Halloween? This guide has the answers.
These are the Top 10 Best Halloween Costumes for Kids
10. Deluxe Muscle Chest Superman Kids Costume by Rubie's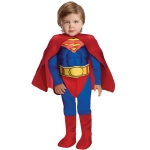 As far as Halloween costumes go, there are some costumes that will never grow old. One of these costumes is the Superman costume. From comic books to the big screen, Superman has been an American icon for over ¾ of a century. Regardless of the decade, everyone from kids to adults have remained enamored with the flying, muscle-chested super hero. That's why we suggest this Deluxe Muscle Chest Superman Kids Costume.
Machine-washable and made of 100% polyester, this costume comes with a pronounced muscle chest and is appropriate for kids from the ages of 2 to around 9. A one-piece costume with a cape attached, this Superman regalia will make your child look exactly like the timeless comic book hero.
9. Cowboy Role Play Set by Melissa & Doug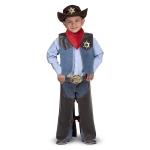 Another popular tradition in the United States is the tradition of cowboys roaming the new west in the late 19th and early 20th centuries. As time has passed, it seems as though the cowboy tradition should have lost some of its appeal, but to this day, it's a popular character among people of all ages. For that reason, we suggest this Cowboy Role Play Set by Melissa & Doug.
Complete with a hat, chaps, a vest, a red bandanna, and a removable badge, this costume has everything you need to make your child look like a real-life cowboy. Machine-washable and made with high-quality construction, it is reasonably priced and easy to take care of.
8. Super DC Heroes Wonder Woman Child's Costume by Rubie's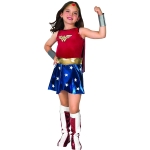 As Superman's female counterpart, of sorts, Wonder Woman has had a huge impact on American popular culture. From the time of her creation to this day, she has been looked up to and admired by little girls everywhere. If your daughter is a fan of the iconic super hero, she might be interested in wearing this Super DC Heroes Wonder Woman Child's Costume.
Included in the costume are two arm bands, a headband, a skirt, two boots, and a spandex top. Made of polyester, it is machine-washable, and will serve in making your child look exactly like the iconic Wonder Woman.
7. DC Superhero Girls Deluxe Harley Quinn Costume by Rubie's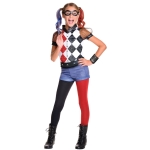 With the success of this year's Suicide Squad movie has come the increased popularity of DC Comics character Harley Quinn. The comic book character will undoubtedly be a popular costume choice this year among many young girls. That's why we suggest you buy your daughter this DC Superhero Girls Deluxe Harley Quinn Costume by Rubie's.
The costume includes everything your daughter needs to look identical to the infamous Harley Quinn. Made of 100% polyester and available in a number of different sizes, it fits children of all ages.
6. California Costumes Toys Little Mermaid Costume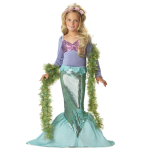 Driven, in large part, by the success of the Disney cartoon movie, The Little Mermaid, the mythological mermaid has become a very popular character in American pop culture. For many little girls, it remains an intriguing and enamoring image and ideal. For this reason, we suggest this Little Mermaid Costume by California Costumes Toys.
Included with the costume are a one-piece sequin dress as well as a headband containing foam sea shells. With sizes to accommodate children of all ages and sizes, this costume will turn your daughter into the mermaid she has always dreamt of being, if only for a day.
5. Deluxe Police Dress Up Costume Set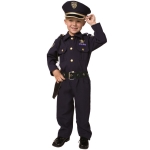 This world is filled with everyday heroes. From the firefighters that put out fires and saves lives, to the police officers that patrol the streets and keep citizens safe. Naturally, kids look up to these heroes. This is why we suggest this Deluxe Police Dress Up Costume Set by Dress Up America.
Available in a number of different sizes, this costume is appropriate for kids of all ages. Included in this set is a shirt, pants, hat, gun holster, belt, and whistle, giving your son or daughter everything he or she needs to look exactly like the heroes he or she looks up to.
4. Batman Dark Knight Rises Child's Deluxe Muscle Chest Batman Costume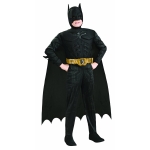 Another classic character in the annals of American pop culture is Batman. From the comic books of the early 20th century to the big screen movies of today, Batman has lost none of his appeal. That's why we suggest this Batman Dark Knight Rises Costume by Rubie's.
Made of 100% polyester, this costume comes with a muscle chest suit, a cape, a belt, and a black mask/headpiece. Available in tons of different sizes, you are sure to find one that fits your child perfectly.
3. Fairytale Witch Costume by Disguise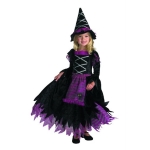 One of the classic Halloween costumes is that of the witch. The witch stands next to the vampire, and the zombie as eternal symbols of the late-October holiday. For this reason, we suggest this Fairytale Witch Costume by Disguise.
Complete with a full skirt and hat, this costume is made of 100% polyester and is hand-washable. Available in a number of different sizes, it fits just about any child you can find, and serves to make your daughter the perfect little witch for Halloween.
2. Inflatable Pumpkin Costume by Rubie's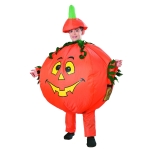 Another classic symbol in the long history of Halloween is, of course, the pumpkin. They're carved, they're put on doorsteps, and, in some cases, they're worn as costumes. For younger children, a pumpkin costume might be a great idea for trick-or-treating.
This Inflatable Pumpkin Costume by Rubie's comes with a headpiece, a jumpsuit, and a battery-operated fan for keeping the jumpsuit expanded. Designed for children of ages 6 to 10, it will make your child look exactly like a human-size jackolantern.
1. Rubie's Talking Plush Dinosaur Child Costume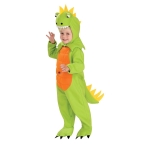 The dinosaur is one of the world's most intriguing creatures, still studied and examined millions of years after its existence. If you have a small child, he or she might be interested in dressing as a dinosaur for Halloween. That's why we suggest this Talking Plush Dinosaur Child Costume by Rubie's.
Made of 100% polyester, this costume includes a jumpsuit with tail, shoe covers, a headpiece, and a sound chip for making artificial noises. Designed for children up to 43 inches tall, this costume will make your son or daughter look just like the prehistoric beast he or she admires.
What Makes a Great Halloween Costume for Kids?
For most kids, Halloween certainly isn't the first time that they've dressed up as someone or something else. However, it is one of the few times where they are recognized for their costumes. Because of this, kids take their Halloween costumes very seriously. A sub-par costume can result in a sub-par trick-or-treating experience. This is why it's important to find your child the best Halloween costume possible.
There are several things to consider when looking for a costume for your child. If you consider these things, you are sure to find your child a costume that makes his or her Halloween experience a fantastic one.
Consider Your Child's Personal Interests
It's obvious that your child is going to want to dress up as something that he or she enjoys. To maximize his or her holiday experience, it's important to tie his or her personal interests and hobbies into the costume. In order to choose the correct costume for your child, you must take these interests into consideration.
Is your kid a fan of a specific television show or movie? Perhaps you could find a costume of your child's favorite character in this movie or television show. Superhero movies are huge right now, and have been for a while now. Maybe your child would like to dress up as Batman, or Harley Quinn, or Superman?
Work within your budget
You want your child to have a fun and fulfilling Halloween experience, but you don't want to break the bank while doing so. While there are some undoubtedly expensive and highly-detailed costumes on the market, there are also a bevy of wonderful costumes at reasonable prices.
It's absolutely necessary that you don't overspend on a costume that your son or daughter will only wear one time. Halloween is just one of many lucrative holidays for kids. Make sure to save some money for Christmas, Easter, and birthdays.
Don't Forget About the Classics
While current television and movie character costumes are certainly going to be in style, you shouldn't overlook the tried-and-true classics. These are the costumes that were popular 50 years ago, that are popular today, and that will be popular 50 years on.
From pumpkins, to vampires, to witches, to mummies, and more, classic costumes are a can't-miss solution for any kid who's desperately searching for something to dress up as. There's no reason to overthink it. These costumes are classics for a reason.
Make a Costume Yourself
Though it's not the most popular option, you can always make a costume yourself. If your child wants a very specific costume that isn't available for purchase through any retailers, you'll have no option but to purchase the materials and ready your sewing machine.
In no way is making a costume inferior to buying a costume. In fact, if you're good at sewing and adding specific details, a costume that you made yourself can actually be superior. Whether you're low on money, or just can't find the desired costume in stores, making a costume is always a terrific option.
Types of Halloween Costumes To Consider
Popular Characters in Television and Movies
Television and movies shape the way we look at life. For adults, this can work to inform political opinions. But in the case of most kids, this works to foster passions, hobbies, and interests. If you have a child, there's a good chance that he or she enjoys a specific character on television or in a movie.
At this moment in time, many kids are particularly interested in superheroes and other comic book characters. Characters such as Batman, Superman, Harley Quinn, and Wonder Woman have become idols for kids the world over. Perhaps your child is interested in other types of movies? Choose a character from one of those movies, and your child will be sure to love his or her costume.
Popular Athletes
Another great costume idea is to dress as a popular athlete. Does your son or daughter love a specific football, baseball, basketball, or soccer team? Does he or she have a player that is worshipped over all the other players on the team? If so, maybe your child can dress up as that player.
While there typically aren't readily available costumes that allow people to dress up as specific athletes, it's not difficult to throw a costume together. By simply picking the athlete, purchasing his or her jersey, and scraping together the other necessary elements (ie. helmets, shoulder pads, cleats), your son or daughter will have an excellent costume to wear on halloween.
Occupational Costumes
While some children want to dress up as athletes and movie characters, others are content to dress up as regular people that they see on the streets. To most adults, these people represent the mundane elements of everyday life. But to kids, these people are heroes and role models.
This is why occupational costumes are great for kids to wear on Halloween. Whether it be a nurse, a doctor, a police officer, a firefighter, or a variety of other occupations, there are many kids who would love to dress up in one of these costumes.
Classic Costumes
As stated above, there are some costumes that will just never go out of style. These costumes are the classics. They are what people think of when they think of Halloween.
Witches, vampires, pumpkins, zombies, ghosts, and ghouls are just a few examples of classic costumes. They are as popular now today as they were 50 years ago. If your child is desperately searching for a Halloween costume, there's no reason that he or she shouldn't turn toward one of these iconic figures.
How to Choose the Best Halloween Costume for Your Child
When choosing a Halloween costume for your child, it's most important to consider his or her own personal interests and passions. By tying these interests and passions into the holiday, you will ensure that your child has the ultimate trick-or-treating experience. He or she only gets one Halloween a year, so it's important to make it as fun and exciting as possible.
Maybe your kid has an interest in baseball? Allow him or her to dress up as a baseball player or umpire. Want to take it a step further? Perhaps you can buy your child a specific jersey so that he or she can dress up as a specific player. Either way, you will have tied your child's passions and interests into the holiday, maximizing the amount of fun that your son or daughter gets out of it.
In Conclusion
It doesn't carry the sentimental value that Thanksgiving or Christmas carry, but to some, Halloween is the ultimate Holiday. For one day out of the year, kids can dress up and pretend to be someone else. They can roam the streets, going from door to door in search of candy. If you're a kid, it's as exciting as it gets. So, if you want to make your child's Halloween as fun and fulfilling as possible, get him or her a great costume that he or she will never forget.