Some links on this page are monetized by affiliate programs - see disclosure for details.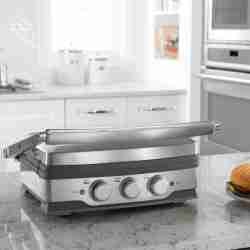 Picture yourself enjoying a deliciously warm Panini sandwich pressed to perfection. The bread is crisp on the outside, but soft and savory where it meets your favorite sandwich fixings. If you're like most, the setting for this image places you in an upscale lunch spot. But today you can create any Panini to your liking right at home, saving you both time and money without compromising on quality and flavor.
There are fantastic machines out there to fit any budget and any family size. Considering the speed at which you can create a Panini sandwich and the variety of ingredient options from which to choose, Paninis are perfect for any meal of the day.
What is a Panini Press?
A Panini press is a type of grill that heats both the top and the bottom of the sandwich simultaneously. The grill design includes horizontal heating elements that are pressed into the sandwich. This creates uniform heating throughout, and those visually appealing grill lines across the top and bottom of the sandwich. The sandwich bread and contents are pressed together, creating a nice meld of flavors and textures in the finished delicacy.
What are the Advantages of Using a Panini Press?
The main advantage is the ease of cooking a grilled sandwich that allows for limitless bread types and fillings. You can use any type of bread, but typically Paninis are made with ciabatta rolls or baguettes. Because these breads have a crusted outer surface, stovetop grilling in a frying pan is not ideal in allowing heat to reach the sandwich filling.
Since the Panini press does not require flipping the sandwich to cook both sides, there's no need to worry about sandwich fillings falling out. And the time you can save! You can assemble a Panini sandwich right on the cooking surface as the unit heats up, press the top down to grill your sandwich, and enjoy your creation within minutes. Lastly, the Panini press can serve other purposes, such as heating toast, grilling meats, crisping bacon, and serving up waffle fries.
What are the Types of Panini Presses?
Panini sandwiches have been around longer than electricity, so it's safe to say the original press was a relatively simple tool. The old school version, still available for purchase today, is simply a grooved cast-iron press that you heat and apply on top of your sandwich as it cooks on a griddle. The sheer weight, up to 5 pounds, does the pressing for you.
Nowadays, though, we have a second option: The modern Panini press is an electric appliance consisting of two heating elements that grill the top and bottom of the sandwich simultaneously. The top element can have a standard hinge or a floating hinge. The standard hinge collapses the top element on the sandwich at an angle, so you need to be careful that the filling and top piece of bread do not get pushed too far forward. The floating hinge, which is the preferred style, adjusts the point of contact to the sandwich based on the sandwich thickness. This hinge is designed to press straight down on the sandwich, keeping everything intact.
Which Panini Presses are the Best on the Market?
Create several gourmet sandwiches at once with this amply sized and easy to use press with floating lid. Nonstick surfaces allow for stress free cooking and easy clean up. Storage is a snap as it quickly converts upright to create more counter space.
Dual-purpose temperature adjustments provide more options in heating your foods on the top and the bottom. The cleaning spatula included offers additional precision in cleaning. Release the hinge to double the bottom surface, thus creating an open grill for cooking or warming.
This appliance offers maximum flexibility in its design. The lid's 5 height settings allows for adjustable press weight as well as the option to hover the heating element to keep your Panini warm if you aren't quite ready to sit down and enjoy your meal. The removable plates are dishwasher safe and the large surface area and dual control temperature adjustments mean you can prepare several sandwiches with different heating requirements.
Features to Consider
When choosing a Panini press it's important to know what features will set your press apart from a standard dual sided grill. Keep in mind that the Panini press has similar features, but some unique characteristics will make the difference between a good and a great addition to your kitchen and cooking repertoire.
Price
There are a wide variety of presses on the market. Prices range from right around $15 to well over $300. Most durable, high quality machines appropriate for home use can be purchased for $25 to $60. The difference in price boils down to versatility and size.
Lid design
A good Panini press keeps your sandwich together. Because sandwich thicknesses can vary based on the type of bread used and the amount of sandwich ingredients included, look for a floating lid design that features a cantilevered hinge system. Basically, this design places the hinges for the top heating element on the center of the lid rather than connected to the lower surface at the back of the appliance. The floating lid allows the sandwich to be pressed straight down whereas a back-hinged system can push the sandwich ingredients and top layer of bread away from the lower layer of bread, creating more of a mess than a sandwich. Look for a floating lid that presses your sandwich evenly regardless of thickness.
Versatility
Nowadays with so many different appliances available on the market, it's helpful to have something that can suit different cooking needs. Some Panini presses come with interchangeable surfaces so that you can still make a Panini while heating or grilling items simultaneously on the same machine.
Size
Panini presses come in a variety of sizes so that you can make anywhere from one to six sandwiches at a time. Think about how you will use your machine to meet your individual or family needs and purchase a Panini press that fits your lifestyle.
Cleaning and Storage
Nonstick surfaces are the thing when looking for a Panini press. Not only does this help with clean up, but also will allow you to make a sandwich that will peel right off without breaking or tearing. Some Panini presses come with removable plates that go right in the dishwasher. Depending on how much counter space you have and how often you'll use the Panini press, think about whether you want to store the appliance between uses or keep out plugged in and ready to go.
Price
Hamilton Beach – Priced around the mid-range, this machine is affordable and worth the small investment.
Chef Buddy – At the lower end of the price range, this press is ideal for anyone on a budget.
Frigidaire –This is definitely a more expensive machine right around the triple digit mark, but in comparison to the other high-end models, it is a value considering all it has to offer.
Lid design
Hamilton Beach – The floating lid allows you to press a sandwich of any thickness. The additional locking feature supports top heating as it can be set to hover over a slice of pizza, fried eggs, or anything else you'd like to warm without pressing.
Chef Buddy – This also has a standard floating lid. One additional feature is the release hinge, which doubles the size of the bottom surface for standard grilling.
Frigidaire – This deluxe lid adjusts to 5 different heights so you can press from thick to thin. This feature also allows the heated lid to hover over foods to maintain warmth.
Versatility
Hamilton Beach –This is a standard Panini press, so it serves that purpose well but will not convert to meet other cooking and grilling needs.
Chef Buddy – Besides serving your Panini needs, the open design option via the hinge release allows you to use it completely flat for indoor grilling. Each surface has its own temperature setting, so you have greater control over the cooking time and temperature.
Frigidaire – Versatility is the name of the game with this appliance. With several interchangeable plates this product can be used as a sandwich press, grill, or griddle. It has separate heating elements so that you can simultaneously prepare different foods with varied heating requirements.
Size
Hamilton Beach – This is amply sized to make two Paninis at once. When closed, the dimensions are 12.73 inches x 13.75 inches x 5.63 inches.
Chef Buddy – The smallest of the three, this press measures 9.5 inches x 10.5 inches x 3 inches. You can make two sandwiches at once, but space is tight.
Frigidaire – At a larger scale, this item measures 15.63 inches x 13.38 inches x 7.13 inches. If making several Panini's at once, this machine will suit your needs.
Cleaning and Storage
Hamilton Beach – The nonstick plates are easy to clean. After use, it stands upright or easy storage.
Chef Buddy – This appliance comes with its own cleaning spatula. It too is non-stick and easy to clean. It is small so storage is easy if you have room in a cupboard to tuck it away.
Frigidaire – On this machine, the plates are removable and fit in the dishwasher for ease of clean up. The Frigidaire's size may be an issue if you have tight storage or lack counter space.
Our Panini Press Reviews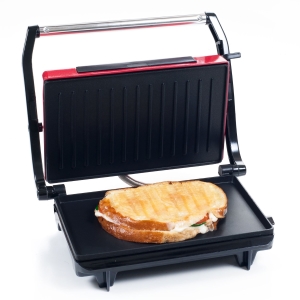 The Chef Buddy is a remarkably designed item for such a low price. With its dual heating option and hinge release feature, it offers even more grilling and heating choices. In pressing sandwiches it does a consistent job of evenly heating and is a durable machine that will last over time.
Pros:
The benefits of this Panini press are the nonstick surface and hinge release, which allows for additional grilling or heating space. It is perfectly priced for a student, young person starting out, or occasional Panini maker who just wants one or two sandwiches at a time. The adjustable temperature setting for the two plates adds to the versatility of this little machine.
Cons:
The plates are not removable for cleaning. Also, there is no hover option for the lid, which sets this machine apart from the others. Once the sandwich is ready, it should be removed to avoid burning.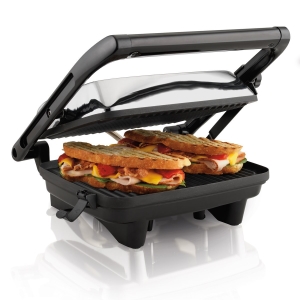 For a straight up Panini press, you can't ask for much more than the Hamilton Beach 25460A Panini Press Gourmet Sandwich Maker. This is a standard press and meets the needs of a couple in both its design and functionality. At a reasonable price, this Panini press is a great addition to any kitchen.
Pros:
The floating lid with hover option allows you to make a perfectly pressed sandwich that you can keep warm while finishing your other meal prep tasks. The upright storage feature gives you the versatility to store it away in a cupboard or tucked in a corner on the kitchen counter. With a nonstick surface, clean up is a snap and your sandwich will peel right up easily.
Cons:
This machine cannot remain plugged in because the action of plugging it in sets the heating elements in motion. In addition to it not having an on-off switch, the heat setting is not adjustable. Plates are not removable for clean up.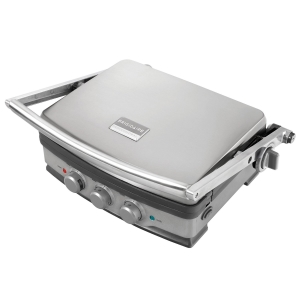 For versatility and consistency, the Frigidaire 5 in 1 is your best bet. It has a wide range of functionality, but is not priced nearly as high as the other multi-purpose machines. The larger size makes this machine perfect for a family of Panini lovers.
Pros:
The Frigidaire provides many cooking options and allows for simultaneous functions, such as grilling on the plate right next to the area in use for sandwich pressing. With five settings for lid height as well as the hover feature, you are sure to get the right pressure consistency as well as warming options. The heat setting is more versatile than the other machines, which gives you more control. All heating plates are removable and dishwasher safe. Because of its size, this is a great option for a family
Cons:
Because this is a large machine, it does take longer to heat up. Also, its size may pose storage issues for those with a smaller kitchen.
Conclusion
When you're ready for that deliciously grilled gourmet sandwich, consider the functionality, price, and simplicity of the Hamilton Beach Panini. Although it doesn't have the bells and whistles of some of the other machines, it works beautifully for its intended purpose: to consistently grill and press any size of sandwich on any variety of breads. Its size and storage capability make it perfect for any size kitchen and will fit snugly in a travel bag if you choose to bring it along on vacation. The Hamilton Beach 25460A Panini Press Gourmet Sandwich Maker fits most budgets and is perfect size for an individual, couple, or small family.