Some links on this page are monetized by affiliate programs - see disclosure for details.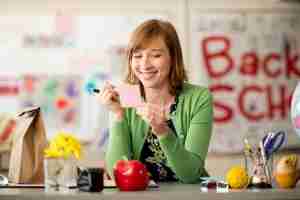 Teacher's have a lot of responsibilities. All at one time, they are simultaneously educators, psychologists, babysitters, and more. Though teachers normally come across as totally composed, they undoubtedly get worn down throughout every long school year.
But when classes start back up and teachers greet their new students, they set out on a journey to positively influence each and every student they come across. A great way to show your appreciation for this is by giving your teacher a great back to school gift.
Whether you have the same teacher as you had last year, or you have an entirely different teacher, giving him or her a gift is a very positive way to kick off the school year. But what makes the best back to school gift for teachers? This guide has all the answers.
Our Top 10 Back to School Gifts Your Teacher Will Love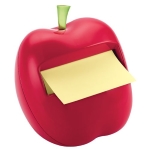 Teachers have a lot to keep track of. In order to do so, they must be able to jot down notes quickly so that they can keep reminders on hand. That's why we suggest gifting your teacher this Post-it Pop-up Notes Dispenser.
Shaped like an apple, it is specially personalized for teachers, and will bring a warm aesthetic touch to your teacher's desk. Included with the dispenser is a 50-sheet pad of yellow post-it notes, allowing your teacher to use it as soon as it is in his or her hands.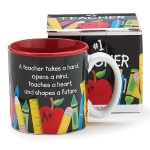 Between creating lesson plans, grading papers, and trying to keep dozens of kids in line, a teacher's job can be very exhausting. So what better way to keep your teacher going than by giving him or her a mug that allows him or her to drink copious amounts of coffee? This #1 Teacher 13 ounce coffee mug is the perfect mug for any teacher.
Dishwasher-safe, FDA-approved, and microwave-safe, it's safe in any condition, making it as versatile as any mug you're going to find. With the words, "A teacher takes a hand, opens a mind, touches a heart, and shapes a future" written on the mug, it will undoubtedly keep your teacher awake and inspired through long, grueling days.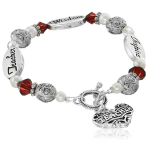 If your teacher is a woman, you might want to consider purchasing her this beautiful Teacher Bracelet by Expressively Yours. Inscribed with the words "Teacher," "Inspire," and "Wisdom," it's a great piece of jewelry for any teacher looking to update their look.
Made of Sterling Silver, it measures at approximately 7 ½ inches in circumference, making it appropriate for just about any teacher. Included with the bracelet is a satin gift box and sentimental card.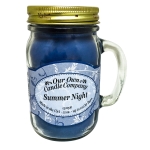 If you're strapped for an idea on what to get for your teacher, you can never go wrong with a scented candle. Though your teacher most likely won't be able to burn it at school, he or she can find uses for it elsewhere. Although any scented candle will do, we suggest this Summer Night Scented Candle by Our Own Candle Company.
With a full 100 hours of burn time, the candle comes in a Mason Jar that will give your teacher's home or classroom a nice rustic touch. A lead-free wick in wax made of soy and paraffin, it is safe, effective, and pleasant.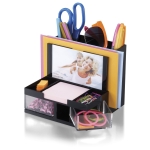 Teachers have a lot of supplies to keep in order. So many supplies, in fact, that it often seems endless. The truth of the matter is that teachers can never have enough storage space. That's why we recommend this OfficemateOIC Versa Plus Photo Desk Organizer.
With seven individual compartments, this organizer leaves enough room for scissors, pens, pencils, paper clips, erasers, and more. It also contains a 3 inch x 5 inch slot for placing a photo of students or loved ones. If you have a teacher, you have a teacher with a need for extra storage. This organizer is a stellar option for a gift.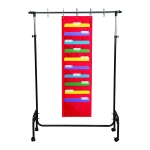 If you're looking to gift your teacher a more practical item, you might consider getting them something that will help them manage their classroom. This Carson Dellosa Storage Pocket Chart can do just that, keeping folders and assignments in order so that they're easy to use and access.
With a flame-retardant and durable construction, this fabric chart can withstand a great deal of wear and tear, ensuring that it will last over several years. This pocket chart's ten 13 ½ inch x 7 inch pockets leave plenty of room and space for students to store finished and in-progress assignments.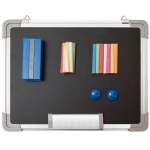 Teachers can never have enough space to leave notes and messages for their students. That's why we suggest gifting your teacher this Small Message Blackboard by Navy Penguin. It's a simple, practical gift that will undoubtedly see a lot of use.
Included with the blackboard is an eraser, 14 pieces of chalk, and 2 magnets, giving your teacher everything he or she needs to use it right away. Lightweight, but durable, it's a great little chalkboard that can serve all types of purposes in a classroom.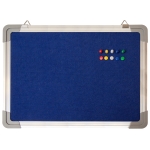 Another practical gift that your teacher will almost undoubtedly make use of is a bulletin board. Bulletin boards give your teacher a place to post students' papers, and other important fliers and notices. Because of this fact, this Navy Penguin Bulletin Board Set would be a perfect gift.
Included with the bulletin board are 10 colored pins that will allow your teacher to post important documents with style and ease. Measuring in at 15.8 inches x 11.8 inches, it's a great miniature board that any teacher could definitely find a use for.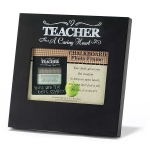 Perhaps your teacher likes keeping photos of her classes on her desk. If so, this Chalkboard Photo Frame by Dicksons could be just the gift for him or her. With the words "Teacher" and "A Caring Heart" painted on its trim, it's a great frame for educators of all types.
Large enough to hold a 6 inch x 4 inch photo, this frame can either be propped up on a table or desk, or hung on a wall. Additionally, the product's chalkboard trim can be written on with actual chalk, allowing it to be customized in any way deemed fit.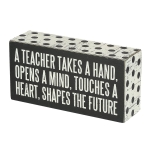 A teacher's classroom is like his or her second home. It's important that it is inviting and that it looks good. That's why we suggest gifting your teacher this Primitives by Kathy Box Sign. With the phrase, "A teacher takes a hand, opens a mind, touches a heart, shapes the future," written on it, it's a great decorative ornament for the classroom.
Measuring in at 6 inches high and 3 inches long, it's a tiny trinket that can fit just about anywhere in a room, whether it be a table or a desk. Constructed out of high-quality wood, this box sign would be perfect for your teacher's classroom.
What Makes a Great Gift for a Teacher?
Teachers do not have easy jobs. Between lesson planning, going to conferences, and attempting to educate tons of kids at one time, they have a lot on their plates. For many teachers, the job doesn't end once students have gone home for the day. They put a lot of time, effort, and money into ensuring that their class is as well-functioning as possible.
Though you can give just about anything to your teacher as a gift, you should consider items that are either practical, or that carry some sort of meaning. Teachers, like anyone, like to know that they are appreciated, and that what they're doing makes a difference.
What does he or she need in the classroom?
With as many students as teachers have, they are always in deep need for additional classroom supplies. Teachers often pay money from their own wallets and pocketbooks in order to keep their classrooms stocked and in working order.
For this reason, practical classroom supplies are a great gift to give to your teacher. Whether it be pencils, or storage folders, post-it notes, or a variety of other items, your teacher will be more than happy to receive some additional classroom supplies.
Think of his or her personal style
Everybody has a need for clothes, so why not gift your teacher something that he or she would enjoy wearing? Of course, if you plan to do this, you're going to want to have an understanding as to what type of clothing your teacher likes wearing.
If your teacher is a woman, you might consider something like a teacher-themed bracelet, or sweater. If your teacher is a man, maybe you could find a nice tie, or a t-shirt with a funny phrase on it.
Something that will make the job easier
All throughout their careers, teachers are constantly looking for ways to reduce and simplify the amount of work they have to do. To help them out, perhaps you could purchase them something that will assist in them in this quest.
There are all types of classroom aids available that can serve to make your teacher's job easier. For example, an extra bulletin board will provide him or her with additional space to post important papers and documents.
Consider your budget
As with any gift your ever buy for anyone, it's important to stay within your spending range when purchasing a back to school gift for your teacher. Your teacher isn't even expecting a gift, so anything you give him or her will be met with much excitement and appreciation.
There's no reason to go spending ridiculous amounts of money on a gift. Set a price range, stick with it, and choose a gift that falls somewhere within that price range. Regardless of how much you spend, you will undoubtedly find a great gift that shows your teacher how much he or she means to you.
Related: Top 10 Best Back to School Gifts for Kids
Types of Gifts To Consider
Classroom decorations
To teacher, their classroom is similar to their house. It is something that represents who they are, and what they identify with. This is why classrooms are almost always covered in different types of wall ornaments and decorations.
If you were to gift your teacher some sort of decoration that he or she could put in the classroom, it would be accepted with open arms. Some different types of decorations you could consider are learning-themed posters, teacher-themed picture frames, or school-themed signs.
Food & beverage containers
In the midst of lesson planning, teaching, grading papers, and doing everything else that is required of a teacher, teachers can become exhausted. To keep them going, they need to stay caffeinated and hydrated.
By giving your teacher the gift of a cup, water bottle, or coffee mug, you can help him or her get through every single day successfully. Food containers, such as decorative plates and bowls would also be an appropriate gift.
Self-made Gifts
While sentimental, heartfelt self-made gifts are typically reserved for the end of the school year, there's no reason that you couldn't make a gift for your teacher at the beginning of the school year. But instead of making it sentimental, make it practical.
Perhaps you could make a picture frame out of various crafts. Maybe you could make a cool poster for your teacher to hang up in his or her room. In the end, it's the thought that counts. Your teacher will just be grateful for your demonstration of appreciation.
Classroom Supplies
As long as a teacher is teaching, he or she will have a need for classroom supplies. Because they're constantly making use of these supplies, they're in constant need of new ones.
Chalk, storage devices, pencils, bulletin boards, and other supplies of their ilk make great practical gifts for teachers. They may not be the flashiest gifts around, but you can rest assured that teachers enjoy receiving them.
See Also: Top 10 Best Back to School Gifts for College Students
How to Choose a Gift for Your Teacher
Though there are a lot of gifts that would be appropriate for just about any teacher, it's important to give your particular teacher something that is tailored toward him or her. A random, run-of-the-mill gift will still undoubtedly be appreciated, but will not carry quite the same meaning as a gift that is aligned with your teacher's interests.
Consider what type of person your teacher is. Get a feel for his or her own personal interests and styles. After you've done this, think of some ways that these interests and styles tie into his or her needs. Does your teacher like a particular sports team and enjoy drinking coffee? Why not get him or her a coffee mug with that team's logo on it? Going this extra mile will let your teacher know how appreciative you really are.
In Conclusion
Most people don't quite understand just how much work teachers put into their jobs. While it appears as if they just show up to class everyday and lecture, there's a lot more going on behind the scenes. Lesson planning, supervising extracurricular activities, and holding parent-teacher conferences, teachers truly go above and beyond. If you want to show your teacher how much you appreciate his or her hard work, a back to school gift is a great way to do so.