Some links on this page are monetized by affiliate programs - see disclosure for details.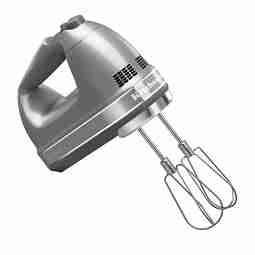 If you've ever baked, you know just how much work goes into it. Whether you're baking muffins from scratch or preparing a boxed cake mix, there are multiple steps required before you can enjoy eating tasty homemade treats. Before you enjoy your delicious baked goods, one of the first steps you have to take is mixing together all of your ingredients.
Mixing things like thick cookie or brownie batter can be a pain. You have to stir and stir, ensuring that everything mixes in equally. Just the step of stirring can take up quite a bit of time. Whether you're in a hurry or you're tired of dealing with a sore arm after stirring for what seems like forever, a hand mixer does all of the work for you.
Compare: The 10 Top Rated Hand Mixers of 2018

First Things First: What is a Hand Mixer?
A hand mixer is a small kitchen appliance designed to mix various ingredients together. You can mix liquid ingredients, powders, solids, or a combination of the three. This appliance is ideal for baking, allowing you to quickly stir pancake, cookie, cake, and brownie batter. Most mixers have two rotating beaters that glide through liquid and solid ingredients. There are also some that do not use removable beaters that are mostly used for liquids. These mixers are equipped with different speed settings for stirring just about anything. This eliminates the time and hassle of struggling with a mixing spoon.
What are the different types of Hand Mixers?
If you do any type of cooking or baking that requires mixing, you should certainly have one of these appliances stored in your kitchen cabinets. If you've never purchased one before, you haven't purchased one in a long time, or you just want to make sure you get the best buy, you first need to make sure you can distinguish between the different types.
Traditional hand mixer – These have a base with a cord that is plugged into a wall and two metal beaters the slide and lock into place. Once you're finished, you can release these beaters with the push of a button. These are commonly used for mixing up thicker batters.
Hand blenders – This is one of the two types of electrical mixers. It has a long, thin shift that is placed in your ingredients to mix them up, and it can also be used to blend, chop, and puree.
Manual mixers – These do not use electricity, and the beaters are operated with a hand crank. These are the least expensive mixers, but they require the most work.
What are the Advantages of Owning a Hand Mixer?
A hand mixer helps you dramatically cut down on your prep time when you're baking. You won't have to worry about your arm getting sore when you're trying to evenly mix up your ingredients. This type of mixer is also great if you have limited space for a stand mixer. They are small, portable, and easy to store. If you do any type of cooking or baking, this is a small appliance you should add to your kitchen.
What Are The Top 3 Best Hand Mixers?
Hamilton Beach 59765 2 Speed – This 2-speed mixer truly does it all, so you won't have to spend a fortune on multiple small appliances to get the same great results. With this blending wand, you can mix, blend, chop, puree, and whip your ingredients, really cutting down on your prep time. This model is lightweight, very easy to use, and boasts a powerful motor for superior results.
Cuisinart HM-50 Power Advantage – This mixer is not only affordable and functional, but it comes in your choice of one of 14 fun colors. This model has a really strong motor so it's very efficient, five speed options that allow you to mix just about anything, and easy to use controls that allow you to switch speeds with just one touch. It is small and easy to clean.
KitchenAid KHM926CA – KitchenAid's stand mixers have become well-known for their quality and performance, and this model of mixer is made with the same care but comes in a smaller size. With just one appliance, you can blend, mix, whip, knead, and perform a variety of other prep work. The digital controls are very easy to use, you have nine speeds to choose from, and it comes with multiple attachments.
Factors to Think About Before You Buy
If you think that a mixer will be of use in your kitchen, the next step is to make the right purchase. You can't just pick one off of the shelf or off of a website and expect it to have everything you want. While you may get lucky, the best way to ensure your satisfaction with your purchase is to do a little bit of research on each product, including looking carefully at these four popular features.
Price
Mixers are prices from less than $20 for a very basic model to over $100 for a more advanced model that does more than just mix. You want to consider other things like quality, manufacturer's warranty, and other functions. A small appliance that does more than just mix can save you on other appliances in the long run.
Warranty
Electronics fail from time to time, but you shouldn't have to worry about your mixer not working right out of the box or only being able to use it once or twice. With proper care, your mixer should last for quite some time, even with regular use. If your mixer does happen to fail because there is a short in the electrical wires, a piece is broken when you receive it, or because of some other defect, a warranty protects your purchase.
Speed levels
Sometimes, you need different speeds to perform different functions. You want to make sure that your mixer has several different speeds for all of your favorite recipes, as well as for those you'll try in the future.
Colors
Color isn't the most important thing, but you do want something that coordinates with your other small appliances, complements your kitchen, or comes in your favorite color. Many models come in a variety of colors and while black and white are the most common, bright colors like teal and red are becoming more popular.
Price
Hamilton Beach 59765
This budget-friendly mixer is a great choice if you're on a tight budget.
Cuisinart HM-50
This model is a bit above average when compared to other mixers.
KitchenAid KHM926CA
To buy this model costs more than any other model in the group, placing it at the higher end of the pricing scale.
Warranty
Hamilton Beach 59765
Your new mixer comes protected with a 1-year limited manufacturer's warranty.
Cuisinart HM-50
A limited 3-year warranty comes standard with the purchase of this mixer.
KitchenAid KHM926CA
You'll get a 1-year limited replacement warranty with the purchase of this unit.
Speed levels
Hamilton Beach 59765
This mixer has two different speeds to choose from.
Cuisinart HM-50
You can choose from five different speeds when using this product.
KitchenAid KHM926CA
You'll have your choice of nine different speeds on this mixer.
Colors
Hamilton Beach 59765
This unit comes in just one color combo, silver and black.
Cuisinart HM-50
This model comes in 14 different colors, including Black, White, Light Blue, Garnet, Chocolate Cherry, Iced Blue Mint, Magenta, Papaya, Passion Flower, Peridot, Pink Champagne, Sapphire, Sugared Plum, and Watermelon Sorbet.
KitchenAid KHM926CA
White, Candy Apple Red, Contour Silver, Empire Red, and Onyx Black are the choices you have for this product.
Conclusion: All Hand Mixer Reviews Are In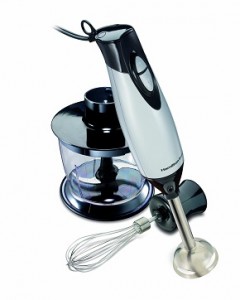 If you're looking for a mixer that is affordable, lightweight, and easy to store, this is a great choice. You won't just receive a sleek, streamlined design, though. You'll also be impressed with the performance of this mixer, which goes beyond just mixing your ingredients. You can also select from two different speeds to blend, puree, and chop through a variety of ingredients.
This product comes with the blending wand, whisk, and a chopping bowl, so you can blend, chop, and mix without the mess. The bowl and whisk are dishwasher safe for easy cleanup, and it includes a powerful 225 watt motor.
Pros:
The whisk is made with durable stainless steel
It has a thin, streamlined design so it's easy to store in a drawer in your kitchen
It works with its own bowl, so you don't have to get another bowl dirty
All parts except for the wand are dishwasher safe
It has a warranty
Very affordable
Very easy to use
Does more than just mix
It has a 5-foot long cord so you can easily move around
It has a non-slip, comfortable grip
Cons:
Only has two speeds
It is quite loud
It vibrates during use
The plastic bowl may chip over time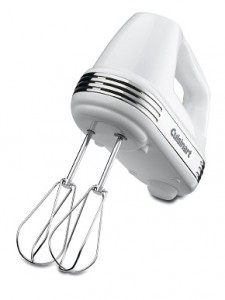 If you want a high-performing mixer that looks just as great as it works, this model from Cuisinart fits the bill. This product comes in your choice of 14 great colors, so it's easy to find your favorite. But good looks isn't all this appliance has going for it. You can choose from five different speeds using the easy slide control for one touch operation and extra long beaters.
Other standout features include a swivel cord and a lever that easily ejects the beaters, which are dishwasher-safe. It boasts 220 watts of power, so it can whip homemade whipped cream or mix right through thick cookie dough. It's well-balanced and has a comfortable grip, so you can easily hold it while it does all of the hard work for you.
Pros:
Multiple speeds for the mixing power you need
Strong motor
It has a heel rest that lets you sit it down safely while not in use
It is comfortable to hold
It's easy to clean
The extra long beaters make it easy to mix up thicker batters and dough
It comes with a recipe book to give you new meal and snack ideas
It comes in a great choice of colors
Can use it right handed or left handed
Cons:
It doesn't have a true slow speed
It is quite loud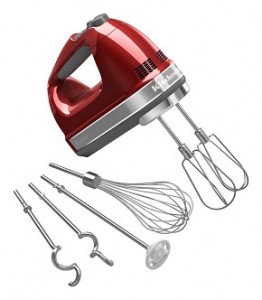 The power and durability of the KitchenAid stand mixer was replicated in a smaller package with this great hand mixer. You'll find that this has a performance that is truly unmatched, and a modern design that makes it very easy to use. It has a total of nine different speeds to whip, mix, and chop with ease. You can easily change the settings with the push of a button with the digital interface.
The soft grip handle is easy to hold on to, and it has a lockable swivel cord to make it more convenient to use. It also has a soft start feature so you don't have to worry about your ingredients flying everywhere when you start mixing. It comes in five different colors, and it also comes with several attachments that perform different functions, including kneading, whisking, and crushing.
Pros:
It has a powerful 236 watt motor
Comes with multiple attachments
It is easy to use
It is comfortable to hold
Quieter than many other models
Easy-to-use digital controls
It comes with a warranty
It has a great modern design
The motor doesn't have a strong odor when in operation like inexpensive models
Cons:
The light on the top of the switch is a bit too bright
It is a bit expensive
A Final Word
When you bake in your kitchen, it's important to have the right tools to make creating your favorite recipes fast and easy. When you need to mix, give your spoon (and your arm) a rest and pick up a high-quality mixer designed to evenly mix up all of your ingredients. You don't want to sacrifice quality for price, which is why the KitchenAid KHM926CA is the best hand mixer overall.
Even though it is more expensive than many other models, it comes with multiple attachments that allow you to not only mix more easily, but also to crush, puree, blend, whip, and perform a variety of other functions while you're cooking it up in the kitchen.