Some links on this page are monetized by affiliate programs - see disclosure for details.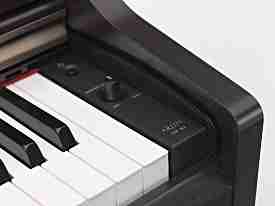 The piano is a timeless instrument that has been featured in music for centuries. The sheer presence of its sound remains unmatched by the countless instruments that have emerged since its invention but until relatively modern times, the piano has been something of a luxury item. Even today, the instrument is available only to people with the financial means and the physical space to house the massive instrument, pay specialists to tune it, and most of all learn how to play it.
Enter the digital piano. At a fraction of the size and cost, the best digital piano can match its analog cousin's legendary sound and apply its own new unique twists through built-in synthesizers and features. This guide will attempt to present the best of the digital piano's offerings with emphasis on the most important specifications.
Compare: The 10 Top Rated Digital Pianos of 2018

What is a Digital Piano?
The digital piano is a cheaper, smaller, and in many ways, a more versatile alternative to a full-size classical piano. Using advanced electronics and synthesizers they replicate the sound of a true piano, delivered by built-in speakers. While mimicking an analog piano is the primary function of the digital counterparts, manufacturers take advantage of the flexibility of the digital medium by including other instruments.
Good digital pianos can also replicate a long list of wind and string instruments including basses, and guitars, giving players an entire orchestra their fingertips. Instruments with external outputs allow musicians to create and fine-tune elaborate mixes or give robust live performances.
What are the Different Types of Digital Pianos?
Digital pianos are in essence built with the same goal in mind: to replicate their acoustic counterparts. However, they differ in terms of practicality. Depending on the venue or venues one expects to play at normally, one might purchase a complete model versus one more portable. Two types of digital pianos exist to accommodate the goals of each musician:
Stage Digital Pianos: Also known as portable pianos, these instruments lack certain built-in features in an effort to be easier to transport to different venues.
Grand Digital Pianos: Grand digital pianos are much more like their acoustic brethren with similar features, construction, and presence. From key sensitivity to quality of sound, they are nearly indistinguishable from normal pianos but are still significantly less cumbersome.
What are the Advantages of Owning One?
Learning the piano provides a bounty of emotional, physical, and intellectual benefits. Just by playing consistently, one builds memory, dexterity, and a keen appreciation for the complexity of sound. A digital piano can complete a home's arrangement, entertain guests, and be a rewarding experience just by practicing alone.
Few purchases are quite as gratifying as buying an instrument, and the digital piano is the evolution of arguably the greatest instrument in existence. It is not something one will easily tire of within their lifetime.
Which Brands will be our Top Contenders for Best Digital Piano?
Yamaha YPG-535 88-key Portable Grand: The YPG-545 is a stage model that features hundreds of voices and twelve drum and sound effects kits. While it doesn't try to mimic an acoustic piano's appearance, its realistic voices and full keyboard produce a generous sound.
Yamaha DGX650B Digital Piano: With voices provided by Yamaha's famous CFIIIS concert grand, the DGX650B features an unprecedented quality of sound at its price range. Its realistic keyboard and built-in speakers combine to produce a rich and nuanced sound, all wrapped up in a very presentable package.
Casio PX850 Privia 88-Key Digital Piano: As a full-fledged grand digital piano, the Privia PX850 possesses dramatic realism and a beautiful design. Its Acoustic and intelligent Resonator (AiR) delivers remarkably accurate and gripping sounds for all the major piano voice types and several other instruments as well.
Features to Evaluate
The greatest strength of a digital piano is the depth of its sound and its ability to perform in a nuanced, realistic fashion. As such, it needs high-quality source material and a keyboard that accurately represents the style of its player.
The most important specification for advanced musicians is maximum polyphony, which represents how many unique sounds it can produce at once. Lastly, a digital piano's practicality is important depending on the needs of each individual. The construction of each instrument will decide how versatile it will be when transferring from a home to a stage environment.
Available Voices
Digital pianos often walk a fine line between featured voices and useful ones. While having a bounty of options is nice, the playability of each depends on their quality and type. For this reason, less is often more. A professional grade digital piano will feature fewer unique voices at a higher quality while lesser models will feature amusing but ultimately useless effects.
Touch Response
When playing an acoustic piano, pressing keys slow and soft will produce a significantly different sound from notes played hard and fast due to string length and tension. Keyboards that are sensitive to the fingering styles of their players are more nuanced and emotive, so the instruments that best replicate the keyboards of acoustic pianos are generally the finest.
Maximum Polyphony
The maximum number of notes a keyboard can produce at once is its maximum polyphony. This is important for the piano because players will generally want to play chords and melodies at the same time. For a beginner, it may appear strange to want a polyphony higher than the number of fingers a person has, but advanced and even intermediate players will find that it's not very hard to play and sustain 64 notes at once. Digital pianos come with either a 32, 64, 128 or 256 note maximum polyphony.
Portability
Digital pianos are significantly lighter than the acoustic instrument, but stage musicians may desire specific features in order to transfer easily from venue to venue. Portable pianos meet this need most simply, with detachable pedals and other design elements to make them easier to move. However, it is also necessary to balance portability with overall quality.
Available Voices
Yamaha YPG-535
The YPG-535 features a total of 488 voices and 12 drum and sound effects kits. 361 of its voices are supported by Yamaha's XGlite technology and include variations of several key wind instruments. Not all of its voices are perfect, but the YPG-535 does a decent job replicating the sounds of a grand and orchestral piano. Its five equalizers allow for a reasonable amount of user customization and the onboard stereo speakers deliver adequate spatial depth. The YPG-535's optional bass boost setting enhances deeper tones, but causes slight rattling from the speakers when those notes are sustained.
Yamaha DGX650B
Yamaha's higher end offering features 381 XGlite powered voices and additional 147 panel voices, along with 15 drum and sound effects kits. However, its core piano sound comes from a substantially more powerful source: Yamaha's own CFIIIS concert grand. Its range of voices allows for fantastic versatility, easily transitioning from bright and sweet to cool and mellow. The DGX650B features several style control settings and is compatible with external speakers, though many will find the standard settings and onboard speakers more than acceptable.
Casio PX850 Privia
The PX850 Privia features eighteen incredibly nuanced and realistic voices, more than enough for most players to find their own unique sound. The AiR processor succeeds in replicating a grand piano in virtually every conceivable way, even going so far as to capture the resonance of piano strings when the dampers are raised. Among its piano voices are other concert worthy instruments, executed beautifully through its powerful speakers. The amount of detail and precision the PX850 has on the technical side allows for moving and fluid melodies to be produced in utter perfection.
Touch Response
Yamaha YPG-535
The YPG-535 has simulates the resistance of acoustic piano keys, but is not truly weighted. As such, its touch response is acceptable but not noteworthy in any way. Players looking for more nuanced reactions from their keyboard may be disappointed as the key resistance never feels exactly right.
Yamaha DGX650B
The DGX650B has weighted keys that do a good job imitating the feel of an acoustic piano. The added resistance makes it easy for players to strike notes with the emphasis and style they desire effortlessly. The piano's keyboard comes with Smart Chord functionalitya, allowing individual keys to sound out entire chords.
Casio PX850 Privia
The PX850 Privia not only has weighted keys, but their sensitivity is adjustable to user preferences. The instrument's impressive keyboard thus can replicate the exact feel of multiple styles of pianos depending on the way each individual wants to play. The keyboard is otherwise highly adjustable. It features a duet mode that splits the instrument for two players or you can transpose it up to 25 full steps.
Maximum Polyphony
Yamaha YPG-535
The YPG-535 has the bare minimum polyphony available for a digital piano at 32. More complex songs, regardless of the skill of the player, are nearly impossible to play accurately due to sustained notes being cut off once the limit is reached. Simple and staccato songs will sound just fine, but for smooth, flowing tracks one will have to look elsewhere.
Yamaha DGX650B
With a polyphony of 128, the DGX650B is aptly equipped to play virtually any song. 128 is the general magic number when it comes to maximum polyphony: few players will find themselves ever needing more. Regarding sound however, the keyboard handles its maximum capacity better through external speakers than it does its own.
Casio PX850 Privia
The PX850 features a maximum polyphony of 256, which is very nearly absurd. Like the higher gears of most supercars, few players will ever find themselves playing fast enough and sustaining enough notes to ever hit the PX850's capacity. However, some will come to appreciate being able to play more than 128 notes at once, if not the full 256. This keyboard simply gives players enough room that they'll never have to think about filling it all.
Portability
Yamaha YPG-535
As a dedicated portable piano, the YPG-535 travels easily with minimal effort. It is lightweight, features a detachable damper pedal, and stores up to 16 user settings on its internal hard drive. Memory is expandable via its USB compatibility. Stage musicians will have no problem moving it around and setting it up in new locations.
Yamaha DGX650B
The DGX650B is slightly heavy at 65 lbs., but is still designed with portability in mind. It comes with a detachable damper pedal and can be fitted with an optional sustain pedal. It has two USB ports for additional storage space, and on its own can store a handful of preset styles. Using the DGX650B as a stage instrument requires a little foresight, but remains very transportable.
Casio PX850 Privia
Though its sturdy construction gives the impression of much more weight, the PX850 only weighs a manageable 85 lbs. altogether. While not designed with portability in mind, it is far less sensitive an instrument than many others of its type and with proper planning, can be moved to give stage performances a professional level of quality and aesthetic.
Digital Piano Reviews: Overall Impressions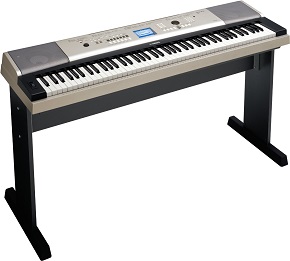 The YPG-535 has a punchy sound for its price point and has a lot of value for the casual instrumentalist. Its portability and realistic sound quality make it a decent instrument for home practice. Low maximum polyphony and a lack of external outputs make it a poor choice for a stage instrument.
Pros:
Great Sound for the Price
Huge Number of Unique Voices
Cons:
Unweighted keys
Low maximum polyphony
Only supports one pedal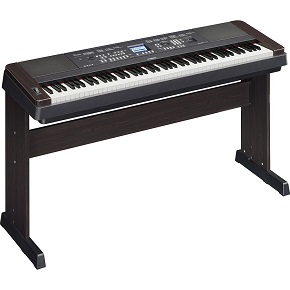 The DGX650 comes loaded with features unprecedented at its price point. Many digital pianos at its range will force players to pick and choose what they want: high maximum polyphony, vocal variety, external outputs, speaker quality, or weighted keys. The DGX650 sets its own standard by including it all.
Pros:
128 Maximum Polyphony
Multiple USB Ports
Damper and sustain pedal ready
Cons:
Low internal memory
Not quite a home instrument, not quite a portable piano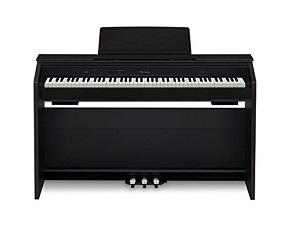 The PX850 is the kind of instrument even acoustic purists can fall in love with. Its incredibly realistic voices, aesthetic appeal, and built-in features are on par with grand pianos three times its cost. The PX850 is an instrument for lifelong virtuosos and new students alike.
The PX850's keyboard features a maximum polyphony so high that one may as well be playing with a real stringed instrument. Casio's AiR processor may be one of the best sounding in the entire digital piano market, and the instruments pedals and customization tools are entirely on point. Though it might not look portable to some people, anyone can agree that it looks and sounds as stage-worthy as an acoustic grand.
Pros:
Incredible realism
Responsive keys
Attractive design
Cons:
All in All
Owning a digital piano is a lifelong personal investment and one that defines one's dedication as a musician. Whether an individual intends to entertain guests at home, take their talents to the stage, or enjoy playing simply for music's sake, the kind of piano they buy will have a hand in their experiences. Some options are affordable, some are practical, and others, like the Casio PX850 Privia, are simply the best digital piano. Whenever possible, the latter is worth it every time.