Some links on this page are monetized by affiliate programs - see disclosure for details.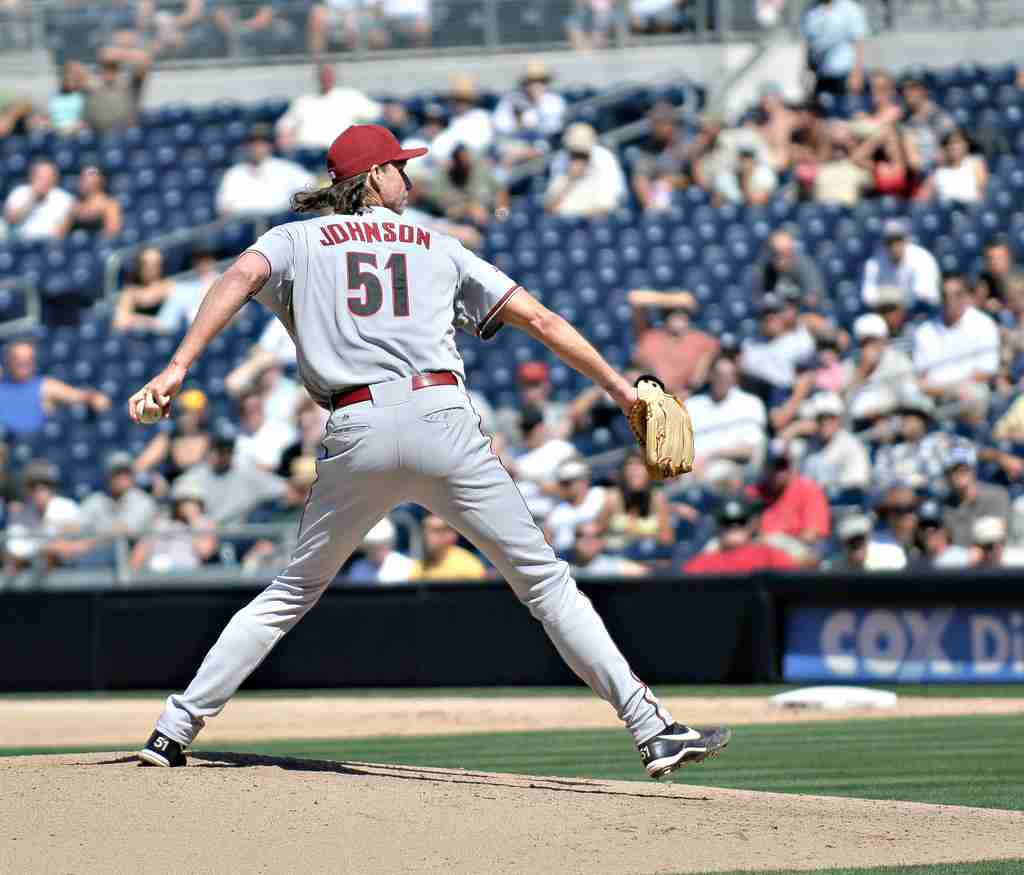 Perhaps the most valuable commodity in the game of baseball is a quality left-handed pitcher. When a team snags a left-handed ace, they're wise to hold on to him. While there have been quite a few great left-handed pitchers over the years, there haven't been many exceptional ones. Here are the top 10 best left-handed pitchers in baseball history.
1. Warren Spahn
Despite losing 3 full seasons due to military service, Warren Spahn was able to finish his 21-year Major League career with 363 wins; the most ever for a left-handed pitcher. Over his career, he produced a 3.09 ERA. Though he only won only one Cy Young Award, this has more to do with the fact that the award wasn't introduced until Spahn was 35 years old. Spahn won the award at 36 years old in the second year of its existence.
2. Randy Johnson
The Big Unit has an argument for being the most intimidating pitcher ever to step on the mound. Standing in at a gangly 6'10", Johnson's cold stare, side-armed throwing motion, sharp slider, and explosive fastball were absolutely agony on not only left-handed hitters, but right-handed hitters as well. The winner of 5 Cy Young Awards over a 22-year career, he is second in all-time strikeouts with 4,875.
3. Sandy Koufax
During his prime, Sandy Koufax was very arguably the greatest pitcher ever to step foot on the mound. He was something of a pitching artist, delivering explosive fastballs and swooping curve balls with a smoothness and confidence rarely seen. From 1962 to 1966, Koufax never finished with an ERA higher than 2.98, finishing under 2.00 two times. With 4 career no-hitters, he's second only to Nolan Ryan's 7.
4. Carl Hubbell
Hubbell's most famous achievement is that he struck out Babe Ruth, Lou Gehrig, Jimmie Foxx, Al Simmons, and Joe Cronin in succession during the 1934 All Star Game. However, Carl Hubbell was much more than just one stellar All Star Game performance. He finished his 16-year career with an incredible 2.98 ERA, winning the MVP award two different times.
5. Steve Carlton
With 329 wins over his 24-year career, Steve Carlton is second only to Warren Spahn for career wins by a left-handed pitcher. He's also fourth on the all-time strikeout list, registering 4,136 Ks over his long career. The winner of 4 Cy Young Awards, Carlton's best year came in 1972 when he had 27 wins to go with a 1.97 ERA and 310 strikeouts.
6. Whitey Ford
Because he played for such a great team, Whitey Ford often gets lost in the shuffle of Mantle, Berra, and others. But Ford was the premier pitcher on those great Yankee teams of the 50s and early 60s. Over a 16-year career, he posted a fantastic 2.75 ERA. His lone Cy Young season came in 1961 when he went 25-4 with a 3.21 ERA and 209 strikeouts.
7. Hal Newhouser
The great Hal Newhouser often gets forgotten when talking about all-time great pitchers. But over a 17-year career, Prince Hal posted a fantastic 3.06 ERA to go with two MVP awards. In 1945, Newhouser won the pitcher's triple crown, going 25-9 with a 1.81 ERA and 212 strikeouts. He lead the American League in wins 4 different times throughout his career.
8. Eddie Plank
Playing 17 seasons from 1901 to 1917, Eddie Plank is regarded as one of the premier pitchers of the dead ball era. Over that span, he posted a career ERA of 2.35; tied for 21st all-time. Playing almost his entire career for Connie Mack's Philadelphia Athletics, Plank was the team's most consistent and dominant pitcher, winning 6 AL pennants and 3 World Series championships in his career.
9. Clayton Kershaw
At 28 years old and through 9 Major League seasons, Clayton Kershaw has posted a 2.37 ERA to go with 126 wins and 1,918 strikeouts. Few pitchers in baseball history have been as consistently dominant as Kershaw. The winner of 3 Cy Young Awards, his most dominant season thus far came in 2004 when he won the NL MVP, posting a 1.77 ERA to go with a 21-3 record and 239 strikeouts.
10. Tom Glavine
A mainstay in the great Braves pitching staffs of the 90s, Tom Glavine's career has been marked by solid consistency. The winner of two Cy Young Awards, Glavine owns a career ERA of 3.54. His best season came in 1998 when he went 20-6 with a 2.47 ERA and 157 strikeouts. Along with Randy Johnson, Greg Maddux, and Roger Clemens, Tom Glavine could very well be one of the last pitchers ever to win 300 games. He won 305 in total over his 22-year career.
Image Courtesy of Flickr User SD Dirk