Some links on this page are monetized by affiliate programs - see disclosure for details.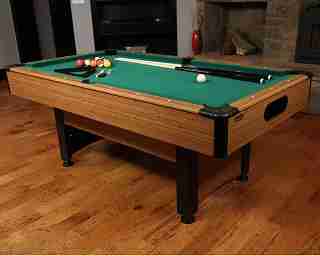 Nothing is quite like playing a game of pool. Whether you're out on a date with the person you love, spending a night out with your pals, or just taking a few practice shots, pool is a game that's easy to learn, difficult to master, and a lot of fun to play.
If you love playing pool but you can't get out to a pool hall, bar, or arcade that often to play, why not bring the fun into your own home by purchasing a pool table that you can enjoy with family and friends?
Check Out The Top Ten Best Pool Tables of 2018

Start Here: What is a Pool Table?
A pool table, also known as a billiards table, is a type of game table that is used to play pool. The object of the game is to use a stick, which is also called a cue, to hit a white cue ball into colored, numbered balls. Your goal is to sink the colored balls into the six holes around the pool table.
These holes are known as pockets. There are many variations of pool, and the game itself is quite easy to learn. However, it takes a lot of skill and practice to be able to play the game on one of these felt-covered tables.
See Also: This Year's Most Wanted Air Hockey Tables
What are the different types?
Whether you're a pool shark or a newbie to the game, it's important that, if you're considering making a purchase for your home, you're familiar with all of the tables available. Don't just pull out your money and buy a table because you like the price or you like the way it looks. First, make sure that you know you're purchasing a quality product that will get lots of use, and the best way to get started is by learning more about the types of billiards tables available for purchase.
Slate-top tables – This refers to the material that is used underneath the felt. Slate is the heaviest, sturdiest, and most expensive. Most high-end tables are made with slate.
MDF tables – Instead of slate, these are made with a type of plywood that is cheaper, less expensive, and more lightweight. These are found on low-end to mid-range tables, and they are typically what is found in a family game room.
Full-size tables – These tables are regulation size, and they are designed to be played by adults, teens, and older children.
Kids' tables – These are smaller than full-size tables, and they are designed for use by younger children. They may be used exclusively for pool, or they may come with different tabletops that allow kids to play table tennis, air hockey, and other fun games.
Coin-operated tables – These full-size tables are what you would find in an arcade. These require quarters to play each game, and they're usually found in businesses.
What are the Advantages of Owning a Pool Table?
There are several advantages of owning a pool table. If you play pool professionally or you just play it often with friends, you can use your own table at home to play for free without burning through a pocketful of quarters. Even if you don't play seriously, pool is a lot of fun to play with your family and friends. It is a great addition to any family rec room, a den, or even a man cave. It's a great way to have a blast while staying indoors, and it can be enjoyed by adults and children of all ages.
Who are the contenders for Best Pool Table on the Market?
This is the perfect table if you don't have a lot of extra space in your recreation room or man cave. It's still large enough for adults to play, so it isn't just a toy, but it saves space for all of your other furnishings and game tables. The combination of green cloth and bamboo laminate gives this table a classic look that looks great with any décor. It has a lot of features included that provide you with a great playing surface, including cross supports and leg levelers. In addition to saving space, you'll also save money when you purchase this budget-friendly table.
Get two tables at one great price with this model. You can play pool with your friends or table tennis with the family without the need for two large tables. It's easy to switch back and forth, and you have a large playing surface for each game. The black laminated design and red cloth top give this table a modern look that looks great in any spare room in your home. This model is very affordable, as well, especially because you get two different tables.
If you want the same quality as a slate table without spending a fortune, this table has what you need. It is made with Accuslate, an affordable alternative that is more lightweight, less expensive, and just as high-quality. This table boasts a lot of great features that really make it stand out from the rest, including beveled legs and maple wood veneer. It has a classic, upgraded design, is extremely high-quality, but isn't extremely expensive.
Considerations Before Buying
Are you ready to start having fun in your home with a fun game table? Once you've made up your mind to purchase one of these tables, it's time to start shopping for the right one for your home. Once you've determined what type you want, it's time to narrow down the selection even further. You can do this by looking at certain features of each table to decide which one is the best purchase.
Price
You should expect to spend at least a few hundred dollars for a quality pool table. You should budget to spend more if you want a more high-end table that is made with better materials. If you plan to use your table a lot, it may be well-worth the investment to purchase a higher-quality table that costs more money.
Warranty
Before you make your investment, you want to make sure it's a wise purchase, and few things are more important than a warranty. If your table is defective in any way when you receive it or something fails that shouldn't, a warranty will make sure you get the repair or replacement you need.
Size
Do you want a full-size table to practice your shot, or do you need something smaller that will fit in a tighter space in your home? Before you buy, measure your available space and purchase a table that will comfortably fit in this space, taking into consideration that people will have to move around all sides of the table and leaving room for the cues to be pulled back to make a winning shot.
Accessories
If you don't have any cues, balls, or other accessories, you can save money by purchasing a package deal that not only includes the table but also all of the accessories you'll need to start playing your game right away. You might even save a little money this way instead of purchasing each item individually.
Price
Mizerak Space Saver Table
This is a very budget-friendly table that will fit perfectly in your rec room, den, man cave, or even your office space.
Hathaway Maverick Table
This is another affordable option.
Fat Cat Reno II Billiard Table
This model is a more high-end table that is perfect for the serious pool shark.
Warranty
Mizerak Space Saver Table
Your purchase is backed with a 90-day limited warranty provided by the manufacturer.
Hathaway Maverick Table
You'll receive a 90-day limited warranty the purchase of this model.
Fat Cat Reno II Billiard Table
You'll receive a 7-year warranty with your purchase, which is truly one of the best warranties you'll find on a billiards table.
Size
Mizerak Space Saver Table
This is a 6.5-foot table that is large enough for adult players, but small enough to fit in your home when you don't have the space for a full-size table.
Hathaway Maverick Table
This versatile table is 7-feet long. The full surface is used with the table tennis top, but the size is reduced slightly when using it as a billiards table.
Fat Cat Reno II Billiard Table
This table is seven feet, so it's best to dedicate game spaces like a rec room where you have plenty of space.
Accessories
Mizerak Space Saver Table
You'll get two cues, a set of balls, a triangle, and chalk with the purchase of this table.
Hathaway Maverick Table
This has cues, pool balls, table tennis paddles, and a table tennis ball.
Fat Cat Reno II Billiard Table
You'll receive two cues, a set of balls, and two chalk cubes.
In Conclusion: Final Pool Table Reviews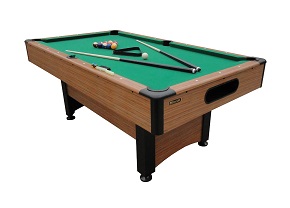 If you love saving money as much as you love playing pool, this table from Mizerak is the perfect choice for your home. Not only will you save money, but you'll also save space, as this is a 6.5-foot table. If the smaller size and price tag throw you off, you shouldn't worry – this is a high-quality table that boasts many of the features you'll find on the more expensive tables.
Standout features of this table include leg levelers for an even playing surface, cross supports to prevent wobbling, rubber cushions, and a ball return system. It is made with bamboo laminate for a classic look, topped with green nylon cloth, and has black rubber accents. It also comes with all of the pool accessories you need to immediately start playing.
Pros:
Affordable
It is very level and sturdy
Smaller design fits in more compact spaces
It comes with many accessories
It looks great
Easy to assemble
It is more lightweight than other pool tables, so it's easy to carry to upstairs rooms
Cons:
The wood may warp over time
It has a chemical smell when first assembled and needs to be placed in a ventilated room to air out
The felt rips easily
It is not ideal for use in outdoor garages or other places where the air may be damp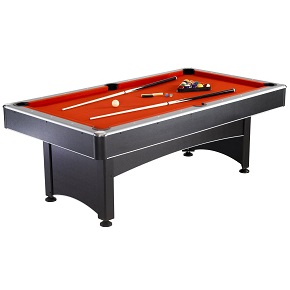 You and your family can have a blast on this table, which gives you two different options. Once you're done playing pool, simply add the table tennis top in just minutes for a new game. This table is 7-feet long, so it's great for your man cave, game room, or any room where you just want to have a good time.
This table boasts black matte laminate sides and has a silver laminate top rail, all topped off with a red cloth top. It looks very modern without being too over the top. It has reinforced rubber cushions for excellent bounce back, and it comes with all of the accessories you need for both games. You won't pay more for both games either – this table is extremely budget-friendly.
Pros:
Affordable
It has two games in one
It comes with all accessories
The 7-foot size is the perfect size for many homes
It looks very modern
It's easy to assemble
It is very sturdy and doesn't wobble when assembled correctly
Cons:
The table tennis top is heavy
The cues and rack feel a bit flimsy
It doesn't have a ball return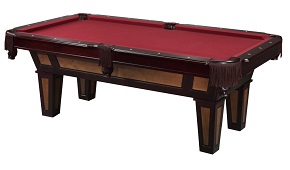 If you want a slate table because of the quality but don't want to spend thousands of dollars and have a huge, heavy table in your home, this is a comparable table that costs much less than slate. It is made with Accuslate, which is just as durable, and in fact, it's backed with a 7-year warranty, so you never have to worry about the quality.
You'll enjoy playing on a table that has a lot of great upgrades like maple wood veneer that gives it a rich look, solid wood rails with white diamond inlays, and beveled legs. This table is very stable and sturdy, and you won't have to worry about wobbling while you play. The 7-foot playing surface gives you plenty of room for a fun and competitive game without completely taking over your game room. You also won't have to worry about buying any extra accessories, as it includes everything you need to start right away.
Pros:
It looks great
It's large enough for a game but smaller than a full 9-foot table
Excellent warranty
It is very easy to assemble
It's very durable
It has rich wood accents that give it a high-end look
More affordable than slate tables
Comes with all accessories
Cons:
It is a bit expensive when compared to other household tables
It is quite heavy, which could make assembly or moving difficult
A Final Word
Whether you want to play your favorite game or you want to start a new hobby, a pool table is a great addition to any home. If you own a business, you can even stick one in your office to keep your customers and clients entertained. Instead of settling for an inferior table, make sure you're completely satisfied with your purchase and get years of use out of your table by purchasing the Fat Cat Reno II Billiard Table.
Even though the price tag may seem a bit intimidating, this model looks great, offers exceptional game play, and comes with everything you need to have a blast with your family and friends.