Some links on this page are monetized by affiliate programs - see disclosure for details.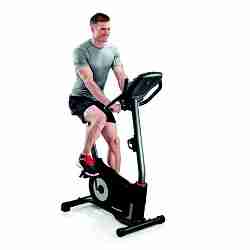 Riding a bike is not only fun, but it's an excellent way to stay in shape. Riding a bicycle daily can help you tone and tighten your body, burn calories, and lose inches. Unlike other types of workouts, like those you would do in a gym, riding a bicycle isn't boring, can be challenging but not too tough, and almost anyone can do it.
However, you may live in an area where the weather is too hot or too cold for long periods or where you frequently have rain. You might not know how to ride a bike, or there may not be any good bike paths in your area. If any of these scenarios apply to you, you don't have to pick another method of exercise. Instead, you can bring the fun of bicycling indoors with an upright exercise bike.
What is an Upright Exercise Bike?
An upright exercise bike is a piece of workout equipment that looks very similar to a traditional road bike. The main difference is that it is stationary and is designed to be used indoors. You do not have to have any special skills or talents to ride one.
In fact, even if you can't ride a regular bicycle, you can ride one of these, as it has sturdy supports that keep it one place without the need to balance it. It has a seat, handlebars, pedals, and a wheel in the front. Many are also equipped with a control panel that lets you keep up with your fitness stats while you work out.
What are the different types of Upright Exercise Bikes?
Upright bikes are categorized by their resistance types. Resistance is important because it allows you to increase the difficulty of your workout. You can increase your resistance to give you more of a challenge. A higher resistance mimics the feeling of riding uphill or riding on a more difficult track. There are several types of resistance systems to look out for when you're shopping for this type of equipment.
• Direct-contact resistance – This system works by having direct pressure applied to the flywheel, which makes it more difficult to pedal. These are typically very affordable, although the parts can wear out after extended use and they may be quite noisy.
• Magnetic resistance – These utilize magnets to provide different levels of resistance. Parts are less likely to wear out quickly because there is no direct contact, and these tend to operate more smoothly and quietly than other types.
• Fan resistance – Instead of having a flywheel, this has a large fan in place of the traditional wheel that provides you with different levels of resistance.
What are the Advantages of Owning an Upright Exercise Bike?
One of the biggest advantages is that you can stay in shape with this type of equipment. You can shed pounds and inches just with a daily ride. This equipment offers you all of the benefits of bicycling outdoors without the need for a lot of extra equipment (like helmets and special cycling clothes), and you won't have to worry about the weather outside – you can use it anytime. Space-saving models are available, so even if you live in a smaller home or apartment and don't have a dedicated workout space, you can still get in shape.
By working out at home, you can save hundreds of dollars in annual gym dues. You can also use these bikes to train for a bike race when the temperatures outdoors are just too hot or too cold.
Who are the contenders for Best Upright Exercise Bike?
Exerpeutic Folding Magnetic Upright Bike with Pulse – One of the reasons that many people don't have household exercise equipment is because it's too big, bulky, and heavy. With this space-saving design, you don't have to have a dedicated workout space, as it folds up and moves easily when not in use. When it's time to exercise, you'll get a great workout, as this offers eight level of resistance. It is ideal for most heights, and it tracks fitness stats, including keeping track of your pulse so you're always working out in the target zone.
FitDesk v2.0 Desk Exercise Bike with Massage Bar – If one of the reasons that you don't work out is because you're just too busy with work, you can pull double duty with this bike that has a built-in desk. The sturdy desk holds your laptop or reading material, while the bike allows you to get an efficient workout. It folds when not in use, so it's a great piece to have in your home or office. It offers multiple levels of resistance, as well as a recumbent or upright position for your comfort.
Schwinn 130 Upright Exercise Bike – Make sure you're hitting your fitness goals with every workout with this great bike, which gives you 13 levels of feedback over two LCD displays. This bike truly has it all to provide you with an exceptional workout, including customized user settings and 22 built-in programs for a challenging and heart-pumping workout. You can charge your phone or device while working out with the built-in USB port, and you can exchange data between your phone and the machine for ultimate fitness tracking.
Considerations for Choosing the Right Upright Bike For You
There are a few things you need to keep in mind to make sure you're satisfied with your purchase. The whole point of buying this equipment is to stay in shape, lose weight, or train for a cycling race. If you don't love the equipment you've chosen, it won't get used, thus defeating the purpose of even owning it. Once you're ready to make your purchase, look for the following four features in every bike you may purchase.
Price
A basic bike may set you back a few hundred dollars, but the most advanced models may cost several thousand dollars. You shouldn't just buy the cheapest bike to save money, and you shouldn't go overboard to get a model that has bells and whistles you'll never use. Weight out the most important features, as well as the price, to make sure you're getting the best deal on a model that has everything you want.
Warranty
Your bike shouldn't fall apart after a few uses. You should expect to get a few years of use out of your bike and a warranty makes sure that you do. With a warranty in place, parts like your frame, flywheel, and electronic control panel may be covered against issues that occurred during the manufacturing process.
Functions
If you plan to use your bike over the long term, you want to make sure that it has lots of different features that allow you to change up your workout and always challenge yourself while working out. Built-in workout programs, easy resistance changes, and other features let you fully customize every ride.
Tracking
Keeping up with your fitness stats is an important part of your workout. Look for a model that has an electronic panel that tracks your time on the bike, overall distance, speed, calories burned, and more. This not only lets you keep up with your daily workouts, but it's also a great way to see how you've improved and plan out a new and more challenging workout once you've begun to plateau.
Warranty
Exerpeutic Folding Magnetic Upright Bike with Pulse
The frame is covered from one year after your purchase, while all other parts are covered with a 90-day warranty.
FitDesk v2.0 Bike
A 1-year warranty is included with your purchase.
Schwinn 130
This bike comes with a great warranty, including a 10-year frame warranty, a 2-year mechanical warranty, a 1-year electrical warranty, and 90 days for labor.
Functions
Exerpeutic Folding Magnetic Upright Bike with Pulse
This model has eight levels of resistance to increase your challenge.
FitDesk v2.0 Bike
This has eight levels of resistance for a great lower body workout, as well as resistance bands for upper body workouts.
Schwinn 130
This has 20 levels of resistance and 22 built-in programs so you can consistently challenge yourself while exercising.
Tracking
Exerpeutic Folding Magnetic Upright Bike with Pulse
The tracker on this model shows distance, time on the bike, calories burned, heart rate, and speed.
FitDesk v2.0 Bike
Mileage, calories, and time spent on the bike are all tracked on an easy-to-read digital display.
Schwinn 130
This tracks all of your stats, including distance, time spent riding, speed, calories burned, and much more. You can add your own outside stats via the USB port, or you can upload your data from the bike to a fitness app for easy tracking.
Conclusion: Our Upright Exercise Bike Reviews Are In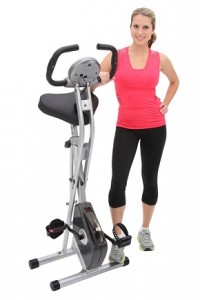 This bike is great for working out in a smaller space, as it folds up when not in use for easy storing in a corner, closet, or other space. That's not all this model has going for it, though. It is a very sturdy, durable bike that features magnetic resistance at eight different levels to provide you with a challenging workout that helps you burn calories, lose weight, and tone your body right at home.
This budget-friendly bike has a large LCD display that's very easy to read and keeps up with your fitness stats. It has a high-torque crank system that makes pedaling smooth, easy, and consistent. It is designed for quiet operation so you don't bother neighbors or others in your home. It has leg stabilizers for added stability, making it less likely to tip when not in use. The height adjusts to accommodate riders from 5'3" to 6'1".
Pros:
It is very affordable. It has a space-saving design. It is quiet. It is sturdy and will not tip over. It supports a weight limit of up to 300 pounds. The display is easy to read. It tracks your most important stats. It is great for users of many heights. The resistance is easy to adjust. It operates quietly. It pedals smoothly. It is very easy to assemble. It comes with a warranty.
Cons:
A clicking noise may occur after long-term use. The seat is not very comfortable. The belt wears out after heavy use. It is best for light use, as heavy use can cause parts to wear out quickly.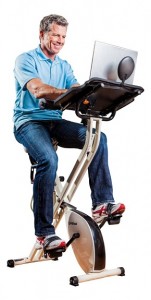 If your long hours at work keep you from being in great shape, you can truly do it all with this bike, which has an attached desk that's sturdy enough to hold your electronics, allowing you to work, study, or just use your devices for entertainment with ease while you exercise. Put your school book on the stable desk for studying while working out, or use your laptop for email, looking over your reports or notes for a big presentation, or just for watching a movie or chatting on social media while you get in shape.
To keep you stable and comfortable while exercising, this model has a built-in backrest that is adjustable for your comfort. It also has forearm massage rollers that keep your arms from getting fatigued. If you want an even better workout, resistance bands are included with your purchase. This features a display that keeps up with your fitness stats, a quiet flywheel design, and when not in use, it folds up for storage.
Pros:
It has a sturdy desk for working while working out. It has a storage drawer for smaller items. It has a laptop strap to protect your expensive equipment. It has eight levels of resistance for a challenging workout. It comes backed with a warranty. It has massagers on the desk to make it easy to type while riding. It has a backrest for added comfort. It can be adjusted for semi-recumbent use. It's easy to change the resistance. It has a display that keeps up with your stats. It folds up to a smaller size, making it a great choice for small spaces.
Cons:
The instructions can be a bit confusing. It is difficult to assemble. The belt may wear out with heavy use. The included tools are not of good quality. Over time, it may begin clicking.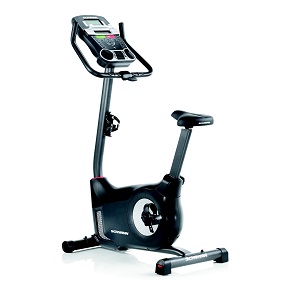 If you want a machine that's comparable to those found at your local gym without spending thousands of dollars, this model is just what you're looking for. This model is from Schwinn, a leader in bikes, and it comes with everything you need for a tough, effective, yet fun workout. This model comes with 20 different levels of resistance, so whether you're new to cycling or you've been doing it for years, you're sure to get an excellent workout session.
Get in your best shape ever with 22 built-in fitness programs, or you can use the two user setting options to create your own personalized workout. This comes with two LCDs which provide you with 13 levels of feedback. You can connect your phone apps to this bike to upload your data, or you can pull the data from the bike to your electronic devices for the most effective tracking.
You'll love working out to your favorite tunes with the built-in speaker, and other convenience features include a USB charging port, heart rate monitor, a 3-speed fan for cooling off, a comfortable padded seat, and adjustable handlebars for complete comfort during your ride. It has a 300 pound weight limit, levers for stability, and wheels for moving it out of the way if you don't have a dedicated home gym.
Pros:
It has multiple programs. It has many levels of resistance. It's easy to change your settings and resistance. It tracks all of your fitness stats. It comes backed with one of the best warranties you'll find in this product category. The bike is durably made. It can be customized with your own fitness program. It provides feedback and advanced tracking. It has built-in chamber speakers for excellent sound. It has a built-in fan to keep you cool. It has a contact heart monitor to keep you in your target zone. It has a comfortable seat that is easy to change if needed. It is very quiet. It is very stable and level. It is easy to assemble.
Cons:
It has an expensive price tag. There is little clearance between the crank and the pedals. The onboard display is larger than most.
Conclusion
You don't have to pay hundreds or thousands every year to your local gym to stay in shape – you can get an excellent workout at home with an upright exercise bike. Although you might want to save money by buying a less expensive model, you'll find that many of these wear out with heavy use. If you plan on using your bike for years to come to get into excellent shape, you'll want to choose a quality model like the Schwinn 130.
Even though the price may be intimidating, the features that this boasts just can't be beat, including a great warranty that covers all aspects of the bike. You'll be able to increase the intensity of your workout so you'll never hit a plateau, and work within the built-in programs or create your own for more of a challenge. With added features like a USB charger, fan, and built-in speakers, this top-of-the-line model will put you on the right path to great health and a toned body.