Some links on this page are monetized by affiliate programs - see disclosure for details.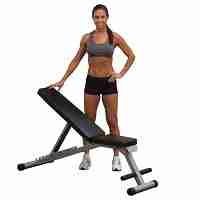 Working out with weights, in addition to a healthy diet and cardio exercise, is a great way to keep in shape. Not only will weightlifting give you the body you've always dreamed of, but it will keep you healthy and potentially help you avoid various diseases and health issues caused by being overweight. Lifting weights doesn't necessarily mean you'll be all bulked up. Men and women of all ages lift choose to lift weights to lose weight and gain strength.
While millions of people join a gym to stay in shape, monthly dues can become extremely expensive. Household workout equipment may be more of an initial investment, but over time, you'll save money on pricey gym charges, and you can work out anytime you want in the comfort of your own home.
What is an Adjustable Weight Bench?
An adjustable weight bench is a type of bench used while lifting weights, exactly as the name implies. These are favored by many amateur and professional fitness buffs because of the versatility. While a flat bench allows you to work out the arms, chest, and leg exercises, it can be quite restricting if you want to do decline and incline exercises that target different muscle groups.
A bench that is adjustable lets you easily move it from a flat position to one that lets you recline or sit straight up, which lets you perform even more exercises such as decline bench press and shoulder presses. With an adjustable bench, you can do all of your weight training on one bench, which helps save space in your home, especially if you don't have a dedicated workout room.
What are the different types of Adjustable Weight Benches?
Whether you've been lifting weight for years or you're brand new to working out, an adjustable bench can help you achieve your health and fitness goals. Before you invest in a weight bench, though, make sure you know what to look for when shopping for your new workout equipment.
Traditional adjustable models – These allow you to lie flat, or you can adjust them into a variety of incline positions or even sit straight up to perform all of your strength training exercises with weights.
Flat/incline/decline FID models – These benches are similar to traditional models with the added addition of being able to decline; that is, the head portion can go lower than the flat position. This allows you to perform additional exercises you can't achieve with a traditional bench that can only incline.
What are the Advantages of Owning an Adjustable Weight Bench?
Unlike a flat bench, adjustable models give you more versatility in your workouts, allowing you to perform additional exercises for your legs, chest, arms, and stomach for a total body workout. These benches are far more versatile than just a flat bench, and many models fold up for storage, so they are great for homes with limited space.
With your own weight bench, you can work out at home any hour of any day to keep in shape without the hassle and expense of going to a gym.
Who are the contenders for Best Adjustable Weight Bench?
Body-Solid Best Fitness Folding Bench – If you want to save space and money, you can't go wrong with the purchase of this bench. It features incline, decline, and flat bench options for performing a variety of weight training exercises. It is easy to adjust, has extra padding for complete comfort, and it's backed with a warranty that assures you that you've made a good investment in a quality product.
Ironmaster Super Bench – If you want versatility, that's what you get with this bench. The Super Bench shows that it's super versatile with 11 different settings that allow you to get the best workout of your life. It is very comfortable, super heavy-duty, and it even has optional attachments that can be added to enhance your strength training routine.
XMark FID Flat Incline Decline Weight Bench – If you want a weight bench comparable to those found at your local gym, it doesn't get much closer than this one, and it's available at a great price too. This bench has loads of great features, including a 1500 pound weight capacity, a solid steel construction, 3" padded seat, and wheels for easy storage.
Considerations for Choosing the Best Adjustable Weight Bench
If you've decided you want to tone and strengthen your body at home, a weight bench is the way to go. Before you just dump hundreds of dollars into the first bench that you see, however, you need to make sure you're selecting a bench that best suits your fitness needs. Whether you're a seasoned gym pro or just getting started, you need to know what to look for in a quality piece of workout equipment, and you can begin by keeping these four considerations in mind as you shop.
Price
Weight benches do not come cheap, although there are some that are less expensive than others. If you're on a budget, your options may be limited, but try to make sure that you're not sacrificing quality to save a few bucks. Generally, the more expensive weight benches are built more solidly, have a greater range of incline and decline, and are more comfortable than inexpensive benches.
Weight capacity
If you plan on using lots of heavy weights with your weight bench, you certainly don't want the bench to collapse under too much weight. This could be deadly, so make sure that you purchase a bench that will comfortably accommodate a higher weight limit for your own safety.
Warranty
You don't want to purchase a product that breaks after the first use, so why risk it by buying a product without a warranty? A warranty protects you against manufacturer's defects that could cause your bench to become unusable.
Incline/decline
To get the most out of your workout, you need to find a bench with many different settings that are easily adjusted. This way, you can get the full body workout you're looking for all from just one piece of equipment.
Price
Body-Solid Best Fitness Folding Bench
This is one of the most inexpensive weight benches on the market that is still durable, sturdy, and made with quality materials.
Ironmaster Super Bench
You can expect to pay a bit more for this mid-priced bench.
XMark FID
This pricier option is considered a high-end weight bench, very comparable to those you'd find at your local gym.
Weight capacity
Body-Solid Best Fitness Folding Bench
The maximum capacity for this weight bench is 500 pounds. This includes your body weight, the weights themselves, and any accessories.
Ironmaster Super Bench
You can feel safe with up to 1,000 pounds of weight on this bench, including your body weight as well as the weights you are lifting.
XMark FID
This bench has been rated to be safe for up to 1,500 pounds.
Warranty
Body-Solid Best Fitness Folding Bench
Your purchase comes with a manufacturer's 3-year warranty that protects you against any defects that could affect the functionality of your bench.
Ironmaster Super Bench
This bench comes with an incredible warranty: one year on the upholstery and a full 10-year limited warranty on the rest of the piece, which is a much better warranty than many comparable models in the same price range.
XMark FID
Feel secure with your purchase when you know that it includes with a lifetime warranty. Although it doesn't protect against normal wear and tear, it does always ensure that there are no defects in craftsmanship that affect the functionality and safety for the lifetime of your product.
Incline/decline
Body-Solid Best Fitness Folding Bench
You'll be able to choose from five different positions that range from a negative ten degree decline to a 70 degree incline, including a flat position.
Ironmaster Super Bench
There are 11 different angles on this bench ranging from decline to flat to full incline and everything in between for a total body workout. This offers you complete versatility for any type of workout routine.
XMark FID
You can adjust this bench to seven different positions which range from negative 20 to 85.
Conclusion: Our Adjustable Weight Bench Reviews Are In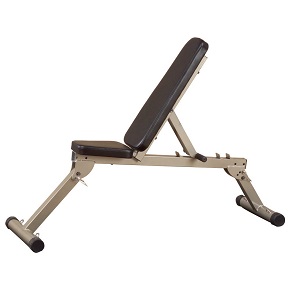 You don't have to pay a fortune for a basic bench that's still high-quality. If you're just getting started, this bench from Body-Solid is a great entry level piece of equipment. It has five different positions, including a negative 10 degree decline, for lots of different weight exercises.
The powder coated frame is durable and can hold up to 500 pounds, and the 1.75-inch seat pads make it comfortable for sitting. Safety pins and bolts are included, and they make it easy to adjust your incline or decline. It is also compact and foldable, so it's easy to store when not in use.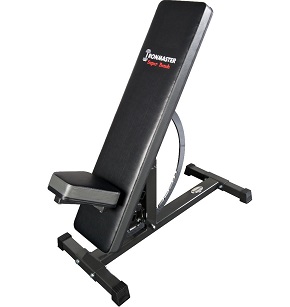 This Super Bench is aptly named because it does a super job at keeping you in the best shape of your life. Choose from 11 different incline and decline levels to pump up your daily workout. The angle is easy to adjust, and it's all set on a powder coated frame that's durable enough to support up to 1,000 pounds for all types of lifting, including dumbbells, cages, and racks.
You can make this bench even more versatile with attachments like a dip handle or sit-up attachment, each sold separately. There are three inches of padding for total comfort during your most difficult routines. It is extremely sturdy, but at just 60 pounds, it's easy to move for storage without even needing wheels. It is also affordable when next to other benches.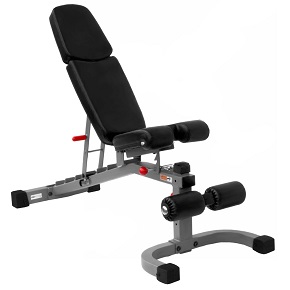 If you're serious about your lifting, you want a serious bench that's ready for everything you have to throw at it. This bench is built for high performance. It has a 1,500 pound weight limit, so you can subject it to your toughest weightlifting workouts without worrying about your safety. It is durable, secure, and crafted with high-quality materials like commercial gauge heavy-duty steel.
You can add optional attachments, sold separately, to get the most out of your workout, or you can use it with your heaviest weights. You'll get all of the comfort and support you need from the thick 3-inch pads, and it boasts other great features including seven recline and incline levels, an oversize roller bar with vinyl covers, and wheels for quick and easy storage.
In Conclusion
Lifting weights is a great way to increase your strength and get your body in excellent shape. Instead of spending hundreds or even thousands of dollars every year at the gym, you can get the same great results at home with your own weight bunch. An adjustable model allows you to get the most out of your workout, giving you complete toning from head to toe.
If you want a bench you can count on for stability, support, and comfort, give the XMark FID a try. Even though it is more expensive than other benches, it is comparable to commercial benches, and the limited lifetime warranty gives you peace of mind in your purchase.