Some links on this page are monetized by affiliate programs - see disclosure for details.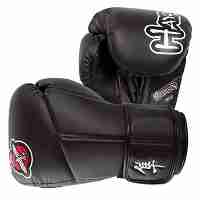 Professional athletes and boxing enthusiasts know that the most important piece of equipment that they bring into the ring is their boxing gloves. Choosing the right boxing gloves will give beginners and experienced boxers alike the advanced comfortable padding that they need to protect against injuries, strains and over-extensions of the fingers or thumbs.
Boxing is a sport of beauty and precision, and a good pair of boxing gloves can help minimize damage while deflecting and spreading the impact of punches and blows.
A Guide To The Best Boxing Gloves
The sport of boxing has an unruly past, and initially began as a bare-knuckles brawl between men in order to settle disputes. After this version of the sport became too gory, with too many boxers becoming seriously injured or incapacitated, it was decided that boxing gloves be adopted for all professional boxing contests.
A properly-designed boxing glove performs two vital functions: it protects the wearer's hand, particularly the fingers, from being broken or injured, and secondly, gloves spread out the force of the blow when striking, thus elevating boxing to a more nuanced, technical sport and not a back alley brawl. Today's more advanced models of boxing gloves use patented interior padding that keeps hands cool and dry. Some gloves contain interior structures or reinforced padding in areas to provide extra protection against broken bones or other injuries.
Today's modern boxing gloves come with a wide range of additional features, including advanced self-administered quick closures that allow athletes and boxing enthusiasts to perform solo training at home or small gyms. Fitness enthusiasts are increasingly adopting boxing as a way to improve cardiovascular health. Modern boxing gloves are designed to help both athletes and amateur enthusiasts take full advantage of the many benefits of the sport while providing comfortable, secure padding to protect against injuries. Advanced interior padding materials offer greater shock absorption from punches and blows while keeping hands and fingers dry for years of odor-free comfort.
What are the different types?
Today's boxing gloves come in a wide variety of styles and colors. Fashion-conscious athletes and boxing enthusiasts can choose from a range of vibrant colors to match their trunks or fitness apparel. Some of today's modern boxing gloves use unique self-closing straps to allow for individuals to don and remove the gloves without help.
While all models of boxing gloves contain padding for the hands and fingers, different boxing gloves take advantage of different techniques and advanced cushioning materials. Some models are filled with advanced textiles that improve the skin's ability to breathe, keeping palms and hands cool and dry. Some boxing glove manufacturers offer models with the thumb area permanently attached to the rest of the fist in order to help provide an extra layer of protection while simultaneously encouraging better boxing techniques.
What are the advantages of owning a pair?
A properly fitting pair of boxing gloves is absolutely essential for anyone who wishes to engage in the sport of boxing. Without using gloves, throwing punches can easily lead to serious damage to the hands, including broken fingers and other painful injuries. Wearing a good pair of boxing gloves will both help provide vital cushioning against the impact of punches but also help keep hands aligned for using proper boxing techniques.
Home trainers know that workout sessions that include boxing routines offer outstanding opportunities to benefit from greater cardio-aerobic fitness. Home fitness enthusiasts are more inclined to include a vigorous daily boxing routine to their workout if they have a pair of comfortable, well-padded and stylish boxing gloves. When blows and the impact from strikes are minimized and deflected, boxers and home fitness enthusiasts are freed to concentrate on improving their technique without worrying about sustaining injuries.
Which models are the contenders for the Best Boxing Gloves?
The company is a legend in the field of boxing for a reason. The Pro Style gloves comes in three different colors, all of them featuring Everlast's classic spartan style. Using a carefully engineered system, special padding on the front and back of the wrists helps guide boxers towards using proper techniques. The company's patented ThumbLok system ensures that the fist and thumb are securely positioned to prevent injuries.
These visually distinct boxing gloves will add flair to any bout or home training session. Available in three different sizes, professional athletes and fitness enthusiasts alike will benefit from these well made boxing gloves. With a top-quality leather exterior, the TITLE Boxing Pro gloves will give any competitor or home fitness boxing enthusiast years of rugged reliability in the gym or boxing ring.
These boldly colored boxing gloves throw a stylistic punch even before entering the ring. With triple density foam on the interior and patented leather construction on the outside, the Venum Elite gloves offer the latest in cutting edge technology and durability for boxers and fitness enthusiasts.
Considerations for Choosing the Right Boxing Gloves
Padding – The most critical element of all boxing gloves is the padding that comes inside. While all models offer some sort of cushioning against blows and punches, some of today's more advanced boxing gloves use special padding tailored to deflect hand strikes and lateral energy from injuring fingers and thumbs.
Style – Boxers know that one of the keys to a successful bout is self-confidence, and having a pair of professional, stylish boxing gloves can help make every athlete or amateur enthusiast a better boxer. With a wide variety of styles and colors to choose from, boxing gloves can be found to match trunk colors or personal fashion preferences.
Construction & Design – By definition, boxing gloves are going to be taking a lot of abuse. A good pair of boxing gloves should be well-designed, providing adequate protection and cushioning for the hand while offering reliability and durability even after extended heavy use.
Additional Features – Some of today's most advanced boxing gloves come with special interior features that help keep the palm and fingers dry. Other models have specially-tailored padding or interior mechanisms to help give both amateur and experienced boxers guidance in protecting their hands while using the proper boxing techniques.
Padding
Everlast Pro Style Training Gloves
The shape and padding of Everlast is standard for the company's line of boxing gloves. The Pro Style come with the signature full padding areas on both the front and the back of the wrist, which helps promote proper boxing techniques.
TITLE Boxing Pro Style Leather Training Gloves
The Boxing Pro Style gloves come with adequate padding, and with three different sizes to choose from, boxers and home trainers should find these gloves a comfortable fit.
Venum Elite Boxing Gloves
These quality gloves contain a special mesh panel under the fist to help provide enhanced thermal regulation. The Venum Elite come with Triply Density foam padding and a specially reinforced palm to provide maximum absorption power. The thumb area is completely attached to the fist to help provide boxers greater protection against injuries.
Style
Everlast Pro Style Training Gloves
Everlast has a classic, timeless look, and the Pro Style gloves will look good in any boxing ring. Available in three primary colors: black, red, and bright blue. The wrist padding areas feature the company's logo in big letters, informing opponents and onlookers alike that you're equipped with top-quality boxing gloves.
TITLE Boxing Pro Style Leather Training Gloves
It's almost astonishing just how bright the color on these gloves is. Available in four choices: black, bright blue, cherry red and a vibrant pink, these gloves will definitely set any boxer or athlete apart in the ring.
Venum Elite Boxing Gloves
Featuring glossy black and bold red colors with an aggressive snake icon biting the company's logo, these very stylish gloves will look good in any ring or home gym. Amateur and beginning boxers will gain great confidence from the Venum Elite boxing gloves by knowing that their hands are protected with the latest in advanced cushioning technologies.
Construction & Design
Everlast Pro Style Training Gloves
All Everlast boxing gloves are carefully stitched to ensure that they last for many years of regular use. These gloves feature a very nice Velcro enclosure, meaning that individuals can secure and remove these gloves without help. The exterior vinyl surface adds to the classic streamlined look of boxing gloves used by previous generations.
TITLE Boxing Pro Style Leather Training Gloves
Title uses only the best leather to make this line of gloves, meaning that boxers and home athletes can depend on them for years of heavy use. The unique velco closure strap offers home trainers and boxers performing solo workouts to easily secure or remove these gloves.
Venum Elite Boxing Gloves
The exterior of the Venum Elite is made out of top-quality Skintex leather to provide years of durability even with extended use. With a fully-attached thumb section and highly-advanced padding system, the Venum Elite gloves are designed to provide outstanding comfort with maximum security against injuries and strains. The exterior of these gloves is handmade in Thailand using strengthened seams to provide greater longevity and protection against damage and abuse.
Additional Features
Everlast Pro Style Training Gloves
These gloves come with the company's patented ThumbLok feature, which helps position the thumb and fist to minimize injuries during use. The wide wristbands offer extra protection against glancing blows or wayward punches.
TITLE Boxing Pro Style Leather Training Gloves
Although Title has never released the formula of their advanced interior padding material, many heavy users and professional boxers have benefited from its ability to help keep the palm and fingers cool and dry.
Venum Elite Boxing Gloves
Thermal regulation in the fist area helps keeps hands cool and dry even during official competition or high-stakes situations. Reduced moisture production in the hand area also helps keep the interior triple density foam dry and odor-free, greatly extending the useful life of these boxing gloves.
Conclusion: Our Boxing Gloves Reviews Are In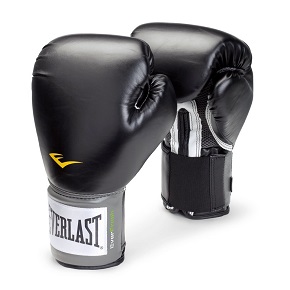 These classic and timeless gloves from Everlast will look good in any boxing ring or home gym. Featuring their signature, streamlined style, the Everlast Pro Style training gloves offer professional athletes and fitness enthusiasts alike the ultimate in padding, comfort and elegant design.
Pros:
These gloves are designed to be easy to put on and take off without any help, which is great for home athletes and solo workout sessions. The classic look of these great boxing gloves definitely adds to self-confidence levels, and the advanced interior padding system provides the ultimate in hand and finger protection.
Cons:
The exterior of the glove is made from vinyl, which may result in slightly decreased longevity as opposed to other models made from leather.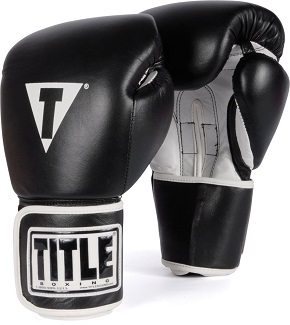 These leather gloves offer the classic durability of the original boxing glove design with a bold modern color twist and self-closing lace-up system. With vibrant, strong colors to choose from, even beginning boxers and amateur enthusiasts will enjoy sparring, training and competing with these outstanding gloves.
Pros:
A leather surface offers the best durability and longevity for boxing gloves. Even after extended use over many years, leather boxing gloves should still be in excellent condition. The very wide wrists offer greater protection against injuries. The triple density foam is designed to maximize shock absorption from punches and blows.
Cons:
While the exterior is made out of durable leather, some users have reported that the interior padding can come slightly dislodged or degraded after heavy use.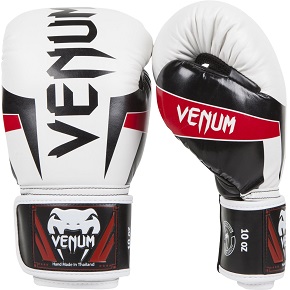 The Venum Elite line of boxing gloves truly do earn their own self-declared moniker, giving boxing professionals and home trainers the very best quality in protection, style and comfort. With an aggressive, bold design and the latest in cushioning technologies, these gloves give any boxer a tremendous boost in the ring.
Pros:
These gloves may be considered pricey by some people but they are well made and should last for years without any significant wear or tear. The foam padding and attached thumb ensure that the hands and fingers can safely absorb and deflect blows.
Cons:
These gloves are made in Thailand, using a special process that may initially emit a unique odor that some people find pungent. After an initial breaking-in period, this phenomenon will soon dissipate.
In Conclusion
Whether you're a fitness enthusiast who wants to expand their home training options or an athlete who enjoys the benefits of the sport of boxing, it is always critically important to carefully assess your needs and options before buying a pair of boxing gloves. Today's models come with a wide variety of styles and options, and boxers and home fitness trainers need to find the right pair of gloves to suit their needs.
Combining the classic leather exterior of legendary boxing gloves with the very latest in advanced cushioning engineering in the interior, the Venum Elite boxing gloves offer amateur and professional boxers alike the very best in style and protection. With a comfortable, breathable interior and advanced, rugged construction on the outside, the Venum Elite will help any boxer or fitness enthusiast enjoy years of sparring, training and competition.