Some links on this page are monetized by affiliate programs - see disclosure for details.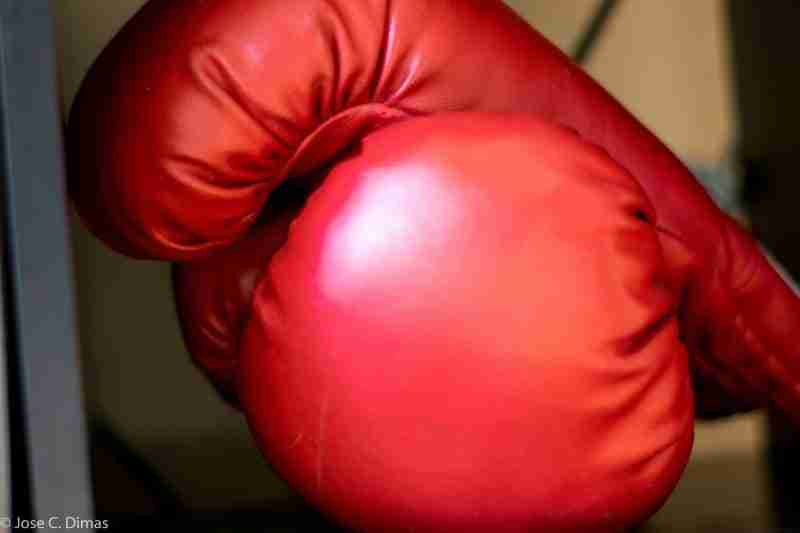 Boxing is one of the oldest sports known to man. In the sport's long history, there have been a number of excellent matches. These matches have happened at all weight levels, from lightweight, to welterweight, to heavyweight, and more. Here are the top 10 best boxing matches of all-time.
1. The Thrilla' in Manila (1975)
Dubbed "The Thrilla' in Manila," the highly anticipated third and final match between legendary heavyweights Muhammad Ali and Joe Frazier took place in Philippine Coliseum in Quezon City, Philippines on October 1, 1975. The fight easily lived up to its hype, going 14 rounds, and ending with a technical knockout by Ali. In the end, Ali won the Ali vs. Frazier rivalry, besting his nemesis 2 bouts to 1.
2. Jack Johnson vs. Jim Jeffries (1910)
Like all American sports, boxing was once rife with racism. Because of this, black fighters weren't even afforded the chance to fight for championships. That is, until Jack Johnson fought Tommy Burns. Johnson defeated Burns easily, becoming the first black heavyweight champion in the sport's history. This triggered a bout between former white heavyweight champion Jim Jeffries and current black heavyweight champion Jack Johnson. Taking place on July 4, 1910, Johnson defeated Jeffries in 15 rounds by TKO.
3. Rocky Marciano vs. Joe Walcott (1952)
The first of two fights between Marciano and Walcott took place on September 23, 1952 at Municipal Stadium in Philadelphia, Pennsylvania. Walcott was the undefeated Marciano's toughest competition yet, and the current heavyweight champion. While Walcott started off with the momentum, Marciano eventually began to take over. The bout went 13 rounds, with Marciano winning by knockout.
4. Joe Frazier vs. Muhammad Ali (1971)
The fight that started the Frazier vs. Ali rivalry took place in 1971. The lead up to the fight was characterized by Ali berating Frazier, infamously calling him an "uncle Tom." By the time the fight was taking place, sports fans were absolutely enthralled. The fight itself did not disappoint. Dubbed The Fight of the Century by sportswriters, Ali and Frazier both went into it undefeated. After 15 rounds of fighting, Frazier won by unanimous decision.
5. Roberto Duran vs. Sugar Ray Leonard (1980)
Roberto Duran vs. Sugar Ray Leonard was seen as a battle of opposites. Duran was the mean, stone-faced, and brutal fighter while Leonard was the smiling, charismatic, and finessing boxer. After much hype and build-up, the bout finally took place on June 20, 1980 in Montreal. After 15 rounds of fighting, Duran defeated Leonard by unanimous decision.
6. Joe Louis vs. Billy Conn (1941)
Though he was best as a light heavyweight, in 1941, light heavyweight champion Billy Conn moved up a weight class to challenge heavyweight champion Joe Louis. After 12 rounds, Conn had bested the great Joe Louis. But in the 13th round, Conn went for the knockout. It was a huge mistake. Just a bit later in the same round, Louis connected with the knockout punch, winning the bout over Conn in 13 rounds.
7. Sugar Ray Leonard vs. Marvin Hagler (1987)
'Marvelous' Marvin Hagler is known as one of the most intimidating boxers of all-time. Not only could he throw a vicious punch, but he could take one as well. So when he squared up against superstar Sugar Ray Leonard to defend his middleweight title, it created quite a buzz. The fight lived up to its hype, going all 15 rounds. And then, in a very controversial decision, Leonard was awarded with the victory in a split decision. It's disputed to this day.
8. Willie Pep vs. Sandy Saddler (1949)
Featherweights Willie Pep and Sandy Sadler were two of the fiercest rivals in sports history. The men fought a total of 4 times, with 3 bouts going to Saddler. Perhaps the best of the 4 fights was the second, occurring on February 11, 1949. Pep's only victory against Saddler, it was highlighted by its bloodiness and overall gore. After 15 rounds, Pep was awarded the victory by unanimous decision.
9. Gene Tunney vs. Jack Dempsey (1927)
Jack Dempsey is regarded as one of the most vicious fighters boxing has ever seen. Though small compared to most of his opponents, he fought with a fierce brutality only seen in a few of boxing's greats. His best fight came in his second battle against heavyweight champion Gene Tunney. Named "The Long Count Fight" for a controversial down count in the 8th round, Tunney was able to defeat Dempsey in 10 rounds by unanimous decision. It was the last fight of the legendary Dempsey's career.
10. Larry Holmes vs. Ken Norton (1978)
Taking place on June 9, 1978, the fight between Larry Holmes and Ken Norton was Norton's first and only defense of the heavyweight championship. The fight occurred toward the end of Norton's prime, and toward the beginning of Holmes' prime. It went all 15 rounds, resulting in a split decision that ultimately went to Holmes. It would begin a heavyweight run for Holmes that is the third longest in heavyweight boxing history.
Image Courtesy of Flickr User J Dimas