Some links on this page are monetized by affiliate programs - see disclosure for details.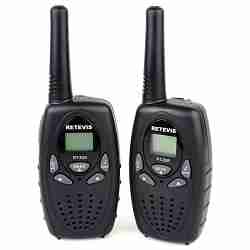 Even in the age of cell phones, there is something about a two-way radio that immediately attracts the attention of children. Walkie talkies let kids imagine they are cops and robbers, secret agents and spies. They make great gifts on any occasion and can even be useful for parents who aren't quite ready to give their children cell phones.
There are plenty options when looking for the best walkie talkies available, from cheap toys to legitimately workable radios. This guide presents a look at the best of both worlds, and some that are above and beyond those expectations.
What Is a Walkie Talkie?
Walkie talkies are hand-held, portable radios for two-way communication. They were first used in military environments decades ago, but now are available for just about anyone to use and buy. Walkie talkies are unlike cell phones in that only one person can talk at a time.
One person holds down a button to talk, releases it to open the channel back up, then the other person speaks, just like in old movies. They continue to have some workplace applications but are typically enjoyed by children playing games.
What Are the Walkie Talkie's Advantages?
Walkie talkies don't have the range or flexibility of a cell phone, but during certain activities are more convenient to use. Each radio in a set is always available to the other so long as it is in range, so one can speak to another person without having to wait for their call to be answered. They're good as toys but also useful during home remodeling projects and other such jobs where quick communication is essential.
Which Models Are the Top Contenders for Best Walkie Talkie?
Nerf is one of the unchallenged kings of the toy industry and their walkie talkie set is about what one would expect from them. It has an attractive color scheme, durable but kid-friendly materials, and basic functions. It has a listening range of 1000 feet and can even use morse code.
Contrary to its name, the RT628 Kids walkie talkies are fairly professional in their makeup and capabilities. The simple black devices can communicate over 3000-8000 feet depending on the environment, and can communicate with as many like devices there are on the same channel.
Spy Gear's Ultra Range walkie talkies combine kid-friendly aesthetics with very high functioning radios, touting a clear listening range of over two miles. The walkie talkies are sturdy, easy to use and are fantastically designed without looking too childish.
Features to Consider
Walkie talkies are universally simple devices, but the quality of their internal mechanisms has a lot to do with how effective they are. Functionally, a walkie talkie can easily be judged by its listening range and sound quality. Overall, aesthetic appeal and physical construction play to individual needs and preferences. A good walkie talkie will both look good and operate well.
Range
Walkie talkies don't generally reach beyond walking distance ranges, but more is always better when it comes to selecting one. A walkie talkie's listed range isn't exactly the maximum it will usually reach. Nor is it the minimum if a terrain interferes with radio waves. However, in most environments, the listed range is a good judge of how far it will audibly reach.
Appearance
In most cases, one will be searching for a walkie talkie that appeals to children, which makes shopping for them fairly easy. Manufacturers tend to be aware of what their walkie talkies are going to be used for and design them accordingly. Even still, some designs are simply cooler than others. For people with picky kids, this can be a focal point.
Durability
Walkie talkies are prone to taking a lot of abuses, whether they are being used by children at play or adults at work. How well a radio holds up against reasonable amounts of impact determines just how useful it can be, from the playground to hiking trails and construction sites.
Sound Quality
Radio waves are generally not as clear as refined cell phone signals, but better quality walkie talkies can keep their audio clarity up even at longer ranges. Walkie talkies are completely useless if one person can't understand what the other is saying, so next to range sound quality is perhaps the most important factor.
Range
Nerf Walkie Talkies
Nerf's 1000-foot range is longer than it sounds, as a person standing that far away is barely visible. Of course, the radios are very rarely going to be used in a straight line with nothing in between them so that range dips somewhat when it has to pass through obstructions and houses. However, the average continuous reach of Nerf's walkie talkies is long enough that there are few communication issues in typical use.
Retevis RT628
The RT628 boasts a range of up to 5000-feet depending on the environment and terrain, and the radios actually do hold up fairly well across long distances. They are just a little better refined than most walkie talkies at their price range and are thus capable, if not ideal, for use on hiking trails as well as for kids playing games. Interference still cuts a chunk out of the range of the radios, but it has a substantial amount of room to work with.
Spy Gear – Ultra Range
At a staggering two miles, the Spy Gear radios have by far the greatest amount of possible range available. In order to even reach such lengths, the walkie talkies include several high-end internal electronics, which also aid the radios in communicating well within virtually any environment. The Spy Gear can be used for just about anything, even just keeping in contact with a child while they are out in the neighborhood. Nothing complicated, just three channels and a big red button.
Appearance
Nerf Walkie Talkies
Nerf's use of bright colors and simple materials makes their radios look a little like cheap toys, but they are also attention grabbing and hard to lose. The manufacturer's decisions are likely one part practical, one part intuitive: they look neat enough to make children want to use them, and aren't so dull that they're likely to be forgotten by kids with shorter attention spans. The radios are relatively large and have a clip on their backs.
Retevis RT628
The RT628 has no special design considerations for people of any age. They are of a simple black design, neat to look at, but nothing special. The buttons placement is clear and easy to press, and the screen provides information adequately so long as the sun isn't on it. It has a belt clip for waist placement, and the antennas are short to avoid uncomfortable poking.
Spy Gear – Ultra Range
With a name like Spy Gear, these radios are appropriately dramatic in design. They are made to look like the kind of radios kids imagine spies using, which means a sleek exterior and cool looking buttons. The walkie talkies fit nicely in one's hand and it is very clearly designed for easy use. The radio features a strong clip and a short antenna, making it very easy to carry around without an accident.
Durability
Nerf Walkie Talkies
Nerf's radios are generally easy to maintain. They are more than like to pick up a few scratches during play, but they handle drops and accidents well without noticeable problems. The materials aren't great, but the overall design adequately absorbs impact. Many would appreciate it if something could be done to retract the antenna, but as it is is stuck pointing out.
Retevis RT628
An RT628, lacking any real decorative features, will likely look the same after months of use as it did coming out of the box, plus or minus a few scratches. The internal electronics are fairly secure and survive accidents with no trouble. The spaces around the buttons may get a little dirty if the radio is exposed to the right elements, but even this is still inconsequential to the way it functions. The antenna is thick, unintrusive, and safe from harm.
Spy Gear – Ultra Range
The Spy Gear radios are slightly heavier than a smartphone and much more durable. It is a very solid walkie talkie. Not nearly as fragile as most toys, which really makes it something you would actually want to use. In a play environment, they are perfect. In a more serious setting, they're better than most alternatives. But they might look a little crazy to think about bringing to a construction site.
Sound Quality
Nerf Walkie Talkies
Nerf's radios produce an acceptable sound quality at most ranges, but nothing can be done to reduce their volume or adjust their frequencies for a better signal. As such, there are frequent occurrences of random, high-pitched sounds that distract from the voice at the other end of the frequency. At a range of even a hundred feet, the radios' sound quality dips drastically, making them much better suited for general play around the house or in the yard.
Retevis RT628
In most environments, the RT628 radios produce pretty good sound quality. They communicate over 22 FRS and GMRS channels so they are easy to adjust if one frequency isn't delivering the best results. At greater distances, sound quality dips as one might expect, but the easily adjustable volume controls help make up for the difference.
Spy Gear – Ultra Range
The sound quality of the spy gear is good enough to accurately send a whisper over a mile away, which is about as good as anyone can ask of a walkie talkie. The volume button is effective, and the three available channels are all most people need to keep their connections clean and private. The Spy Gear radios produce very little feedback or static, and even then only at extreme distances.
Conclusion: Our Walkie Talkie Reviews Are In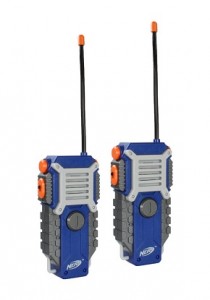 Nerf's entry is fairly typical of low-cost walkie talkies for kids. It works best at short ranges, looks fun to play with, and is relatively prepared for a few accidents. Outside, their performance is inconsistent but generally acceptable. The morse code feature isn't likely to see much use, but might entertain children with an interest in different modes of communication or simply flashing lights.
Pros:
Kid-appropriate design
Great for around the house
Cons:
Inconsistent sound quality
No volume switch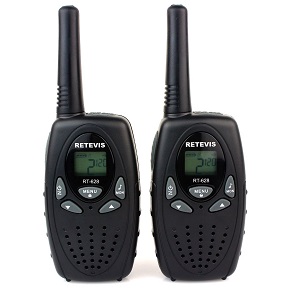 The RT628 radios don't quite look like kids' walkie talkies, but children and adults alike can easily derive some fun and utility out of the radios respectively. Their capabilities and ease of use match their overall appearance: they are simple, effective, and well-rounded. The RT628s are useful to people of all ages, even if they aren't very exciting to look at.
Pros:
Multiple channels
Professional design
Impressive range
Cons: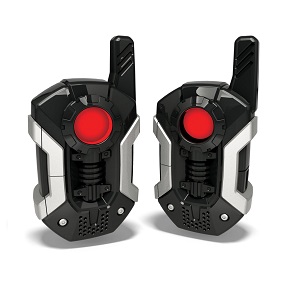 Spy Gear's Ultra Range radios live up to their name in just about every conceivable aspect, from range to sound to overall aesthetics. They look like a kid would want their secret agent gear to look like. With a two mile listening range, there are few applications the Spy Gear walkie talkies can't excel at, and the strong internal mechanics make them ideal for multiple environments.
Truthfully, the only conceivable downside to these walkie talkies is that someone might try to test their range all the way and get lost. There are no reports from other users of reaching the maximum distance of their Spy Gear walkie talkies, or even experiencing much of a change in audio quality as that distance grows. They are more than enough for cops and robbers, great for neighborhood games, and perhaps even viable for actual spying.
Pros:
Cons:
A little heavier than other walkie talkies
Final Thoughts
Few can deny the childish infatuation with walkie talkies. They're great accessories for all kinds of games, around the house or outside. Unfortunately, as most manufacturers produce walkie talkies as mere toys, their overall quality tends to be low. But Spy Gear and Retevis love using higher-end tech in these toys to make them as fun as possible.