Some links on this page are monetized by affiliate programs - see disclosure for details.
Cat owners all over the world know the wonderful joy of watching their beloved pet play and frolic with a good cat toy. Cats enjoy the experience of stalking, capturing and wrestling with their toys, giving them valuable physical exercise while stimulating their senses and faculties.
Instead of harming furniture or valuable interior fixtures, cat toys give beloved felines a chance to indulge their inner nature, stalking and playing with a good cat toy.
What are the different types of Cat Toys?
Cat toys are generally divided into two categories, those that appeal to a cat's natural hunting instincts, and those that use catnip. The fragrant herb offers a powerful attraction to some cats, sending them into paroxysm of joy as they wrestle and grapple with toys enhanced with catnip. Other toys are designed to stimulate a cat's instinct to chase, hunt and capture moving prey.
What are the advantages of using Cat Toys?
Cat toys offer unparalleled advantages to cat owners and caretakers. Not only do cats get enjoyment and pleasure from playing with toys, but the experience also offers exciting mental and physical stimulation. Cats are predatory animals, and their form of playing is also their way of simulating various hunting exercises.
When cats have limited or no access to hunting wild animals, it is absolutely essential that they simulate the experience through play.
Which cat toys are the contenders for the Best?
The KONG Squirrel Catnip Toy – This refillable toy comes in a variety of cute exteriors, including one that accurately resembles a plush squirrel. Inside the toy is a small pouch in the stomach that will hold a pinch of catnip. For many cats, the smell of fresh catnip is a natural stimulant, motivating cats to bat, chew, wrestle with and play with this durable squirrel toy. Comes with two pouches of catnip.
The Cat Dancer/Cat Charmer Wand – This brightly colored fun toy is made in the United States, featuring a polycarbonate wand and engaging fabric that will entice cats of all ages to play. As with all Cat Dancer models, this toy is designed "to charm, not harm". The flowing zig-zag motion of the eye-catching fabric will provide hours of engaging play for cats.
The Bergan Turbo Scratcher Cat Toy – With a wide variety of colors to choose from, the Bergan Turbo offers cat owners and caretakers an excellent multi-use device to engage cats. Included is the company's trademark Turbo Scratcher pad, giving cats an approved and engaging location to sharpen their claws. The rim of the scratcher serves as a feline "roulette wheel", where a small ball in a channel provides hours of playing enjoyment for your cat.
Considerations for Choosing the Best Cat Toy
Durability – While many cat toys on the market today can give excellent entertainment and enjoyment for cats, sadly, they are often made of sub-standard materials that aren't made to last. A good cat toy should provide years of engagement and frequent use.
Engagement – Sometimes, a cat toy is more amusing and entertaining to humans that it is to the cat. In multi-cat households, often it is the case that one cat will engage with a toy while the others will not. A good cat toy should be universally appealing and engage with a wide range of cat personality types.
Pet Owner Enjoyment – Visitors and residents alike will benefit from watching the cheerful antics of a kitten or cat frolicking with an engaging toy.
Cat Health – Although cats don't require extensive exercise sessions like humans and dogs, an active play period is important for a cat to keep their faculties and senses sharp. Experienced pet owners know that cats are more relaxed and sleep better if a daily play session is part of their regular activities.
Durability
The KONG Squirrel Catnip Toy – The refillable pouch on the KONG Squirrel is held secure by a durable strip of Velcro, which offers long-lasting reliability for this toy. Some users have reported that their cat did some minor exterior damage by chewing, but overall this toy should offer cats years of catnip enjoyment.
The Cat Dancer/Cat Charmer Wand – The wand is made out of a solid polycarbonate material and it will definitely last for years. The fabric, although designed to be durable, receives the brunt of the cat's attention, and may show wear and tear after extended use.
The Bergan Turbo Scratcher Cat Toy – The base of this toy is made from a sturdy material that can handle years of hard use. The scratch pad is designed to be replaceable. The circular track is well-designed and should keep the ball captured even during enthusiastic play sessions.
Engagement
The KONG Squirrel Catnip Toy – The key with catnip is knowing which cats prefer this natural herb and which ones are indifferent. Most cat owners know that fresh catnip offers a strong effect, which is why the manufacturer of KONG Squirrel recommends freezing unused catnip pouches to preserve freshness. For cats that do have a strong affinity for catnip, the KONG Squirrel will offer hours of enthusiastic frolicking during playtime.
The Cat Dancer/Cat Charmer Wand – Even elderly and sedentary cats will be inspired into action by the irresistible undulations of this cat charmer. Using fun, bright colors, the fabric is guaranteed to draw your cat's attention, and most cats will engage in extended play sessions as they enthusiastically hunt and stalk this toy.
The Bergan Turbo Scratcher Cat Toy – Cats have a natural, biological instinct to scratch, and will enjoy the Bergan Turbo for providing an engaging and approved place to sharpen their claws. On a visit to the scratcher, they can delight in trying to liberate the small white ball that freely skims and rolls around the circular track on the rim of the Turbo Scratcher.
Pet Owner Enjoyment
The KONG Squirrel Catnip Toy – Pet owners will get the privilege of watching cats engaged with catnip enjoy many happy sessions playing with the KONG Squirrel.
The Cat Dancer/Cat Charmer Wand – Cat owners and caretakers will derive great satisfaction in seeing their cat get healthy aerobic exercise while enthusiastically chasing and hunting the teaser tip. Cats of all ages and abilities will enjoy trying to trap, chase and attack the fabric teaser, which humans can easily maneuver with the sturdy wand.
The Bergan Turbo Scratcher Cat Toy – Cat owners will love to see their cat scratch contently on the scratch pad and then engage in happy play sessions with the ball.
Cat Health
The KONG Squirrel Catnip Toy – For cats who engage with catnip, a daily dose of the natural herb will give cats vital stimulation. High-speed aerobic play and a dramatically enjoyable experience provide indoor and outdoor cats with all the elements necessary to maintain their physical and mental health.
The Cat Dancer/Cat Charmer Wand – Because the Cat Charmer is such an active toy, cats are guaranteed to get a healthy aerobic workout as they chase and play with the teaser tip. By activating a cat's hunting instincts to chase, catch and follow prey, the Cat Charmer offers healthy mental and sensory stimulation.
The Bergan Turbo Scratcher Cat Toy – Cats with regularly-sharpened claws maintain better paw and claw health. The ball in the circular track will provide hours of exciting stimulation, giving cats an excellent opportunity to improve their physical and mental health.
Conclusion: Our Cat Toy Reviews Are In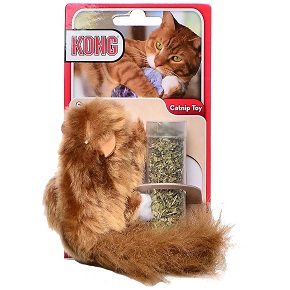 This cute plush squirrel is irresistible to humans, and when you fill it with catnip, cats will be drawn to it like a magnet. Watching a happy cat frolic and play with their toy is a cheerful sight to behold, and pet owners and caretakers benefit from knowing that this toy is giving their cat important physical and mental stimulation.
Pros:
This cute plush squirrel toy can be machine washed as long as the catnip pouch is removed first. It looks very cute even when not in use. Definitely makes a great gift for any cat enthusiast.
Cons:
Different cats engage with catnip on different levels, and some cats may be left indifferent by the KONG Squirrel. As with any plush toy, extended clawing and biting by cats may result in some exterior damage.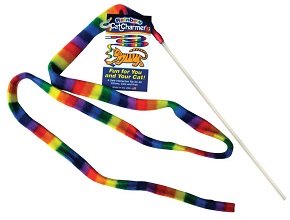 Specifically designed "to charm, not harm", this delightful toy is a wonderful way to engage cats of all ages and activity levels. Both sedentary older cats and younger, friskier cats will enjoy playing and chasing the teaser tip. Cat owners and caretakers can set the pace of play by maneuvering the polycarbonate wand, customizing the play experience for their cat.
Pros:
This toy will definitely engage just about any cat, as the soft, safe moving tip "target" reliably activates biological instincts to hunt and to catch. The bright fabric colors make this a stylish and attractive toy to both humans and cats.
Cons:
No fabric is completely resistant to biting, clawing and chewing from cats, and may break, fray or partially unravel after extended use. Play that is too aggressive may disengage the fabric teaser portion from the hand wand.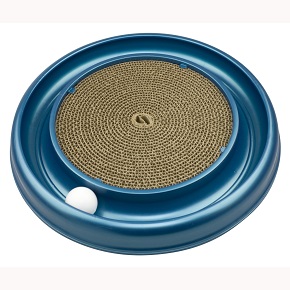 The Turbo Scratcher is another fine product from Bergan, designed to serve two needs in one compact and stylish device. By giving cats an approved and engaging way to scratch their claws, furniture and valuable household fixtures are protected. The ball in the circular track provides a fun and engaging way for cats to stimulate their senses and faculties.
Pros:
With a variety of colors to choose from, the Bergan Turbo Scratcher will look great in any room in the house. By combining an approved scratching area with a fun game, cat owners and caretakers living in smaller residences can offer their cat healthy stimulation without taking up a lot of space.
Cons:
Some cats prefer a vertical scratcher and will only infrequently use a horizontal scratch pad. If the ball pops out of its circular track, it is highly likely that the cat will continue to play with it, possibly losing it in an inaccessible location in the house.
In Conclusion
Cat owners and caretakers should always evaluate the needs of their cats in terms of which kinds of toys are engaging. Properly chosen, a good cat toy will provide hours of mental stimulation and a valuable way for indoor cats to maintain good physical health.
Overall, the Bergan Turbo Scratcher, with a location both for cats to scratch as well as play, is the best toy overall for cats. With a stylish and elegant design, and engaging two-in-one functionality, the Bergan Turbo Scratcher offers cat owners a great way to keep their cats happy and healthy.