Some links on this page are monetized by affiliate programs - see disclosure for details.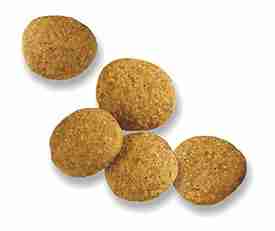 Dog food seems like such a simple thing– it's something that we tend to just toss in the grocery cart without thinking about it very much. Before we looked into it, I just had a favorite brand that I bought over and over without considering why, or what the alternatives might have to offer.
Now, however, we know a lot more about dog food, and your choice really matters. Dry dog food brands vary a lot in how nutritious they are and how much different dog breeds enjoy them, and it can change your dog's quality of life if you can find the right match for them.
In this guide, we will talk about some of the top brands of dog food and discuss what their various merits are. Because there are so many different brands, we want to help you narrow down the possibilities and give you some inside info on which ones make good purchases. By the end of this guide, you will be armed with the power to make an informed choice about your dry dog food.
Reviews: The Best Dry Dog Foods
Pros:

So many formulas come in huge bags that Purina seems like a relief in comparison. It is quite cheap and you can store the bag easily. Plus, 6 pounds will last plenty of time, so don't worry about running out fast. It doesn't have the best performance in other categories, but if what you need is a cheap dog food that doesn't compromise on basic quality, then you want Purina's Pro Plan.
Cons:
For somewhat more money per pound, you can open up a lot of possibilities in terms of better dry dog foods. So if you have the space in your budget, there really is no need to go for Purina when better brands are out there.
Pros:

The biggest two strong points of Hill's Science Diet are the great unit price and the variety of offerings. You can get so many different formulas from Hill's, so if your dog likes the flavors, you can give them a lot of nutrition by blending different lines. The unit price is the best on the list.
Cons:
Hill's Science Diet is a little too specialized for most people- in many cases, dogs need more of the basics like protein, instead of several different sources of vitamins. Think carefully about your dog's needs before choosing this brand.
Pros:

Taste of the Wild is very hard to beat. It offers taste, nutrition, and a decent price all in the same package. Make sure to pick the high protein flavors so that you get the most bang for your buck. This is the best brand if you have the money to invest in a big bag all at once.
Cons:
The price is confusing. It is not clear why the unit price gets worse as you buy bigger bags. Regardless of the reason, just be aware that smaller bags might be a better deal, so always check the unit price before making a purchase.
What are the different types of dog food?
Manufacturers divide dog food into several different styles according to the dog. The most typical divisions are age and breed, such as small breed, large breed, long hair, and short hair.
Different dogs have different nutritional needs, and this varies as they grow older, so it's important to get the right kind for your dog. Each brand will also offer different flavors. It's hard to know which flavors are good, because you obviously can't taste them yourself.
Your best bet is to just try a few different ones and see which one your dog likes best: you can also rotate among them to keep it fresh.
Why should you make the effort to choose the best dry dog food?
Your dog will benefit immensely if you choose a good quality dog food for them. Vets and owners alike are becoming more aware of dogs' nutritional needs and how they vary. It doesn't take much of an investment to change your dog's life, because this new interest has also led suppliers to diversify their offerings.
So there is a lot out there for you to try, and the big brands are all competing to get you a good price on dry dog food. It's a great time to be a pet owner because of this new trend.
Contenders for the best dry dog foods
Purina has been a big brand in dog food for a long time. Pro Plan is their nutritional-focused line of dry dog food, and there are a lot of options for dogs of different sizes and ages in different flavors. Pay special attention to the breed information- different breeds have different needs.
Hill's Science Diet is a brand that uses meat, grains, and vitamins to give dogs a good balance of nutrition. Each type is aimed at a certain type of dog and offers a particular blend of ingredients, so that your dog will get enough of the right vitamins and minerals without having too much of anything.
Taste of the Wild emphasizes the natural formula and ingredients in the product, which are meant to support your dog's inclination towards meat and other sources of protein. Meat is always the first ingredient on the label, and usually a few more ingredients after that as well. This suits a dog's digestive system and gives them the right balance of nutrients. Remember that a dog's needs are not like yours- don't assume they need grains, fruits, and vegetables the same way you do.
Choice Considerations
There are four main attributes that you should keep in mind when you are shopping for dry dog food. There are a lot of different possible things you can consider, but these are the most important ones. You can't think of everything at once. It's a good idea to prioritize so you don't get bogged down in the details.
Protein
Second, protein. Protein is important enough that it should be its own category. It really is the most important macronutrient for dogs. Too many brands try to advertise and play off your expectations for human food.
Other Nutrition
The third major category is other nutritional elements. Protein isn't everything, although it matters a lot, and your dog needs vitamins, minerals, and other ingredients to stay healthy. This can also help with coat glossiness, tooth health, and other cosmetic characteristics.
Flavor
Finally, flavor. If it doesn't taste good, your dog won't want to eat it, and that will be a waste of your time and money. Most dogs will eat most food, but a good food will inspire your dog to eat more of it and not leave it in the bowl.
Protein
Purina Pro Plan Dry Dog Food
Purina provides decent amounts of protein. This varies depending on the flavor- some have additional additives like rice that can take the place of protein, so look for the flavors with the most protein per serving.
Hill's Science Diet Adult Dog Food
Hill's Science fares somewhat better than Purina in the protein faceoff. It is still a good idea to check out the different formulas to see which ones offer the most protein, but while I would consider adding some meat to Purina, but that may not be necessary with the Hill's Science Diet line.
Taste of the Wild Dry Dog Food
Taste of the Wild wins this competition hands down. Again, flavor choice is important, but the good flavors, like prairie and wetlands, are really packed with meat. It is quite an impressive line, and it offers the best protein content without getting into the super-premium price range.
Other Nutrition
Purina
Purina does their best to try to add different nutrients to the Pro Plan line that support your dog. They target the heart, lungs, immune system, digestive system, and more. It is hard to tell how much of a difference it makes to those systems, but it certainly makes your dog's coat more glossy and will likely improve their teeth as well.
Hill's Science
One of the major characteristics of Hill's Science Diet is the many different sub-brands that target different goals. For example, there is a formula for teeth and breath, one for mobility, one for weight, and so on. These all tend to work well at their specific goals, so it's a good idea to pick one and focus on it until you reach a milestone, then start again with a new goal.
Taste of the Wild
As I said before, this brand concentrates on protein, and that's a good goal, because generally dogs just need to get enough of their various vitamins and minerals to be healthy- going above the necessary amount is not that helpful. Having extra protein can give them more energy and help them control their metabolism better, though, so it is a good thing to have in the food.
Flavor
Purina
Purina is fairly good for flavor. They tend to add rice to some of their formulas, and in my experience rice isn't that appealing for dogs. Of course, this varies from dog to dog. I often used to add some extra meat to a bowl of Purina.
Hill's Science
Hill's Science Diet lines are about on par with Purina, or perhaps a little better. Perhaps the added protein makes them more appealing- there is more animal matter in the food, which helps. There are so many different lines that it is hard to take a stance on the flavor of the whole brand, so experiment with it and see what your dog likes.
Taste of the Wild
Taste of the Wild really does seem to have the most enticing flavors. I am not sure if it is the combinations they choose or the quality of the ingredients, but both seem like possible candidates. Taste of the Wild doesn't need any dressing up- I find that dogs of all types have at least one flavor that they really love.
Closing Thoughts
I hope you have learned something from this buyer's guide. It can really help your dog feel better when they have a good dry food. You'll notice changes like a glossier coat and more energy if the food is a good match. These options on our list should be a good balance between price and quality. Make sure to try the Taste of the Wild even if it is just once. You might be surprised by how good it is.