Some links on this page are monetized by affiliate programs - see disclosure for details.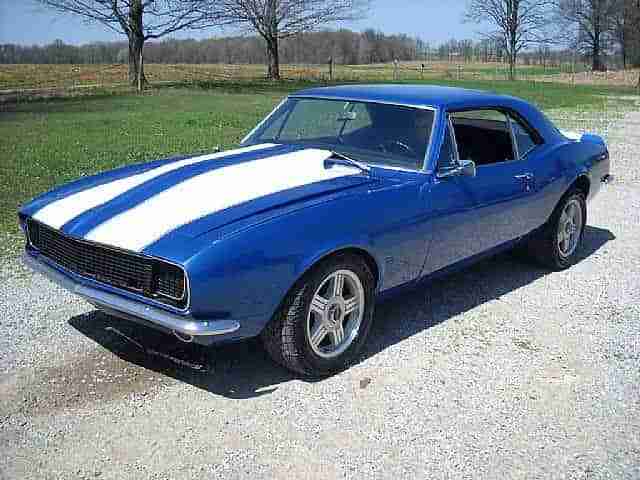 When they were first created, automobiles were simply used as a means to get from place to place. But as years passed, people began to grow increasingly smitten with the appearance and performance of a car. Some of the most admired cars in history are muscle cars. Here are the top 10 best muscle cars of all-time.
1. 1969 Chevrolet Camaro Z28
A wide and low-sitting car, the 1969 Chevrolet Camaro Z28 is one of the most impressive looking muscle cars in existence. While it doesn't possess the speed of some other muscle cars, it does offer a lot in the way of brake, engine, and exhaust components. A very popular car among muscle car enthusiasts, there are quite a few still around. They sell from anywhere between $45,000.00 and $90,000.00.
2. Ford Boss 302 Mustang
Produced by Ford in 1969 and 1979, the Ford Boss 302 Mustang was designed to compete with the Chevrolet Camaro. With 289 and 390 engines, the Mustang was not quite on the level of the Camaro. So Ford stocked their newest Mustang with a 302 C.I.D. engine and Ford Cleveland 351 cubic inch engine cylinder heads. The Ford Boss 302 Mustang is coveted by collectors today, with someone spending $530,000.00 for a pair of them in 2007.
3. 1970 Chevrolet Chevelle SS 454
A Coke bottle styled muscle car, the 1970 Chevrolet Chevelle SS 454 is stocked with a 454 cid V8 engine which produces 360 horsepower. With sheet metal front and rear parts, it was one of many GM cars at the time to sport such a material. It shares interchangeable sheet metal parts with the 1970 Buick Skylark GSX. These days, the car can be purchased for around $50,000.00 to $60,000.00.
4. 1969 Chevrolet Corvette ZL-1
Producing 500 horsepower, the 1969 Chevrolet Corvette ZL-1 is one of the most powerful Corvette's there's even been. A sleek looking car with an aluminum body, the car was often used in auto racing. Its headlights nest inside its front head when they are not in use, projecting up when night falls. Currently, a mint condition 1969 Chevrolet Corvette ZL-1 is worth around 1.3 million dollars.
5. 1969 Mercury Cyclone
The first Mercury Cyclone to be distributed with a Cobra Jet engine, the 1969 Mercury Cyclone was available with four different types of engines. These include a 302 cu in engine, a 351 cu in engine, a 390 cu in engine, and a 428 cu in engine. Used for racing, the 1969 Cyclone was also constructed with a 429 cu in Boss block. With a sleek, rounded look, it's still a very popular car amongst car collectors.
6. 1971 AMC Hornet SC/360
A relatively small, two-door muscle car, the 1971 AMC Hornet SC/360 was powered by a 360 cu in V8 engine. While not as powerful as many muscle cars, it was rather quick, accelerating from 0 to 60 miles per hour in 6.7 seconds. In total, there were 784 1971 AMC Hornet SC/360s produced. Today, you can find a 1971 SC/360 for somewhere between $20,000.00 and $30,000.00.
7. 1971 Plymouth Hemi Cuda
Often used as a racecar, the 1971 Plymouth Hemi Barracuda was available with two types of V6 engines: a 198 cu in engine and a 225 cu in engine. It was also available with three different V8 engines, including the 318 cu in engine, the 383 cu in engine with a two-barrel carburetor and single exhaust, and the 383 cu in engine with a four-barrel carburetor and dual exhaust. With a long, flat, angled design, it possessed a classic muscle car look.
8. 1970 Oldsmobile Rallye 350
A flashy, neon yellow muscle car, the 1970 Oldsmobile Rallye 350 was relatively smaller compared to other muscle cars, but was immensely popular just the same. Unlike many cars on our list, the Rallye 350 was only offered with one engine options: a L74 350 cu in V8 rated at 310 horsepower. A reasonably quick car, it could reach 60 miles per hour in 7 seconds flat.
9. 1967 Pontiac Firebird 400 Convertible
The Pontiac Firebird is one of the world's most iconic cars. Perhaps the best model of the car came out in 1967 with the 1967 Pontiac Firebird 400 Convertible. Available for purchase at around $25,000.00 these days, the car possessed a narrow, sleek look that was both mechanically practical and aesthetically-pleasing. The original car was stocked with a 230 cu in Inline 6 engine.
10. 1969 Dodge Charger
Made iconic through the television show The Dukes of Hazzard, the 1969 Dodge Charger was stocked with two different types of 383 cu in engines: one with a two-barrel carburetor and one with a 4-barrel carburetor. To this day, it is still one of the most popular muscle cars amongst enthusiasts. The car can typically be purchased for around $50,000.00 to $75,000.00.
Image Courtesy of Flickr User Collector Car Ads