Some links on this page are monetized by affiliate programs - see disclosure for details.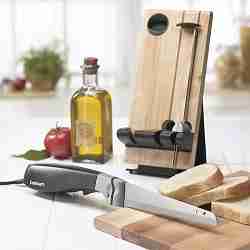 Think back to Thanksgiving or even dinner last night. Do you remember struggling to carve through the turkey using your old kitchen knife? Maybe you had difficulty cutting up the ham your family had for dinner. Even with a sharpened knife, you may still find it a hassle to cut through thick cuts of meat like roast, London broil, or a full-size ham.
Even if you can get the knife through, your cut pieces might have rough edges or not be cut evenly. Instead of hurting your arm and wrist and tearing through your meat, why not let your utensil do all of the work by investing in an electric knife?
What is an Electric Knife?
An electric knife is a kitchen tool typically used to cut through large cuts of meat that are difficult to slice with an ordinary knife. An electric knife has an electric base with a cord that plugs into the wall, although some may have removable cords for easier, hassle-free cutting.
One or two serrated blades insert into slots in the knife and sit side by side. When the knife is turned on, the knives move, easily slicing through even the toughest cuts of meat. Once you're finished using it, you can remove the blades for easy cleaning.
What are the different types of Electric Knives?
If you're tired of slicing your meat into uneven chunks, sick of nicking and cutting yourself struggling to cut through your meat, or you just want to make prep work easier, an electric knife is just what you need to add to your arsenal of kitchen tools and supplies. Before you buy, though, figure out what type of knife will work best in your kitchen.
Corded knife
These knives are the most common and come with a cord that plugs into a standard electrical outlet. These are typically the least expensive, although more high-end models may cost more than cordless models.
Cordless knife
These knives come with a charger that can be used to charge up the internal battery. Once it's fully charged, you can remove it from the base or cord and use it. This is a great option for when you need a more portable option for camping or barbecuing.
Electric filet knife
Whether you enjoy fishing or you just get fresh fish from the market, this type of knife allows you to quickly filet and debone fresh fish for broiling, baking, searing, or frying.
What are the Advantages of Owning an Electric Knife?
The main advantage of owning this kitchen tool is that you can cut a variety of meats in just seconds in perfectly even slices. You don't risk cutting yourself like you do when struggling with a regular knife, and you don't have to strain your wrist sawing through meats like roasts, hams, chickens, and more. These are just very convenient, easy to use, and they work fast.
Who are the contenders for Best Electric Knife?
If you want to try out one of these gadgets without investing a lot of your money, this is a great entry-level knife. It has one sharp blade made of stainless steel for durability, so you know it's going to last. It also features a special cutting tip so you can easily carve through the toughest parts of any type of meat. This model is extremely affordable and cuts through almost anything.
Carve out perfect slices of meat every time when you use this great carving knife from Hamilton Beach. In addition to its budget-friendly price tag, this knife comes with a case for storage, as well as a carving fork so you can use it for easy, hassle-free carving at your holiday family feasts.
This versatile knife allows you to carve through meats and breads with ease. You'll receive two different blades, one for meat and one for bread. It all stores easily in an attractive wood block. The ergonomic handle is easy and comfortable to grip, the blades are stainless steel and built to cut through anything, and it features cord storage to keep your countertop neat and organized.
Considerations for Choosing the Best Electric Knife
Once you've decided to make the plunge and purchase one of these knives, you need to make sure you're informed about all of the different features that make each one unique. Keep the following points in mind while you browse to ensure you're making a purchase you won't regret.
Price
Even the most high-end knives are priced around $100. However, if you don't want to spend this much money, you can easily find budget-friendly options priced starting at less than $20. Decide how much you'd like to spend before you shop, accounting for all additional features you want that may cost extra.
Warranty
You shouldn't have to worry about your product arriving to your home broken or not working as it should. Whether the blade is chipped upon arrival or the motor in the base begins smoking after your first use, a warranty protects you from having to pay repair or replacement costs out of pocket.
Storage
Because they can be dangerous, you need to make sure that you keep your knives in a safe place. Some electric models come with storage blocks or cases that provide you with a place where you can keep your knife protected, keep others in your household safe from accidental cuts, yet keeps it right where you need it when it's time to use it.
Number of blades
Some knives utilize two blades at once, while others use just one. Some even have different blades designed to cut through more than just meat, including cheese and bread.
Price
Magic Chef Stainless Steel Knife
This is one of the most inexpensive knives you'll find.
Hamilton Beach Carving Knife with Case
This model retails in the mid-price range when compared to similar knives.
Cuisinart CEK-40
This is categorized as a high-end knife, so no surprise it is available at a higher price point.
Warranty
Magic Chef Stainless Steel Knife
Your new knife comes with a 1-year limited warranty from Magic Chef to protect against defects.
Hamilton Beach Carving Knife with Case
Your purchase of this Hamilton Beach carving knife comes with a 1-year warranty directly from the manufacturer.
Cuisinart CEK-40
A limited 3-year warranty protects your purchase. This is one of the best warranties you will find for this type of knife.
Storage
Magic Chef Stainless Steel Knife
This knife does not come with a storage case or any other additional accessory for storage.
Hamilton Beach Carving Knife with Case
You will receive a handy, compact carrying case that holds and protects the base of the knife, the blades, and the carving fork.
Cuisinart CEK-40
This smoker comes backed with a 1-year limited manufacturer's warranty, by far one of the best warranties in the industry.
Number of blades
Magic Chef Stainless Steel Knife
Two blades are used at one time for ultimate cutting power.
Hamilton Beach Carving Knife with Case
This comes with two blades that work together to quickly and easily slice through your food.
Cuisinart CEK-40
A wood block storage tray keeps all of your pieces together neatly on your countertop.
Our Electric Knife Reviews Are In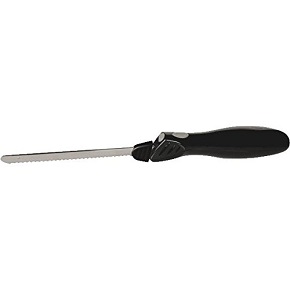 If you want to try out a knife powered by electricity without breaking the bank, this affordable option may be right up your alley. This model utilizes double blades that are positioned very closely to give you the cutting power you need to slice through anything, including tough meat and hard loaves of bread.
The stainless steel blades are durable, removable for easy cleaning, and are designed to work for hundreds of meals. The design is simple, and it's easy to use and control. The blades are very sharp, so you get a clean cut every time.
Pros:
Very affordable
It is easy to use
The blades are durable and sharp
The blades are easy to clean
It comes backed with a warranty
It is ideal for use with meat, bread, cheese, fruit, and more
Because the blades are so close, little shredding occurs
Cons:
The knife is quite heavy
It is a bit large
With extended use, the handle becomes hot
The power button is located at a weird angle, making it difficult to hold while in use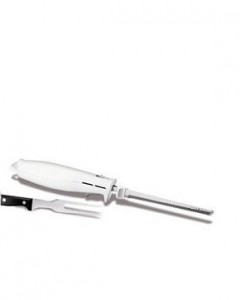 If you want to spend a bit more money on your new knife, this model is an affordable option. Yet it has a few additional accessories that make it worth the extra cost. This knife is equipped with two very sharp stainless steel knives that work to cut through tough cuts of meat, bread, and just about anything else. Whether you want thick or thin cuts, you can do it all with this knife.
Included with your purchase is a carving knife, perfect for slicing through your Christmas ham or Thanksgiving turkey. When you're done using the knife, you can remove the blades and easily wash them. Then you have a storage case that holds everything in place until it's time to use it again. This is a very affordable option that makes prepping your food or preparing to serve faster and easier than ever.
Pros:
The serrated knives are very sharp and are designed to cut through all types of foods
Comes backed with a 1-year warranty
Comes with a carving knife
It has a carrying case to keep all pieces organized
It's very affordable
Easy to use
Easy to clean
It is quieter than many other electric knives
Cons:
It is heavy, so it may be uncomfortable to hold for long periods of time
The blade release button is placed too closely to the power button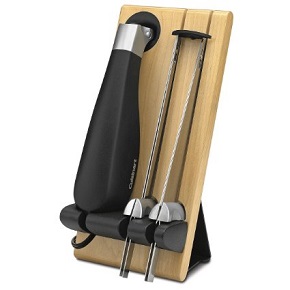 If you've used one of these knives before and the cheaper models just weren't comfortable for you, this model will make a great investment. You'll notice the difference in this knife the minute you pick it up and hold onto the ergonomic and comfortable handle. You'll also have your choice from two dual blades, one designed to carve through meat and the other easily slices through bread. The handle and the blades all fit neatly into an attractive wood block that protects your knives and keeps everything well-organized.
This knife is equipped with other features that make preparing your meal easier than ever, including a one-touch button activated by pressure, a 4-foot long cord so you can move freely about your kitchen or around the dinner table, and a blade lock for safety while the knife is in use. You don't have to worry about the cord getting in your way when you aren't using the knife, as it has a handy cord storage feature to clear up countertop clutter.
The blade release button makes it easy to insert the blades safely, as well as to remove them for cleaning or storage. You won't have to worry about your new knife malfunctioning, either, as it comes backed with a three year limited warranty.
Pros:
It comes with two blades
It has a storage block to keep all pieces together neatly
Comes with a great warranty
The blades are very sharp and durable
The knife is easy to use
Handle is comfortable to hold
There is little vibration, unlike less expensive knives
It is quiet
Cons:
It is more expensive than other products
The plastic safety pin may break over time with continued use
In Conclusion
Why spend so much time and effort cutting through your food before serving when you can spend more time enjoying a delicious meal with your loved ones? Instead of sawing back and forth for what seems like forever only to have jagged cuts and sore wrists, an electric knife takes the burden of cutting off of you and allows you to quickly and easily perform perfect cuts. If you think your kitchen needs one of these knives, the Cuisinart CK40 is a great choice.
With its wood block storage, two different blades, ergonomic design, and great warranty, this model cuts through the competitors to provide you with a top-notch knife you can enjoy using for years to come.