Some links on this page are monetized by affiliate programs - see disclosure for details.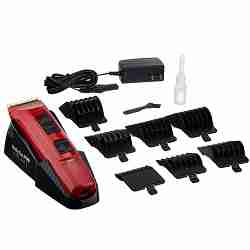 Buzz cuts, military cuts, fades, high and tight—no matter what you call them, these men's haircuts have become more and more popular with men and boys of all ages. No longer reserved for the military, shorter hairstyles are requested by men in hair salons all around the world. These short styles look great, are easy to maintain, and can even be performed at home.
Even if you don't have your cosmetology license, a simple buzz cut is one that you can perform yourself at home. In order to do this, though, you need the right tools, and you can't get a great cut without a pair of hair clippers to use in your own home.
Top Rated: Compare The Best Hair Clippers of 2020
A Guide to Hair Clippers
Hair clippers are electric tools that are used to quickly and easily cut hair. Clippers have a metal comb which covers an oscillating blade. When turned on, this design allows hair to flow through the comb and be cut with the blade. Unlike scissors, you don't have to measure to ensure that hair is even. With proper use, hair clippers provide you with an even cut with very little effort.
Hair clippers are used by men and boys of all ages to achieve a variety of short styles, like military crew cuts. Hair clippers are easy enough for anyone to use, even those without any styling training, and they can save you a fortune in pricey haircuts. The short styles achieved with hair clippers are great for anyone with unmanageable hair, thick, coarse hair, and cowlicks.
What are the Different Types?
If you're ready to try your hand at cutting your own hair or someone else's in your household, you might want to give clippers a try. Before you make a purchase, however, it's best to educate yourself on the types of clippers available, as well as the different key features you should look for. The main difference between clippers is the type of motor that is used.
Professional-grade – These are the hair clippers that you'll see at the barbershop or hair salon. These clippers are very powerful and work on all types of hair. They are the most expensive, and because they are so powerful, they are heavier and may take some getting used to. However, with proper care, professional clippers can easily last for many years.
Magnetic motors – The blades on these clippers move fast, allowing you to work quickly. However, these motors usually struggle when run through thicker hair.
Pivot motors – These motors move more slowly, so it may take extra time to cut through hair. These are powerful enough to cut thick hair or even hair that is wet.
Rotary motors – Many professional-grade clippers are made with these motors, which are ideal for all hair types. However, they have a bigger, bulkier design that may make handling them more difficult.
What are the Advantages of Owning Your Own Hair Clippers?
Even the simplest haircuts can be expensive, and the expense just adds up over time, particularly in people with hair that grows very quickly. With your own set of hair clippers, you can cut your own hair, cut your children's hair, and do easy touch-ups right from the comfort of your own home. Even the most expensive clippers pay for themselves over time with the money you save by not having to pay a barber.
Hair clippers are easy to use, they can be used to trim hair on the back of the neck or sideburns if needed, and some models are even effective at safely cutting your pet's hair, eliminating the expense of a groomer.
How Durable Are Hair Clippers?
The answer is that it varies depending on which hair clipper you purchase. Some Hair Clippers are easy to clean and are made of high quality materials.
Others are hard to clean or they're made out of cheap plastic materials. These clippers are much more likely to break or experience issues which prevent you from getting the close shave that you're looking for.
In general, a good hair clipper can last about four years with weekly use. Low quality hair clippers can last for as brief as one year, however, so you should try to be a discriminating customer.
Look for hair clippers that have metal constructions rather than plastics or synthetic materials. Metal hair clippers have fewer points of failure, and they're also typically easier to clean as well.
Who are the Contenders for Best Hair Clippers of 2020?
Wahl 8470-500 Professional Super Taper II Hair Clipper – These budget-friendly hair clippers are easy to use, durably made, and match the quality of barbershop clippers at an affordable price point.
OSTER Classic 76 Universal Motor Clipper 76076010 – The universal motor on this model make it easy to cut through any type of hair, and the ergonomic design makes it easy to hold and handle through even the longest cuts.
BaBylissPRO High-Frequency Pivot Motor Clipper – Say goodbye to the burden of a tangled cord, and get the quality cuts you expect with these high-end cordless clippers.
Considerations for Right Clippers
If you've decided that you want your own pair of quality hair clippers at home, there are a few considerations that you should take into account in order to make sure that you make the best purchase for your household.
Price
Hair clippers can be purchased at many different price points. It's important to note that high-quality professional clippers can easily last for years when cleaned and properly maintained. This may save you money over the long run because you won't have to continue to replace faulty models that quit working or break.
Included accessories
The most common type of clipper accessories are blade guides that allow you to control the length of the cut. For the most versatility, look for clippers to come with a multitude of different size blade guides, so you can create the looks you desire.
Power
As mentioned earlier, there are three main types of motors in clippers. Consider each type of motor and the power it has to determine if the clippers will effectively cut your hair type.
Weight
If you plan on using your clippers often and if you will be performing lengthy cuts, you want to make sure that you get a lightweight model that is easier to handle and doesn't strain your arm.
Price
Wahl 8470-500 Professional Super Taper II Hair Clipper
For an entery-level price you can get these Wahl clippers that are used by many professionals. This particular model is a top-seller that provides great performance, despite the low price.
OSTER Classic 76 Universal Motor Clipper 76076010
Priced a bit higher, these are mid-level clippers that offer stellar performance and are used in barber shops as well as in households.
BaBylissPRO High-Frequency Pivot Motor Clipper
With the highest retail price of the group, these are some of the more expensive professional clippers that you are available.
Included accessories
Wahl 8470-500 Professional Super Taper II
You can achieve any look you want with the included eight color-coded guides. You'll also receive a styling comb to use during and after your cut, as well as lubricating oil and a cleaning brush to maintain your clippers.
OSTER Classic 76 Universal Motor Clipper
When you purchase these hair clippers, you will receive two detachable blades, a blade guard, lubricating oil, and a cleaning brush for maintenance.
BaBylissPRO High-Frequency Pivot Motor Clipper
These clippers come with eight comb attachments, making it easy to personalize each haircut.
Power
Wahl 8470-500 Professional Super Taper II
These clippers are equipped with a powerful V5000 motor that works well on any hair type, even thick hair.
OSTER Classic 76
The universal motor in these clippers makes it simple to cut through any hair, no matter how thick or long.
BaBylissPRO High-Frequency Pivot Motor Clipper
The motor in these clippers is what really stands out. You'll get extreme power to easily cut through the most stubborn hair with these clippers that feature a MaxLife Pro motor that was designed with Ferrari.
Weight
Wahl Professional Super Taper II
It's easy to hold these clippers for long periods of time, as it weighs in at just one pound. This makes it simple to complete even the most intricate, detailed cuts.
OSTER Classic 76
Weighing in at 2 pounds, these are heavier than many other models on the market, so using for extended periods may be a challenge.
BaBylissPRO High-Frequency Pivot Motor Clipper
At just 11.2 ounces, these heavy-duty professional lightweight clippers are easy to grip without hurting your arm.
Final Results: Our Hair Clippers Reviews Are In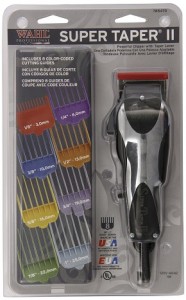 With these hair clippers, you'll get professional power without paying professional prices. These affordable clippers have a strong motor that easily pushes through all hair types. You can achieve all of the most popular men's styles with the tapered design and the eight color-coded guides that provide you with cuts from 1/8" to 1".
You'll get professional results with variable taper and texture options and the high precision blades that provide you with a straight, even cut every time.
Pros:
Color-coded guides make it easy to find the one you need
The design is sturdy, durable, and withstands accidental drops
Glide through all hair types with little effort
Cons:
They only work on single voltage, 110v
They get a bit warm after extended use
Much louder when in use than other models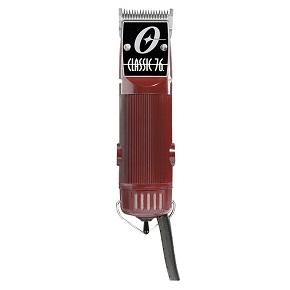 As far as heavy-duty hair clippers go, these are some of the best. The universal motor provides you with all of the power you need. They'll glide easily through thicker hair, and they even work on still wet hair.
Despite their heavy size, these clippers are very easy to hold on to. They have a textured grip that prevents them from slipping out of your hand, helping you avoid breaking the clippers or injuring yourself or someone else. The break-resistant housing is extremely tough, so even if they are accidently dropped, you won't have to worry about replacing them.
Pros:
These are heavy-duty clippers that will last through thousands of cuts
These are professional quality clippers used in barbershops but are also perfect for home use
The ergonomic design and textured housing make them easier to grip
The blades are interchangeable
Cons:
They only work on single voltage
Different blades are sold separately
These clippers are very large
They are quite heavy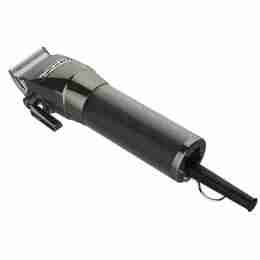 If you've ever cut hair with hair clippers before, you know how much of a pain the cord can be. It tends to tangle, and you always have to have an outlet available in a convenient place. Eliminate the hassle of cords without sacrificing quality and performance with these Babyliss clippers that were designed with Ferrari.
You'll enjoy four different cutting positions, eight included comb attachments, and a powerful motor that outperforms its competitors. The stainless steel blade cuts hair twice as fast as traditional clippers, and the lightweight and ergonomic design makes them easy to grip. Charging time takes just one hour, and you get three full hours of use per charge.
Pros:
It does not vibrate a lot like other less expensive models, allowing you to have great control and precision
It comes backed with a 2-year warranty.
Runs up to 10,000 hours, almost ten times the length of other types of motors.
The cordless design makes it easy to use anywhere.
You can also use it with the cord.
It is dual voltage.
Easily cuts any type of hair.
Cons:
These clippers are more expensive than many others
Conclusion
Whether you work at a salon and need to replace your old clippers or you want to do your own styles at home, the BaBylissPRO High-Frequency Pivot Motor Clipper is a great choice that you'll certainly want to consider. The powerful Ferrari-designed motor gives you the performance you need, while the cordless design makes it more convenient to use either at home or in your barbershop or salon. With the best clippers, you'll get thousands of hours of use, eliminating the need to replace broken clippers. In the end, you'll end up saving money with these heavy-duty clippers that clearly outperform the rest.