Some links on this page are monetized by affiliate programs - see disclosure for details.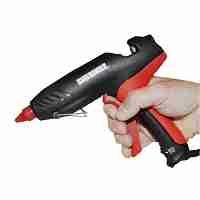 Everyone's got a hobby they call their own. In order to take part in these hobbies, people need access to the proper equipment. If you love making homemade crafts, you know just how important it is to have the proper tools for the job. Whether you're sewing curtains or original new clothing with your sewing machine or embellishing a homemade case for your phone, there are lots of things that you can make at home that are not only more affordable than store-bought items, but they're also truly unique.
Whether you're new to crafting or you like to experiment with different things, one of the main tools you should have in your craft kit is a hot glue gun.
Compare: The Top Ten Best Hot Glue Guns of 2020
Reviews: Our Favorite Hot Glue Gun of 2020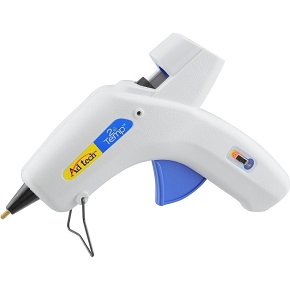 You don't have to break the bank to get a high-quality glue gun, as you can see from this model from Adhesive Technologies. Not only is this unit priced at less than $20, but it comes with two temperature settings, allowing you to work with tough materials like wood or glass, while also working with more delicate materials that may burn with higher temperatures.
This has a 6-foot cord that allows you to easily work on your project, and the cord even detaches if it gets in your way for those hard to reach places. It can be used for up to five minutes without the cord. When not in use, it has a removable metal stand, an ergonomic grip for comfort, and a durable design that makes this a good general crafting tool.
Pros:
It is very affordable
Two temperature settings
It has a light that indicates when it's on for added safety
Removable cord for convenience
It's very easy to use
Cons:
Glue drips from the tip, so it can be a bit messy
It takes a while to heat up
It doesn't have a steady flow of hot glue like more expensive units
---
For your toughest jobs, you need a high temperature gun, and you won't go wrong with this one, which is heavy-duty enough to tackle most household jobs and crafts yet doesn't put a dent in your wallet. This unit has 100 watts of power for fast and efficient heating, and a high temperature setting that works with heavy embellishments, tough fabrics, and hard materials.
With its non-drip nozzle, you won't have to worry about spilling hot glue and residue all over your surrounding possessions. The glue bonds in 60 seconds, so there's no waiting, and you can more quickly finish all of your projects. The ergonomic design makes it comfortable to hold. In addition, it uses standard hot-temperature sticks,.
Pros:
It is affordable
Easy to use
Easy to control your flow of glue for more precise application
Cools quickly
Cons:
It's a bit large and bulky
---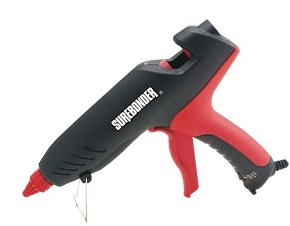 For your toughest jobs, sometimes, one of those puny, cheap guns just won't do the job. Enter this model from Surebonder, which is designed for continuous use for your most difficult projects. The standout feature on this model is that it provides a flow of up to 2.5 pounds of glue per hour, far more than the smaller household guns you'll find on the market. With 100 watts of power, you can count on this unit to heat quickly and melt evenly and consistently. This model is the best glue gun overall.
This model has an ergonomic design and trigger that's easy to use, so you won't have to worry about straining your hand during use. It has an interchangeable nozzle so you can customize the flow of your glue, whether you're gluing down carpet strips in your home or you're adding embellishments to wood, glass, or plastic. This unit is solid, provides a smooth flow, and outperforms cheaper units on the market.
Pros:
It is very durable
It heats very quickly
Provides a continuous flow
It's comfortable to hold
It is easy to use
It doesn't drip like cheaper models
It's designed for heavy-duty use
It has an interchangeable nozzle.
Cons:
It is a bit expensive
The stand is cheap and flimsy.
---
Choosing The Best Glue Gun: A Buyers Guide
A hot glue gun is an electric device that is used to safely and easily melt glue. Using solid glue sticks inserted in the back, the gun melts the glue, and when you squeeze the trigger, you can easily apply it to a surface without burning yourself. This design keeps you safe from burns, and it also gives you more control over how much glue you use, as well as where you place it.
What are the Advantages of Hot Glue Guns?
One of the advantages of owning one of these guns is that you can work with hot glue without burning yourself. Although burns are still possible, with careful use, the glue will never even touch your skin. You can more easily control the amount of glue you use, as well as plan out the perfect placement. Hot glue is much stronger than other types of glue, so you can easily use this to apply heavy embellishments to fabric products, wood, and much more. This is a must-have item for any crafter.
What are the Different Types?
Whether you're new to using a glue gun or you've used one for years and want to purchase a replacement, it's important to know what to expect when you shop for this type of product. The first step is knowing about the three different types of guns and the differences between the three.
Low-temperature – These heat up to a maximum of 250 degrees Fahrenheit. These are best used for delicate materials like lace or chiffon.
High-temperature – These heat up to around 400 degrees Fahrenheit, provide a stronger bond, and are best used with more heavy-duty materials.
Dual-temp – Get the best of both worlds with these guns, which have adjustable temperature settings. These are more versatile, but they are typically more expensive.
How to Use Hot Glue Guns Safely
Hot glue guns generally aren't hazardous, but there are a few precautions you'll want to take. First, never allow young children to use the gun unsupervised. Accidental hot glue exposure can burn skin – and quickly.
Always be aware of the gun nozzle. It'll get too hot to touch quickly after turning it on, often well before the glue starts to melt. Likewise, it'll also be hot for a relatively long period even after shutoff. Never leave a hot glue gun unattended while plugged in.
Avoid wearing rubber or plastic gloves. Hot glue can melt them against your skin! Instead, wear leather or canvas gloves. Also, be sure to wear a pair of safety goggles and tie up any long hair. However, as long as you follow these simple rules, hot glue guns are generally safe to use.
Features to Evaluate
As with any other purchase, you don't want to just dive into buying a glue gun without knowing what to expect. After all, who wants to end up with a product that they won't ever use? Now that you know about the different types on the market, it's time to narrow down your selection even more by keeping an eye out for these four features that set each model apart.
Price
If you're new to using this type of crafting tool or you don't plan to use it often, you might want to start off with a very inexpensive model. However, if you plan to use yours often or you have more difficult tasks to tackle, you'll want to invest in a strong tool that can withstand regular use.
Temperature Settings
Working with delicate fabrics? A low temperature gun is what you need to avoid burning or damaging the fabric. If you want a more heavy-duty hold, look for one that operates at a higher temp. If you do a lot of different projects, you'll want to purchase a model that has two different temperature settings.
Wattage
The higher the wattage, the faster the glue will melt and be ready for use. If you're in a hurry and want to ensure you have a good flow of hot glue that doesn't stop, purchase a model that has a higher wattage.
Standout Feature
There's always one feature that makes one product stand out from another. Look for extra tips, a more durable design, or even a cordless option that will help you easily and quickly finish your project.
Price
Adhesive Technologies 0443
With a low, this is one of the most affordable models you'll find.
BSTPOWER Hot Glue Gun
This BSTPower hot glue gun is highly functional at a downright reasonable price.
Surebonder PRO2-100
This is one of the more expensive glue guns on the market.
Temperature Settings
Adhesive Technologies 0443
This has two different temperature settings, making it a good general purpose glue gun.
BSTPOWER Hot Glue Gun
Capable of changing to several temperatures between 100 degrees C and 220 degrees C, this BSTPOWER hot glue gun offers a ton of temperature nuance.
Surebonder PRO2-100
This is a high-temperature gun that has just one setting.
Wattage
Adhesive Technologies 0443
This has 40 watts of power that allows you to quickly and easily heat your glue.
BSTPOWER Hot Glue Gun
Equipped with 100 watts of power, the BSTPower hot glue gun heats glue as quickly and as effectively as any hot glue gun you're going to find.
Surebonder PRO2-100
With 100 watts of power, this is a gun that heats quickly and provides a steady flow of glue without hesitation.
Standout Feature
Adhesive Technologies 0443
This can be used without the cord for up to five minutes, making it easier to get those difficult to reach spots without fumbling with a cord.
BSTPOWER Hot Glue Gun
Equipped with a non-drip nozzle, this BSTPower hot glue gun will keep your possessions neat and tidy at all times.
Surebonder PRO2-100
This unit can deliver up to 2.5 pounds of glue per hour, far more than a standard gun.
All in All
From repairs around your home, to crafts, to gifts to give out, a glue gun is a great tool. Instead of wasting time and money on cheap guns that don't work as they should, consider investing in the Surebonder PRO2-100. This unit is heavy-duty and doesn't drip and make a mess like other units. It provides a steady stream of glue right when you need it. It's precise in its application, has an interchangeable, insulated nozzle, and is designed for optimum performance for even the toughest household jobs or the most extensive crafts.
This is a great choice for anyone who plans to use a glue gun on a regular basis. Although it is more expensive, the quality and features of this model are well worth the extra expense.