Some links on this page are monetized by affiliate programs - see disclosure for details.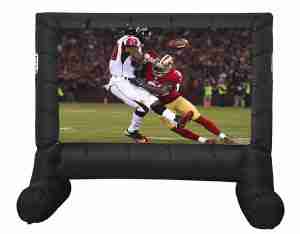 For a fun-filled family night in the yard watching a movie on the "big screen," you'll need to get the right inflatable movie screen to bring Hollywood to life. If you look at the marketplace for inflatable movie screens, however, you'll find that many of the screens appear very similar.
In this article, we'll walk through the top ten best inflatable movie screens so that you'll find the right silver screen for your family's backyard movie night and avoid buying a lemon. By the time you're done reading, you'll be ready to set up a little outdoor movie theater for yourself.
Top 10 Best Inflatable Movie Screens of 2020
In this section, we'll review each of the top ten best inflatable movie screens and identify several of the critical features of each.
The VIVOHOME inflatable movie screen is an excellent choice for poolside or beachside movie viewing as a result of its durable 201 dernier Oxford cloth fabric. This fabric is resilient against sand and heavy enough that it won't blow around in the wind.
The only drawback of the VIVOHOME screen is the screen adjustment system. In short, you adjust the screen by changing the tension of the buckles which secure the screen in place. If you secure the buckles carelessly, they will pinch the fabric.
The fabric is durable, but with enough careless pinches, you'll be asking for trouble. Thus, when you set up your VIVOHOME screen, do your best to be gentle while you make adjustments to the screen's angle and tension across the frame.
Key features:
The screen does not rest directly on the ground
16:9 aspect ratio
Includes 85W air blower
Durable
---
EasyGo's inflatable mega screen is massive, fast to set up, and great for travel. While you'll spend a little bit more time finding a suitable location to deploy the screen than you might with other screens, once you find the right spot, everything will come together rapidly.
This screen has excellent value for the money because of its large size and practical instruction set.
The disadvantage of the EasyGo screen is that its weight is not very evenly distributed when it is inflated. This issue means that if you deploy the screen on a piece of the ground that is slightly uneven, you may find that the screen easily tips over.
Unfortunately, there isn't any reliable way of mitigating this issue other than to make the most out of the included lashes and stakes to secure the screen to the ground.
Key features:
14-foot diagonal screen size
Includes easy-carry bag
Bright white display background
---
The Holiday Styling inflatable movie screen is larger than the competition and requires less physical effort but more mental energy to set up than other displays. Slam down the screen onto a flat patch of ground, and hit the air pump. Soon enough, you'll be ready to watch a great movie.
However, the Holiday Styling screen is far from perfect. In particular, you will need to take care when you deploy the screen to ensure that the broadest side of the display is not exposed to any crosswinds.
If you deploy the screen such that it is parallel to the direction of the wind, you won't have any problems. You'll have less wobbling of the screen than you might with other brands because of the triangle truss stand.
In other words, pay attention to the wind and set up the screen accordingly and you won't have any problems — but, expect to have issues if the winds are rapidly changing.
Key features:
Triangle-truss screen frame
16-foot diagonal size
Includes free popcorn bags
---
The Laika Factory inflatable screen is less durable than other inflatable screens on the market, but it's also much less of an eyesore. The screen element is thinner than the competition, making it less bulky and even easier to tolerate aesthetically.
The stand for this inflatable screen is unique because it has triangle trusses which are cross-stabilized by a bar along the rear. Subsequently, the two triangle trusses are connected, providing superior stability of the base.
This design choice has a tradeoff, however. Because the trusses are only cross-stabilized at the rear part of the truss and not the front, the screen is especially sensitive to folding backward at the top of the truss — right where the display begins.
As a result, you should try to use this screen inside rather than outside.
Key features:
Great color contrast
Stabilized bottom truss
Great for large indoor spaces
Dual-color screen tile
---
The Star Paraselene inflatable projector screen has a handful of exciting features which may be right up your alley. These features include a quieter-than-average inflation pump as well as being exceptionally easy to adjust, clean, and maintain.
Rather than worrying about using a specialized fabric cleaner, you can clean this inflatable screen using a wet cloth or rag.
This feature means that you don't need to shut down the entire movie night if the screen gets dirty somehow — a quick spritz and wipe will do the trick.
There aren't any significant problems with this inflatable screen, thankfully. You'll find that it performs well outdoors whether there's a light wind or a few uncomfortable gusts.
Key features:
Quiet inflation pump
Easy to clean
Easy to maintain
Velcro adjustment straps for low-risk tweaking
---
Much like the EasyGo 14-foot inflatable screen, this 17-foot screen has everything you'll need for a great movie night. While the inflation speed of this screen won't win any speed awards, it's a powerful all-arounder that won't let you down.
The main difference between this EasyGo screen and its smaller cousin is the size. The format of the stand is the same, and you'll still get a neat carrying bag with the larger model. Likewise, the total weight of this screen is a little heavier than the smaller model.
This screen weighs 21 pounds in total before inflation so that you won't have a problem trucking it short distances. Nonetheless, there are lighter screens out there, so if you're looking for a display to take while camping or hiking, you might want to find a lighter product.
Key features:
No major weaknesses
Weighs 21 pounds when uninflated
17-foot viewing area
Easy to break down and throw into the carrying bag
---
KODAK's brand in the film industry is legendary, and the KODAK inflatable projector screen lives up to the KODAK standard of quality that everyone expects. If you decide to purchase this inflatable screen, you'll have it in your family for a long time thanks to its high build quality.
With this screen, you'll need to spend more time and attention during setup to ensure that things are correctly configured. The screen is exceptionally stable, but only because of the plethora of buckles which you will need to secure along the edge of the viewing area.
Most inflatable screens only have two or three stabilizing buckles, but KODAK's screen has six on each side, meaning that the screen will be more stable than nearly all other displays on the market.
Key features:
Six stabilizing buckles per side
Powerful inflation pump
Lifetime warranty
Includes stakes for securing the screen to the ground
---
The virtues of the massive Holiday Styling screen package is that the viewable area is extensive. For big crowds, this is a strong contender for the best screen because of its size. For smaller groups, the larger viewing area will be a bonus.
This screen is more sensitive to lighting conditions than other displays, however. Because the edges of the screen are over-inflated relative to the bezel, the edges can cast shadows on the viewing area if there are narrow-angle light sources.
In other words, you should use this screen when the moon is not directly overhead or exceptionally bright if you plan on using it outdoors.
Finally, you'll need to spend some extra money if you want a carrying bag for this screen, however, as there is no included carrying bag.
Key features:
Massive viewing area
Extended triangle-truss design
Over-inflated edges protect the viewing area
---
Nozzco's 14-foot inflatable screen is notable because of how many extras you'll get if you decide to buy it. In particular, the Nozzco screen includes a tent, carrying case, stakes, instructions, and an air pump.
The tent is an excellent feature because you can use the canvas to protect the screen from errant light. In other words, you can use the canopy to compensate for subpar viewing conditions and salvage your movie night.
The problem with the Nozzco screen is that the viewing area is not very large in comparison to the frame. If you need a tent for a massive audience, this may not be the right pick.
For a family who would like to watch movies even when the lighting isn't cooperative, however, the Nozzco is an excellent choice.
Key features:
Includes protective tent
Great for use in areas with a lot of ambient light
Multiple inflation points
All-inclusive kit
---
Gemmy's inflatable movie screen is ideal for situations without wind. If you're looking for indoor viewing, the Gemmy screen is one of the largest for the money.
Unfortunately, the lack of stabilizing trusses or robust lashing points means that the Gemmy screen is very vulnerable to weather.
Thankfully, the Gemmy screen is excellent for situations with neutral lighting. This feature means that it's a bit more resilient to subpar lighting than other displays.
The viewing area is composed of particular non-reflective fabric, which makes errant rays of light refract off of the surface with less glare.
As a result, if you can prop the screen against a wall and secure it in several places, the screen will be highly functional when other displays couldn't be.
Key features:
Non-refractive viewing area
Bezel-free frame
Includes numerous tethers and stakes
Includes two inflation pumps
---
FAQ
Now that you have a few ideas about the market's inflatable screen offerings, it's time to delve into the nuts and bolts of being an informed purchaser. In this section, we'll walk through several frequently asked questions regarding inflatable screens.
How durable are inflatable movie screens?
Most inflatable screens are more durable than you would expect. Rather than using clothlike or canvas, most inflatable screens use synthetic fibers which are more difficult to tear than cloth. As a result, inflatable screens can take a lot of abuse before they puncture or tear.
The biggest threat to inflatable screens is poor storage conditions. If you store your inflatable screen in the back of a vehicle or somewhere else where it will be frequently jostled by other objects, the chance of it becoming damaged is much higher.
Think about it: there probably won't be anyone throwing sharp objects at the screen while a movie is playing. The risk of damage is mostly concentrated in the period when nobody is paying much attention to the screen because it is stashed away.
What should I look for in an inflatable movie screen?
There are a few features which you should look for when you're shopping around for an inflatable movie screen. These features include:
Size
Stability
Bezel-free viewing area
A carrying case
The size of the screen is a prominent factor because larger viewing areas makes it easier for people who are further away to see the film. Larger is not necessarily better, however. Larger screens are heavier, and they also have a larger surface area which can be damaged.
The stability of the screen is a larger factor than the size of the screen. When a screen is stable as a result of its trusses or lashings, the picture on display won't wobble in the wind. This means that stable screens provide a more pleasant viewing experience.
Similarly, a bezel-free viewing area provides a better viewing experience than screens with bezels, especially in places with a high amount of ambient light. When there is a lot of ambient light, bezels tend to cast shadows onto the viewing area.
These shadows can sometimes block up to one-third of the screen depending on the angle of the light. Bezel-free screens have a smaller issue, however. Under ideal conditions, bezels protect the screen from the light, which would cause glare.
Bezel-free screens will thus experience more glare than bezeled screens. Typically, a small amount of glare is preferable to a large shadow on the viewing area, however.
Carrying cases might seem like minor or unimportant features for inflatable screens, but the reality is a bit different. A carrying case protects the screen while it is in storage.
Furthermore, a carrying case will also make the screen easier to transport without losing track of any components.
Thus, you shouldn't purchase an inflatable screen solely on the basis of whether it includes a carrying case, but you should have a carrying case for your screen nonetheless.
Are inflatable movie screens portable?
Most inflatable movie screens are limited in their portability on account of their weight. For a 14-foot screen, you can expect that the screen will weigh about one pound per foot of viewing area.
That number does not include the weight of the inflation pump, securing stakes, or other accessories, however. In total, you should expect for the total weight of most inflatable movie screens to exceed 20 pounds.
For family movie nights in the backyard, the weight of the inflatable screen is not a major concern. However, if you plan on taking your inflatable screen camping or hiking, you will probably find that the weight rapidly becomes an issue.
There are a few ways to lighten loads of inflatable screens, however. First, split up the components of the screen and distribute them to multiple members of your party, if possible.
Make sure that one person carries the inflation pump, and another person carries the screen itself. Then, if you can, get a third person to carry the securing apparatus and stakes. If you split the load, no single person will carry much more than 15 pounds or so.
Movie Time
Now that you know everything there is to know about inflatable movie screens, you're ready to make a purchase for your family.
Remember to pick the type of screen that will work the best with your projector, and don't be afraid to replace the batteries on the inflation pump if it seems like inflating the screen is taking a long time.
Most of all, get ready to have a lot of fun while watching movies on a larger-than-life-sized screen.