Some links on this page are monetized by affiliate programs - see disclosure for details.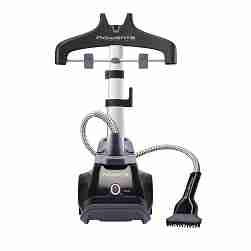 If you notice wrinkles in your clothing, the first thing you typically do is pull out the iron and ironing board. With certain articles of clothing, you may use a touchup setting on your dryer to get out minor wrinkles in a flash.
What do you do if your satin wedding dress shows wrinkles minutes before you're set to walk down the aisle, your daughter's silk prom dress isn't looking its best before she steps foot into the limo, or your dry-clean-only bedding needs to be freshened up a bit? The best garment steamer is a quick and easy solution to these fabric nightmares.
Top Rated: The Best Garment Steamers of 2020

What Is A Garment Steamer, Anyway?
A garment steamer does just what you think it might do: It produces steam. Steam is used for a lot of different purposes in various household appliances, from helping add moisture to dry air through a humidifier to cleaning your floors without chemicals with a steam mop. A garment steamer utilizes the usefulness of steam to help you remove wrinkles from delicate garments. Materials like silk, satin, tulle, and other fabrics are too delicate to iron.
In fact, using a regular steam iron can result in burns, holes, and other damage. Some of these fabrics can be dry cleaned, but dry cleaning takes time, and if you're in a rush, this just won't do. With a garment steamer, you simply use a wand or other attachment to release wrinkles by running steam over it. This doesn't damage the fabric, and wrinkles are removed in just seconds, making it ideal for last-minute touchups.
What are the different types of Clothes Steamers?
If you have a lot of items that wrinkle easily and you're tired of throwing money away on dry cleaning when all you have to do is remove the wrinkles, a steamer is a great investment that can pay for itself in no time at all. Before you make your purchase though, it's important to first distinguish between the two different types of steamers to find one that is suitable for your needs.
Stand-up steamer
This type of steamer is the largest, the most similar to commercial steamers, and is typically the most expensive. This features a large water tank, as well as a longer pole or hose that allows you to easily move over the surface of bedding, wedding gowns, and other garments. It may have multiple attachments that can be used to provide varying levels of steam.
Travel steamers
These are smaller than stand-up steamers, are very portable, and are perfect for packing in your suitcase. These are ideal for packing for destination weddings or vacations where you have to remove the wrinkles from formalwear. Since these have smaller water tanks, they require more frequent refilling.
What are the Advantages of Steam?
Whether you attend many formal events each year, you have an upcoming wedding, or you have professional clothing that needs to be touched up in between your dry cleaning, a garment steamer is a great small appliance to bring into your home.
You won't have to worry about ruining your delicate, expensive clothing and linens with irons and dryers, you don't have to spend a fortune for dry cleaning just to remove wrinkles, and you won't have to worry about looking a mess at the last minute when you own one of these easy-to-use devices.
How to Use a Garment Steamer Safely
Steamers are usually much safer than irons. Steam is less likely to burn clothes or skin. Plus, a steamer is also less of a fire hazard than an iron.
However, steamers still pose some risk of injury. Never touch the steamer's nozzle. It can stay dangerously hot even after the steamer is shut-off. Also, never point the steamer towards your face or body. Drips or leaks can scald your skin.
Avoid plugging the steamer into the same outlet as other high-wattage appliances like curling irons, blow dryers and similar. Never leave the steamer unattended when plugged in, even for a short period. Allow the steamer to cool down completely before placing it in storage.
Who are the top contenders for Best Garment Steamer of 2020?
If you're preparing for a cruise or a vacation where you've packed lots of silk, chiffon, and other delicate fabrics, this travel steamer is something you need to add to your suitcase. It is lightweight, easy to use, and very affordable. With 10 minutes of continuous steam, you can quickly make touchups so you always look your best, whether you're walking on an exotic beach or enjoying a dinner on a cruise's formal night. It stores easily, is equipped with safety features, and comes with a great warranty to ensure your complete satisfaction.
You can easily steam away the wrinkles in your largest, heaviest items with this steamer, which comes with garment clips and a hanger for your convenience. This full-size standup steamer provides a full hour of continuous steaming, ideal for steaming the bedding for every room or multiple articles of clothing. It's easy to use, comes with multiple attachments, and provides great results at a competitive price.
Get professional results from this high-end steamer. The diecast aluminum housing is built to last for years to come, comes equipped with a long hose and large steam head for convenience, and provides two hours of continuous steaming. It also comes backed with one of the best warranties you'll find for a household steamer.
Considerations for Choosing the Right Product For Your Household
If you've decided that a steamer is a great investment, you'll need to make your purchase. You should never make your purchase without being completely informed of what's on the market. Before you sink your money into a steamer, keep the following four things in mind to find a product that best fits your needs.
Price
Steamers range in price from around $50 to several hundred (or even thousands) for a professional-quality model. If you plan to use your steamer only a few times a year for smaller items, a basic unit may work for you. However, if you want the most versatility, you should expect to pay more for a higher quality model.
Continuous steam time
How long does the unit provide continuous steam? This can range from a few minutes to a couple of hours, depending upon the tank size of the unit you select. For quick touchups, a smaller model with less steam time might suit your needs. However, if you plan to steam multiple large items, look for a larger tank that provides more steam without needing to refill the tank and wait for heating.
Portability
You can't exactly pack a huge full-size steamer in your suitcase, so if you plan to use yours on the road, a travel model will best fit your needs. If you are a seamstress or plan to exclusively use your unit in one place, a larger standalone model may be what you're looking for.
Warranty
Don't stuck get with a lemon – protect your purchase with a warranty. A warranty is designed to protect your product from failing due to a manufacturer's defect.
Price
PureSteam Portable
This steamer is available for purchase at an extremely affordable price when compared to other units.
Rowenta IS6200
This is priced about average when compared to other steamers, and it's very affordable for a standup steamer.
J-4000M Jiffy
With the highest price of the group, this one is a high-end household steamer.
Continuous steam time
PureSteam Portable
This unit provides 10 minutes of continuous steaming, which is ideal for touchups on the go.
Rowenta IS6200
This unit produces one hour of continuous steaming, so it's ideal for larger jobs.
J-4000M Jiffy
You'll get two full hours of continuous steam with this steamer, which is perfect for steaming all of your bedding or multiple articles of clothing with just one tank of water.
Portability
PureSteam Portable
At just over one pound, this steamer is very lightweight. It also is 7 inches tall and 4 inches wide, so it's easy to pack in an overnight bag or suitcase.
Rowenta IS6200
Even though it's large in size, it has large back wheels that make it easy to move from room to room.
J-4000M Jiffy
The four wheels make this easy to move from place to place.
Warranty
PureSteam Portable
You'll receive a 2-year manufacturer's warranty with your purchase, so you know you're buying a high-quality product.
Rowenta IS6200
You will receive a 1-year limited manufacturer's warranty when you purchase this product.
J-4000M Jiffy
This model comes backed with a 3-year manufacturer's warranty.
Conclusion: All Our Garment Steamer Reviews Are In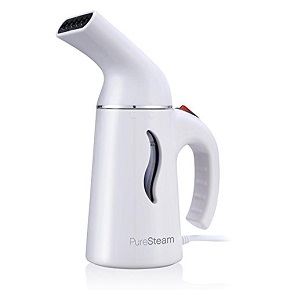 Remove wrinkles with ease with this great unit from PureSteam. If you don't have a lot of space to store a full-size steamer, plan to takes yours while you travel, or you just want an affordable, lightweight unit for occasional use, this one fits the bill. You'll pay a low price for a unit that's easy to hold, easy to use, and provides you with 10 minutes of continuous steam, ideal for steaming a prom dress or for quick formal or business wear touchups.
This unit packs easily in a suitcase, and it has a long 8-foot cord that eliminates the need for an extension cord. Plug it in and in just two minutes, the steam is ready. It is safe for use on all fabrics, and it's great for using for clothing, tableware, bedding, curtains, furniture, and so much more.
Pros:
Very affordable
Easy to use
Heats up quickly
It has a long cord for easy access
It is very small and lightweight, so it's perfect for travel
Comes with a warranty
Cons:
If overfilled, it will spit water
Cannot be used for items on flat surfaces
Does not have a large tank capacity
May take several passes to remove deeper wrinkles

This steamer comes with everything you need to do the toughest jobs with ease. From its large wheels and handles that make it easy to transport to its built-in hangers and garment clips, you'll be steaming like the professionals in no time with this great machine. It has a large 81-ounce tank that can provide up to one hour of continuous steaming – ideal for wedding parties, touching up your business wardrobe, or freshening up your curtains and bedding.
This unit is easy to use, and it has a convenient pedal for turning it on and off. It heats up quickly and the tank is removable for easy refilling. The handle stays cool so you don't have to worry about burns, and the telescopic hose makes it easy to adjust the height while using or when it is in storage.
Pros:
It is easy to use
It provides one full hour of steaming
Comes with a warranty
Affordable
It has built-in hangers and clips for convenience
Multiple attachments, including crease attachment, fabric brush, and lint pad
It heats up quickly
Cons:
The hose is a bit short when steaming longer garments, so you have to bend down
Some water leaks from this unit
The hose is a bit bulky
The hose gets hot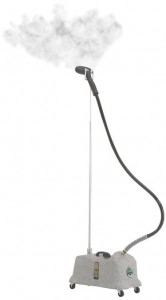 Even the toughest wrinkles are no problem for the J-4000M Jiffy Steamer. Make sure the wedding party looks perfect, make sure you're prepared for that job interview, or steam away the wrinkles in a delicate formal dress in a hurry with this commercial-quality steamer.
You won't be disappointed in the results you get with this machine, which has die cast aluminum housing for durability, wheels for easy portability, and a 1500 watt heating element to quickly and easily create the steam you need to effectively freshen up your clothing, linens, upholstery, and more.
The 5-1/2 foot hose makes it easy to steam the largest items, and the 6-inch steam head offers plenty of coverage to get the hardest jobs done faster. It has a preheat option, and in just 20 minutes, you'll have two hours of continuous steaming.
Pros:
It has a large tank for hours of continuous steam
The head is constructed of metal for durability
Easy to use
It has a long hose
It heats up fairly quickly
3-year warranty
It's easy to fill
It's easy to move around
It quickly removes deep wrinkles
A sight gauge allows you to keep up with the water level, as well as make sure there is no sediment in your tank
Cons:
It is more expensive than other household models
It is quite bulky and heavy
Closing Thoughts
If your delicate clothing or bedding is dirty, you should take it to a dry cleaners. However, why would you pay this much money just to remove wrinkles? Instead of spending a fortune and waiting hours or even days on a dry cleaner, why not remove the wrinkles yourself with ease with a garment steamer? You can effectively freshen up your clothing, bedding, table linens, furniture upholstery, and so much more with just the push of a button.
Your home and your wardrobe will look better than ever after using a quality steamer like the J-4000M Jiffy Steamer. This unit is designed for ultimate performance, fast heating and wrinkle removing, and is similar to commercial machines at a fraction of the price.