Some links on this page are monetized by affiliate programs - see disclosure for details.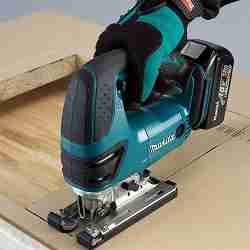 The jigsaw is the ultimate tool for cutting shapes and designs into a variety of surfaces. Home based craftsmen and professional construction workers alike need one when a job involves a little artistic precision. However, few would argue that most jigsaws are anything comparable to a paintbrush.
Jigsaws are notoriously difficult to control and require a certain amount of physical design considerations to be effective tools. This guide will explore the most effective jigsaws at three attractive price points.
The Basics: What Is a Jig Saw?
Jigsaws are little more than electric motors powering the high-speed vertical motion of a thin, singular blade. They have considerably more freedom in movement than other power tools, thus able to cut intricate designs into numerous surfaces. Jigsaws are relatively special tools, made for people who can exercise patience and precision in their crafts.
What Are the Advantages of Owning a Jigsaw?
Jigsaws offer utility that is difficult to match with larger circular bladed tools. A good jigsaw helps individuals give their creations a unique aesthetic appeal or cut materials in unique shapes that are difficult to do otherwise. Because of their thin, fragile blades and sewing machine like cutting pattern, however, it is very important that one has a sturdy jigsaw that is easy to use.
What Are the Contenders for Best Jigsaw?
Black & Decker JS660 Jig Saw: The JS660 is a powerful tool that automatically sets itself to cut any material at the speed setting chosen. It offers users a great deal of freedom in choosing how the jigsaw performs while assuring on its own that it will do so as best it can. The direction of the blade can be adjusted up to 45 degrees.
DEWALT DCS331B 20-Volt MAX Li-Ion Jig Saw: From perhaps the most trusted name in power tools comes the DCS331B. This cordless device is powered by lithium-ion technology and operates at a range of 0-3000 SPM for virtually any material. The DCS331B has a comfortable, effective grip for precision cutting and is built with an adjustable fan to keep the path clear.
Makita XVJ03Z 18-Volt LXT Lithium-Ion Jig Saw: The XVJ03Z finds the perfect balance between precision and power. It is both articulate with its heavy-gauge design and easy to use on account of its light weight and overall comfortability. Few jigsaws are as ergonomic and immensely powerful as the XVJ03Z.
Considerations for Choosing the Right Saw
Jigsaws are incredibly sensitive tools and require a number of user-friendly features to make them easy to use. In order to be effective, jigsaws require a level of comfort and a capacity for adjustment. One speed and angle doesn't suit all materials and designs, so these things must be able to be adjusted on the fly. A good jigsaw will remain accurate at any direction or speed.
Comfort: How ergonomic a jigsaw is has a lot to do with how precise a cut one will be able to make. Because of the erratic nature of the blade, users will want the most control they can possibly have to avoid inconsistencies in their finished product. Comfort also diminishes the risk of operator fatigue, allowing users to work without interruptions or mistakes due to stiffness.
Variables: Depending on the material one is cutting, a jigsaw will have to be set at different numbers of strokes per minute (SPM). While this is the most immediately important variable of a jigsaw, it isn't the only one. A range of orbital and directional settings allow users more freedom to cut the way they want to, which aids comfort, effectiveness, and overall stability.
Accuracy: Jigsaws are prone to creating messes; there is no getting around that. Dust builds up in front of and around the cutting area, obscuring vision and interrupting drawn pathways. However, higher-end jigsaws are built with unique tools to assist in maintaining clarity.
Power Source: No one likes to be limited to a cord, but cordless tools tend to have short operating times. Lithium-ion batteries do much to alleviate this restriction, but not all batteries are created equal. Operation and charge times are important aspects of cordless jigsaws.
Comfort
Black & Decker JS660
The JS660 is built more for function than comfort but maintains an average amount of comfortability. In its smoother settings, the jigsaw is actually quite easy to use regardless of its design, but more aggressive cutting settings have an amount of feedback that one will have to shake out of their wrists after prolonged use. The JS660's comfort level isn't anything spectacular but is overall slightly better than the average low-cost jigsaw.
DEWALT DCS331B
DEWALT's jigsaw is a touch larger and more formidable than typical jigsaws, giving it the benefit of very little feedback and easy controllability. Despite its bulk, it is relatively lightweight at 6.3 lbs. and so is fairly easy to maneuver and control. The DCS331B's overall size makes it overall easy to use, even if it does feel clunky at times. Its anti-slip grip aids in the prevention of accidental cuts.
Makita XVJ03Z
Like most Makita tools, the XVJ03Z is compact, ergonomic, and very sturdy. Its small size makes it easy to manipulate, yet the jigsaw feels solid and powerful enough that it is comfortable to use. The large 2-finger trigger not only enforces a consistent, effective grip but doubles as a means of controlling the jigsaw's speed without pausing to adjust. At 6.1 lbs., it is one of the most lightweight jigsaws of its caliber.
Variables
Black & Decker JS660
The JS660's 5-amp motor has 7-speed settings, maxing out at 3000 SPM. The speed presets are selected by a dial, which accurately allows the jigsaw to perform optimally on appropriate materials. The direction of the blade can be adjusted up to 45 degrees and is conveniently displayed by an indicator window. Altogether the JS660 is very easy to adjust on while cutting for efficient work.
DEWALT DCS331B
The DCS331B's 0-3000 SPM range makes it ideal for a variety of surfaces, and its 4-position orbital action creates plenty of stability and control. Its all-metal lever-action keyless blade change keeps blade changes very simple, and even the dust blower is adjustable. The blade itself can be adjusted up to 45 degrees, with additional indentations in its shoe bevel at 15 and 30 degrees.
Makita XVJ03Z
Makita's variable speed motor is fast and efficient, with three orbital settings in addition to its straight cut. The jigsaw's two finger trigger does something few other jigsaws do: it accurately and comfortably allows for nuanced changes in speed without stopping completely to change. With speeds ranging from 0-2,600 SPM, a bevel capacity of 45 degrees, and a fast blade replacement process, the XVJ03Z is just as flexible as any other jigsaw.
Accuracy
Black & Decker JS660
The JS660's methods for sustaining a clear and stable cutting path are its finest features. For stability, it has an adjustable shoe and for sight, it has an onboard dust blower and a meticulously designed sightline channel. One can make their cuts with certainty as virtually all dust and obstructions are removed from the cutting surface.
DEWALT DCS331B
The DCS331B keeps a clear cutting path with its adjustable dust blower and is otherwise accurate simply by merit of its controllability. The tool is large and stable, so one can usually make the cut they want so long as they can see the path they've drawn. Depending on the position one is cutting at this can be a problem if the body of the jigsaw is in the way, but otherwise the tool is very accurate. The DCS331B's compatability with t-shank jigsaw blades opens it up for more professional options.
Makita XVJ03Z
The XVJ03Z provides users with a clear, LED illuminated cutting path and an overall performance that is incredibly precise. Its heavy gauge, machine pressed base allows for smoother cutting than its competitors while its lightweight and compact construction make it easy to use as a knife. After prolonged use, the jigsaw hardly feels like it's there, and that one is simply cutting materials with his line of sight.
Power Source
Black & Decker JS660
The JS660 is restricted to a 6-foot power cord, so many users may need to rearrange their cutting area or use extensions to avoid distance-related problems. Cords are reliable power sources but not always the most convenient: buyers will have to accept this hindrance if they want a cheaper jigsaw. On the upside, users will want to take a break long before the JS660 wears out.
DEWALT DCS331B
The lithium-ion batteries the jigsaw is compatible with generally have fantastic endurance and great charge time, operating well over an hour without stops, longer for lighter materials, and only needing 30-45 minutes to recharge. The downside is that its battery and charger is not included, so individuals will have to decide which one they want. While there aren't any duds in the list of battery options, performance sometimes varies as there is no one battery specifically made for the DCS331B.
Makita XVJ03Z
The XVJ03Z is part of Makita's expanding array of 18-Volt LXT powered tools and as such uses the specially designed lithium-ion battery as its power source. The LXT is in a class above other batteries, with a longer lifespan and a substantially shorter charge time than any of its kind. The estimated amount of extra work it can do in its lifetime is 430%, with three times the cycles of other jigsaws.
Conclusion: Our Jig Saw Reviews Are In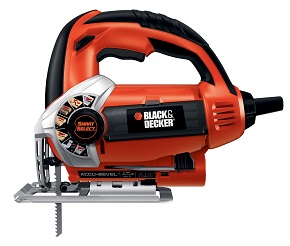 The JS660 takes the typical jigsaw design and brings it to the next level. Though it lacks the overall comfortability to be a truly precise tool, its built-in assistance measures allow users to sustain significant accuracy over short uses. For carpenters and construction workers on a budget, the JS660 performs as well as any if used carefully.
Pros:
Lots of power
Great adjustability and accuracy
Dust blower and precise sightline channel
Cons:
Uncomfortable after prolonged usage
Corded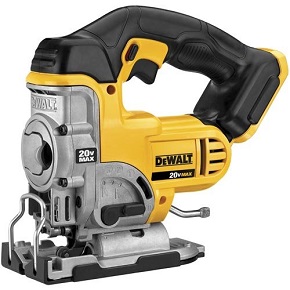 The DCS331B packs a great deal of value in its hefty frame. It is powerful, cordless, highly versatile, and most of all comfortable to use. The jigsaw's heft and the user-friendly grip is easily one of its most attractive features and it also helps individuals make clean cuts in the patterns they want by keeping cutting areas free of dust. There are very few negative things to saw about the DCS331B. Its size is unappealing to some, and with the battery is just a little weighty at certain angles. Otherwise, it is clearly one of the best jigsaws a person can buy at its price point and even above.
Pros:
Has the power of a corded jigsaw
Well balanced and gripped
Big and sturdy
Cons:
Requires a little battery shopping
Size may be a disadvantage depending on the person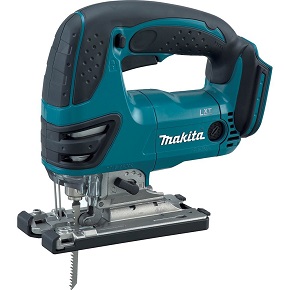 The XVJ03Z is lighter, more stable, and overall more versatile than other tools in its category. Though its design is simple, the considerations put into its construction put it beyond lesser jigsaws and into the realm of serious contracting and carving. The jigsaw is sturdy yet light enough that it has the precision and ease of a much simpler cutting tool, like the proverbial warm knife through butter. It may come at a higher cost, but that premium pays off in its total lifetime performance.
The LXT battery nearly merits another review on its own, as it takes lithium-ion technology and extends its power and lifespan substantially. The LXT is just as lightweight as the jigsaw it fits into, holds a charge for hours even in tough environments, and always rapid-charges from dead to full in thirty minutes flat.
Pros:
Great power handling
Variable speed trigger
LXT battery
Cons:
Not designed for people more comfortable with bulk and weight
In Summary
At the surface, the best jigsaws are very simple tools that are made to perform complex tasks. In many instances, this statement is completely accurate, but some jigsaws rise above and beyond the limitations of their blade and general design necessities to become truly effective and precise tools. With the right investment, any carpenter can make his work stand out by using a versatile, powerful, and efficient jigsaw to put on his finishing touches.