Some links on this page are monetized by affiliate programs - see disclosure for details.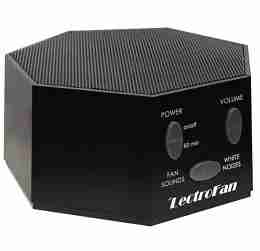 When you lay down at night, you cut off your TV, shut down your electronics, and get the kids settled in to bed. You want it to be quiet so that you can enjoy a good night's rest in order to be at your very best the next day, whether you're just spending time with the family over the weekend or working during the week. However, there may be times when you climb into bed, close your eyes, and realize that it's just too quiet to go to sleep. Although this may seem strange, it's a very common problem.
Many people sleep with a fan just for the noise that it produces, but this can make you cold and uncomfortable. If you want to drift off into a peaceful night of slumber or settle in for a quick power nap before you tackle the rest of your day, you might want to try it with the sounds produced by a white noise machine.
What is a White Noise Machine?
A white noise machine is an electronic device that is used to create atmospheric noise that helps you relax. It isn't loud like a radio or television, and even though it's making sounds, it's actually quite relaxing. These noises can vary from blowing wind to running water or waterfalls. They may come equipped with just one sound, or there may be several to choose from.
What are the different types of White Noise Machines?
If the idea of getting a better night's sleep appeals to you, one of these machines may be something that you want to consider purchasing. Before you make up your mind, though, you need to first learn more about these machines and what to look for. There are a few different types available.
Basic – These are the least expensive, and they come with the fewest features. You may just have one or only a small handful of noises available. They may also come with a volume button, but they generally do not have all of the bells and whistles of the more expensive machines.
High-end – These offer lots of different sounds, volume options, and may even be equipped with additional features like radios, phone or MP3 player docks, alarms, and other features. These are generally more expensive, but they may be of better quality and offer you more options to ensure you get the best night's sleep.
Travel – These are usually quite small, lightweight, and very portable, so they're easy to pack in your suitcase. These are ideal for travel, although you can use them at home as well. They may have an AC adapter, but many are battery-powered so you don't have to worry about the hassle of a cord.
What are the Advantages of Owning a White Noise Machine?
If you have trouble going to sleep at night, a white noise machine may be the perfect addition to your bedroom. These are great because they are a natural way to induce sleep. In fact, many have been tested by clinics and sleep institutes for effectiveness.
You won't have to worry about tossing and turning or resorting to medications that can leave you feeling groggy in the morning. These are great for use at night, before a nap, or you can even put them in a nursery to help lull your little one to sleep.
Who are the contenders for Best White Noise Machine?
LectroFan – Get ready for a great night's rest without spending a ton of money. This affordable machine produces plenty of sounds to keep you snoozing all night long. It's also great for drowning out your neighbors, letting you sleep with a snoring partner, or just producing relaxing sounds for reading, studying, or meditating. You can choose from several white noise sounds or you can also choose from sounds that give you the soothing noise of a fan without making you too cold at night.
Ecotones Sound + Sleep Machine – You'll feel like you're sleeping in the great outdoors without the heat or bug bites with this great machine, which produces natural sounds that help soothe you to a great night of sleep. This machine has multiple volume settings, several different realistic white noise sounds, a timer, and a small, portable design that's great for your night stand or for packing in your suitcase for travel.
Sound Oasis S-5000 Deluxe Sleep Sound Therapy System – As the name suggests, you'll be transported to an oasis every time you turn on this machine. This is loaded with more than just realistic sounds, though. It has a headphone jack so you can listen without disturbing others during your rest or meditation time, it can be connected to your MP3 player or phone, and it has a clock and AM/FM radio to listen to your favorite tunes.
Considerations for Choosing the Right White Noise Machine
Once you're ready to try out one of these machines for your next night of rest, it's time to make a purchase. However, you should never go into a purchase without knowing what to look for, especially if you've never purchased or used one of these machines before. A little knowledge and research go a long way when it comes to making a purchase, so it's best to examine the products you want to purchase. Start off looking for these four features, as well as looking for any additional features that are of interest to you.
Price
Price should always be something you look at, no matter what you're purchasing. However, just because it's something you should look at doesn't mean it should make or break your decision. Consider other points before you make your purchase based on price. How is the overall quality? Does it have the features you desire? Does it come with a warranty? You want to get a great price and buy something that you can afford, but you don't want to buy a product that is of poor quality simply because it's inexpensive.
Warranty
Any smart shopper knows that an electronic device should come backed with a warranty. This protects you from getting a dud that fails after just a few uses. Most products come with a 1-year warranty that covers defective workmanship, but others may have extended warranties. You want to find a reputable product that also comes backed with a warranty in the event that your item fails over time.
Sounds
What works for one may not work for another. This is why if you've never tried a white noise machine before you'll want to purchase one that has a wide variety of sounds that you can test out. What you may think is relaxing may actually keep you up at night, but with multiple sound settings, you can experiment until you find the right combination that sends you into a deep sleep.
Additional features
If you don't have room on your nightstand for another electronic item, look for a machine that pulls double duty by offering more than just noise. A charging port or dock for your phone or a clock with an alarm are both very useful and help you get the most out of your machine.
Warranty
LectroFan
You'll receive a 1-year limited manufacturer's warranty with your purchase.
Ecotones Sound + Sleep Machine
A 2-year limited manufacturer's warranty protects your purchase of this appliance.
Sound Oasis S-5000
Your purchase is backed with a 1-year limited manufacturer's warranty.
Sounds
LectroFan
This machine has 10 fan sounds, as well as 10 unique white noise sounds.
Ecotones Sound + Sleep Machine
This model comes with 10 different sound settings to promote ultimate relaxation.
Sound Oasis S-5000
This machine has 24 sounds and 5 mix sounds, providing you with 124 different sounds.
Additional features
LectroFan
This machine is only used as a white noise machine.
Ecotones Sound + Sleep Machine
This functions solely as a white noise machine.
Sound Oasis S-5000
This machine has a built-in clock, can be used with headphones, and also has an auxiliary port that allows you to plug in your phone, iPod, or MP3 player. It also has an AM/FM radio.
Conclusion: Our White Noise Machine Reviews Are In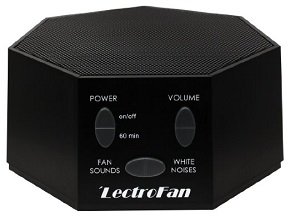 Get the soothing noise of a fan without the breeze that's just too cold with this great machine, which has ten different realistic fan settings. If a fan just isn't your thing, there are ten additional white noise sounds to choose from, each of which can have the volume adjusted to provide you with a restful night of sleep that isn't disturbed.
This works with a USB cable that can be plugged into the included AC adapter or into your laptop computer, so you don't have to worry about dead batteries. It's small, lightweight, and very portable. It has a timer that can be set in 60-minute increments, and it's very easy to use and control if you're looking for a no-frills machine that helps you relax and unwind.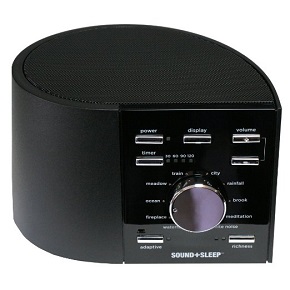 White noise is great but it doesn't always work for everyone. If you want options that you can experiment with to create a peaceful space, this is a model you should choose. This model features two different sounds for a custom sleep and relaxation experience. Sounds include White Noise, Fireplace, Ocean, Meadow, Train, City, Rainfall, Brook, and Meditation.
You can easily change the sound with just the turn of a knob. You can also adjust the volume to the ideal level, as well as the richness settings to better enhance your experience. This machine has a built-in timer so it shuts off automatically after you're sleeping. It has an adaptive feature that listens for other noises and adjusts accordingly to keep you in a deep sleep. It comes with top-facing speakers that fill your entire room with clear sound.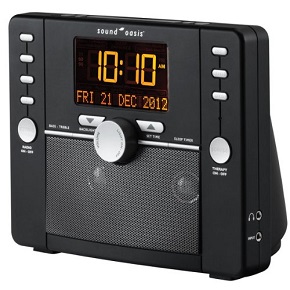 Instead of cluttering up your nightstand with multiple electronic devices, you just need one with this great machine, which produces white noise and other sounds but also functions as a radio and can even be attached to your iPod, phone, or music player. The main function and standout feature is the relaxing sounds that it creates. A total of 24 sounds can be played, including water sounds, rainfall, trains, birds, and much more. There are also five mix options to create your own personalized sounds, providing you with 124 different sound features to provide you with the best night's sleep you've had in years.
This unit has three built-in speakers for ultimate sound, volume control, and bass and treble controls for the most personalized experience. It also can be connected to your lamp to control the lighting in your room with a controller, which is sold separately. It has a backlight for easy control, even in the dark, alarm functions to wake you up on time each morning, and a timer to shut off the machine after a certain amount of time. The unit has a voice recorder to record all of your most important memos, as well as a memory button to replay the last sound played.
All in All
If you have trouble sleeping at night, there's no need to reach for sleeping pills or stay up all night, feeling tired and groggy every single morning. When you're looking for a more natural way to fall asleep and stay asleep all night long, a white noise machine is a great solution.
Instead of piling one on your nightstand along with your alarm clock, radio, and other devices, downsize to just one machine with the Sound Oasis S-5000. Even though it does have a higher price tag, it functions as multiple devices, including a speaker for your phone or music player and an alarm that wakes you up after a restful night of sleep. It has a variety of sound options, providing you with custom sounds that help you get the best night of sleep you've ever had.