Some links on this page are monetized by affiliate programs - see disclosure for details.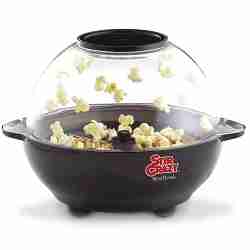 Do you enjoy watching movies with your family, and you feel like something is missing? Maybe you're watching your weight, and you crave something crunchy but don't need the fat and calories found in chips and other snacks.
Whether you're enjoying your favorite TV series, watching the latest flick on your Blu-ray player, or you just want to enjoy a tasty and healthy snack with your kids, a popcorn maker is exactly what you need for your kitchen.
What is a Popcorn Popper?
A popcorn popper is a kitchen appliance that is designed just for popping popcorn kernels. Instead of buying bags of popcorn, which may be full of butter, salt, and preservatives, you can make your own popcorn from kernels and add ingredients as necessary. If you're watching your weight, plain popcorn is a great snack option. You can add butter and salt for your family movie night in front of the TV, or even spice it up with cinnamon and sugar for a delicious after-school snack.
These poppers are easy to use, make it easy to pop every kernel, and help you avoid burning the popcorn, which is easy to do when you make microwave or stovetop popcorn.
What are the different types of Popcorn Makers?
If you're tired of pulling out bags of popcorn that have unpopped kernels and burnt popcorn, you may want to invest in a popcorn popper. Before you shop, though, it's important to note that there are many different types of poppers to choose from, so make sure you know about each one so that you make the right purchase for your household.
Air poppers
This is the best option if you want the healthiest popcorn. These do not use oil, so you don't have the added fat and calories. These poppers come in a variety of sizes, from individual poppers to units that make several servings at one time, but they're all designed to sit on your countertop.
Oil poppers
These use your choice of oil to cook the popcorn. While this popcorn may not be as healthy depending upon the type of oil you choose, many people find it easier to pop kettlecorn and other specialty popcorn in one of these appliances.
Stovetop poppers
These are used with oil, and instead of being powered with electricity like air poppers and oil poppers, they are powered with the heat of your stove. These are much safer to use than a regular pot and oil, which can cause your popcorn to burn or may even start a dangerous fire.
Microwave poppers
If you want to use your microwave but you don't want to purchase bags, this is a great option. You use regular kernels in this specially designed device. No power, other than that by your microwave, is required for popping.
Popcorn carts
These carts are portable, make great popcorn, and are just fun to use. These are ideal for birthday parties, movie nights, or for special events. These carts are best for popping large quantities of popcorn, and the wheeled cart makes it very portable. Special tabletop versions that are smaller in size are also available.
What are the Advantages of Owning a Popcorn Popper?
Since microwave wattages vary, it can be extremely difficult to get the timing just right for a bag of popcorn. Often, you'll find that the popcorn is overcooked and just doesn't taste good, or you only get half of the amount you expected because not all of the kernels popped. With a popcorn popper, you don't have to worry about this. Almost all of the kernels will be perfectly popped, and you won't have to worry about added ingredients. Instead, you can add your own favorite ingredients to personalize your popcorn.
These appliances are easy to use, most are small enough to fit on your countertop or store in a cabinet, and they work quickly, so you, your family, and your friends can enjoy a freshly popped snack in just minutes.
Who are the contenders for Best Popcorn Popper?
If you've ever made popcorn in oil on the stovetop, you know that in order to get every kernel to pop, you have to keep the popcorn constantly in motion. Instead of wearing your arms out shaking and stirring, let this machine do the work for you. Simply add your oil, add your kernels, turn it on, and in just minutes, you'll have delicious popcorn for yourself or for everyone in your household. It boasts a nonstick surface, a large capacity, and even a butter well for a perfectly buttered snack.
Feel great knowing that you're enjoying a healthy snack every time you use this machine. It is small enough to fit on your countertop, comes in three great colors to match your décor, but it produces a large amount of popcorn in just minutes. This model has removable parts that are dishwasher-safe and it's easy to use; all you have to do is press a button.
Add a touch of nostalgia to your kitchen or at your next birthday party or special event with this retro popcorn popper. This heavy-duty machine is ready to produce enough popcorn for big crowds, and it just keeps going. Make a huge batch and serve it immediately or let it stay warm with the built-in warming light. The stainless steel construction is very durable and easy to clean. If you love popcorn or you just want to always have it ready for your guests, this is the model that's right for your home.
Considerations for Choosing the Right Popper
Now that you know you want a popcorn popper for your home, it must be time to make a purchase, right? Not quite – you first need to make sure you do your research to make a good purchase. No one wants to buy a product that just doesn't work as expected, leading to a machine that doesn't get used or time-consuming returns. Instead, make sure you know what you want to buy before you begin browsing so you know you'll end up with a product that will get lots of use in your household.
Price
Poppers vary widely in price, from just around $30 for a basic model to several hundred for a fancy retro popcorn cart. A basic model may work for occasional use or for smaller batches, but if you really want a high-performing machine, you need to look at models that are built more durably, have a higher capacity, and cook faster.
Warranty
While it's rare to pull something from the box and it just doesn't work, sometimes it happens. Other times, you may find that after just a few uses, your brand new product just stops working. You shouldn't be responsible for repairs in cases like these. Instead, make sure you purchase a product backed with a warranty against manufacturer's defects.
Capacity
How much popcorn do you plan on making? If you have a large family, you want to find a popper that produces a larger volume at once so you don't have to keep running to the kitchen for more. If you just want to make individual servings, one that produces a smaller amount may be just right for your kitchen.
Cook time
Most popcorn makers work quickly, but some are faster than others. If you're having a large event, for example, where you need huge quantities back to back, look for one that pops very quickly and has a larger capacity.
Price
West Bend 82306 Popper
This model is affordable enough for any budget.
Cuisinart CPM-100MR
The retail price on this model places it in the mid-range category.
Great Northern Popcorn 6010
This is one of the more expensive high-end machines.
Warranty
West Bend 82306 Popper
This machine is backed with a 1-year manufacturer's limited warranty.
Cuisinart CPM-100MR
You'll receive a limited 3-year warranty directly from the manufacturer when you purchase this model.
Great Northern Popcorn 6010
Your purchase is guaranteed to be free from defects and is protected with a 5-year limited manufacturer's warranty.
Capacity
West Bend 82306 Popper
You can pop up to six quarts at one time with this machine.
Cuisinart CPM-100MR
You can make up to 10 cups at one time with this popper.
Great Northern Popcorn 6010
You'll have plenty for the biggest crowds when you use this machine, which pops up to three gallons at one time.
Cook time
West Bend 82306 Popper
Each batch can be finished in just about five minutes.
Cuisinart CPM-100MR
A full batch can be completely popped in under three minutes.
Great Northern Popcorn 6010
In six to eight matches, a full batch will be popped.
Conclusion: Our Popcorn Popper Reviews Are In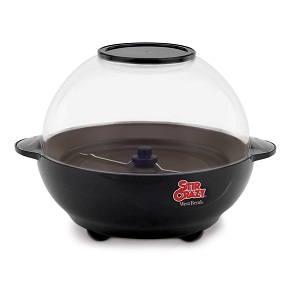 Get the same great taste of popcorn cooked on the stovetop without the danger of fires of burns with this great machine, which is very easy to operate. You can make large batches for your family, up to 3 quarts, in just five minutes, so soon, you'll all be enjoying freshly popped popcorn.
To use, simply add oil, your kernels, and put butter in the butter well if desired. Flip on the switch, and that's all that's left to do other than add flavoring and serve it. It has a motorized stirring rod, so no kernels are left unpopped and your popped kernels won't burn on the nonstick surface. It has heat-resistant handles that keep you safe from burns while moving it around. The lid that is used during the popping process doubles as a bowl, so there's less mess to clean up. You can make basic popcorn, use one of your own recipes, or try something new with the included recipe book.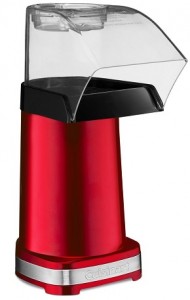 Enjoy a healthy snack in less than three minutes with this air popper. You don't have to use oils, so you don't have to worry about those extra calories. This is a great option for those who love eating healthy air popped popcorn for a snack.
It couldn't be easier to use this model – just add your kernels, and it's ready to use. Get a large bowl and put it under the chute, and you can have up to 10 cups of freshly cooked popcorn in just a few minutes. This model comes in three great colors that complement your kitchen. Choose from Red, Metallic Red, or White. It has a butter warming tray for perfectly melted butter, and all removable parts can be popped into the dishwasher for easy cleanup.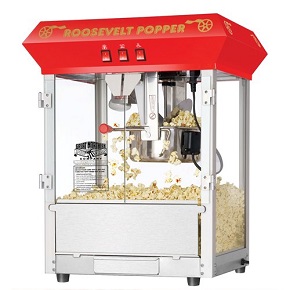 Bring a touch of nostalgia to your kitchen with this retro popcorn maker, which performs just as good as it looks. If you have a large family, entertain guests at your home, or you frequently throw fun parties and gatherings, this is the machine you want to use.
This produces three full gallons of popcorn in less than three minutes. It has the old-fashioned kettle design, so you can make regular popcorn, kettlecorn, or other flavors of popcorn. As it pops, it gathers in the base of the unit. While you continue to pop more, you can use the built-in warming light to keep it warm for your guests.
The stainless steel design with red accents looks great for your next event, and it has other great features, including a kernel reject tray and accessories including an oil scoop and popcorn scoop. It has three switches, so it's easy to control the stirred, warming light, and pot heater as needed. When you're done using it, it cleans up easily with mild soap and water.
All in All
Popcorn always makes a great snack, and nothing beats homemade popcorn. Instead of making a mess out of your pots, lids, and stovetop by cooking with hot oil that can be dangerous, invest in a quality popcorn machine for your kitchen. If you really want to go all out, the Great Northern Popcorn 6010 is an excellent choice. You can make a lot of popcorn in a short time, you get very little waste, and it just looks great. This machine has a retro look but all of the modern conveniences you'd expect to make this one of the top-choices in household poppers.