Some links on this page are monetized by affiliate programs - see disclosure for details.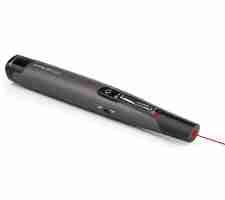 Perhaps you're a college instructor trying to keep an entire lecture hall focused on PowerPoint slides. Maybe you're a high school football coach who needs a way to direct his players' attentions to specific elements during film sessions. Or maybe you just like playing around with lasers. In any case, you have a need for a high-quality laser pointer.
Laser pointers can be, and have been used in a number of different situations, from signaling for help, to playing with pets. Whether you're looking to have some fun, or whether you need to attract people's attentions, a laser pointer will get the job done.
What is a Laser Pointer?
A laser pointer is quite simply an electronic device that will shine a laser light across a room so that you can see it against a wall or other object. Laser pointers come in all different shapes and sizes, with some of them small enough to store in your pocket, and some of them being as big as television remotes.
Though most laser pointers shine red lasers, others are capable of shining blue, green, orange, and other colors. Many modern laser pointers are also equipped with special features, such as the ability to remotely operate functions on a computer.
What are the Benefits of Laser Pointer?
Perhaps the most common use of a laser pointer is by college lecturers who need to direct students' attentions to small items on a very large projection screen. Because laser pointers project very small, precise light beams, they are capable of shining onto the exact area that you are meaning for them to highlight.
This, however, is not the only thing you can use a laser pointer for. Laser pointers are also used to play with pets, to assist in stargazing, to call for help in emergency situations, and to help handicapped people communicate, to name just a few uses.
Who are the Contenders for Best Laser Pointer?
Newmen P015 2.4 GHz Wireless Laser Presenter
With the ability to be used for 50 continuous hours without having to change its battery, this Newmen laser pointer is as efficient a laser pointer as you're going to find. Possessing a 3.0 volt laser power, it is capable of shining a full 30 meters across a room. Equipped with WiFi capabilities, it can connect with, and operate slide shows on a number of different Windows and Mac operating systems.
Sokos RF 2.4GHz Wireless USB PowerPoint PPT Presenter
Equipped with a laser that is capable of shining up to 100 meters, this Sokos laser pointer can easily cover any part of any room you're in. Made out of tough, durable plastic, it possesses buttons which allow you to remotely manipulate slides in a slideshow. With 2.4 GHz WiFi capabilities, it works at a range of up to 50 feet away from the device it's being synced up to.
Logitech Wireless Presenter R400
Possessing 2.4 GHz WiFi capabilities, this Logitech laser pointer is capable of being synced up to a device that is within 50 feet of it. Equipped with a red laser light, it is capable of visibly projecting a light up to 50 feet, making it appropriate for any classroom. Made out of ergonomic, durable plastic, it is easy to handle, and capable of remotely switching slides on the computer it's synced up with.
Considerations for Choosing the Right Laser Pointer
When looking at laser pointers, you might start to see that they all appear to be about the same. They're typically made of plastic materials, and often possess buttons so that they can be used in cooperation with computers. But while all laser pointers appear to be the same, there are small differences in each which make all the difference in their overall function and performance, In order to choose the right laser pointer, these differences must be considered. Everything from their power, to their power source, to their visibility, to any special features they possess must be considered.
Laser Power
One of the most important things to consider when attempting to purchase a laser pointer is how powerful its laser is. Legally, commercial laser pointers can't be any more powerful than 5 volts. You would be best served by purchasing a laser pointer that's as close to 5 volts as possible.
Power Source
While there are some wired laser pointers available, the majority of commercial laser pointers are battery-powered and portable. Most battery-powered laser pointers require either two or three AAA batteries to run adequately.
Visibility
The entire purpose of a laser pointer is to be able to point to specific areas from a distance. So, obviously, the visibility of a laser pointer's laser light is very important. While some laser pointers are only visible up to 30 feet, others are visible up to 100 feet, and sometimes even more.
Special Features
These days, the majority of laser pointers are manufactured specifically for instructors and lecturers. Because of this, most laser pointers are equipped with WiFi capabilities and buttons that allow instructors to operate their computer programs from a distance. Other special features include battery power indicators and carrying cases.
Laser Pointer Reviews
Doosl Wireless Presenter – Best Cheap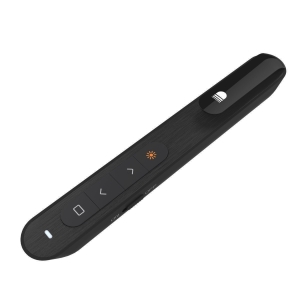 Though they can't be regarded as the best laser pointers on the market, there are a number of high-quality laser pointers available for quite low prices. One of these is this laser pointer by Doosl. With 2.4 GHz WiFi capabilities, it is capable of operating at a distance of 100 meters away from the computer that it's synced up with, allowing you to remotely operate powerpoint slides from all over the room. Sporting a slim, compact design, it's beyond easy to handle and store away, whether that be in your pocket or a bag. If you're looking for a very high-quality laser pointer at a bargain price, look no further.
Pros:
Superb 100 meter WiFi range
Slim and compact for easy storage
Compatible with Windows, Mac, and Linux
Cons:
Isn't consistent with WiFi
Sokos RF 2.4GHz – Best for the Money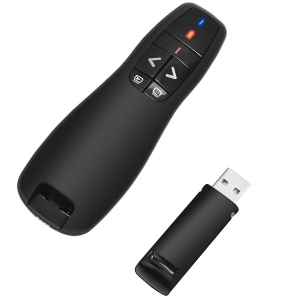 Though it's not quite the best laser pointer currently on the market, this Sokos laser pointer is an excellent buy for its price. With 2.4 GHz WiFi capabilities, it is capable of remotely operating Word, Powerpoint, Excel, and a bevy of other programs from up to 50 feet away. Possessing a red laser light that is capable of shining up to 100 meters, there is no worry about whether or not it will be able to cover the entirety of your room. If you're looking for a great laser pointer at a very reasonable price, you must take a look at this one.
Pros:
Incredible 100 meter laser distance
Possesses WiFi capabilities so that you can remotely operate Word and PowerPoint
Durable and ergonomic construction
Cons:
Doesn't provide great outdoor performance
Newmen P015 2.4 GHz – Best Overall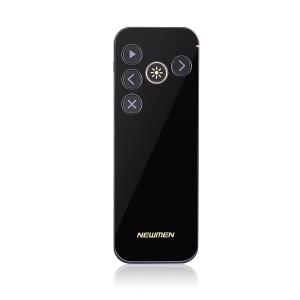 Though there are quite a few high-quality loser pointers that could be considered the best laser pointer on the market, we're going to go with the Newmen Laser Presenter as the best laser pointer around. Capable of projecting a visible laser light up to 30 meters, use it easily in any lecture hall or classroom. With 2.4 GHZ WiFi capability, it can sync up with and remotely operate slideshows on a number of different operating systems. If you're looking for the best laser pointer on the market, you can't go wrong with this one by Newmen.
Pros:
Spacious 30 meter operating distance
Possesses WiFi capabilities
Durable and ergonomic construction
Cons:
Doesn't work well outdoors
All in All
Laser pointers come in all different styles and with many different capabilities. Whether you're a college lecturer, or just someone looking for a way to play with your dog or cat, there is sure to be a laser pointer out there for you.
Powerful and consistent laser pointers like the Newmen Laser Presenter are capable of connecting with your computer, enabling you to make presentations from anywhere in a single room. Need to get someone's attention? Get yourself a high-quality laser pointer.