Some links on this page are monetized by affiliate programs - see disclosure for details.
a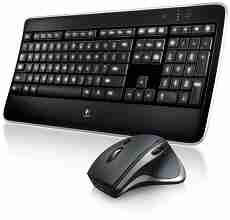 When it comes to processing power and comfort of use, the desktop PC is unmatched in its sheer capabilities, but these strengths come with a substantial amount of cables and wires. Pet owners and people who like to keep things organized know well the frustrations of having wires hanging about: animals will chew them up and vacuum cleaners or even a stray toe will have people under their desks trying to plug things back in.
Wireless input tools alleviate the stress of cable management and give desktop setups the professional appearance they deserve. This guide will detail which keyboard and mouse combinations are the top choices for making the change.
See: The Best Wireless Keyboard & Mouse Combos of 2018

Top Picks: Wireless Keyboard & Mouse Reviews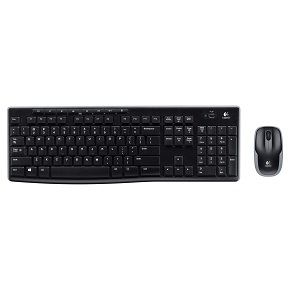 The MK270 generally matches the capabilities of regular wired keyboards, with the added advantage of being completely and efficiently wireless. It comes with a handful of extra features but remains uncomplicated for those who want a basic layout to work with. With good posture and technique, both the keyboard and mouse are comfortable to use. Heavy computer users should look elsewhere.
Pros:
Easy installation
Fast and accurate interfacing
Decent battery life
Cons:
Not ergonomic
Few extra functions
---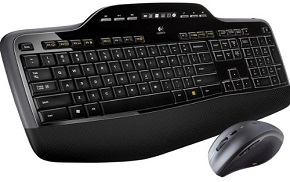 The MK710 is incredibly versatile for the price and makes use of several innovative technologies to provide comfortable and efficient interfacing. Its broad range of extra keys and buttons take full advantage of the size of the keyboard and mouse. The MK710 mouse and keyboard set encapsulates all the positive features of most media-oriented devices, and their ergonomic design are comfortable for long periods of use.
Pros:
Several features
Cushioned wrist-padding
Well designed mouse
Cons:
Takes up a lot of space
Modifier keys are numerous and spread out, creating a learning curve
---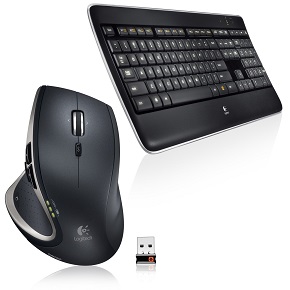 The MX800 set combines comfort, functionality, and simplistic design beautifully for a mouse and keyboard that are familiar but incredibly versatile. The keyboard is easy to pick up on and comes packed with useful features that speed up productivity and quickly become a natural part of typing. Its laser etched keys have fantastic touch response, making every key stroke feel precise and accurate.
The comfortable set's mouse is one of the most ergonomic available. Its shape appears alien at first. The extra programmable buttons are a welcome addition that allow users to increase their productive efficiency or recreational enjoyment in the exact way they wish.
Pros:
Compact, effective design
Backlit keys
Virtually soundless typing
Cons:
---
What Are the Different Types of Wireless Devices?
Keyboards and mouses come in several different shapes and sizes with numerous additional features meant to enhance productivity. While they aren't always distinguished by specific denotations, you can determine the nature of a set by the features it includes.
All primary computer keyboards feature a full alphabet and number set along with commonly used symbols and characters, and PC mouses will have two clickers and a scroll wheel. Additional modifier keys and buttons, along with overall design, may qualify a set as:
Media Oriented
Keyboards often feature modifier keys that activate music and video players, control volume, and access email at the push of a button.
Ergonomic
Ergonomic sets are designed for comfort and reduce the risk of injuries associated with long periods of use.
What are the Advantages?
Wireless devices eliminate the need for messy cables and allow for much more comfortable computing. Once the devices are connected, keyboards and mouses can be easily moved so individuals can type from their laps, their desks, or any other conceivable place they see fit.
Upgrading one's interfacing tools has additional advantages in comfort and utility. More buttons and better designs allow people to seamlessly and efficiently control their computers without having to cycle between multiple windows or risk developing carpal tunnel syndrome, a condition associated with repetitive and unnatural hand movements.
What are the Contenders for Best Wireless Keyboard/Mouse Set?
The MK270 is a basic mouse and keyboard set with a few extra modifier keys to set it apart. While built for only basic functions, the compact design of its mouse makes it handy for travel and the board's full-size keys are comfortable to use.
With a cushioned palm rest and a sculpted mouse, the MK710 is a very comfortable to use input set with plenty of additional features uncommon for its price range. Its keys have concave edges for more comfortable use, and an LCD dashboard allows users to check their settings at a glance.
Logitech's performance set is high-speed and low-drag, with laser-etched, backlit keys and a mouse that perfectly fits the contours of the hand. It features numerous modifier keys and extra programmable mouse buttons to further enhance productivity and comfort for hours upon hours of use.
Considerations for Choosing a Mouse and Keyboard Set
Keyboards and mouses are best judged by their functionality. Many keyboards come with a plethora of extra keys and features, but it is less common for them to be natural and easy to remember for users. A good keyboard will be comfortable and easy to use without having to adjust or glance down often to find modifier keys. Mouses are generally judged by their shape and comfort, but more ambitious designs can be both ergonomic and multi-functional.
Ease of Use
Flat keyboards with nothing of human physiology in mind pose a serious health risk for people who use them. Ergonomic keyboards may be bigger and more extensive, but the overall benefit more than makes up for the upfront cost. Comfortable keyboards and mouses are easier to work with and less likely to cause repetitive strain injuries.
Modifier Keys and Buttons
Keyboards especially tend to include additional keys for increased convenience. Depending on the type of person using them, some may be more necessary than others, but are generally worth looking at. Extra mouse buttons aren't as common, but combined with ergonomic designs can have a direct effect on overall productivity.
Layout
All the modifier keys in the world mean nothing if they aren't somewhere more convenient to reach than simply performing commands via mouse input. Smart designs make it easy for users to seamlessly juggle tasks and programs on the fly.
Battery Life
Running out of power unexpectedly can be a complete momentum killer in the middle of a chain of thought. Wireless input devices with above average battery life and effective indicators are less likely to create unfavorable obstructions without notice.
Ease of Use
Wireless Combo MK270
The MK270's construction is relatively simple, lacking any physical features to alleviate stress while working. Good posture and hand positioning will keep typing and navigating easy on the joints, but users will get no help sustaining these practices from either the MK270's mouse or keyboard. However, its 2.4 GHz wireless connection is as responsive as wires at up to ten meters from the computer, a worthwhile upgrade at a low cost.
MK710 Wireless Desktop
With its padded palm rest, the MK710 is very comfortable to use. Its keys have curves at the edges, a subtle but effective way to increase the speed at which fingertips can find every letter. The MK710's key travel is long: meaning each key requires a harder press to register on the computer. Combined with the concave design, this means that every press is crisp and distinct, with a very low chance of mistypes. Its sculpted mouse fits the hand's natural shape much more easily than standard designs.
Wireless Performance Combo MX800
The MX800's keyboard is absurdly accommodating, with laser etched concave keys enhanced by Logitech's Perfect Stroke technology. Its design makes it fast, responsive, and remarkably quiet. It has an extended base to allow for palm support, and illuminated keys make it easy to use even in low light environments. The set's mouse has a marvelous design and features such precise tracking that you can use it on glass. Both keyboard and mouse perform with excellent comfort for hours on end.
Modifier Keys and Buttons
Wireless Combo MK270
The MK270 is equipped with eight additional keys that control media, volume, and provide shortcuts for internet access, off-screen windows, and utilities. These essential features focus on giving users access to the programs people tend to use the most, and give the otherwise basic keyboard a little extra versatility.
MK710 Wireless Desktop
The MK710's keyboard features a comprehensive set of media controls and additional shortcuts to office tools, email, and more. Its mouse excels with multiple scrolling options allowing individuals to zoom past pages they don't need to see, and zoom buttons for quick, enhanced viewing of documents. The mouse's back and forward buttons are great for internet browsing and is a fantastic navigation tool overall.
Wireless Performance Combo MX800
Multi-functional keys allow for easy navigation between crucial applications. Where the set really shines is its mouse. Its larger design is more comfortable to hold, but features a variety of scrolling, navigation, and zooming features. Programmable buttons can do whatever each user wants them to. Giving you the power to decide what you need most makes the MX800 set incredibly versatile.
Layout
Wireless Combo MK270
With its standard interface, the MK270 is familiar, if nothing else. Its media controllers sit at the top of the keyboard, not in immediate reach but not difficult to find either. The mouse is two buttons and a scroll bar, much like most people have used for decades. The MK270 doesn't do anything more intuitive or dynamic with its layout than any other keyboard, but for basic use, that is not a bad thing.
MK710 Wireless Desktop
The MK710 keyboard has a rather extensive layout which may not be incredibly efficient to access. Most people will have an easy time learning and remembering where each key is. A "function" key activates many of the MK710's special keys. Thanks to color coordination and an LCD display, it's a simple thing knowing which modes are active at a glance.
Wireless Performance Combo MX800
The MX800's keyboard has a very efficient, task-oriented design that neatly assembles all of its modifiers within reach. Thanks to the versatility of its mouse, the keyboard is able to forgo some media controls and keep only the ones that are either immediately important or unable to be replicated without dedicated keys. It has a function key just like the MK710. The extra mouse buttons are always well within reach at all times but not so much that one presses them accidentally. The entire set consists of intelligent, people-friendly design.
Battery Life
Wireless Combo MK270
The MK270's battery life varies with usage and can last either several months or a couple of years. The keyboard's battery lifespan is significantly longer, while the mouse is certain to lose power in at most a year. Still, the MK270 collectively is far from wasteful, and comes with indicator lights so that there are no surprises.
MK710 Wireless Desktop
Both the MK710's keyboard and mouse tout an impressive three year battery life. This is incredibly long lasting for a set with so many features and versatility. It is one of the most efficient sets on the market, a great boon for people with wastefulness in mind.
Wireless Performance Combo MX800
The MX800 forgoes battery replacements entirely, instead using rechargeable power that eliminates waste. The keyboard automatically manages its use and unless you set its backlights to stay at 100%. That will last over a week without recharging even with heavy use. The batteries recharge quickly via USB and power levels display accurately  on each device.
Final Impressions
Upgrading a mouse and keyboard to the best wireless set will have immediate benefits. Having a good set of input devices allows people to make the most of their time. The MK270 provides an affordable option for sheer utility, the MK710 a vast array of media control options, and the MX800 the best of both focuses with extra perks on top.