Some links on this page are monetized by affiliate programs - see disclosure for details.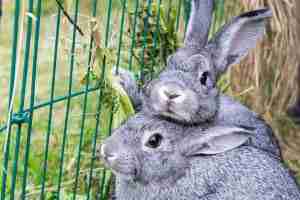 Fuzzy, friendly and fun, rabbits are a popular family pet. However, they do have unique care needs. Unlike a dog or cat, a rabbit can't run freely around your home. But they also can't spend all of their time in a cage like a hamster or a gerbil.
Selecting the right hutch helps keep your rabbit live a long, happy and comfortable life. Need help shopping? We've rounded up our ten favorite hutches for 2020. Plus, our complete buyer's guide will have you jumping for joy.
Durable and stylish, SmithBuilt's two-story wooden rabbit hutch is perfect for indoors and out. The fir wood has been specially treated to resist rain, wind and other outdoor weather. Wire sections are rust, corrosion and fade resistant thanks to an ultra-durable epoxy coating. An asphalt roof reflects sunlight to keep your bunnies shaded and cool even in hot weather.
At 48 inches wide by 33.5 inches high, it's large enough for at least two rabbits to call home. The bottom floor is open with a non-slip ramp which leads to the sectioned sleeping area on the second floor. A door separates the levels, so you don't have to remove the rabbits when cleaning the cage.
Keeping the cage clean is simple. A pan made from ABS plastic slides out for easy waste removal. Plus, the hinged roof provides quick access to the top floor while a bolt-secured front door lets you reach into the lower level.
Your rabbits will love their two-story home! Tangkula's rabbit hutch combines ventilation with protection. Wire mesh allows for plenty of airflow through the lower level while a raised perch on the second floor provides a cozy sleeping area.
The hutch is waterproof, corrosion-resistant and blocks UV rays. All wood is treated with waterproof, non-toxic varnish. It's an outdoor hutch designed to keep animals comfortable in both hot and cold weather. The pitched roof prevents water and snow build-up.
The top floor features a pull-out tray for easy waste removal. Note that the bottom of the cage is open. You'll probably want to add a wooden or rubber floor to keep out water and pests.
Merax's hutch is the perfect place for two or three rabbits. It's a wooden structure with two cages stacked on top of one another and connected by a ramp. They're like bunk beds for bunnies!
At 48 by 19.7 by 41 inches, this is a larger cage. However, at just 46 pounds, it's easy to set up and move around. It can be used both indoors and outdoors.
The hutch has four raised legs with no-slip rubber feet. Keeping it off the ground keeps the rabbits dry and away from small critters like mice and bugs. Plus, the pitched, shingled roof guards against rain and snow.
Each cage has two lockable doors for easy access. A pull-out drawer allows for quick, mess-free cleaning.
There's no reason to keep your rabbit hutch in one place all the time. Aivituvia's 39 by 36-inch hutch has four leg caster (wheels) for easy movement. Two wheels have brakes for stability. It's great if you want to keep the hutch inside most of the time but also set it outside during nice weather.
Plus, it's eco-friendly. The natural fir wood is painted with non-toxic, waterproof varnish. Minor assembly is required.
It's easy to clean, too. A barrier edge prevents bedding from spilling out. Plus, the bottom of the sleeping compartment consists of a pull-out metal tray for easy waste disposal.
It's the perfect outdoor condo for your bunny pals. This quaint hutch looks like a little house with a pointed roof and even a balcony for flowers. It's 42.5 by 46 inches with two levels connected by a ramp.
The natural cedar is painted a pleasant blue-green with white trim. Three lockable, metal doors allow for easy access to all levels. The wire and wood construction is strong enough to protect the rabbits from outdoor predators.
Although many hutches have two stories, a one-story hutch is perfectly comfortable for a single bunny – and it doesn't take up nearly as much space. It has a large, ventilated area plus a smaller privacy compartment for sleeping.
The hutch is made from glazed pine with powder-coated metal wire. Slide latches keep the two doors secure. The locks, solid wood construction and coated wire equal powerful predator protection.
The total size is 41 by 25 by 36 inches. The mesh door is 22 by inches while the wood opening is nine by fifteen. You can reach in easily for daily maintenance tasks while keeping the rabbits contained safely.
Trixie's rabbit hutch is a great home for young, active rabbits. The outdoor run gives them space to stretch their bunny legs.
It's a two-story hutch with a connecting ramp. The roof opens up for easy cleaning. Two doors are secured by side latches.
Although it's well-protected against predators, this isn't a hutch you'll want to use for year-round outdoor use. The wood and construction will probably start to weather after about a year. However, it's a good choice for indoor use.
It's not just great for the rabbits, it's environmentally-friendly, too. Yardeen's two-story hutch is made from fir with no chemical additives. It has four access doors and a deep ABS plastic tray.
With raised legs and a sloped, asphalt-composite roof, this hutch will last for years outdoors. Your rabbits will stay cozy and dry even during rainy weather.
Provides plenty of space for two rabbits to run but doesn't take up much space on your lawn. Pawhut's 48-inch wooden rabbit hutch has a compact, low footprint perfect for smaller yards.
The screened walls allow your rabbit to enjoy the fresh air while the upper-story room gives him a secluded space to rest. The steel wire and solid fir construction protect against predators, although you'll want to add a plastic mat or other flooring.
Large and secure, this two-tiered wooden hutch has heavy-duty wire and lockable slide bolts. But it's cozy, too. Your rabbits will love how cozy and dry it stays even in cold, wet weather.
The enclosed top floor has a slide-out plastic tray to keep the sleeping area clean easily. Plus, a built-in window lets you increase the airflow and easily reach in to change water or food.
Frequently Asked Questions about Rabbit Hutches
What is a Rabbit Hutch?
Domestic rabbits have three housing options:
Cages are the smallest option. They'll fit on a desk or table, which is certainly convenient. But cages are too small to use as full-time housing for rabbits. He'll suffer physically from lack of space and emotionally from lack of mental stimulation.
A rabbit shed is the largest option. Resembling a chicken coop or tool shed, they have plenty of space for rabbits and all related care accessories. Sheds can have windows, heat lamps and other features to keep rabbits safe and comfortable year-round.
However, they also require a lot of space. Generally, they start at six feet tall by four feet wide, but can easily be much larger. Plus, you can't exactly have them shipped through the mail. They'll need to be delivered from a local pet store, garden store or similar.
A hutch is the most popular housing for pet rabbits. It's bigger than a cage and smaller than a shed. They're usually made with wire mesh and wood.
Hutches can be kept outdoors, such as in a backyard. They can be modified to protect against predators and weather hazards (although sheds are superior in extreme temperatures). Hutches can also be kept indoors, such as in a basement or spare room.
Hutches are the most common enclosure for domestic indoor and outdoor pet rabbits. They're large enough to keep your rabbit healthy and happy, but small enough to fit into a home or backyard without much of an issue.
What are the Main Features of a Rabbit Hutch?
Here are the basics to consider when shopping for a hutch:
Size
Generally, you want the biggest hutch possible. Your bunny needs enough space to:
Hop a few times
Turn around easily
Stretch out fully
Stand on their hind legs without their ears touching the roof
Remember, you'll need extra room for supplies such as a water bottle, feeder and litter tray.
The specific size of the hutch varies based on the size of the rabbit, which is determined by breed. Mini or dwarf rabbits can have a smaller hutch than traditional rabbits.
Hiding Space / Compartment
Rabbits like privacy. The hutch should have a covered area for hiding and resting. Many hutches will have a built-in compartment. However, you can also create a simple one yourself nailing a few wooden squares together. A simple structure with three walls and a roof will usually work just fine.
Accessibility
Your hutch needs to be secure enough to keep the rabbit safely inside but also easily accessible by you for daily maintenance. Most hutches will have either a hinged roof on top or double doors in a side.
Many people prefer roof access instead of the side doors because it's a bit harder for the rabbit to escape. Of course, rabbits are jumping experts, so you can't leave the roof open for too long – but it can be easier for daily maintenance compared to a side door.
Flooring
At least one-third of the floor space should be a solid material (instead of wire mesh). Solid flooring helps prevent accidental injury. Wire mesh can frequently cause sore hocks in rabbits. The hock is the large part of the back leg which rests on the ground when the rabbit sits.
Tiering
A "tier" is just the term for a level or story in a hutch. As the number of tiers increases, the taller the hutch needs to be. Most hutches have between one and three tiers.
Single-tier hutches typically have two sides: an open side and a closed side. The open side typically features wire mesh while the closed side will have the privacy compartment/sleeping area rabbits need.
Two-tier hutches have a rabbit-sized ramp to allow for easy movement between the ground floor and top level. It's the minimum size for keeping two rabbits together.
Finally, a three-tier hutch features two ramps and three stories. It's the best option for storing three or more rabbits together.
Will You Keep Your Rabbit Indoors or Out?
While the basic construction remains the same, there are a few key differences between an indoor and outdoor hutch.
Indoor hutches can be made mainly from wire mesh. Outdoor ones will have wire mesh, too, but they also need covered areas to provide shelter from sun, rain and other weather.
Outdoor hutches should have:
Sturdy wood
Corrosion-resistant metal
Waterproof paint
Additionally, outdoor hutches should be raised off the ground. Otherwise, water can easily seep in through the floor. Installing the outdoor hutch on a platform helps keep it dry. Plus, it's also easier to reach into an elevated hutch.
Predator Proofing Your Rabbit Hutch
Make sure your outdoor rabbit hutch is safe from predators. Even in suburban areas, you'll need to watch out for raccoon, coyotes, mountain lions and even outdoor cats.
Indoor hutches can also need predator proofing. Even friendly dogs should be kept away from rabbits because they can play too rough and accidentally cause injury.
The wire mesh should be strong and bite-resistant. Also, make sure any latches are reasonably complicated. You'll be surprised what raccoons can open!
Keeping the hutch raised off the ground also helps keep predators away. Try also to keep it far enough away from trees or tall structures as animals can use them to drop down on top of the hutch.
How Many Rabbits Can Live in a Single Hutch?
Rabbits are social animals. They generally prefer to live in pairs or groups of three. However, make sure the hutch is big enough to accommodate them all comfortably.
Also, make sure all male rabbits are neutered and female rabbits spayed. Rabbits breed like, well, rabbits. You don't want any accidental pregnancies.
Each hutch should specify how many rabbits it can safely hold. Of course, you'll also need to consider the specific sizes of your rabbits. Generally, a hutch should hold no more than three rabbits. If you have four or more, a shed is probably the better option.
Where Should the Hutch Be Placed?
Indoors or out, rabbit hutches should be placed in an area with mild temperatures and plenty of airflow. Avoid placing it against walls or on the floor. Both locations can attract mice and other wild creatures.
Outdoor hutches should be kept in a semi-sheltered area. Rabbits enjoy the sunshine in the early morning or evening, but don't place the cage in an area exposed to hot, midday sun. No matter where you place the hutch, make sure a cool, covered section is always available.
How Do I Clean the Rabbit Hutch?
Regular cleaning is important for your rabbit's health.
Spot clean the cage at least once a day. Remove droppings or soiled areas. You'll also want to make sure plenty of food and fresh water is available.
Clean the entire cage at least once a week. Change the litter and the bedding.
Look for two features when selecting a cage which is easy to keep clean:
Multiple doors
Removable pans
Ideally, the cage should have separate doors for every floor. Multiple doors allow you to reach directly into the area which needs to be cleaned.
What Features Should Be Avoided?
There are a few potential problems you want to avoid:
Make sure all paint and chemicals are non-toxic and environmentally-friendly. Also, make sure all wood is polished evenly and free from splinters or rough spots.
Any ramps connecting different floors should be solidly attached. The ramp should be gently sloped. Ramps which are too steep can be difficult for both younger and older rabbits to climb.
Final Thoughts
Rabbits are fun, friendly pets but they do have unique care needs. Selecting the right hutch is vital to their entire well-being. Fortunately, as detailed in our guide, many different secure, comfortable options are available.