Some links on this page are monetized by affiliate programs - see disclosure for details.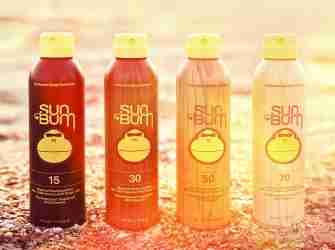 Health professionals strongly encourage the regular use of sunscreen in any and every season of the year for protection against the sun's harmful ultraviolet (UV) rays. But even with knowing the importance of skin protection, some people avoid sunscreen due to its texture, heavy scent, and the difficulty in applying it all over.
Recently, though, more and more sunscreen companies are offering a solution to combat the inconveniences some find with sunscreen. Now you can meet all of your sunscreen needs with a spray option. And just like cream sunscreens, spray sunscreens come in a variety of SPF (sun protection factor) options from SPF 15 to SPF 100.
With more options and the benefit of healthier skin, spray sunscreens are an easy route to long-lasting skin protection.
Top Rated: The Best Spray Sunscreens of 2020

First Things First: What is Spray Sunscreen?
Spray sunscreen is essentially a lightweight and fluid version of a brand's standard cream sunscreen or oil. The ease in which it sprays stems from the lightness of the product. Spray sunscreens are designed to spread evenly as it hits the skin, and the formula is designed to spray freely from the nozzle time after time.
What are the Advantages of Using Spray Sunscreen?
Independence when heading out in the sun is an absolute benefit. Imagine full coverage without having to ask someone to spread sunscreen on your back – now that's liberating! Besides ease of application, the convenience of spraying to protect your skin is a real time saver. For active people who spend a lot of time in the sun, not having to stop every few hours for a full cream application can keep you in step doing the things you love.
What are the Different Types on the Market?
Spray sunscreens, like most other kinds of sunscreens, can be chemically based, carbon based, or a combination of both. The chemicals in a chemically based sunscreen work by scattering the rays away from your body. Carbons in sunscreen absorb the UV light and release it when the carbons break down. Some physical blockers contain products such as zinc oxide or titanium dioxide that serve as an actual barrier between you and the sun's rays. All of these types of sunscreen are available in spray form which means you have just as many options as you do traditional sunscreens.
Don't Miss: We pick our favorite tanning oil brands
When Are Spray Sunscreens Better Than Lotion Sunscreens?
The main appeal of spray sunscreens is that they're convenient. You can grab a spray can and be covered within a few seconds, without any help from anyone else. Likewise, it's easier to keep your hands clean when you're spraying on your sunscreen.
On the other hand, spray-on sunscreens are not always better than lotion sunscreens. Lotion sunscreens can penetrate the skin and provide a more durable level of protection, even if they have the same SPF value.
Spray-on sunscreens may also be more difficult for people with sensitive lungs, as they frequently use volatile chemicals to make the spray into an aerosol.
Finally, spray-on sunscreens are typically harder to find in hypoallergenic variants. Lotion based sunscreens have more variety, but you can expect to pay a substantial amount for rarer products.
Which Brands will be our Contenders for Best Spray Sunscreen?
In a variety of SPF options, this spray sunscreen is a product you can use no matter what your skin protection goals may be. The added Vitamin E soothes and protects the skin, and the formula is mineral based. The formula is light and quick drying with water resistance to protect your skin while you're sweating or in the water.
This sunscreen filters the sun's rays in this absorbent and vitamin rich formula. In addition, an Aloe Vera infusion protects your skin from the effects of the environment. The spray design keeps the product flowing and is positioned in such a way that you can reach any part of your body with ease.
The most economical on the market, this photostable sunscreen holds up its durability with exposure to the sun. It is available in an unscented formula which is attractive to those who might get tired of the scents associated with summertime at the beach.
Factors to Consider
When deciding on a spray sunscreen, it is important to know what features to look for. The main thing that sets spray sunscreen apart from its cream counterpart is its lightness in weight. Unlike a cream based sunscreen, spray sunscreens use a thinner carrier liquid, such as oil or alcohol to aid in its fluid nature as it comes out of the nozzle. Besides this one major difference, here are some considerations for any sunscreen you'd choose to use:
Sun defense
The importance of sunscreen to prevent damage caused by Ultraviolet Light is the main feature to consider. Check your sunscreen label to make sure it provides both UVA and UVB protection. Potential UVA damage includes the effects ultraviolet light can have underneath your skin, such as cancers and wrinkles. UVB damage occurs at the skin surface, and includes burning or blistering. Sun protection can be in the form of chemicals which reflect and scatter the rays or absorb and release the rays, or in the form of a barrier that shields your skin from penetrating UV light. Lastly, consider the SPF options for your sunscreen. Light protection is lower in number, and stronger protection is available in SPFs of 50 and above.
Coverage
Look for spray sunscreens that can hit all the places you want covered. Having to rub the sunscreen in to assure coverage defeats the purpose of spray sunscreens. The point is to spray and know the mist clings to every inch of exposed skin.
Weight
The best spray sunscreens are lightweight sprays that are quick drying and give you that clean while covered feeling. Avoid heavy oily spray that can leave you feeling greasy, sticky, and uncomfortable.
Scent
Besides providing information on what protection the product offers, each bottle of spray sunscreen tells you the scent. Nothing says "beach vacation" more clearly than a delicious coconut scent, but some prefer a lighter more floral scent or even no scent at all.
Reliability
You want to know you can count on your sunscreen to protect you in the way it says it will! Sunburn is painful, and thinking you were protected when you really were not is distressing. Look for products that are recommended by the Skin Cancer Foundation, and be sure to reapply at least every two hours.
Sun Defense
Sun Bum Continuous Spray Sunscreen
Offering both UVA and UVB protection, this product adds extra protection with Vitamin E oil, a known skin repair treatment.
Hampton Sun Continuous Mist
Adding advanced ingredients to enhance the sun protection offered, this sunscreen offers strong defense against the sun. Aloe Vera and a multivitamin complex increase the benefit to your skin.
Banana Boat Ultra Mist Sport Performance
This spray comes in a wide variety of SPF options, and offers UVA and UVB protection.
Coverage
Sun Bum
This product offers full coverage through an easy to apply mist.
Hampton Sun
A 360 degree nozzle allows you to reach everywhere, and the fine mist adheres without feeling sticky.
Banana Boat
For more accurate coverage, tilt the bottle at an angle to get a wider swath of spray.
Weight
Sun Bum
Definitely light weight and soothing on the skin.
Hampton Sun
This is a very light weight product that leaves a silky non-greasy feel on the skin.
Banana Boat
This is very light weight and is fantastic for people who are active in the sun. The weight of the formula does not accentuate sweat, and leaves you with a light feeling on your body.
Scent
Sun Bum
The monkey on the label must be a banana lover, because it does have a light banana smell to it.
Hampton Sun
Privet blossoms are the featured scent in this product.
Banana Boat
No, it does not smell like bananas. It has a light scent and is not overpowering
Reliability
Sun Bum
With multiple SPF ratings, this product is available to meet all your sunscreen needs. It is recommended by the Skin Cancer Foundation.
Hampton Sun
This sunscreen offers full protection and is both hypoallergenic and dermatologist tested.
Banana Boat
This product is recommended by the Skin Cancer Foundation and offers water resistance for 80 minutes.
Final Results: Our Spray Sunscreen Reviews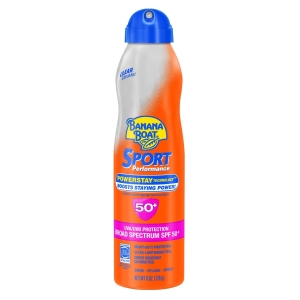 Banana Boat skin care products are versatile and economical. With SPF ranging from 15 to 100, you can pack a few different bottles to meet your family's needs when vacationing in a sunny location. The low price encourages more frequent application that's worth it.
Pros:
Reliability and price are top benefits of this spray sunscreen. The bottle design makes it easy to use, and its water resistance helps you stay protected while swimming or exercising. Additionally, it is not greasy so it does not change consistency with water or sweat. The application goes on smoothly and evenly for total coverage.
Cons:
Be sure to follow the directions and let the spray sit on your skin for 15 minutes or you risk it washing off. The nozzle can be difficult to operate, so be sure to press down firmly. Lastly, because the spray is activated by external pressure, you need to spray it closer to your body than some of the other mist sprays.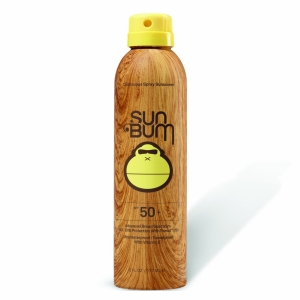 Sun Bum is endorsed by several outdoor water sport associations for good reason: it offers excellent protection even when your body gets wet.
Pros:
The lightweight formula comes out in an even mist that easily sticks to your body without being sticky and messy. The additional features of Vitamin E oil and hypoallergenic ingredients reduces the risk of allergic reaction. It is Paba, Paraben, and Gluten free. The light scent of bananas is a pro for many.
Cons:
The formula may stain clothing, so be sure to let it dry before putting on something over your bathing suit. Protection is not immediate: you need to wait about 15 minutes before heading out into the sun after application.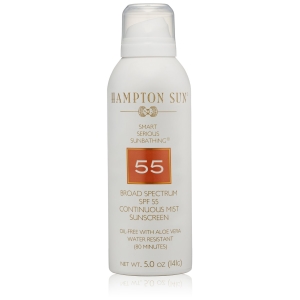 This lightweight and fragrant sunscreen offers more than protection from the rays of the sun. It enriches the skin with skin healing agents while offering long lasting protection.
Pros:
The ease of application, delightful scent, and additional features of Aloe Vera and a skin supportive multi-vitamin complex makes this sunscreen good for your skin even when you are not in the sun's direct rays.
Cons:
Because it is a bit pricey, this sunscreen does not fit everyone's budget. But other than price, there is not much to deter consumers from this product.
Conclusion
Sun protection is serious business, and with the development and improvements in the best spray sunscreens, you can now make sure you're always protected before heading outdoors. When choosing a spray sunscreen focus on whether it offers both UVA and UVB protection. Know that your options include enhanced formulas that can add additional nutrients to your skin. Also be sure to evaluate how well your formula goes on, and be mindful of the guidelines on the label that tell you how long to wait for sun exposure after application.
Spray sunscreens make it easy to protect yourself, so what are you waiting for? Go out there and have some fun in the sun.