Some links on this page are monetized by affiliate programs - see disclosure for details.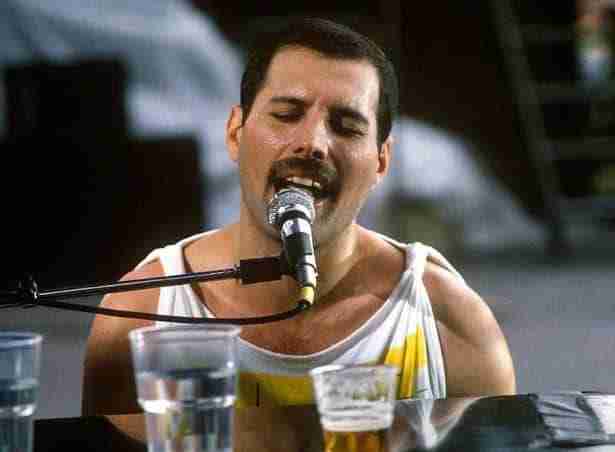 Since the early 1950s, there have been a number of terrific singers fronting rock n' roll bands. A great singer can take an average band and turn it into a truly great one. But who are the greatest singers in rock history? Here are the top 10 best rock singers of all-time.
1. Freddie Mercury
While music fans like to argue over the merits of certain musicians, there are few arguments when it comes to Freddie Mercury. Mercury is considered by many to be the greatest rock singer who ever lived. Not only could he belt out high notes with soaring crescendos, he could also soothe your ears with a whispery, smooth vibrato. Anyone who's heard the karaoke favorite 'Bohemian Rhapsody' has experienced the full, glorious extent of Freddie's voice.
2. Eddie Vedder
Eddie Vedder is one of those singers who could sing the phonebook and still be interesting. It seems that whatever the Pearl Jam frontman vocalizes turns to gold. Weather he's singing intense, emotional hard rock songs or soft, ukulele-driven tunes, Vedder does so with a purity and tone that seems to invite the ears. One of his best vocal performance is on the Pearl Jam song 'Black.'
3. Steve Marriott
Steve Marriott seems to have gotten lost in the shuffle of Roger Daltrey, Robert Plant, Joe Cocker, and more when it comes to great rock singers from the late 60s and early 70s. But by some estimations, he's the best of the lot. Marriott had something of a natural overdrive to his voice. The higher and louder he sang, the raspier he got. Marriott has a number of terrific recorded vocal performances, but his best might be on the Humble Pie song 'Black Coffee.'
4. Little Richard
The original shouter of rock n' roll: Little Richard. When he hit the scene in the early 50s, Little Richard possessed an energy and voice never before seen in music. Not only did he sing raspier and louder than anyone ever had, but he did it with an enthusiasm and spirit that left your ear drums humming. Throw in his high falsetto oo!'s on songs like 'Good Golly Miss Molly' and you've essentially got the blueprint for future rock n' roll singers.
5. Elvis Presley
Elvis Presley is so acclaimed in his icon status that it's sometimes easy to forget how great of a singer he was. Elvis could take any song he touched and make it his own. Whether he was crooning on a song like 'Love Me Tender' or 'Can't Help Falling in Love', or shouting on songs like 'Hound Dog,' Elvis possessed a powerful and commanding voice that nearly matched his otherworldly stage presence.
6. Chris Cornell
It's doubtful that anyone agrees on their favorite 90s grunge singer. There were tons of great ones, from Eddie Vedder, to Kurt Cobain, to Layne Staley, and more. But for some, Soundgarden and Audioslave frontman Chris Cornell reigns supreme. The deep-voiced Cornell has an incredible range, capable of hitting high, screaming notes as well as low, grumbling notes. A great example of Cornell's vocals can be found on the Temple of the Dog song 'Hunger Strike.'
7. Robert Plant
In the history of the genre, there have been few blues shouters on par with Led Zeppelin frontman Robert Plant. Plant's incredibly high and powerful shouting notes on songs like 'Babe, I'm Gonna Leave You' will leave your head swimming. But that doesn't mean that Plant can't also croon softly. Listen to songs like 'Going to California' or 'That's the Way' to hear Plant's voice at its softest and most sincere.
8. Janis Joplin
When Janis Joplin hit San Francisco's music scene in the late 60s, she possessed a voice that no one had ever heard before. No one squeezed as much emotion out of as many notes as Janis did. Her raspy, high-pitched, and powerful tone was reminiscent of black blues singers like Big Mama Thornton, but with a touch of something that was completely Janis. For a great example of Joplin's voice, listen to Big Brother and the Holding Company's version of 'Summertime.'
9. Paul Rodgers
Nicknamed 'The Voice,' Paul Rodgers possessed and possesses a deep, raspy, and all-together bluesy voice that perfectly suits hard rock music. Whether he's belting out notes on songs like Free's 'Alright Now' or softly singing on songs like Bad Company's 'Bad Company,' Rodgers has a voice that transfixes you.
10. Roger Daltrey
While The Who's guitar player/songwriter Pete Townshend has never realized it, Roger Daltrey is the perfect singer of his angsty, angry, and intense songs. Daltrey possesses a lion's roar unlike any other in rock music, capable of screaming his lungs out on songs like 'Won't Get Fooled Again' and 'Love Reign O'er Me.' But that doesn't mean he can't croon as well. He does so superbly on songs such as 'See Me, Feel Me.'
Image Courtesy of Flickr User a a