Some links on this page are monetized by affiliate programs - see disclosure for details.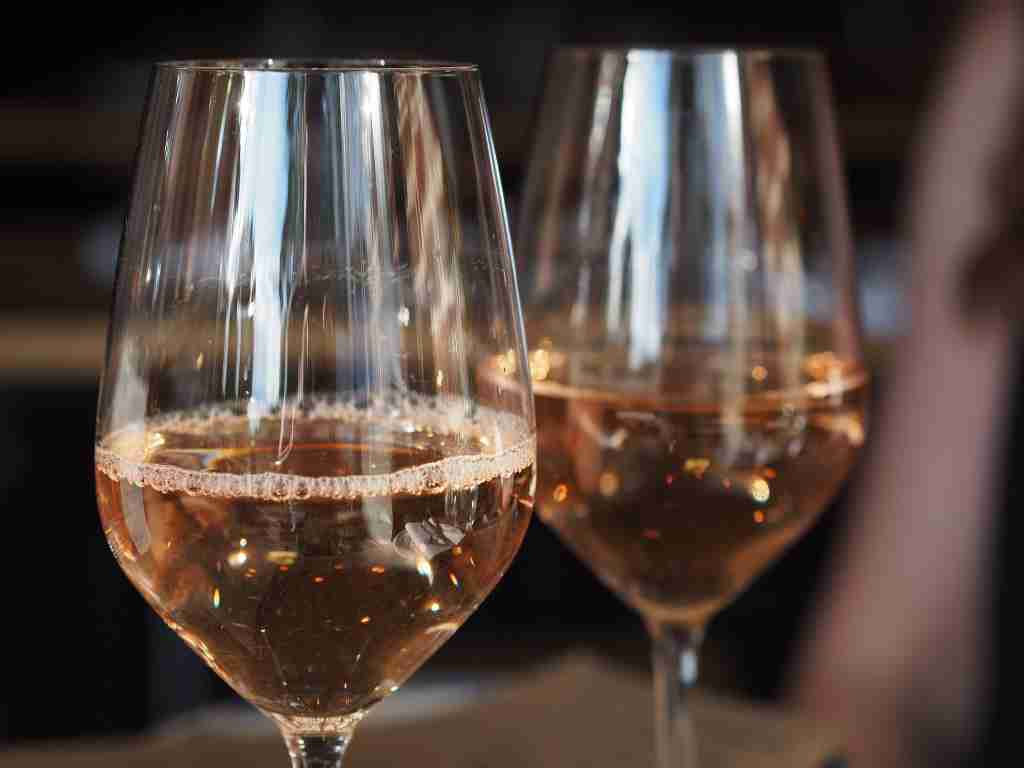 It's springtime now, and for wine connoisseurs, that means springtime wines. Some wines just go better with the general atmosphere of spring. Some wines are best imbibed with certain spring-appropriate foods. In any case, spring wines are designed to be consumed in spring. Here are the top 10 best springtime wines.
Related Article: The Best Electric Wine Opener (Guide)
1. Rosé
A pink-shaded wine, Rosé is thought to be perhaps the oldest wine known to man. Sporting a light, fruity flavor, it's an easy-sipping wine perfect for those bright spring days and warm spring nights. This is easily the most popular springtime wine there is, rearing its head in wine retail stores everywhere when the weather starts to warm up. If you're having a barbecue, rosé is the wine to have on hand.
2. Pinot Grigio
America's second most popular white wine, Pinot Grigio is a bold and flavorful wine that goes perfect with a warm summer day. Refreshing and a bit spicy, these wines come from all over the world, from places like Germany, France, Argentina, the United States, and more. They can be both light-bodied and full-bodied depending on where they come from and how they're made. In either case, they accompany a beautiful spring night wonderfully.
3. Riesling
A white grape wine which originated in Germany, Riesling is a dry and sweet white wine that fits in perfectly with mellow and sunny spring days. These days, it's also made in the United States, Austria, Australia, Canada, and a variety of other countries. Due to its sweet taste, it goes well with the majority of foods, whether they be bland, neutral, or spicy. This makes it a great wine to have at barbecues.
4. Pinot Noir
Made with pinot noir grapes typical of the Burgundy region in France, pinot noir wine is now made in a number of different countries from the United States, to Australia, and more. A medium-bodied wine, it contains much less alcohol than many wines, making it great to sip or consume quickly. With fruity flavors and aromas, it's a smooth, mellow wine that goes exquisitely with a calm, sunny spring day.
5. Moscato
A white, Italian wine, Moscato has gained quite a bit of traction lately, becoming popular the world over. A light-bodied wine with a sweet taste and reasonably low alcohol content, it's very easy to drink. This makes it great for calm and laid-back days under the sun. It goes well with the majority of foods, but goes especially well with spicy foods. This is due to its sweet taste which counteracts the natural acidity of spices.
6. Chenin Blanc
A highly acidic white wine, Chenin Blanc was originally grown in the Loire Valley of France. However, the majority of Chenin Blanc is now grown in South Africa. Different Chenin Blancs come with different aromas and tastes, but typically possess fruity hints. Dry Chenin Blancs typically go well with foods like chicken and fish. Sweeter Chenin Blanc fits better with spicy foods like Asian and Hispanic fair.
7. White Blend
A white blend is essentially any white wine which doesn't fit a pre-set regional category. These wines are typically made from a variety of grape types, giving them more complex and nuanced flavors and aromas. White blends can be both dry and acidic, making them great for enjoying with foods of all types. Typically a dry white blend is best enjoyed with chicken and other mild foods. Acidic white blends are best enjoyed with spicier foods.
8. Frappato
A red Italian wine derived mainly from Sicily, Frappato possesses a light body to go with mostly grape aromas and tastes. More on the acidic side, it pairs well with spicy foods like Hispanic, Indian, and Asian fare. Coming with a very reasonable alcohol content, frappato is great for sipping over long periods of time or drinking quickly with meals. This makes it a great beverage for a day spent imbibing under the spring sunlight.
9. Sauvignon Blanc
Grown in France, Australia, and the Americas, Sauvignon Blanc is a white wine with varying degrees of acidity and aroma. Sauvignon Blancs grown in colder climates tend to be more acidic, and possess aromas of a more grassy texture. The ones grown in warmer temperatures are typically less acidic, and possess more fruity aromas. It pairs well with foods such as cheese, fish, and sushi.
10. Chardonnay
Originating in the famous Burgundy region of France, Chardonnay is a white wine that has grown more and more popular in the past years. More on the acidic side than not, this wine is medium-bodied and crisp, going down reasonably smoothly. It possesses fruity aromas and tastes and goes well with foods like chicken, fish, and spicy fare.
Image Courtesy of Flickr User Chris Pople