Some links on this page are monetized by affiliate programs - see disclosure for details.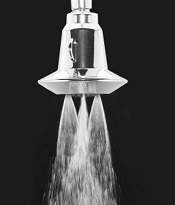 It's always great to take a long, hot shower, but you don't love them quite as much when your water bill arrives at the end of the month. If you have a shower head that wastes water, you're just throwing your money right down the drain. It's also a hassle if you live in an area where there are water restrictions in place. That's where a good water saving shower head comes into play.
If you notice that your water bill is higher than average, your shower head may be to blame. Instead of dealing with outrageous water bills every month, invest in a water saving shower head that can save your hundreds of dollars or more over time. Here's how they work…
The Top 10 Best Water Saving Shower Heads of 2021

How Does a Water Saving Shower Head Work?
Water saving shower heads are designed to prevent you from wasting water. The best water saving shower heads regulate the amount of water — and the water pressure — that flows out into the shower, giving you enough water to feel clean and refreshed, but not too much water that you're watching your money go down the drain — literally.
In addition to helping you save on your water bill, a good water saving shower head can also help conserve our planet's water. Many areas that are prone to droughts have water restrictions in place, and you face expensive fines if you use too much water.
With the latest water saving shower heads, you can shower knowing that you're not wasting water. Best of all, the latest designs still provide plenty of water pressure.
What are the Different Types of Water Saving Shower Heads?
If you're ready to start saving money and stop wasting water, a water saving shower head is just what you need. When you want to purchase one of these eco-friendly products, there are a few types you should look for when shopping.
Flow restriction – These shower heads have flow restrictors that can be adjusted or removed to provide you with the right water flow while also saving water.
Automatic restricting – These are generally more expensive, but they take out all the guesswork of adjusting the water flow. These shower heads detect the amount of pressure in your line and adjust to provide you with high pressure while still conserving water.
Traditional low flow shower heads – These shower heads are the most common type. They attach to a shower arm that runs through your wall. Changing these traditional low flow shower heads is usually quite easy, and many models can be installed without even using tools.
Handheld low flow shower heads – A handheld shower offers you more versatility. You can use it while it's mounted, or pull it down to effectively rinse yourself off. You can also stretch the hose to use it for kids and pets that use the bathtub.
What Are the Benefits of a Water Saving Shower Head?
There are several major advantages to owning one of these shower heads. The first is that you do your part in conserving one of our most valuable natural resources. So much water gets wasted in the shower, and with the latest water saving shower heads, there's a way you can prevent this from happening.
You'll also notice significant savings over time when you switch to a high-efficiency shower head. Since less water is wasted, your water bill will decrease, and there isn't anyone out there that doesn't love saving money.
How to Clean a Water Saving Shower Head
Shower heads don't require extensive maintenance. However, if a water saving shower head becomes clogged, the effect can be noticeable. A clean shower head not only operates more efficiently than a clogged one, but it also creates fuller water flow.
A toothbrush is actually the perfect tool for cleaning a shower head. Scrub the nozzles gently. The bristles will dislodge any mineral deposits and other debris. Avoid using harsh chemicals as they can damage the rubber.
After scrubbing the shower head, the next step is soaking it in vinegar. Fill a plastic bag with household vinegar. Then use a zip tie to attach the bag over the shower head. Submerge the nozzle in vinegar completely. Leave the bag attached for at least several hours or, ideally, overnight. After removing the bag, don't forget to run the water to wash the vinegar away.
Who Makes the Best Water Saving Shower Heads?
How to Choose a Water Saving Shower Head
When you decide that you're ready to start saving water and money each month, it's time for you to choose a water saving shower head. Just like any other shower head, you'll have thousands to choose from. Instead of letting the decision overwhelm you, just remember to consider these four things that can impact your purchasing decision.
Price
The first thing to think about before you shop for your new shower head is your budget. Luckily, most water saving shower heads are priced quite affordably. You can get a basic shower head for around $10, while more high-end models with loads of features are around $100 or less.
Installation
In order to be able to use your shower head right away, look for one that connects right to your existing shower arm. Most low flow shower heads install in just minutes, although more complicated ones may take around an hour and can usually be installed without professional assistance.
Shower head type
Determine which type will best fit your needs. Would you rather have a fixed shower head, or maybe a handheld shower that's a little more convenient? You can get the best of both worlds with a dual water saving shower head that combines both types.
Settings
Many shower heads have different settings, including pulsating massage for relaxation or rain fall that mimics falling rain. If you like to change up how you take a shower, select one that has multiple settings that are easy to change.
Comparing the Best Water Saving Shower Head Brands
Price
NRG Economy Super Spray Clean
It doesn't get much more inexpensive than the NRG Economy shower head. You can buy one for each of your showers and even one to spare.
ZenFresh Filtration Shower Head
This low flow shower head that conserves water and is excellent for your skin and hair is priced competitively.
Ana Bath SS5450CBN Shower and Shower Head Combo System
This is one of the more expensive shower heads. However, the price is very reasonable when you consider that you get two shower heads in one.
Installation
NRG Economy Super Spray Clean
You'll be enjoying your new water saving shower in just minutes with easy installation. This installs directly on your existing shower arm. Teflon tape is included with your purchase for leak-free installation.
ZenFresh Filtration Shower Head
If you have an existing hose, this connects in just a few minutes. If you do not have a handheld shower, installing the mount and hose may take quite a bit longer.
Ana Bath SS5450CBN Shower and Shower Head Combo System
This combo system installs quickly and easily to your existing wall-mounted shower arm.
Shower head type
NRG Economy Super Spray Clean
This is a traditional wall-mounted water saving shower head.
ZenFresh Filtration Shower Head
The ZenFresh Filtration shower head is a handheld shower that attaches to a hose so it can be moved as needed.
Ana Bath SS5450CBN Shower and Shower Head Combo System
You'll have a fixed shower head in addition to a handheld shower for convenience when you purchase this product.
Settings
NRG Economy Super Spray Clean
You won't find any adjustable settings on this shower head. However, the one setting does offer plenty of pressure.
ZenFresh Filtration Shower Head
There is just one fixed spray on this shower head. However, the outside holes have a rainfall-like effect, while the inner holes have stronger pressure.
Ana Bath SS5450CBN Shower and Shower Head Combo System
Choose from five functions on each shower head. The settings include saturating spray, massage spray, saturating spray and massage spray, bubbling spray, and saturating spray and bubbling spray.
Conclusion: Our Water Shaving Shower Head Reviews Are In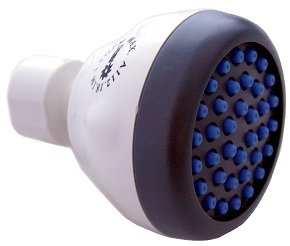 For this price, you could potentially save hundreds of dollars per year with this water saving shower head. If you prefer a no-frills shower head, this one is just right. Don't let the low price fool you, though. The white plastic body is extremely durable, and you don't have to worry about corrosion like you do with some metal shower heads.
This product is virtually maintenance-free. It features rubber thermo jets that wipe clean in an instant. The most important feature, though, is how well this conserves water, using just 2.0 gpm (gallons per minute.) You'll save both water and energy every time you step into your shower. The Neoperl pressure compensating flow controller ensures that you conserve water but still provides you with great water flow.
Pros:
It is one of the least expensive low flow shower heads on the market. Virtually maintenance-free. It is ideal for hard water areas. It has a swivel head that can be adjusted to suit your own preferences. The spray setting offers plenty of water coverage. It is extremely easy to install.
Cons:
It does not have any additional settings. The plastic will crack or break if tightened too tightly by hand or with tools.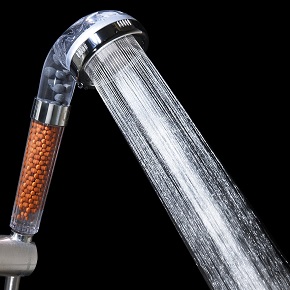 Why don't you improve your skin while you shower? Best of all, you don't even have to use any products that are loaded with ingredients that may actually harm your skin. This water uses ions to improve the look and feel of your skin and hair.
Negative ion spheres located in the handle of this shower head purifies your water, removing any impurities, and improves nutrient consumption. This can reduce oil secretion and leave you with softer, smoother skin and hair. In addition to having your own personal spa right in your own bathroom, this eco-friendly handheld shower conserves energy and water, which helps you save money every time you shower.
Pros:
The negative ion spheres purify your water to improve the condition of your skin and hair. The handheld shower design is extremely convenient, allowing you to cleanse your hair and body with ease. Installation on an existing hose is very easy.
The clear and chrome design is stylish enough for any bathroom. It conserves water without reducing pressure and flow.
Cons:
There is just one fixed setting. Installation is more difficult if you do not have an existing handheld shower setup. Bar and hose are sold separately. The shower head is quite heavy, heavier than many other models. This shower head should only be used for one year before it is discarded and replaced. Replacement ions are not available for purchase.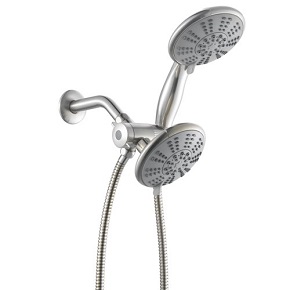 You'll love taking a shower with this water saving combo. Use the fixed shower head alone or enjoy the convenience of the handheld shower. You can also operate both at the same time if you desire. You'll get plenty of pressure, even when both are operating, and you can relax knowing you're conserving water since this shower head combo uses just 2.1 gallons per minute.
You have five different settings on each head, and you can set them to different settings if you wish. This system comes equipped with everything you need right out of the box, including a 60-inch hose. Installing it to your existing shower arm takes just minutes, and you'll be ready to enjoy your new shower.
Pros:
You'll get great versatility with this dual shower head that operates together or separately. You'll save money and water with its water saving design. The brushed nickel finish looks great in any bathroom. It is coated to strengthen the finish, as well as resist corrosion.
No tools are required for installation. It is backed with a lifetime warranty. You can adjust the angles on both shower heads. Cleaning the heads are easy.
Cons:
It is priced more expensively than other shower heads. The handheld shower tilts back down when adjusted at too high of an angle. The diverter switch is a little hard to access.
Final Verdict
Saving water doesn't mean you have to sacrifice enjoying your shower. With the latest water saving shower heads, you can enjoy steady water pressure while conserving water and saving money. If you've decided that a water saving shower head is right for you, you'll love the versatility offered by the Ana Bath Combo System. You can have a regular shower head with the added convenience of a handheld shower right at your fingertips. With its water saving features, multiple settings, and durable design, you won't have to worry about your money going down the drain when you purchase this quality shower head.