Some links on this page are monetized by affiliate programs - see disclosure for details.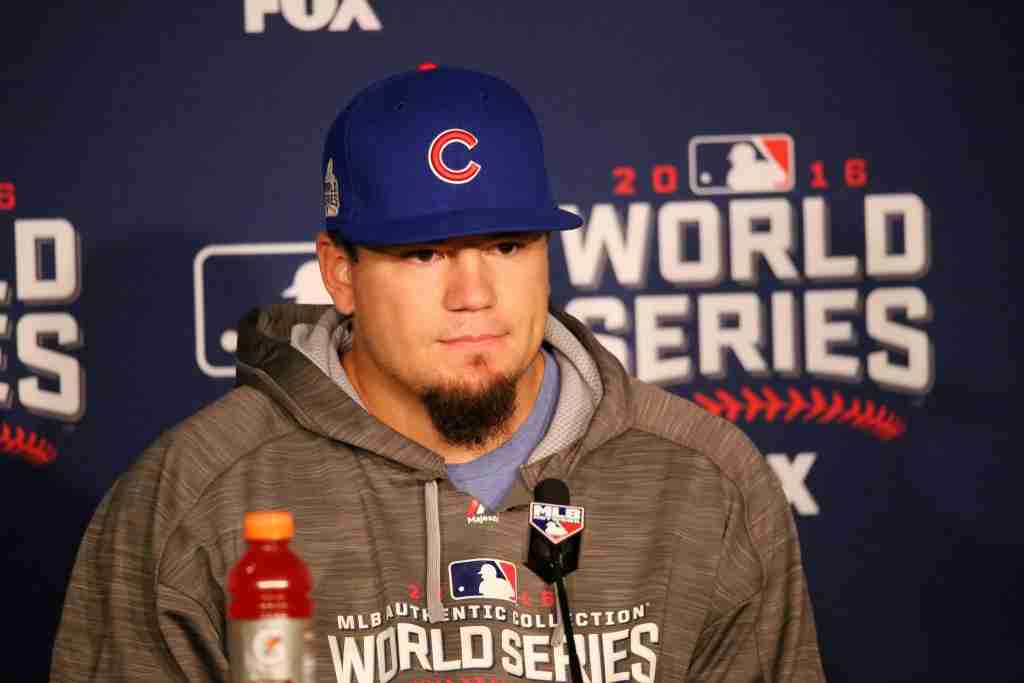 The sport of baseball is filled with an array of untapped potential. The minor leagues are practically bursting at the seams with players ready to take their games to the next level. 2016 saw a number of young players ease their way into the Major Leagues. For many of them, 2017 may just be the year that they become stars. Here are 10 baseball players likely to have a breakout year in 2017.
1. Kyle Schwarber
In a lot of ways it seems as if Kyle Schwarber has already broken out. He's been arguably the greatest player in Chicago Cubs playoff history, breaking the Cub playoff home run record in 2015; his first ever postseason. But the fact of the matter is that Schwarber has only played in 71 regular season games due to injury. He's been wildly successful as a power hitter in those games, tallying 16 home runs and 43 RBI. All logic suggests that a healthy Schwarber will be one of the best hitters in all of baseball this year.
2. Andrew Benintendi
The 5'10" 170-pound Boston Red Sox outfielder played in just 34 Major League games last year, but played exceptionally well considering. He finished with a .295 batting average, 2 home runs, and 14 RBI in 105 at bats. He also showed fantastic gap power, coming up with 11 doubles and a triple. He also showed some flashes of brilliance in left field, a position he had only recently started to play. It will be exciting to see how Benintendi progresses throughout the 2017 season.
3. Maikel Franco
Philadelphia Phillies third baseman Maikel Franco is entering his fourth big league season, though it's only his second season in which he'll play full time. He has demonstrated fantastic power, especially for a third baseman, bashing 25 home runs for 88 RBI in 2016. However, his batting average and on base percentage were not great, at .255 and .306 respectively. If Franco can getting has batting average up and continue to put balls over the fence, he'll be a force to be reckoned with.
4. Julio Urias
The 20 year old Urias started 15 games for the Los Angeles Dodgers last season, posting a 5-2 record to go with a 3.39 ERA and 84 strikeouts; a great start to a career, especially for a player who was just 19 years old. Due to a bout of strep throat, Urias is likely not to start the season in the Major League rotation, but will almost certainly join it at some point. We could very well be looking at one of the game's future greats.
5. Blake Snell
The lanky lefthander started 19 games for the Tampa Bay Rays in 2016, posting a record of 6-8 to go with a 3.54 ERA and 98 strikeouts. A hard-throwing 24 year old, Snell seems to be well on his way to an above average MLB career. Of course, it's impossible to say after just 19 starts. It will be interesting to see if he has made any improvements during the offseason.
6. Byron Buxton
The second overall pick in the 2012 Draft, Byron Buxton has played just two partial seasons with the Minnesota Twins. He posted passable numbers in 2016, hitting .225 for 19 doubles, 6 triples, 10 home runs, and 38 RBI in 331 plate appearances. He has also proven himself to be an exceptional defensive centerfiedler. Given a full MLB season in 2017, Buxton stands a chance to put on some spectacular numbers.
7. Daniel Norris
Entering his 4th Major League season, and only his first full time season, Daniel Norris figures to be fourth in the Detroit Tigers rotation. In 2016, he started 13 games, going 4-2 with a 3.38 ERA and 71 strikeouts. A hard-throwing southpaw with sharp breaking stuff, he has the potential to be one of the best pitchers in the game. We'll see whether or not he can make it happen in 2017.
8. James Paxton
Hard-throwing lefty James Paxton is entering his fifth Major League season, though it will probably be his first in which he receives a substantial amount of starts. In 2016, he posted a 3.79 ERA to go with a 6-7 record and 117 strikeouts in 20 starts. Projected to pitch third in the Mariners rotation, this just might be the 28 year old's breakout year.
9. Christian Yelich
Yelich has been an above average player for 4 seasons now, hitting for averages around .300 and increasing his home run totals every season. In 2016, he hit .298 to go with 21 home runs and 98 RBI. After 4 years of consistency, there's no reason to doubt Yelich. The 25 year old stands a very good chance to be one of the best hitters in the league this year.
10. Gregory Polanco
Pittsburgh Pirates right fielder Gregory Polanco has been very solid over the past 2 season, hitting 22 home runs to go with 86 RBI and a .258 batting average in 2016. He has also shown some base running prowess, stealing 27 bases in 2015 and 17 bases in 2016. The 6'5" 25 year old is primed and ready for a breakout season. If he can get his average up a bit, he'll be one of the most feared players in the big leagues.
Image Courtesy of Flickr User Arturo Pardavila III