Some links on this page are monetized by affiliate programs - see disclosure for details.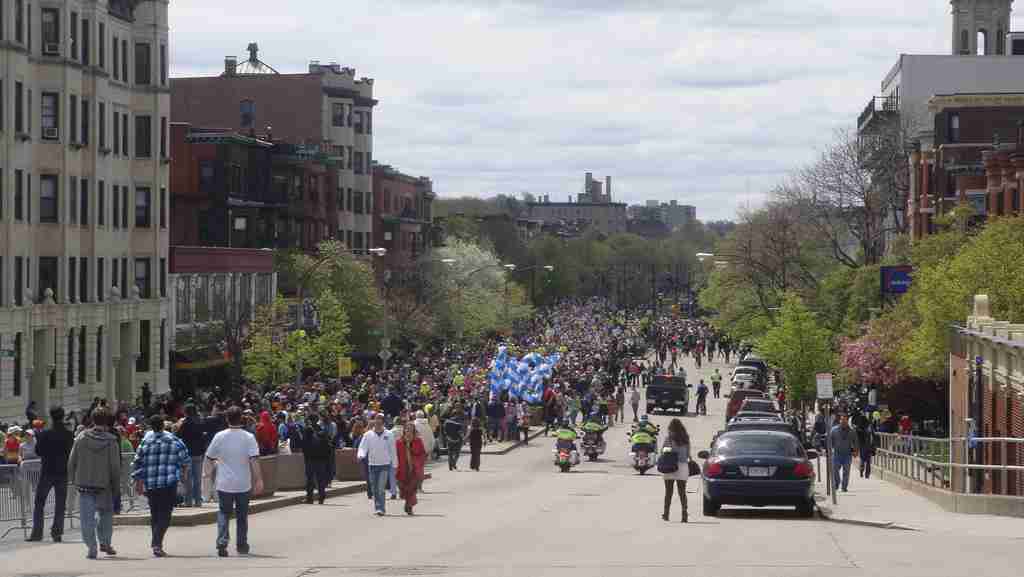 As we inch closer to April 17, we also inch closer to the Boston Marathon. This year's marathon is sure to be as exciting an event as ever. To get ready for it, let's relive some of the marathon's finest moments, shall we? Here are the top 10 most memorable moments in Boston Marathon history.
1. 2013 Marathon Bombing
As devastating and tragic as it was, the 2013 Boston Marathon bombing is undoubtedly the most memorable moment in Boston Marathon history. On April 15, 2013, two brothers, Dzhokhar Tsarnaev and Tamerlan Tsarnaev killed 3 crowd members and injured several hundreds with two homemade bombs. This attack gave rise to a city-wide manhunt which lasted for 4 days and shook the entire Boston community.
2. Geoffrey Mutai Breaks Race Record
In 2011, Kenyan runner Geoffrey Mutai broke the Boston Marathon record, running the race in 2:03:02. At the time, it was the fastest marathon ever run. However, because Boston's course is ineligible for world records, it only counted as a record for the race itself. Helped by a gust of wind and an aggressive field, several runners finished a full minute under the previous race record.
3. The Duel in the Sun
The 1982 Boston Marathon was expected to be dominated by runner Alberto Salazar. Salazar was a speed demon on the roads, possessing a personal 10K record at least 2 minutes faster than any other contender in the race. But that didn't stop American Dick Beardsley from giving Salazar a run for his money. On a hot, sunny April day, the two runners pushed each other hard to the finish. While Salazar came up with the win, both runners finished in under 2:09:00; the first two runners ever to do so at Boston.
4. The First Woman Runs the Marathon
While women weren't officially allowed to run the Boston Marathon until 1972, Bobbi Gibb did so in 1966. Disguised in her brother's running apparel, Gibb ran the marathon the next three years. In 1996, she was recognized for her three wins, getting her name inscribed on the Boston Marathon memorial in Copley Square. Bobbi Gibb was a pioneer who helped usher women into the world of long distance running.
5. The First Woman Runs the Marathon With a Number
While Bobbi Gibb ran her marathon's as a bandit without an official number, runner Katherine Switzer managed to run the marathon with an official number in 1967. This was against race rules in 1967 as women's weren't allowed to officially run until 1972. Race official Jock Semple attempted to rip the number off Switzer during the race, resulting in a truly iconic photograph.
6. Rosie Ruiz's False Win
During the 84th Boston Marathon in 1980, Cuban runner Rosie Ruiz jumped on the course about a half-mile before the finish, finishing before all other female runners. While she was initially declared the winner, race officials soon discovered what she had done. 8 days after the race, Ruiz was stripped of her victory. They had concluded that she cheated after testing her resting blood pressure, and after she posted a time of about 25 minutes faster than what she had posted at the New York Marathon.
7. The First Boston Marathon
First taking place in 1897, the Boston Marathon was first called the American Marathon. The world's oldest recurrent marathon, it was first won by New York resident John J. McDermott. It consisted of just a 24.5-mile course, which McDermott finished in 2:55:10. The race was run by only 15 runners, substantially less than what runs in it now. Inspired by the first Olympic marathon in hundreds of years, it has turned into one of the most famous marathons in all the world.
8. Meb Wins in 2014
In 2014, Meb Keflezighi became the first American runner to win the Boston Marathon since 1983. Running the race at his personal best 2:08:37, he bested several African favorites. His marathon win marked Meb as one of the most accomplished marathon runners of all-time. He is the only person in history to win an Olympic Medal along with the Boston Marathon and New York Marathon.
9. First African Wins Boston
For years, the Boston Marathon was dominated by American and hispanic runners. That all changed in 1988. Finishing with a time of 2:08:43, Kenyan runner Ibrahim Hussein bested all other comers. This was the beginning of African dominance in the race which continues to this day. Africans have won 25 Boston Marathons since Hussein's win in 2008.
10. First African Woman Wins
1997 marks the first time an African woman won the Boston Marathon, kickstarting an African domination of the race that continues to this day. Ethiopian Fuma Roba won her first of three straight Boston Marathons, finishing in a time of 2:26:23. Since Roba's first win, African women have won the women's race all but two times, dominated by mostly Kenyan runners.
Image Courtesy of Flickr User Vitor Pamplona