Some links on this page are monetized by affiliate programs - see disclosure for details.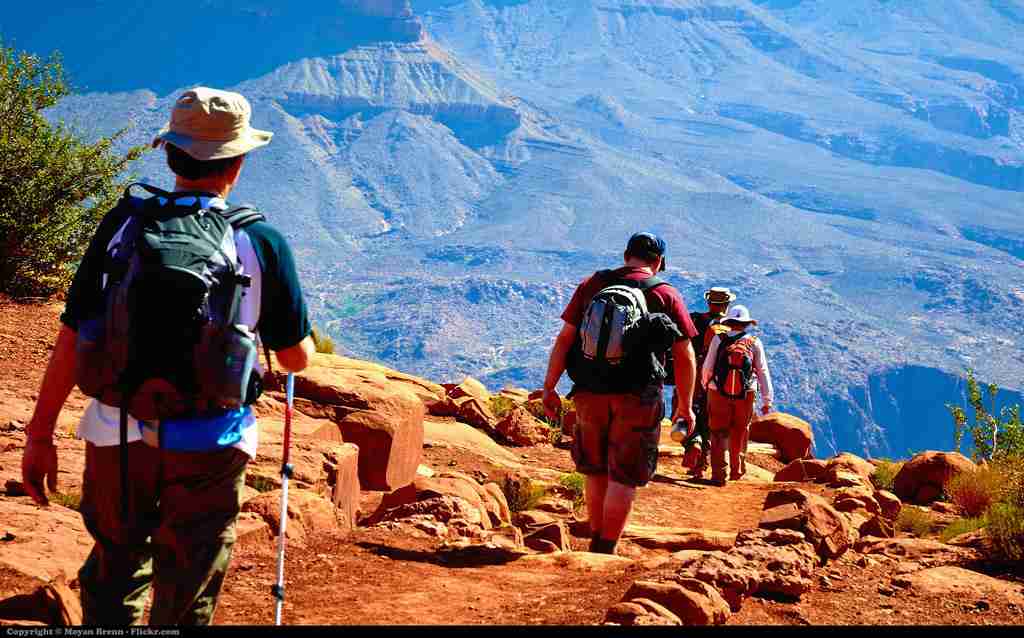 We Americans tend to get bogged down and distracted by the stresses and struggles of the modern world. Because of this, we often forget how beautiful our country can be. Staggering mountain peaks, awe-inspiring waterfalls, and wide, spacious canyons are just some of the awesome sights to behold in the American landscape.
But you're not going to catch a glimpse of these sights by sitting behind a computer desk. You're going to have to get your feet moving and hit the hiking trails. But which hikes are the most worthwhile? Here are the top 10 best hikes in the United States of America.
1. Pacific Crest Trail
Spanning 2,650 miles and covering land from Northern Mexico to southern Canada, the Pacific Crest Trail runs through landscapes of all types; from deserts, to valleys, to forests, to mountains, and more. While some hikers have the time and energy to hike the entire trail in one fell swoop, others prefer to take the trail a few miles at a time. In any case, the Pacific Crest Trail is a hike quite like no other.
2. Appalachian Trail
Measuring in at around 2,200 miles, the Appalachian Trail covers area all the way from Springer Mountain in Georgia to Mount Katahdin in Maine. In some ways, it's like the east coast counterpart of the Pacific Crest Trail. Managed by the National Park Service, the vast majority of the trail lies within mountainous and forested area. However, sections of the trail also run through towns and farmland. It's estimated that around 2 million people hike at least somewhere on the trail every year.
3. Angel's Landing at Zion National Park
Located at Zion National Park in Utah, Angel's Landing is a strenuous, but oft-visited trail. While it measures in at only 5 miles, this trail feels long, meandering its way up a steep rock formation. With its narrow width and uneven terrain, it can be a little scary for novice hikers. It falls off steeply on both of its sides, but provides an absolutely spectacular view of the Zion Canyon. If you've got the courage and wherewithal, this is one of the most exciting hiking trails you'll ever come across.
4. Precipice Trail at Acadia National Park
Located at Acadia National Park in Maine, the Precipice Trail is a strenuous, but hugely popular hiking trail. This trail elevates around 1,000 feet over a 1 mile span. Cutting through rocky and steep mountainsides, it's not a trail for the faint of heart. It requires the ability to scale a number of obstacles, from rocks, to trees, to ladders, and more. All in all, it takes about 2 hours to reach the peak of the mountain, and 3.5 hours to complete the entire loop of the trail.
5. Grand Canyon National Park
One of the most famous National Parks in the United States, Grand Canyon National Park is an absolutely terrific place to hike. Its hiking trail makes its way up hills and slopes which surround the rim of the canyon, providing beautiful views at just about all times. Backcountry hiking at the canyon is very popular, and there are several different trails you can take.
6. Cascade Mountain in New York
Located in the Adirondack mountains in Lake Placid, New York, Cascade Mountain is one of 46 mountain peaks in the mountain range. Its aptly named for its many streams and waterfalls, giving view to some of the most beautiful nature you'll ever come across. The most popular trail up this mountain climbs around 2,000 feet over 2.2 miles. It's not the easiest trail, but it is one of the most rewarding.
7. Glacier National Park
Glacier National Park in Montana plays host to some of the most beautiful lakes and mountain ranges in the United States. It offers a bevy of trails, from short to long, and from easy to difficult. In all, it contains over 700 miles of clean and cut trail, allowing you to traverse your way up mountainsides or next to large lakes. Regardless of your hiking level, Glacier National Park is sure to have something for you.
8. Kalalau Trail
Measuring in at 11 miles, the Kalalau Trail is a rugged and exciting trail on the coast of Kauai, Hawaii. This trail lends beautiful views of the ocean, mountains, streams, and more. It might be a bit much for novice hikers, especially if they're afraid of heights. Crawler's Ledge is the scariest part of the hike as it's narrows, steep, and uneven, hanging over the Pacific Ocean. But if you've got the guts to take this trail on, you will bear witness to some of the most beautiful sights this world has to offer.
9. Franconia Ridge Traverse at White Mountain National Forest in New Hampshire
A long mountain ridge trail that climbs up and down over 4,000 feet a total of 4 times, Franconia Ridge Traverse is a strenuous, but inviting trail that welcomes the majority of hikers. An 8.2-mile loop, it offers glorious views of near and distant mountain ranges, allowing you to take in the nature around you with ease. It is, however, fairly rocky, so make sure you've got your wits about you before you hit the trail.
10. The John Muir Trail in California
Located in several parks throughout California, The John Muir Trail is named after the great nature pioneer John Muir. This hike is 215 miles long and runs through Yosemite, Sequoia, and King's Canyon National Parks. Ending at the highest continental mountain peak in the United States, Mount Whitney, it climbs to 14,496 feet above sea level.
Image Courtesy of Flickr User Moyan Brenn