Some links on this page are monetized by affiliate programs - see disclosure for details.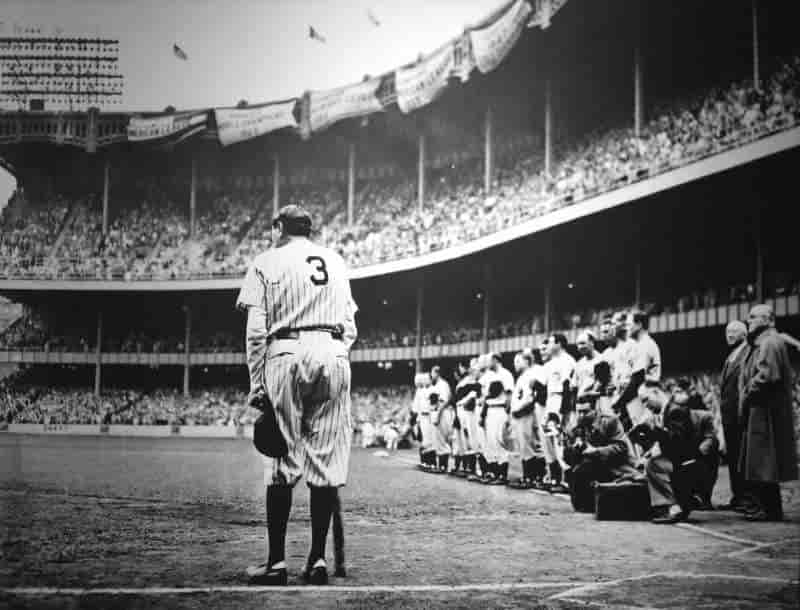 In baseball's long history, it's seen a variety of different players come and go. Some could field. Some could pitch. Some could do just about everything. But for this list we're focusing on the hitters, and the left-handed ones in particular. So, without further ado, here are the top 10 best left-handed hitters in baseball history.
1. Ted Williams
Not only is he the last player ever to hit over .400, but he also hit a incredible .388 at 38 years old. Missing 2-and-a-half seasons in his prime due to serving as a Marine fighter pilot in WWII and the Korean War, Williams still managed to finish with 521 home runs. A long, lanky, scientific hitter blessed with 20/10 vision, many baseball scholars consider him to be the greatest hitter who ever lived. Finishing with a lifetime .344 batting average over 19 seasons, it's hard to argue against the Splendid Splinter.
2. Babe Ruth
Though we've ranked Ted Williams at #1, there is certainly a case to be made for George Herman 'Babe' Ruth. To put it simply, the man changed the game. In the process of hitting his 714 career home runs, he turned baseball into what it is today. In 1920, the Babe hit 54 dingers; a number that eclipsed the home runs totals of all but one TEAM that season. However, he was more than just a power hitter. With a career .342 batting average, he is tied for 9th all time.
3. Ty Cobb
While many have questioned his morality, none have ever question his ability to play the game of baseball. Ty Cobb was the king of baseball's dead ball era, finishing his career with a remarkable .367 lifetime batting average; the best in the history of the sport. He also holds the record for most career batting titles with a total of 11. Known for his violent temperament, intense demeanor, and split-handed batting grip, The Georgia Peach ranks second in all-time hits with 4,189.
4. Stan Musial
Stan 'The Man' Musial is the owner of one of the most spectacular batting statistics in the history of baseball. With 3,630 hits over a 22-year career, he totaled 1,815 hits at home and 1,815 hits on the road; a true testament to his consistent greatness. Known for his narrow, hunched-over batting stance, he finished his career with a .331 average, 475 home runs, and 1,951 RBI.
5. Lou Gehrig
Gehrig was an absolute monster of a hitter, batting behind Babe Ruth in Murderers' Row; the name given to the intimidating and powerful lineup of the 1920s' New York Yankees. While not quite on par with Ruth, Gehrig wasn't far behind. In a 17-year career that was cut short due to terminal illness, he produced a lifetime batting average of .340 to go with 475 home runs and 1,995 RBI.
6. Tony Gwynn
The late, great Tony Gwynn didn't have a lot of power, but there are few players in the history of baseball who could hit the gaps quite like him. The last player to come within arm's reach of a season-long .400 average, Gwynn hit .394 in the strike-shortened 1994 season. With a total of 8 batting titles, he never hit under .309 in a single, full-length season. He finished his career with a .338 lifetime batting average.
7. Ichiro Suzuki
Though he came to the Major Leagues from Japan at 27 years old, Ichiro Suzuki has been able to do the near-impossible; accumulate 3,000 career Major League hits. Still a serviceable player at 43 years old, Ichiro currently possesses 3,030 hits with a lifetime batting average of .313.
8. Oscar Charleston
While we never got a chance to see him against official Major League competition, Oscar Charleston is regarded as one of the best hitters in Negro League history. A five-tool player in the vain of Willie Mays and Hank Aaron, Charleston is considered by baseball historian and statistician Bill James to be the 4th greatest player in the history of the game. While Negro League stats are a bit spotty, he is believed to have a lifetime batting average of .339 or higher.
9. 'Shoeless' Joe Jackson
Before his career ended in disgrace at the hands of the 1919 Black Sox scandal, Joe Jackson was one of the best hitters in baseball. Hitting over .400 once, he finished his career with a lifetime .356 batting average. That's good for 3rd all time.
10. Barry Bonds
Barry Bonds is forever shrouded in controversy. But while rumors of PED use have plagued his post-baseball life, we feel it necessary to have him on this list. There's really no arguing how dominant he was over the span of his career. Hitting over .300 11 times in his 22 seasons, Bonds holds both the single-season and all-time homerun records, with 73 and 762 respectively.
Image Courtesy of Flickr User Cliff