Some links on this page are monetized by affiliate programs - see disclosure for details.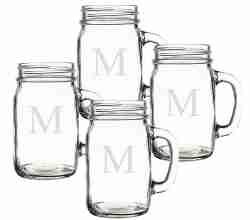 There are few times more exciting in a young woman's life than her 21st birthday. Not only does the age mark the moment when she gets to start drinking alcohol legally in The United States, it also signifies an ascent into adulthood. It's the age that notes the beginning of new experiences and responsibilities. This includes everything from entering the workforce, to buying a first home, to paying off loans for college.
It goes without saying that a woman's 21st birthday is an important one. That's why you must celebrate it with all of the gusto you can muster. This can be done by getting your daughter a great gift that represents new responsibilities, new experiences, and new privileges.
What Are The Top 10 Best Gifts for a Daughter's 21st Birthday in 2021?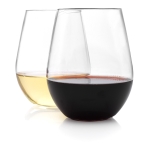 A 21st birthday usually means one thing, and that one thing is: drinking. Your daughter is almost undoubtedly looking forward to being able to legally drink alcohol in these United States of America. So, why not set her off on the right foot by purchasing her these exquisite stemless wine glasses by WineTools?
Capable of holding up to 20 ounces of liquid and made out of clear, durable, transparent tritan material, they are the perfect receptacle for the consumption of wine. Shatterproof and dishwasher safe, they are easy to maintain and take care of.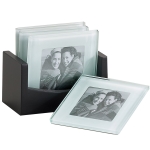 If your daughter is going to start drinking alcohol, she's going to want something nice to set her drinks on. For this reason, we suggest that you gift her these Frame Photo Glass Coasters by Elegance Silver.
4 inches x 4 inches in height and width, they are easily large enough to accommodate any cup or glass, keeping your daughter's table or nightstand safe from water rings and stains. Capable of holding small pictures, your daughter will be able to personalize the coasters with photographic memories of her past.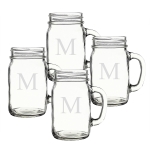 Now we're back again to the subject of alcohol, though there's no reason that these couldn't be used for other drinks as well. What we're talking about are these Personalized Mason Jar Glasses by Cathy's Concepts.
Dishwasher safe and made of a clear, smooth glass, these mason jars are capable of holding up to 16.5 ounces of liquid. Included with the purchase of these jars is a block engraving of a single letter on the side of the jar. The choice of letter is, of course, up to you.
While 21 is widely seen as the age where young women get to start drinking alcohol legally, it is also the age where young women start to be considered adults. To accommodate this change into adulthood, you should consider buying your daughter something that fits a more grown-up image. That's why we suggest this Shoulder Bag by Dreubea.
Available in a bevy of different colors and made out of faux man-made leather, this bag is waterproof and contains plenty of storage for everything your daughter needs to carry around.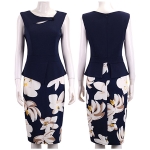 Part of your daughter growing up is the aspect of soon entering the workforce. To accommodate this, you should consider buying your daughter some new, professional clothing. That's why we recommend this Office Work Dress by Metrope J.
Available in a number of different colors and designs, it includes both a top and a skirt. While the top is made out of 60% cotton, 35% polyester, and 5% spandex, the skirt is made out of 95% polyester and 5% spandex. If your daughter will soon be entering the workforce, this office work dress is a great option for a gift.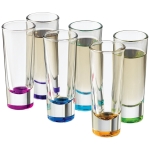 While drinking alcohol isn't the only thing that 21 year old women partake in, it's always good for them to have drinking accessories on hand. Whether that be mugs, pint glasses, or shot glasses, your daughter will more than likely want them around. For that reason, we suggest this Libbey Troyano Colors Shot Glass Set.
2-ounce shot glasses coming in the colors of blue, green, teal, yellow, purple, and deep purple, they're both dishwasher-safe and aesthetically pleasing. Tall and skinny, they take up very little room, making them ideal for storage purposes.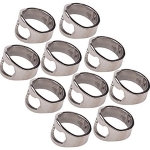 Whether your daughter is at a party or a bar, she's probably eventually going to have a need for a bottle opener. For this reason, we suggest that you gift her these Bottle Opener Rings by Pixnor. They are the perfect compliment to any night out drinking.
Made of stainless steel and designed to fit around fingers, they can easily be taken off and used to open bottles at their user's convenience. Lightweight and easy to carry around, they are the ideal bottle openers for young women.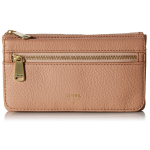 Your daughter's growing up, and it's about that time that she starts taking her finances a little more seriously. To promote this, why don't you gift her a nice, new wallet? We suggest this Fossil Preston Flap Wallet.
With an exterior made of 100% leather and an interior lined with cotton, it contains 1 front zipper pocket and 1 top zipper pocket, giving it plenty of storage space. Available in three different styles, it's the perfect wallet for a young woman who's about to start taking on real adult responsibilities.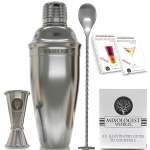 Part of entering the world of alcohol consumption is making your own drinks. While your daughter may prefer to go out to bars with her friends, there's a good chance that she's going to also want to make some drink at home. That's why we suggest the Mixologist World Cocktail Shaker Set.
A three piece set made completely of stainless steel, it includes a 24 ounce shaker, a double-sided shot glass, and a swizzle stick. Included with the set is a recipe booklet that will provide your daughter with everything she needs to start making cocktails instantly.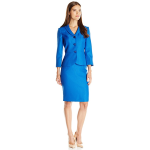 As a 21-year-old, your daughter is probably about to enter the wonderful world of job interviews. In order to give a successful interview, she is going to need a nice suit. For that reason, we suggest you gift her this LeSuit Women's Tweed Three-Button Shawl Collar Skirt Suit.
Made out of 100% polyester, it is very comfortable and provides a great deal of ventilation. A two-piece suit including a skirt and a jacket, its skirt contains a hidden zipper that allows for easy removal. If you're looking for a very nice suit for your daughter's 21st birthday, this is it.
How to Choose the Best 21st Birthday Gift for Your Daughter
Choosing a 21st birthday gift for your daughter is not difficult. You must simply think of her hobbies and interests and find a way to tie those hobbies and interest into a gift; particularly a gift that has relevance in the adult world. Classy, professional clothing, alcohol, and vacations are all great gifts for a typical 21 year old young woman. It's your decision to decide whether or not they would make great gifts for your daughter. You know her better than anyone else does.
Regardless of what you get your daughter for her 21st birthday, she will undoubtedly be excited that you thought of her and that you appreciate her enough to get her a gift. Don't overthink it. There's something out there that will put a huge smile on her face.
What Makes a Great 21st Birthday Gift for Your Daughter?
In a lot of ways, buying your daughter a 21st birthday gift is a lot like buying her a 20th birthday gift or a 19th birthday gift. It is, after all, just another year added to her life. But at the age of 21, she will be gaining some obvious new privileges, from the ability to drink alcohol legally, to an increased sense of responsibility in general.
Your 21st birthday gift to her should be something that represents the gaining of these privileges. That's not to say that you can't get her something that she would have gotten even a year ago, but to make the occasion extra special, you should strive to get her something that makes her feel more like an adult.
Consider Her Personal Interests
As always, the most important things to consider when buying someone a gift are their own personal preferences, interest, and hobbies. Regardless of how old your daughter is going to be, she will always appreciate a gift that demonstrates your interest in one of her passions.
This indicates to her that you care, and that you will go the extra mile to make her feel like she is appreciated. Of course, because she's turning 21, you might want to find a gift that ties her passions into her new privileges and responsibilities. For example, if she likes music, maybe you could gift her some music-themed shot glasses.
Work Within Your Budget
Though your daughter's 21st birthday is an undoubtedly good reason to celebrate, you must still make sure that you stay within your budget. You don't have to buy her concert tickets or a new car if you can only afford clothes and some alcohol-themed drinking supplies.
Regardless of what you get her, she will be happy that you thought of her and that you cared enough about her progression in life to buy her a gift. The point is, there's a lot in this world that requires money. You should be willing to spend enough to get your daughter a meaningful gift, but should not spend so much that you're breaking the bank.
Remember That She's Growing Up
While you may be used to getting your daughter one type of gift for her birthday, there's a chance that she's starting to outgrow that type of gift. It's unfortunate, but it's all part of growing up. As people progress and grow, they develop new hobbies and interests.
For instance, maybe your daughter has been interested in basketball her entire life, but is starting to develop an increased interest in her burgeoning career. While she probably wouldn't be upset with a basketball-related gift, she might be a little happier with something that more represents who she is at the present time.
21st Birthday = Alcohol
Although there's a chance that your daughter is not at all interested in the consumption of alcohol, there's also a good chance that she is. After all, what else is a 21st birthday for? Becoming old enough to drink alcohol legally is a big deal to a lot of people.
For this reason, you should consider whether or not your daughter would appreciate some alcohol-related gifts for her 21st birthday. If not, that's fine. If so, you can bet that she will be excited over any alcohol-related gift she receives.
Types of 21st Birthday Gifts To Consider
Gifts That Relate to Her Hobbies and Interests
As noted above, when choosing a 21st birthday gift for your daughter, you must consider her own personal interests and hobbies. Getting her something that relates to one of her interests or hobbies will almost undoubtedly be a success.
You know your daughter better than anyone else does. Think of what she likes to do. Think of her various hobbies, both past and present. Perhaps you could find a way to tie these hobbies into a gift that also represents her burgeoning adulthood.
Professional Clothing
Your daughter is getting to the age where she is about to enter the workforce, or where she has already been in the workforce for years. To accommodate this transition into the working world, you might consider buying your daughter some new work-appropriate clothing.
This includes everything from suits, to professional dresses, to work-appropriate shoes, and more. The truth of the matter is that, whether your daughter likes it or not, she's going to have a major need for professional clothing in the near future.
A Vacation
While it may be a bit costly for some, there's nothing that will get a 21 year old young woman more excited for her birthday than a vacation. Whether it be to a beach town, a winter ski resort, or any other luxurious location, your daughter will be forever grateful for your gift.
Though this vacation could be a fun family vacation, it could also be a vacation for her and her friends; a time to break free from the stresses of work and school. In any case, getting away for a while will go a long way in getting your daughter mentally and psychologically prepared for her future.
Again, though not all young women care to indulge in the consumption of alcohol, many do, and look forward to their 21st birthdays for just that reason. Because of this, you should consider gifting your daughter some alcohol-related products to get her off on the right foot.
Whether it be shot glasses, or wine glasses, or a cocktail mixing set, your daughter will be beyond excited to receive something that's finally getting her into the wide, wide world of alcohol.
Safety Tips for a Daughter's 21st Birthday
Many 21-year-olds celebrate their birthday with a night on the town with friends. But you want to make sure everyone stays safe. People at this age are usually drinking novices, so they're at increased risk of drinking too much and running into trouble.
Remind your daughter to eat before drinking. You might even want to treat her to a special birthday dinner. Also, remind her to drink a glass of water after every alcoholic beverage. Not only will water help keep her sober, but it'll also reduce the severity of any morning hangover.
Of course, nobody should ever drive under the influence of alcohol. Your daughter should plan a safe way to get home. Paying for a car service can be a useful gift which gives you the added benefit of peace of mind.
In Conclusion
A young woman's 21st birthday signifies personal, professional, and psychological growth. It's an indication that she's gone from being a disorganized, helpless kid, to a strong, responsible woman who's ready to take on the world. There is no better way to celebrate this growth than by buying your daughter an exceptional gift. Support her growth. Support her progression. Show her that you're proud of who she is, and who she's becoming.