Some links on this page are monetized by affiliate programs - see disclosure for details.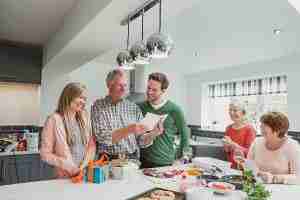 A birthday is a cause for celebration! If someone you know is having a birthday soon, you should get them a card. But what kind of card is best, and what should you write in it? Don't worry if the thought of picking the perfect card fills you with anxiety – we're here to help!
Here's how to find a great birthday card for anyone, from a co-worker to a loved one and everyone else. Our complete guide to birthday cards will help you pick the perfect card and craft a meaningful and memorable message for the recipient. Here's what you need to know:
Identify Your Audience
You probably know a lot of people, and every single one of them has a birthday. But no two birthdays are the same. You want to make sure the birthday card and message are appropriate for the situation.
Generally, the more formal the relationship, the more generic the birthday message should be. Giving a card to a co-worker you've never interacted with outside of work? Keep the birthday greeting simple and straight-forward. Avoid R-rated humor, references to wild parties, overly religions messages or anything beyond general well-wishes.
The message for an acquaintance doesn't have to be long or involved. Some suggestions here include:
"Happy Birthday, [Melanie]! Hope your year is fun with fun and laughter!"
"Happy Birthday to the World's Greatest [Co-Worker's Job Title]"
"Happy Birthday and Many Happy Returns!"
Don't be afraid to let the card do most of the work! A lighthearted message and delightful illustration don't need a long, personalized message. Simply showing someone who you don't know very well that you cared enough to get them a birthday card is sure to bring a smile to their face.
Buying a Card for a Milestone Birthday
Milestone birthdays are years which generally have special significance. Traditional milestones are the ages of 16, 18, 21, 30, 40, 50, 60, 65, 70, 75, 80, 85, 90, 95 and 100. You'll want to acknowledge these milestones with an appropriate card.
Generally, the older the person, the more careful you should tread around age-related humor. A close friend turning 30 can probably handle some gentle joking about "growing old." But many people are sensitive about turning 40, 50 and more. Unless you're absolutely sure the jokes will be taken well, avoid cards with "Over the Hill" themes and similar.
However, you do want to mention the milestone in your birthday message:
"Looking 50 and fabulous!"
"Happy 40th! Can you believe we've been friends for 20 years?!? To many more!"
"Happy 18th Birthday to a Wonderful Young Man!"
You can even include a simple gift related to the person's age. For instance, slip a gift certificate to a favorite restaurant or coffee shop inside the card. Make the gift amount the same as the recipient's age (for example, a $30 gift card for someone turning 30).
Belated Birthday
Better late than never! Everybody forgets a birthday now and again. But you shouldn't ignore it. A belated birthday card will still be very much appreciated.
Include a brief apology. Use your best judgment as to whether the apology should be humorous or sincere. Looking for a good joke? Suggest you delivered the card late on purpose as a way to keep the birthday party going even longer!
You can find a wide variety of belated birthday cards. But don't worry if you already bought a more traditional card and simply forgot to give it on time. Just write a brief belated birthday message like one of these:
"Better late than never! Happy Birthday a few days ago!"
"Sorry for the late wishes. Hope your birthday was fantastic!"
"I'm not the last one to wish you happy birthday this year. I'm the first to wish you happy birthday for next year!"
How to Wish Someone a Happy Birthday During Troubled Times
Sometimes, life gets in the way of having a happy birthday. If someone's birthday happens to occur during a difficult time in a person's life, it's okay to acknowledge that the situation isn't ideal. Disease, a recent death or other personal situations can make it hard to celebrate. But a heartfelt birthday greeting can still help lift someone's spirits.
Sample messages for this situation include:
"Even though life seems a bit difficult now, I still want to wish you birthday cheer."
"Hoping this birthday brings a return to good times."
"Thinking of you on your birthday and always."
Buying a Birthday Card for a Child
There are a few tips to keep in mind when selecting a birthday card for a little one. First, keep the message short and simple. Celebrating a birthday is an exciting time for a kid. Even if they're strong readers, they probably don't want to read through a long birthday message. Instead, they'll likely far more interested in cake, presents and play.
Unlike adults, children almost always love being reminded of their specific age. This helps them feel like a "big kid." Make sure the card mentions the specific age the child is turning. If you find a birthday card you like which doesn't include an age, include the number in your message. Examples include:
"Happy Birthday to the best 9-year-old in the world!"
"Turning 12 is a special occasion. Happy birthday!"
Don't worry too much about being funny, and especially don't be sarcastic. Children don't have an adult sense of humor so will likely be confused by many jokes. Instead, include a message which celebrates how great the child is and how grown-up they're becoming.
Final Thoughts
Everyone deserves to be celebrated on their birthday. But you don't have to buy elaborate presents or plan a giant party to show someone you care. Even just a simple card with a thoughtful message can be enough to brighten someone's day. Use our guide above to find the right card and create the perfect message for any situation.