Some links on this page are monetized by affiliate programs - see disclosure for details.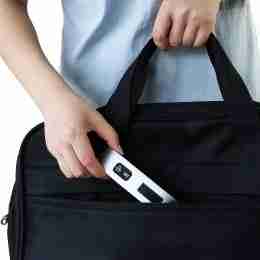 Do you have a friend or family member who never seems to stay in one place? Frequent travelers have unique needs and wants which make them hard to shop for. But a great travel gift is something the recipient will use often – and every time they do, they'll be sure to appreciate your thoughtfulness.
Looking for the best gift for your travel-loving friend? These are the top 10 best gifts for people who travel. Plus, we've also included a complete buyer's guide. Find and give a world-class gift today!
1. Camry 110 Lbs. Luggage Scale with Temperature Sensor
Luggage weight limits are an issue every frequent flier faces. If any of your luggage weighs too much, you'll have to remove items before your bags will be allowed on the plane. While airports have scales you can use, weighing your bags in public is often time-consuming. Additionally, using your bathroom scale at home can often be awkward and inaccurate.
The Camry Luggage Scale is designed specifically for bags up to 110 pounds. Why is it different from a traditional scale? This scale attaches to the handle of practically any bag regardless of size of shape. You hold the scale, which then holds and weighs the bag.
The scale is a small, triangle-shaped device which weighs just 3.2 ounces and can easily slip into an outside pocket of practically any piece of luggage. Aside from displaying the weight (accurate within 0.1 pounds), the LCD screen also displays room temperature and has both zero and tare functions.
---
2. Burt's Bees Fabulous Mini's Travel Set
Traveling can be dirty business, but Burt's Bees is designed to keep frequent travelers clean and comfy. Includes six high-quality health and beauty products: Coconut Foot Cream, Intense Hydration Cream Cleanser, Intensive Hydration Day Lotion, Soap Bark and Chamomile Deep Cleansing Cream, Milk and Honey Body Lotion, and Shea Butter Hand Repair Cream.
All products are made with natural ingredients. Helps keep your face, hands and feet fresh-smelling and moisturized. Gift set includes a box for easy storage.
Products are all in travel-sized containers ranging from half an ounce to an ounce in size. Fortunately, the TSA allows a quart-sized bag of liquids, gels, creams and similar through airport security. You'll be able to keep this set in your carry-on luggage.
---
3. Anker PowerCore+ Mini Portable Charger
Electronic gear plays an important role in travel. Smartphones and laptops help travelers reserve hotel rooms, book tickets, navigate new locations and much more. But keeping devices properly powered when on-the-go can be difficult, which is why a portable device charger can be the perfect gift!
The PowerCore+ Mini Portable Charger is about the size of a tube of lipstick but provides power equivalent to a fully-charged phone battery. This is a 3350mAh premium aluminum portable charger suitable for a wide variety of electronic devices. Aside from the charger, the full gift set includes a Micro USB cable, travel pouch, instructions and an 18-month warranty.
However, there are a few small accessories you might want to also buy and include with this gift. A one-amp adaptor recharges most smartphones in just three to four hours. Additionally, you might want to also include a power outlet adapter if the gift recipient frequently travels to Europe.
---
4. Vitalsox Compression Socks
Although traveling is an adventure, it also involves a lot of sitting. Anyone who regularly sits in a plane, train or automobile needs to take some precautions to avoid injury. Specifically, frequent travelers should wear compression socks to help prevent damage to the circulatory system.
Vitalsox use a patented compression formula to comfortably compress the legs, which prevents clots and other potential circulation problems. Support starts at the mid-foot and extends up the leg, helping to support the arch and plantar ligament.
Regular use helps increase the delivery of fresh oxygenated blood to damaged tissues, which improves recovery time. Whether the recipient needs to sit, or walk, for extended periods of time, compression socks help keep feet comfortable and healthy.
---
5. Travel Smart by Conair Jewelry Roll Bag
Small, valuable and hard to keep track of, jewelry is often difficult to travel with – but a jewelry roll is often an effective solution. This Travel Smart jewelry roll bag from Conair has multiple pockets to easily store necklaces, earrings, bracelets, rings and more. Also great for watches, cuff links and other valuables.
Includes three large zippered pockets and three small ones. When unrolled, the bag is about 11 inches by 12 inches. Rolled up, it's no bigger than a flat iron. Fits into practically any suitcase. At attached tie keeps the roll bag securely closed.
The roll bag is purposefully not much to look at. When rolled up, the bag looks like a towel or T-shirt. Thieves ransacking your luggage are likely to overlook this non-descript bag.
---
6. Flexion QuickSnap Selfie Stick
Sure, the selfie stick seems somewhat silly, but it's often a great gift. Many people will use a Selfie Stick, but they won't necessarily think to buy one for themselves. Give your travel-loving friends something they never knew they wanted with this QuickSnap Selfie Stick from Flexion.
The monopod extends up to three-and-a-half feet and includes an adjustable holder able to fit practically any type of phone including Android and Apple devices. Aside from the stick, also includes a user manual and a charging cable.
Operation is simple. The phone snaps securely into the handle and then pairs to your phone with Bluetooth technology. Click the button in the handle to snap a pic. A variety of shooting angles are available including traditional selfies to panoramic crowd shots and more.
---
7. Travelrest Neck Pillow
Getting rest when you're on the road can be a real hassle, but this pillow from Travelrest has a unique design which helps keep your head and neck comfortable even in cramped conditions. This is one of the few pillows to provide full lateral support. That means your head and body won't pitch forward once you fall asleep.
Plus, the pillow is easy to travel with. Just a few breaths will inflate the pillow – no electronic pump required. Deflated, the pillow can roll right up for easy packing. Simply wipe with a damp cloth to keep clean.
This versatile pillow adjusts to your sleeping preferences. Pillow can be positioned on the torso or side. Loops are available to secure the pillow over headrests and airlines seats. Can also be worn like a messenger bag for easy travel.
---
8. Wine2Go Foldable Wine Bottle
Wine makes all travel adventures just that much more fun. But wine bottles aren't exactly easy to travel with. This wine bottle from Wine2Go is flexible, foldable and reusable. Works great for travel, camping, boating, train rides and much more.
You don't have to skimp on the vino, either. Each holds an entire bottle of wine. And don't worry about any unpleasant tastes, either. The foldable wine bottles are BPA free with zero taste transfer. Plus, they have an easy-fill wide mouth for quick pouring. Clean-up is easy. Simply rinse the bottle with warm water and let dry.
---
9. Venture 4th Travel Pouch Neck Wallet with RFID Blocking
No matter where you're traveling to, you'll probably need to keep a few important documents with you at basically all times. This includes your passport, credit cards, travel itinerary and other key documents. But a traditional wallet might not be secure enough for many parts of the country and the world.
The Venture 4th Travel Pouch acts like a wallet, but it's bigger and more secure. This flexible travel wallet has three storage compartments – two zippered and the third Velcro. Plus, a transparent window lets you show your ID without having to remove it from the pouch.
Additionally, the pouch is lined with radio frequency shielding material. This prevents remote scanning of your credit cards and other personal information. Additionally, the travel wallet helps prevent traditional pickpocketing, too. The included strap lets you wear the wallet around your neck and underneath your clothing. This thin wallet remains practically invisible even under just a T-shirt.
---
10. eBags Packing Cubes (Set of 3)
Your luggage might hold all of your belongings, but it does a poor job of keeping everything organized. With packing cubes, you have far more control over the contents inside your suitcase. These durable, padded cubes act like drawers for your luggage, allowing you to sort and secure separate items.
With over 10 colors available, items can be easily organized. Keep your toiletries in one color, clothes in another and so on. No more fumbling and tearing through your suitcase looking for something specific. Everything is easy to see.
---
How Do I Find the Best Gifts for People who Travel?
Finding the right gift can seem as confusing as navigating an airport on Thanksgiving weekend. But a few simple questions can help you narrow down your options.
First, what type of travel does the intended recipient enjoy? If they're frequent fliers, consider a neck pillow. If they're more of the outdoors type, consider camping gear, a flashlight or even something more fun like a foldable wine bottle.
Also, where does the recipient travel to? If they frequent busy and potentially dangerous places, a neck wallet can help provide peace of mind against theft. If they often travel overseas, be sure and include power adapters for any electronic gifts.
Finally, why does the person travel? If they travel for business, they might face a lot of late night flights and other unpleasant circumstances. Travel pillows, a toiletry kit and packing cubes can help make quick business trips much easier and more pleasant. If they travel for fun, consider the foldable wine bottle, selfie stick or jewelry roll bag.
No matter what type of travel gift you're buying, always consider the weight and size. Generally, all travel-related items should be as small and lightweight as possible. Packing limitations are always an issue — even during short trips.
Final Thoughts
We all have at least one friend or family member who loves to travel. While you might not be able to go with them on every adventure, a great travel gift is a way for the recipient to feel connected to you even when they're many miles away.