Some links on this page are monetized by affiliate programs - see disclosure for details.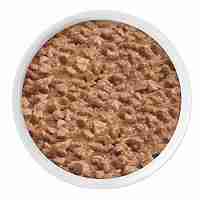 If you're a cat owner, you know that your cat isn't just a pet, but a part of the family. This is why you want to make sure your cat always has the best. From great toys, to keeping your pet active and healthy, to a soft bed (even if it's your own) to sleep in every night, a responsible pet owner knows all of the right steps to keeping a cat happy and healthy.
One of the most important things to consider is your pet's food, and many owners opt to choose the best canned food for their loving cats. Whether you're a new pet owner or you just want to give your cat the healthy food it needs to live a long life, read on to find out more about why you should consider canned cat food and how to pick the best for your pet.
Comparison: The Top Ten Canned Wet Cat Foods of 2018

Guide to Choosing the Best Canned Cat Food
Canned cat food is also known as wet food. Unlike dry kibbles, canned cat food consists of mashed up meat and other ingredients (including vegetables) and is often set in a thick broth. Canned food is preferred by many because high-quality canned foods are made with more meat and natural ingredients, and fewer fillers, which is more nutritious for a pet.
Canned foods also are easier to measure, as one can is sufficient in most cases for one cat. Canned food is easier for cats to eat, and most actually prefer it over hard kibble.
What are the different types?
Look online or walk into any pet store and you'll quickly see that there are many brands, flavors, and sizes of canned cat food. If you've never purchase it for your pet before, you might not even know where to begin. If you're considering feeding your pet canned food, make sure that you're aware of the types available before you even begin shopping.
Organic canned cat food
This cat food is made with all organic meats and vegetables. Generally, organic cat food doesn't contain a lot of filler material, preservatives, and chemicals, but make sure to check the label before purchasing.
Flaked cat food
This food contains smaller flakes, which are easier to chew. This type is ideal for all cats, but it's easy for cats with dental issues and smaller cats and kittens to eat.
Cat food with gravy
Most canned foods come in broth, but there are some than come with a thicker gravy, which many cats lick up long after they've eaten all of the solid pieces.
Cat food pouches
This wet food is similar to other canned foods, only instead of being packaged in a metal can, it is packed in a smaller pouch. These are easier to open and take up less room in your cabinet and garbage can.
What are the Benefits of Canned Wet Cat Food?
Most canned cat food is nutritionally complete to ensure your cat stays well-fed and healthy. Canned food does have some advantages over dry food. If a pet has missing or broken teeth or suffers from periodontal disease, wet food is easier for them to eat without pain and bleeding. Canned food is also what should be used when first weaning kittens off of a mother's milk.
Many brands of canned food are also loaded with meat and other healthy ingredients and do not contain as many fillers, like corn, as dry foods. Canned food is also easy to measure, which is great for managing the weight of your cat. Some canned foods, like those with fish oil, also help a cat's skin and fur.
Who are the Top Contenders on the Market?
Cats will lap up every bite of this cat food, which comes in multiple flavors that mix beef, chicken, and seafood. This food from Meow Mix is one of the least expensive feeding options if you're considering wet food, but it is nutritionally complete for cats and kittens of all ages. With 10 different flavor options, you're sure to find one your cat will love.
Treat your cat to a 5-star meal by presenting your pet with these Elegant Medleys from Fancy Feast. There are six different flavors to choose from, and all flavors are inspired by popular recipes that humans love. This food is perfect for cats or kittens, and it is a very affordable option for ensuring your pet is eating healthy, filling food.
A lot of pet foods, wet or dry, contain grain fillers. Not only can eating food with these fillers lead to weight problems for pets, but it also may cause dry skin, and it's not great for pets with allergies. If you're looking for a food that's free of grains, this is the choice for you and your cat. It contains high-quality meat with no by-products, grains, or soy.
Choosing the Best Brand for your Cat
If you want to change your cat's food or you have just adopted a new furry friend, canned cat food is something that you should consider. As mentioned earlier, there are so many different kinds to choose from, the whole experience can be quite overwhelming.
You want to get the best for your pet, but it's also important that you consider other things, as well. Before you shop, keep these four considerations in mind to ensure you purchase a food that works for both you and your pet.
Can size
It is important to consider the size of the can for a few reasons. If you have a kitten, they may not be able to eat that much. Also, larger cats that are on a diet for health reasons may also eat less, so you'll want to purchase smaller cans. For larger cats, try to buy larger cans so you don't have to use multiple small cans.
Flavor choices
Cats can be finicky, so you always want to make sure that you have plenty of options available, especially if they've never really eaten canned food before. Make sure that the type of food you choose comes in multiple flavors so you can experiment to find out which ones your cats prefer and which just end up in the garbage to save money in the long run.
Price
Canned cat food can be very inexpensive, while some brands can be quite pricey. It's important that you shop within your budget. However, do not sacrifice quality for a lower price. Make sure that anything you feed your pet is nutritionally complete and that the main ingredient is meat. If your cat has a sensitive tummy or allergies, you might want to avoid grains and fillers found in less expensive brands.
Packaging
Consider the packaging and how convenient it is to store, open, and discard. If you're short on space, pouches may be a better option for you, as they take up less room, and they're also very easy to open. If you do decide to go with traditional cans, look for easy-open tops that do not require a can opener.
Can size
Meow Mix Tender Favorites
These cans from Meow Mix are 2.75 ounces. Adult cats should eat two to three cans per 4.5 pounds of body weight, while kitten should eat double the amount per pound of body weight.
Fancy Feast Elegant Medleys
These cans are 3 ounces in size. Adult cats should eat one can of food per 2.5 pounds of body weight, while kittens can eat up to double this amount.
Wellness Signature Selects
These cans come in large 5.3 ounce cans. Adult cats can eat 1.5 to two cans per 6 to 8 pounds of body weight.
Flavors
Meow Mix Tender Favorites
Your cat is sure to be please dwith 10 different selections of individual flavors and variety packs. Options include Chicken & Beef in Sauce, Poultry & Beef variety pack, Poultry Entree in Sauce, Real Tuna & Whole Shrimp in Sauce, Salmon, Salmon & Crab Meat in Sauce, Salmon & Red Snapper in Sauce, Turkey & Cheese in Sauce, Turkey Giblets in Sauce, and Surf 'n Turf variety pack.
Fancy Feast Elegant Medleys
There are multiple flavors available that your cat will enjoy. Selections for this food include Chicken, Chicken/Turkey/Tuna variety pack, Tuna, Tuna & Shrimp variety pack, White Meat Chicken, and Wild Salmon.
Wellness Signature Selects
Choose from eight different flavors that your cat will love, including Beef & Chicken Recipe, Chicken & Beef Recipe, Chicken & Chicken Liver Recipe, Chicken & Turkey Recipe, Chicken & Wild Salmon Recipe, Tuna & Salmon Recipe, Tuna & Shrimp Recipe, and Turkey & Chicken Recipe.
Price
Meow Mix Tender Favorites
48 cans of Meow Mix Tender Favorites retails as one of the most affordable canned foods on the market.
Fancy Feast Elegant Medleys
A case of 24 cans can be purchased for just around the mid-price range when compared to other canned cat food.
Wellness Signature Selects
This is one of the more expensive foods on the market. However, the cans are larger than most other brands, and it one the most high-quality brands on the market.
Packaging
Meow Mix Tender Favorites
This food is packaged in stay-fresh easy-open cups that can be opened without a can opener.
Fancy Feast Elegant Medleys
These cans feature a pull-tab that makes them quick and easy to open.
Wellness Signature Selects
Available in easy open cans that can be easily stored if not all the food is eaten at one time.
Our Final Cat Food Reviews Are In!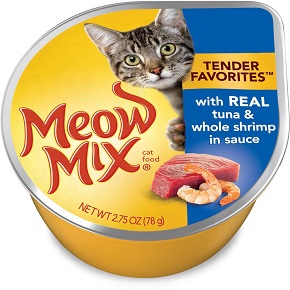 If you want to make sure your cat eats delicious, nutritious food but you don't want to spend a fortune, this is a great option. You can choose from different flavors and variety packs that are sure to keep your cat full and happy. Each can of food is made with real meat and is packed in an easy-open cup that seals in the juices and freshness.
This food offers everything a cat needs to stay healthy, and it's ideal for cats and kittens of all ages. It can be served alone or mixed with dry food. This food is also affordable, so it's easy on the wallet.
Pros:
It's affordable
It's available in many flavors that cats love
Cans are easy to open and can easily be stored after opening
Poultry-free options are available for cats with allergies
Cons:
The food does contain many preservatives, which may not work for cats with allergies or those who may experience stomach upset easily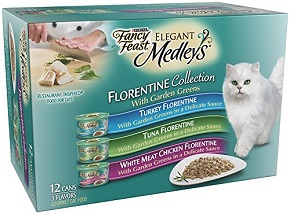 Give your cat a dinner worth eating with Fancy Feast Elegant Medleys. Your cat or kitten won't be able to get enough of this food that is based on popular recipes like Chicken Primavera and Chicken Florentine. A combination of meat, veggies, and greens make this canned food truly unlike any other, providing cats of all ages with all of the nutrition he or she needs to be strong and healthy.
This food is also vitamin and mineral fortified, so you can feel good about feeding your pet high-quality food. It is also competitively priced, so you don't have to spend a fortune to provide your cat with the best.
Pros:
A variety of flavors are available
Affordably priced
It is enriched with vitamins and minerals
It's loaded with natural ingredients
It is loaded with protein
Cons:
Contains meat by-products
Some flavors are too watery
Some ingredients, like rice, may not be well-received by finicky cats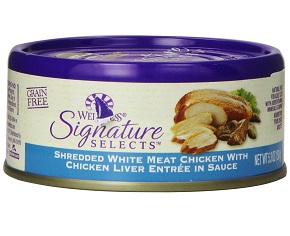 If you want a great cat food that is free of grains, fillers, and by-products, you can't go wrong with this selection from Wellness Natural Pet Food. You only want the best for yourself, so why not get it for your cat as well? All recipes are prepared by hand for quality using only the best ingredients.
This food is ideal for cats with allergies, cats on strict diets, or just any cat or kitten of any age. It contains no corn, soy, by-products, or wheat, so you know that your pet is getting natural, delicious, and healthy food with all of the daily nutrition they need. It is also poultry-free for cats who suffer from allergies.
Pros:
It is natural
Uses only the best ingredients
It comes in larger size cans
It comes in lots of flavors
Good for pets with dietary restrictions or allergies
Does not smell as strongly as other canned cat foods
Loaded with vitamins
Cons:
It is one of the more expensive brands
Not all of it is sourced and produced in North America
Conclusion
You wouldn't settle for less than the best for any of your other family members, so why feed your beloved pet inferior food? If you want to know that your pet has the most natural, delicious, and nutritious canned cat food, Wellness Signature Selects is your choice.
Despite the higher price tag, this food contains no grains, meat by-products, corn, or other fillers, so it's ideal for all cats, even those with allergies or health issues. With so many great flavors and carefully crafted recipes, this is the best food for even the most finicky felines.