Some links on this page are monetized by affiliate programs - see disclosure for details.
Every cat parent has faced at one time or another the challenges that come with finding the right products for your feline friend. You not only have to search for the right cat food and litter box, but you also have to find the right litter. The best kitty litter can make both the pet and owner feel clean and happy. This guide reviews the top cat litter brands of 2021 for you and your beloved pet.
What are the Different Types of Cat Litter?
There are many different types of cat litter available, providing multiple options for you and your pet to try. The material or type can tell you how long it lasts and its level of absorption.
Clay
Clay litter is the most widely-available and popular type of litter among cat owners. This is partly due to its cost-effectiveness. Varieties of this type include clumping and non-clumping options. Oftentimes, people prefer the clumping kind because they find it easier to scoop the urine clumps out of the litter box. With the non-clumping kind, you dump the contaminated contents of the litter box, and the product usually has a lower cost.
The downsides of clay-based litter include its environmental unfriendliness and its use of health-concerning crystalline silica particles. Long exposure to silica dust can lead to serious health issues in cats and humans alike, according to an article in Scientific American. Clay litter is not only non-biodegradable but is also commonly derived from strip mining, which is environmentally destructive, according to an article in The Guardian.
Natural and Biodegradable
An alternative to clay-based is biodegradable litter, which oftentimes produces less dust and absorbs well. The most popular types of biodegradable litter are made from walnut, grass, corn, paper, wood, and wheat. Some of these types are available in both clumping and non-clumping forms. A common concern with some kinds of biodegradable kitty litter involve keeping it clean and not susceptible to contamination.
Silica Gel Crystals
A recent addition to the cat litter market, silica gel crystal litter are beads with minuscule pores that absorb significant amounts of liquid. The crystals are made using synthetic methods out of silicon dioxide, oxygen, and water. Specifically made for cats, the beads in silica crystal litters are safe for the creatures to use, according to an article in Be Chewy. Most companies say that this kind of litter produces less dust and lasts longer than other types. A con to silica gel crystal litter is that it is usually on the expensive side, but since it's long-lasting, there might not be a notable difference in price in the long-run.
How Do You Pick the Right Type of Litter For Your Cat?
Ultimately, the best litter for your cat is determined by your feline friend's personal preference. In addition to the material of the litter, it is important to consider certain other key features when deciding the right litter that meet both your pet's and your own needs.
Cleanliness
Finding a litter product that is easy for you to keep clean and dry is essential not only to your routine but also to your pet's health.
Odor Control
The best cat litter has solid odor control to keep your nose happy and your home odor-free.
Fragrance
Some products are made with fragrances, but not all fragrances are good. In fact, most veterinarians say that unscented litter is most preferred by cats.
Dust Level
Both humans and cats are sensitive to dust, so it's important to do some research on whether certain litter brands are low-dust.
Tracking Level
Litter can get trapped in your pet's paws or fur, resulting in an unwelcome trail of it in your home. Some litter companies say their product is low-tracking; however, it might also be helpful to get a good litter mat.
Affordability
Similar to buying toilet paper for humans, cat litter is a product you'll have to buy consistently, so you might want to buy in bulk and consider its annual cost.
What Are the Top 5 Best Cat Litter Products on the Market in 2021?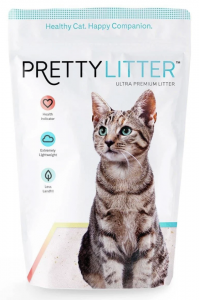 Pretty Litter is made from silica gel crystals that absorb liquid waste and moisture. The solid waste can be scooped up and is flushable. According to the company, Pretty Litter lasts long, needing only to be refilled on a monthly basis. Additionally, Pretty Litter says it is up to 80% lighter than other litter products and requires less scooping. Multiple reviews of Pretty Litter commend it for its solid odor control and low-dust levels. The shining feature of Pretty Litter is its ability to change the color of your cat's urine changes, alerting you about any potential health issues your cat might have.
Pros
Color-changing feature that detects changes in urine pH
Solid odor control by absorbing liquid waste and dehydrating solid waste
Convenient monthly subscription and delivery
Low-dust
Unscented
Cons
Could seem relatively expensive at first, but because the litter is long-lasting, it is worth it in the long-run
Use code "TRT20" for 20% off for New Customers. Buy here now.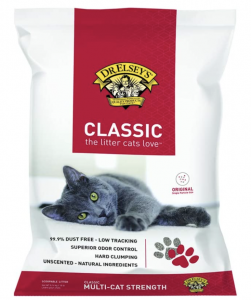 A clay-based product, Dr. Elsey's Cat Litter turns your cat's liquid waste into clumps that are easy to scoop. Dr. Elsey's is one of the more inexpensive cat litter products. It also provides great odor control and is unscented. However, because it is clay litter, it produces some dust and some tracking.
Pros
Easy to scoop clumps
Relatively inexpensive
Unscented
Solid odor control
Cons
Produces some dust because it's clay-based
Some tracking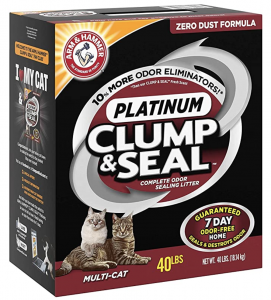 Another clay-based product, Arm and Hammer Litter produces easy-scooping clumps and little dust to bother you or your cat. The cat litter brand covers odors well; however, it contains a light fragrance that some owners and their pets find irritating.
Pros
Easy to scoop clumps
Solid odor control
Low-dust
Cons
Scented with a fragrance some don't enjoy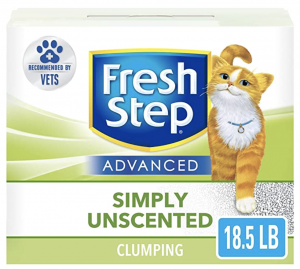 Fresh Step Cat Litter is another popular brand that is clay-based and clumping, making it easy to clean after your pet. The litter product also neutralizes odors well, using no fragrances or scents. There is some dust that is produced since the litter is made from clay. The product is relatively inexpensive compared to other clay litters.
Pros
Easy to scoop clumps
Low-tracking
Solid odor control
Relatively inexpensive
Cons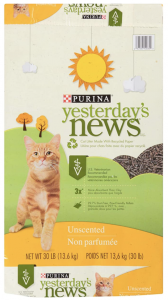 This non-clumping biodegradable cat litter product is made from recycled newspaper material. Yesterday's News Unscented Cat Litter can also come in a scented variation. This cat litter is a great environmentally friendly alternative that will make you, your cat, and the world feel good.
Pros
Low-dust
Biodegradable / environmentally friendly
Absorbs better than traditional clay litter
Unscented
Cons
Some might not prefer non-clumping litter
Our Best Cat Litter Reviews Are In:
The best cat litter goes above and beyond expectations to provide the top experience for both pet and parent. Pretty Litter does just that. The silica gel crystal litter's unique health monitoring feature can be life-saving. It can be hard to detect if your cat is experiencing health problems, especially since cats are notoriously good at hiding their pain, according to an article in ABC News. However, Pretty Litter not only neutralizes odor well and produces low-dust, but it can also help you detect potential health issues and save you money in the long run.