Some links on this page are monetized by affiliate programs - see disclosure for details.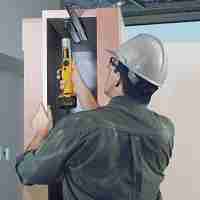 You want to mount new framed pictures in your living room, but driving it into the wall with a traditional manual screwdriver is a daunting task. Maybe you want to remove screws from the back of a toy to replace the battery for your upset child, but it just seems to be stuck.
Perhaps you want to repaint your home, but you can't get the screws out with your regular tool. If you find yourself frustrated with inserting or removing screws, there's something that can help get the job done faster and easier: an electric cordless screwdriver.
Compare: The Top Ten Best Cordless Screwdrivers on Amazon

What is an Electric Cordless Screwdriver?
There are a number of power tools available which make tasks much easier. These include drills, rotary tools, and cordless screwdrivers, to name a few. A cordless screwdriver is a small, handheld tool that does the work for you. With manual screwdrivers, you have to spin it yourself, and sometimes, you have to put a lot of power into it. With a cordless model, all you have to do is push a button, and the tool rotates itself, so you don't have to turn it. Simply place the tip into a screw, push the button to activate it, and it spins in or out, depending upon the rotation you've set.
This is a lightweight, inexpensive tool that every household should have.
What are the Advantages?
With one of these tools, you won't have to worry about putting a strain on your hand, wrist, or arm by trying to push a screwdriver into a hard wall. You can also more easily remove screws that are tightened way too tightly and are seemingly impossible to remove with a manual tool.
These tools just allow you to do things much more efficiently, whether you are removing a screw from an electronic device or you're handing pictures and décor in your home.
What are the Different Types?
Before you make your purchase, it's important to understand the types of products you'll encounter while shopping. You want to make sure that you purchase the right tool for the job, and by doing so, you'll get a product that will get lots of use without wasting your money. To begin the shopping and purchasing experience, start out by knowing how to identify these different types of tools.
Cordless drill – A cordless drill can be used with screwdriver bits. It is a bit more versatile because you can also drill holes in wood or walls for other purposes. These are typically more expensive to purchase than screwdrivers.
Cordless drivers – These come with a variety of different bits that can be changed as needed. Some may come with just two, a flat head and a Philips head, while others may have many more in additional sizes.
Which Models are the Best Cordless Screwdrivers on the Market?
You get a lot of bang for your buck with this affordable screwdriver. This tool is something that you can keep in your toolkit for driving or unscrewing with ease. It has multiple bits that never get lost due to the innovative design, and it even has a screw starter for harder surfaces.
This heavy-duty tool has a lot of torque for the toughest jobs. This is a complete kit that comes with everything you need, including a two-position screwdriver, rechargeable battery, battery charger, case, and much more. This also comes with an outstanding warranty that tops many other models on the market.
Get two tools in one with this combination cordless driver and drill. This is heavy duty enough for your toughest tasks, but it's lightweight enough for everyday use. It has high torque and high speed settings that allow you to tackle any task with ease, and it's also backed with an exceptional warranty and service plan.
Features to Consider
Once you've decided that you want to add a cordless driver to your tool kit, it's time to find the right one that fits your needs and your budget. Before you begin shopping, take note of the different types, available brands, and these four features that may be important to you. This way, you make an informed and smart purchase that you won't regret.
Price
If you just want a screwdriver for occasional use, you might not want to spend a ton of money on something that won't be used often. However, if you plan to use yours often and you want a stronger tool with more run time per charge, you'll want to invest a little bit more money to get a higher-quality product.
Warranty
It isn't setting the bar too high to expect your product to work when you receive it. You also don't want to use your new tool once or twice, and it suddenly doesn't work at all or won't hold a charge. If this happens and you haven't dropped or otherwise broke the tool, it's likely due to a defect, which would be covered by the manufacturer if your product comes with a warranty.
Bits
Not all screws are made the same, so you can't use the same bit. While many drivers come with a standard Philips head and flat head bit, so come with multiple sizes and shapes that allow you to tackle any job. Make sure that the one you purchase has the bits you need, or at least has compatible ones that are sold separately.
Included Accessories
A basic driver may only come with a charger and a rechargeable battery. More high-end units may come with multiple accessories, including extra batteries or carrying cases. Before you just purchase a driver that has a ton of accessories, make sure you check out the price and other specs to make sure it's a sound purchase.
Price
WORX WX254L
This driver is a real steal. It's much more affordable than many comparable products on the market.
DEWALT DW920K-2
You can upgrade to a stronger, more powerful tool by purchasing this model, which sells for more than the WORX model.
Bosch DDS181-02
This driver set is on the more expensive end of the pricing scale when compared to other drivers.
Warranty
WORX WX254L
This is covered by a 3-year limited manufacturer's warranty.
DEWALT DW920K-2
A 3-year limited warranty protects your purchase.
Bosch DDS181-02
A 3-year protection plan is included with your purchase.
Bits
WORX WX254L
This comes with 12 driving bits, so you'll have plenty of options for almost any project.
DEWALT DW920K-2
You'll receive one reversible bit that features a flat head and Philips head screwdriver.
Bosch DDS181-02
Bits are sold separately from this product.
Included Accessories
WORX WX254L
You'll receive the driver, 12 different bits, a battery charger, and one battery.
DEWALT DW920K-2
This set comes with the driver, a battery charger, two batteries, a box, and a drill bit.
Bosch DDS181-02
When you purchase this product, you'll receive the drill/driver combo, two batteries, a charger, and an L-BOXX-2.
Top Picks: See Our Choices for Best Cordless Screwdriver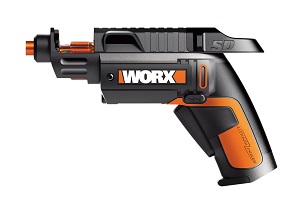 If you want a versatile tool without a high price tag, then you should consider this product from WORX. Not only do you get a lightweight screwdriver, but you also receive 12 bits that you can use for any project, where most drivers only provide one bit. Your kit includes one T10 drill bit, one T20 drill bit, one H3 drill bit, one H4 drill bit, one H5 drill bit, one screw starter drill bit, one P0 drill bit, one P1 drill bit, one P2 drill bit, one SL4 drill bit, one SQ1 drill bit, one SQ2 drill bit.
This model has a unique design that allows you to change your bit with just a rotation. This also provides excellent storage so you don't have to worry about losing the bits you need. This comes with one battery and a charger, and this product can hold a charge up to a full 18 months. It also comes with a standard 3-year warranty.
Pros:
It comes with multiple bits
It's easy to change bits
Very affordable
It's easy to use
Very lightweight
It comes with a warranty
Cons:
Only has one speed
It's best for light-duty jobs only
It isn't very powerful when compared to other, more expensive drivers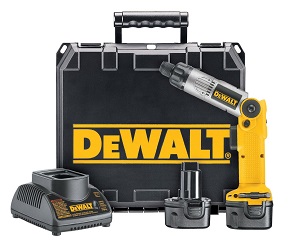 With 80 inch-pounds of torque, you can get the toughest jobs done with ease with this product. It has an adjustable handle, so you can use it comfortably in-line or with pistol-grip. The quick-release hex-change allows you to easily and quickly change out your bit. A bit is also included with your purchase, with a standard flat head on one side, and a Philips head on the other.
It has a 7.2-volt battery pack that lets you recharge your battery in just one hour. Forgot to change your battery? Not a problem – this set comes with two, so you always have a backup. You get everything you need at one great price, including a kit box for storage. The real standout is the warranty, which is a full three years. You also receive a 90-day money back guarantee and a 1-year service contract, all for free.
Pros:
Lightweight enough to use all day
It has a lot of power, enough for the toughest jobs
It has variable speed determined by what job you're performing
Comes with everything you need to use it right out of the box
Easy to change the bit
Outstanding warranty and guarantee
It charges quickly
It comes with a backup battery
Cons:
It's difficult to change the position
The button for switching the rotation is hard to push
It doesn't come with an attached light like some other models in this price category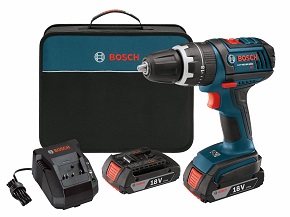 Get maximum power with this great combo tool that combines all of the great features of a driver with a drill. You won't have to worry about purchasing two separate tools, as this one is enough for any type of job. This heavy-duty model has a four-pole motor for true power, but that doesn't mean it's large or bulky. In fact, this is one of the lightest and smallest in its class without sacrificing power.
The grip is ergonomic and comfortable, so you can easily work all day long without feeling pain in your hand, wrist, or arm. This comes with two batteries, so you always have a spare, and it is compatible with multiple batteries produced by Bosch. It has a long run time, short charge time, and it comes backed with a warranty and guarantee plan that is unmatched. This plan includes 2 years of battery protection, 1 year of tool protection, and free tool repair packages.
You'll also receive an L-BOXX-2 for storage of your bits and driver. Although it is more expensive than other products on the market, this is a high-performance tool that can be used around the house or out on the jobsite.
Pros:
Provides two drills in one
Comes with a backup battery
It runs for a long time on one charge
It charges quickly
Comes with a handy storage box
More power than most other tools in this category
Rugged design that's built to last
Easy to use
It's lightweight enough for consistent use
Cons:
It is a bit more expensive than other drivers
Does not come with any bits, and these will need to be purchased separately
In Conclusion
If you're buying tools, why go too cheap and buy something you'll just have to replace after a few months? Instead of buying an inferior cordless screwdriver, put the powerful Bosch DDS181-02 on your shopping list. This tool is easy enough to use for household tasks, but it's powerful and sturdy enough to take to the job for more heavy-duty projects. That's why it's our choice for top cordless screwdriver overall.
With a lightweight design, a motor that outperforms many other products in this category, and an exceptional protection plan, this is a tool you can expect to use for years to come.