Some links on this page are monetized by affiliate programs - see disclosure for details.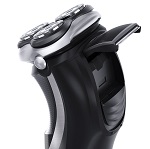 Shaving is a necessity that most men have to face on a daily basis. Whether a man prefers having no facial hair at all or just wants to groom and maintain his facial hair, a great razor is a necessity in every man's bathroom.
However, with so many different razors on the market, it's hard to decide which one is best for effectively removing facial hair quickly and easily. For convenience, many choose to rely on the electric option.
What is an Electric Razor?
An electric razor is a device that is used to remove body hair, and it is primarily used on the face, although it can be used on other parts of the body if desired. An electric razor is uses batteries, which powers the oscillating blades. Electric razors can easily last for years of use with proper maintenance, and they are easy to use to get a close, smooth shave.
See Also: The 10 Most Highly Rated Mustache and Beard Trimmers
What are the different types of Electric Razors?
When shopping for the best electric razer for men, there are two main types available. The two types available on the market are rotary shavers and foil razors. Each has its advantages and disadvantages, so a smart consumer will evaluate these features to find which meets his own needs.
Rotary – Rotary razors are identified by their round heads, which are designed to shield the rotating blades underneath. Most rotary razors have three heads, although some models come equipped with four. Rotary razors do not give quite as close a shave as foil razors, but they are easier to clean and handle.
Foil – Foil electric razors look similar to manual or disposable razors. They have floating heads that have oscillating blades hidden behind a fine screen. these razors provide a closer shave than rotary models. However, they are typically more difficult to clean.
Travel – Travel shaver's are smaller, hold less charge, and are generally less robust as far as razors go but with the added convenience of being lightweight, portable, and can keep you looking well groomed while on the road or away from home.
What are the advantages of owning an Electric Shaver?
One huge advantage of owning an electric razor is that these razors last for years, so a user doesn't have to worry about buying new disposable razors or costly cartridges. When used properly, a man also reduces the risk of nicks, cuts, and razor burns that are common with manual razors, getting a clean shave every time without the pain.
Read: The Best Nose Hair Trimmers to Clean Up Your Look
Who are the contenders for Best Electric Razor for Men?
Phillips Norelco Shaver 2300 – This razor provides a smooth, painless shave without breaking the bank.
Panasonic Hybrid Electric Razor Wet/Dry ES-LL41-K  – Use this razor in the shower or at your sink with this model, which is 100 percent waterproof.
Braun Series Series 7 7880CC Integrated Shaver System – Fully customize the shaving experience with this top-of-the-line razor that's designed for ultimate performance and comfort.
Considerations for Your Electric Razor
Shopping for an electric razor, much like other health and beauty products, can be a daunting task. There are so many brands, features, and price points to consider, which makes the shopping experience a little difficult. However, by looking for a few key features, it's easy to narrow down the selection to choose a quality razor.
Waterproof style
If you plan on using your electric razor in the shower, you will want to select a waterproof model. Using a shaver designed for dry use in the shower or with water will result in damage to the unit or injury to yourself.
Type of razor
As mentioned earlier, there are two main types of razors: rotary and foil. Before purchasing an electric razor, decide which one will be most beneficial for your needs.
Functions
For a more personalized, gentler shave, look for an electric razor that has multiple functions instead of just one setting. It's important to note, however, that multi-function razors are typically more expensive, although they generally provide a better shave.
Waterproof style
Phillips Norelco Shaver 2300
While this razor can be held under water for easy cleaning, it cannot be used with water and shave gel. It is designed for dry shaving only.
Panasonic Hybrid Electric Razor Wet/Dry ES-LL41-K
This razor is designed to be used without water for a quick, dry shave, or it can be used with shave gel in the shower for a closer shave, if desired.
Braun Series Series 7 7880CC Integrated Shaver System
This model is designed with a waterproof body so it can be rinsed clean. However, it is only designed for dry shaving.
Type of razor
Phillips Norelco Shaver 2300
This razor is a traditional rotary electric shaver. It has three circular floating heads designed to provide a close shave.
Panasonic Hybrid Electric Razor Wet/Dry ES-LL41-K
This foil shaver has three blades that ensure every hair is removed quickly and comfortably.
Braun Series Series 7 7880CC Integrated Shaver System
Braun has taken the technology of foil razors and stepped it up a notch with its OptiFoil system, which gives a close shave that lasts longer.
Functions
Phillips Norelco Shaver 2300
The PT724/46 has just one function. However, the one function is powerful enough for even the coarsest, thickest hair.
Panasonic Hybrid Electric Razor Wet/Dry ES-LL41-K
This electric shaver is equipped with just one function, but it's a setting that works with most hair and skin types.
Braun Series Series 7 7880CC Integrated Shaver System
With three different functions, this shaver is ideal for any man. Even those with sensitive skin will find comfort when using this top-quality razor.
Decision: Our Best Electric Razor For Men Reviews Are In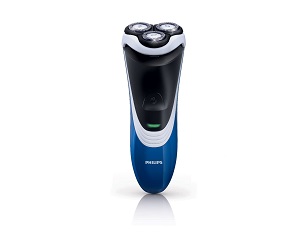 If you're unsure of whether an electric razor is right for you, and you don't want to invest a lot of money just to try one out, this option is just what you're looking for. With its low price tag, its one of the least expensive on the market, but don't be fooled by the price. This small razor packs a lot of power.
The three rotary blades glide effortlessly across the skin, providing a close shave without the pain of cuts and razor burn. The blades are easily washable, so you can always count on a great shave. Maintenance is easy; just replace the heads once every 12 months to keep your razor running like new. This is a great pick for anyone who wants to try out an electric razor for the first time or for those who just want a basic electric shaver that doesn't cost a fortune.
Pros:
The Litihum-Ion battery provides 40 hours of operation with every 8-hour change. Corded option allows you to use the razor, even when it's not fully charged. Comes with CloseCut heads for a smooth shave. The razor is easy to clean and maintain. It is one of the most affordable available. It is lightweight, making it easy and comfortable to hold.
Cons:
It does not have multiple functions. It cannot be used in the shower. May cause irritation on sensitive skin.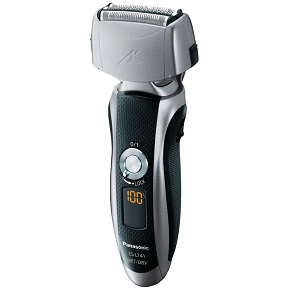 As far as mid-priced shavers go, this is one of the most top-rated models on the market. This foil razor provides three blades for an ultra-smooth shave comparable to the performance of a quality manual razor. The advantage is you won't have to worry about irritation and nicks with this razor.
The design allows you to easily remove all facial hair in just minutes, or you can use the built-in precision trimmer to maintain your beard and mustache. The waterproof design allows you to not only easily keep the razor clean but to also use it in the shower with shave gel if you wish. It is the perfect size for travel, and it comes with a carrying case for portability. .
Pros:
The slit-foil design makes it easy to trim longer beards without pulling and tugging. The pivoting head glides smoothly over the contours of the face and neck. Cleaning and maintenance are easy, just wash the blades after use and replace them every 12 months. The hypoallergenic blades and ability to be used wet makes this a great choice for sensitive skin. LED screen shows the battery level.
Cons:
Using it as a dry shaver does not provide as close a shave as other models. It is a bit more difficult to use on the neck than other electric shavers.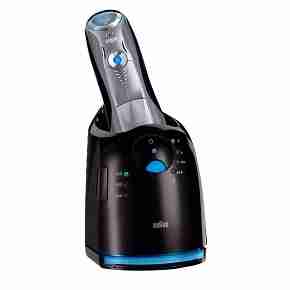 Because of different skin types, as well as thickness of facial hair, one setting doesn't always do the job. With this model from Braun, you can customize your shave by selecting from three different modes. The three modes, combined with the fully flexible design, makes it simple to get a smooth shave without pain and irritation.
With the Clean & Renew system of this razor, you won't have to worry about keeping your razor clean, maintained, and sanitary. With just the push of a button, your razor will be cleaned, charged, lubricated, dried, and ready for the next use in just minutes.
You won't have to worry about a smooth shave either. This razor is designed with ActiveLift, which lifts flat hairs for complete removal. The built-in trimmer is great for keeping facial hair neat and tidy, while Pulsonic Technology uses over 10,000 pulses to remove even the most stubborn hair with just one pass.
Pros:
The LCD display allows you to easily view the battery charge and sanitary status of your razor. Comes with Extra Sensitive, Normal, and Intensive modes for a more personalized shaving experience. It is washable and also has the Clean & Renew system that makes cleaning and sanitizing a breeze.
Cons:
It is priced more expensively than many other models. The Clean & Renew cartridges have to be replaced and are sold separately.
Closing Thoughts
Shaving doesn't have to be such a chore, and it's much easier with a high-quality electric razor. If you're tired of buying replacement razors and cartridges week after week but still desire a close shave, you can't go wrong with the Braun Series Series 7 7880CC Integrated Shaver System. You can enjoy a close shave without the hassle of cuts and razor burn, even if you have sensitive skin. The Clean & Renew feature also makes sure your razor stays safe and sanitary for years of easy shaving.