Some links on this page are monetized by affiliate programs - see disclosure for details.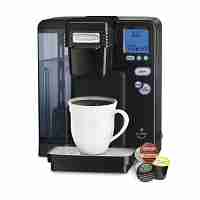 Some people just can't get the day started without a cup of coffee. However, the normal process of making coffee can be quite time consuming. Inserting a filter, measuring out grounds, grinding beans, and brewing a full pot for just one or two cups can be a hassle – not to mention wasteful.
This is an especially daunting chore in the morning, when it's hard to open your eyes and focus on the task at hand. Instead of waiting for what seems like hours for a full pot of coffee you won't drink, fussing with messy grounds, and getting a headache from a bean grinder, why not make yourself one delicious cup without the fuss with a K Cup brewer.
Compare: The Top 10 Best K Cup Brewers of 2019

What is a K Cup Brewer?
A K Cup brewer is a type of coffee brewer that makes it easier and more convenient than ever to brew a cup of coffee. You no longer need to purchase filters, waste time grinding beans, or mess with measuring out messy coffee grounds. Instead, you purchase K Cups, small plastic cups that are pre-filled with just the right amount of coffee. Just insert your chosen K Cup, press a button, and you'll get a freshly brewed single cup of coffee in no time – no mess, no wasted coffee.
If you're not a coffee drinker, you can purchase a variety of different K Cups, including tea, hot cocoa, cider, flavored coffee, and iced coffee drinks.
What are the Advantages of Using K Cups?
While there are a number devices available for brewing coffee, such as french presses and drip coffee makers, k cup brewers make it easier than ever to brew the perfect cup of coffee. All you have to do is insert the flavor cup of your choice, close the cover, and press a button to get a single cup of freshly brewed coffee. Cleanup is easy too, just open the cover, remove the used cup, and throw it in the garbage.
There's no mess, no hassle, and no wasted coffee with these pre-measured cups. Some brewers even come with options that let you make iced coffee drinks, as well as adjust how strong your brew tastes.
What are the types of Brewers?
When first released, there was one main type of K Cup brewer that only accepted smaller K Cups and dispensed one cup. While these single cup brewers are still available and are still popular, today's brewers are more advanced than ever and offer you options to personalize your coffee drinking experience. Before you make your purchase, decide which type of brewer is best for your household or office.
Traditional
These are usually the least expensive and offer the most basic features, such as cup size, strength, or iced options. These are easy to use, and they allow you to brew a single cup of coffee, tea, cocoa, or other beverage.
Keurig 2.0
These innovative models not only allow you to brew a single cup of coffee, but they also have the option to brew a full carafe for multiple people in the household.
Rivo
If you like different coffee drinks but don't like the expensive prices at your local coffee shop, this is the option for you. These brewers allow you to make different drinks like cappuccinos and lattes without the mess and fuss of traditional espresso machines.
How to Maintain a K Cup Brewer
In some ways, K Cup brewers are a bit too easy. People forget to perform any maintenance whatsoever. Fortunately, the unit doesn't need much care to stay in excellent working condition.
Give it a semi-thorough cleaning once a week. Remove all of the components like the holder, mug tray, water filter, and reservoir. Rinse each piece with water and allow it to air dry (drying with a cloth can leave behind lint).
Replace your water filter cartridge every two months. Soak the new cartridge in fresh water for five minutes before putting it in the brewer.
Every six months, give your machine a deep cleaning. Fill the reservoir with 10 ounces of white vinegar. Then, run the brew cycle without a K cup. Repeat this process once with vinegar and again with fresh water.
Which Models are the Best K Cup Brewers on the Market?
If you want a cup of hot coffee in less than a minute from a top-quality brewer that doesn't cost a fortune, this is the right product for you. This affordable model doesn't have all of the bells and whistles, but that just means it's easier to use and it's easier on the wallet. It has several size options and a few additional features that make this an inexpensive yet smart purchase.
If you want a few more options, you can upgrade to this model, which still brews a cup of coffee quickly but has a more modern design, including a full color touchscreen interface. This has multiple options not found on the budget models, including programming so your coffee will always be ready for you first thing in the morning.
Enjoy a cup for yourself or share a carafe with friends with this innovative system, which lets you enjoy the benefits of a single cup brewer, in addition to a full size coffee pot. Other standout features include programming options, sizing options, and strength, all controlled with the easy-to-use touchscreen design.
Features to Consider
Whether you're adding a coffee brewer to your office for your coworkers, upgrading an outdated model, or you just want the convenience of brewing coffee in no time at all, a K Cup brewer is the right choice for you. Now that you know more about the types available, it's time to begin narrowing down your options. You can do this by taking a look at these features in every model you consider purchasing.
Price
Brewers range in price from around $100 for a basic model to several hundred dollars for a model with all of the bells and whistles. You should consider your own personal budget, but you shouldn't overlook important features just to save a buck. Make sure that you consider all aspects, including accessories, warranties, and brewing options, before making your purchase based solely on price.
Warranty
Any type of electrical item may wear out over time, but that doesn't mean you shouldn't be able to get plenty of use out of it. When used properly, you should be able to use your brewer daily without issues. If it doesn't work properly out of the box or begins to show signs of issues after just a few issues, a warranty allows you to get a replacement or repairs without any cost to you.
Size Options
Customize the size of your coffee with several different size options. If you want to just brew a cup for yourself, a few different sizes will work for you. If you plan to entertain a crowd or you have more than one coffee drinker in your household, look for a model that allows you to brew a pot or carafe.
Accessories/Extras
Some brewers come with K Cups to get you started, while others have filters that allow you to use your own favorite coffee grounds. To get the most out of your purchase, look for brewers that come with these bonus extras included for no extra charge.
Price
Keurig K40
This is one of the most affordable brewers on the market.
Keurig K450
This is a mid-priced brewer that comes with an industry-average price tag.
Keurig K575
This mid-priced brewer offers tons of value for its price.
Warranty
Keurig K40
Your brewer is protected with a 1-year limited warranty from the manufacturer.
Keurig K450
You'll receive a 1-year warranty with your purchase of this machine.
Keurig K575
You'll receive a 1-year limited warranty with the purchase of your product.
Size Options
Keurig K40
You'll have your choice from three size options: 6 ounce, 8 ounce, and 10 ounce.
Keurig K450
There are nine different options for sizing, ranging from 4 ounces to a 39 ounce carafe.
Keurig K575
You can choose from 10 different sizes, including ounces for cups, larger sizes for travel mugs, and three different sizes for your carafe.
Accessories/Extras
Keurig K40
A 6 K Cup variety pack comes with your purchase.
Keurig K450
You'll receive a carafe, 4 carafe pods, 6 K Cups, and a water filter and cartridge.
Keurig K575
This includes a carafe, 6 K Cups, 4 carafe pods, and a water filter and cartridge.
The Results: Our Top K Cup Brewer Picks

You'll be able to enjoy your coffee without hassle with this brewer that lets you brew one cup of coffee in less than one minute. This model is very easy to use, and while it doesn't have all of the extra features found on more expensive models, it causes less confusion – just add your K Cup, fill the reservoir, push a button, and you'll be enjoying your coffee in no time.
This model has a removable drip tray for easy cleanup, a 48-ounce water reservoir, and an auto on/off feature for safety. Indicator lights keep you alert to what's going on with your brewer, and you can choose from three different cup sizes. This is ideal for coffee, tea, iced beverages, and more. It even comes with a 6-pack of K Cups to get you started.
Pros:
It is affordable
Backed with a warranty
Easy to use
It requires a one-time setup only, and after that, it is always ready to brew
Brews in less than one minute
It has a large water reservoir
It has three different size options
Cons:
Doesn't have as many options as the more expensive brewers
It may clog around the needle over time

Brew yourself a cup of joe or enjoy a fresh beverage with your friends or other guests with this versatile model, which allows you to brew a single cup or a full carafe. This model truly lets you do it all, and it's all easy to do using the touchscreen interface. Choose from nine different sizes, change the strength to fit your personal tastes, and use the special options for other drinks like tea or hot cocoa. This machine truly lets you personalize your drink.
Other standout features of this model include a programmable clock, auto brew option, and a 70-ounce water reservoir. This unit is very easy to use, comes backed with a warranty.
Pros:
Affordable
It allows you to brew a single cup or a 4-cup carafe
It has a large touchscreen
Allows you to brew nine different sizes
Works with pods and cups
Comes with a water filter
Different strength options and drink settings
It is easy to use
It has a warranty
Comes in five great colors
Cons:
Cannot be used with reusable filters
Cannot be used with non-Keurig-approved cups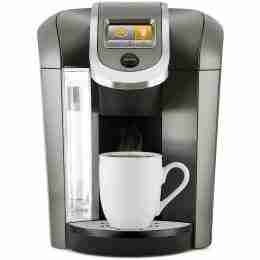 If nothing less than the best will do in your home or office, you'll want to invest in the best k cup brewer overall, the Keurig K575. This brewer has everything you need to enjoy the perfect cup every morning, or you can brew an entire carafe for more people in your home or office. With 10 different size options, you can customize your drinking experience.
Not only will you get to choose the brew size, but you'll have other options too, including customizable options for hot cocoa and other drinks, strength settings, and more. You can change the settings easily using the 2.8-inch color display. This model comes equipped with a clock, is programmable, and has an auto brew option. It also has a night light, a water filter, and a large 80-ounce reservoir. This unit works with hundreds of K Cups and pods, so you can always brew your favorite drink or try something new.
Pros:
Attractive styling
Easy to use
It has a touchscreen display that's easy to use
It has multiple sizes
Comes in three colors to match any modern kitchen
Many customizable options
Comes with a water filter for the freshest taste
Comes with a warranty
It has a large reservoir for less time spent refilling
Cons:
It can't be used with the filter that allows you to use your own grounds
More expensive than other models
Conclusion
Why waste precious time in the morning preparing your coffee and cleaning up after? With the Keurig K575, you'll get the perfect hot drink every morning in less time and with less mess. This model comes loaded with many great features not found on less expensive brewers, including a touchscreen, multiple cup and carafe options, and customizable brewing options.
This brewer is easy to use, looks attractive on any counter-top, and ensures you get the best and freshest coffee in less time.