Some links on this page are monetized by affiliate programs - see disclosure for details.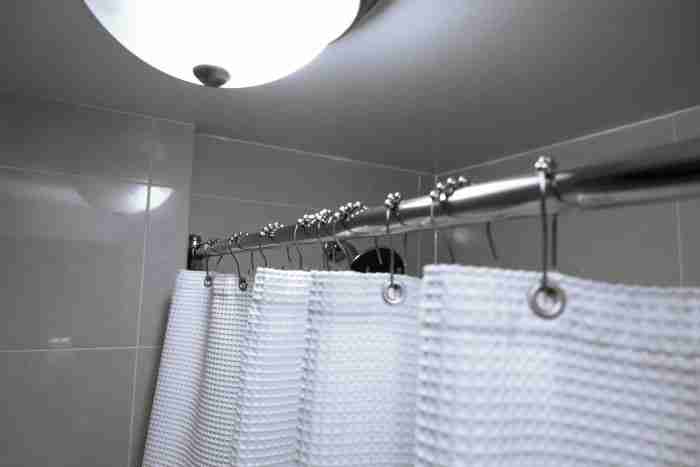 If you do not have an open type of bathroom or a shower door, the chances are that you are going to install a shower curtain. You need a shower rod to put your shower curtain in place. A while back there were a few options in the market in regards to the material design and finish of the rod. Today, you can choose from a wide variety of shower rods for not only their functional capabilities but also to enhance your bathroom décor.
Shower rod shapes
There are different types of shower rod shapes depending on the form of your bathroom as well as your preferences. The basic configurations include D, L, and U. The L shaped rods are commonly used in corner showers. The D-shaped shower rod has a U-shaped rod attached to a straight rod. This rod acts as an enclosure to the bathtub on all the sides. It is more convenient than having a rectangular shaped shower rod.
You can also purchase custom length shower rods from the stores. Most shower rods are made of bronze, cast iron or aluminum.
Types of Shower Rods
Here are some popular types of shower rods.
Straight shower rods
These shower rods consist of one or two rods that attach to either end of your shower walls. You can have the escutcheon on each side of the wall to match with your bathroom décor. The straight rods come with a variety of finishes ranging from contemporary finishes to traditional ones.
Curved shower rods
Curved shower rods come in handy when you need to expand the elbow room in the shower. They help you to hang the shower curtain in that water does not splash on the floor of the bathroom. You can also use curved rods if you have a curved bathtub to follow the shape of your tub. The rods are also great for hanging your damp towels.
Track shower curtain rods
A track shower rod is a hook-free shower rod that is used with clawfoot or with other rod shapes such as U-shaped, D-shaped or L-shaped curtain rods. Unlike the conventional shower rods, you attach your curtain to the rod gliders instead of using hooks or shower rings. These gliders then extend down still connected to the road thereby ensuring that your curtain does not slip off.
Adjustable shower tension rod
An adjustable tension shower rod is held in place by a spring suspension. This is the most natural type of the shower rod and famous among people who have rented homes. You can also use this type of a shower rod if you do not want drill into the walls to install a shower rod.
Carousel or circular shower rods
Circular shower rods are mostly in the slipper tub or claw foot tub and shower combination. They are also common in rustic cabin retreats or beach houses. One or two rods attached to the ceiling support at an angle of 90 degrees from the shower rod. You may also choose ovular or rectangular shower rod depending on your style preferences.