Some links on this page are monetized by affiliate programs - see disclosure for details.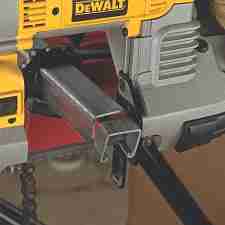 Maybe you work with wood and metal every day, crafting furniture or cutting and fitting trim inside of new homes. Perhaps you're new to carpentry, and you want to complete some custom repairs and upgrades inside of your home without paying a contractor thousands of dollars to do it for you.
Whether you're an experienced professional or new to working with wood, there's one thing that you need in order to complete your project, and that is the right tools. For careful, precise, and often intricate cuts, there's no better tool than a band saw.
What is a Band Saw?
A band saw is a type of power tool that is used to cut through wood. This isn't a portable saw, although cordless, portable models are available. In fact, even the smallest models are quite large, so they should be placed in a dedicated area in your woodshop, garage, or other work area.
These work by having internal wheels that rotate. Most have two wheels, but some may have three of four. These wheels are used to move the blade, which is a continuous piece of metal that has teeth on one side. As the blade moves, wood is pushed through and cut very easily.
What are the Advantages?
A band saw is a piece of equipment that any woodworker should have. In fact, if a person that works with wood is purchasing equipment, this should be at the top of the list. This is because this is a very versatile machine. The design makes it easy to cut through wood horizontally, cut smaller logs, eve make wood veneer sheets with precision.
It's also easy to make curved and intricate cuts, so it's great for making wood sculptures or detailed wood furnishings. These machines make it much easily to get clean cuts on many different types of wood.
What are the Different Types?
Once you've made the decision to add a band saw to your workshop, you have to make the purchase. But before you spend a lot of money on a piece of equipment that's not quite what you're looking for, it really helps to do your research. Although it may be a little time consuming to learn more about these saws, you'll save time in the long run when you know exactly what to look for, and you don't have to worry about purchasing something that doesn't meet your expectations. The first part of your research should include learning about the different types of equipment available to you.
Floor-standing cabinets – These are very large pieces of equipment and should only be purchased if you have enough space since they take up a lot of room. However, with the big size comes a lot of power. These are ideal for industrial applications and very heavy daily use.
Mounted saws – These are not as large as floor-standing cabinets, and they are designed to be mounted to a work bench or table. These are much smaller, and they aren't quite as powerful, but they're a good choice for light or medium use, and they're preferred for household shop use.
Cordless and corded portable saws – These are small, handheld tools that work on the same premise as other types. However, they are much smaller in size, and they're designed for very light projects.
Which Band Saws are the Best on the Market in 2017?
SKIL 3386-01 2.5-Amp 9-Inch Band Saw – If you want an affordable saw that you can place on your work bench or table, this is a great choice. SKIL, a company known for quality tools, has raised the bar with this budget-friendly saw, which boasts great features including an LED light for increased sight, a rip fence for straight cuts, and easy table adjustments.
DEWALT DWM120K 10 Amp 5-Inch Deep Cut Portable Band Saw Kit – If your job requires you to make intricate cuts that need to be precise, you'll want to pick up this portable saw from DEWALT, another top brand in the industry. You can load this model in your truck and take it right to the jobsite to create 5-inch deep cuts. This has a durable design that can withstand the rigors of being transported to and around a jobsite, as well as added features like a sight light.
JET JWBS-14DXPRO 14-Inch Deluxe Pro Band Saw Kit – For the most experienced woodworker, only the best equipment will do. This model from JET is built into a sturdy cast iron frame that's designed to last through years of cutting. This model has a high cutting capacity, a sturdy table, reduced friction, and various other great features that make this a top pick for the most heavy-duty projects.
Features to Evaluate
Now that you know a little bit about the different types to choose from, as well as a few selected brands and models, you might think you're ready to tackle the task of making a purchase. But before you do that, why not learn a little more about the product you plan to purchase? You should see this piece of equipment as an investment, and careful planning should go into your purchase, including looking over the specs and keeping an eye on these four very important features.
Type
There are several different types of machines to consider. If you want to take your saw out to different job sites, one in a huge metal frame just won't work. Likewise, if you have a really big project, a small tabletop model won't get the job done. Purchase a type based on what you plan on using it for.
Warranty
No one wants to purchase a lemon, but unfortunately, sometimes you get stuck with a faulty product. Whether it doesn't work right out of the box or it breaks after just a few normal uses, you don't want to be stuck with the repair bill or scrambling to buy a replacement. If your product has a warranty, you'll be able to get a working product at the expense of the manufacturer.
Cutting Capacity
What type of wood do you plan on cutting? If you plan on sawing through very thick pieces, a small tabletop or portable unit won't do the job. If you just plan on cutting smaller pieces, you won't need to drop a fortune on a larger machine. Look at the depth of the cut for every model you're considering.
Type
SKIL 3386-01
This is a smaller mountable model that can be placed on your workbench or table.
DEWALT DWM120K
This is a corded saw that is small and lightweight enough to take from jobsite to jobsite.
JET JWBS-14DXPRO
This is a free-standing cabinet that requires a lot of floor space.
Warranty
SKIL 3386-01
This comes with a 3-year limited warranty.
DEWALT DWM120K
You'll receive a 3-year limited warranty with your purchase.
JET JWBS-14DXPRO
Your purchase is protected with a 5-year limited warranty.
Cutting Capacity
SKIL 3386-01
This product has a cutting depth of 3-1/8 inch and a throat of 9 inches.
DEWALT DWM120K
This model has a 5-inch capacity with round stock and 5 ¾ inch capacity when working with rectangular stock.
JET JWBS-14DXPRO
This has a cut capacity of 13.5 inches wide and 12 inches in height, so it's a good choice for larger products.
Our Band Saw Reviews
This is a great option for those who are new to power tools or anyone who just wants a basic saw that doesn't cost a fortune. This model is priced at less than $200, easily making it one of the most affordable pieces you'll find. Don't mistake a great price for cheap, though, as this model from top manufacturer SKIL is designed for performance.
Standout features that make this a top pick include a sturdy aluminum table with tilting adjustment up to 45 degrees, blade depth adjustment for custom settings, an attached lamp for better sight, and a miter gauge. It also has a rip fence for accurate cutting, as well as a dust port to keep your work area neat and clean.
Pros:
It is priced very affordably. Comes with a 3-year limited warranty. It is small enough to sit on a workbench or table, and it doesn't take up too much space. Easy to use. It is accurate and performs straight cuts. Ideal for smaller projects.
Cons:
The upper wheel assembly is made of plastic, so it won't last as long as metal. It vibrates quite a bit when running. It feels more flimsy than the more expensive models.
For those who need a saw on the job, a large tabletop model or one contained within a stationary frame aren't going to do the job. This is when you need the power of the bigger saws packed into a small, portable power tool, and that is what you get with this model from DEWALT. This saw is ideal for taking on the job site, allowing you to cut round and rectangular stock with ease. It has a powerful 10 amp motor, and it works quickly and efficiently without getting bogged down.
You'll get between a 5 and 5 ¾ inch cut capacity with this model. It has a built-in LED light that makes it easy to see your cuts, a variable speed for different types of cutting, and it feels strong and sturdy. It has a strong blade that doesn't have to be replaced as much as other brands, and it also doesn't require much maintenance at all. You'll receive a 90-day money back guarantee with your purchase, as well as a 3-year limited warranty.
Pros:
It is competitively priced when compared to similar products. It has an excellent warranty and guarantee. The variable speed makes it easy to cut a variety of materials. It is easy to use. It is very portable. Feels very durable and not cheap at all. It has a strong motor for more efficient cutting. It runs on electricity, so you don't have to worry about a dead battery or the hassle of charging a battery before use.
Cons:
The bands around the drive wheels seem a bit cheap and prone to breakage. The blade that comes with it isn't terribly sharp and a replacement may need to be purchased before use.
Professional woodworkers know how important it is to have solid tools, and this is an option for those who want enough power for the largest and most difficult projects. This free-standing model is large enough to tackle those hard projects, with a cut depth of 13.5 inches in width and 12 inches in height. It also has multiple cutting angles.
Some features that stand out on this product include a sturdy cast iron frame that can withstand years of heavy use, a built-in retractable blade guard, a 15 x 15 inch work table for your biggest projects, ball bearing guides to reduce friction, various precision and safety features like quick release blade tension, and an easy-view window.
Pros:
Lots with safety and precision features. It can handle large projects with ease. Excellent warranty. The enclosed stand has a shelf for organization. It has a high cutting capacity.
Cons:
It is expensive. It does not include a fence.
In Summary
The easiest way to work with wood is to have a power saw, and a band saw is a very versatile tool that can be used for straight cuts or even intricate cuts that would be difficult to perform with any other tool. If you work with wood and metal on a daily basis, you'll want to stick with the best products that can tackle small tasks and large projects with ease and accuracy, which is why the JET JWBS-14DXPRO should be at the top of your list of "must get" tools.
This large, free-standing saw cuts easily through large rectangular and round stock, is made with sturdy materials, and has everything you need to get your project finished with accuracy and efficiency.