Some links on this page are monetized by affiliate programs - see disclosure for details.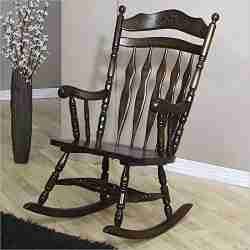 Rocking chairs are some of the most elegant, soothing, and even fun pieces of furniture you could add to your home. Originating in the 18th century, rocking chairs have come to be a classic American image of leisure and relaxation.
They have evolved over the years from simple regular chairs with rockers attached to beautifully crafted wicker rockers and even folding rocking chairs. Whatever the style, the best rocking chairs have been loved by many.
Despite their long history, rocking chairs are still admired and used today. They continue to be designed and manufactured in many different ways, and there is sure to be a rocker that is perfect for every home.
Compare: The 10 Top Rated Rocking Chairs of 2016

What is a Rocking Chair?
A rocking chair is a chair, often simply made of wood, with curved wooden slats attached to the bottoms of the chair, connecting the front and back legs, so that when you sit down in it, the chair can rock forward and back. All the person sitting in it needs to do is shift their weight or push lightly with their feet.
What are the Advantages?
Rocking chairs are often used by parents to soothe infants. The gentle rocking motion can be associated with the comfort and safety of being in the womb or cradle or in a mother's arms. It has been found that the rocking motion allows the body to relax and helps people sleep better.
There have been several studies exploring the benefits of rocking chairs. One such study suggests that rocking releases endorphins that improve moods and relieve the pain of dementia patients. In general, rocking chairs have been shown to reduce anxiety and depression in seniors, though the benefits are certainly not limited to the elderly. Rocking chairs also increase balance, improve muscle tone, and ease arthritis and back pain.
Related: Our Guide to the Top 10 Massage Chairs
What are the Different Types?
There are a few categories rocking chairs can be sorted into, and they are important to consider. Some features affect comfort, while others simply change the aesthetic. Your preferences will certainly affect which type of rocking chair you ultimately choose.
Wooden
This is probably the most common type of rocking chair due to its classic look. Wooden rocking chairs can be made of many different types of wood, including cedar, walnut, and mahogany. They are often quite elegant and fit in nicely with many kinds of interiors.
Non-wooden
There is a current trend in non-wooden rocking chairs, often made of a combination of plastic and metal. They can be much cheaper than wooden rocking chairs and are best for homes that have a more contemporary style. The coolest thing about them is that they often come in many colors.
Modern/Casual
Most plastic rocking chairs would fall under this category, as well. Modern rocking chairs are usually sleek and interestingly shaped, often looking nothing like a classic wooden rocking chair. There are many modern rocking chairs that could also be described as casual as they lack the elegance or craftsmanship of classic rockers.
Outdoor
Many rocking chairs are not meant to spend much time outdoors. Their wood cannot withstand the weather and will degrade, jeopardizing the stability of the chair. But some wooden or plastic rocking chairs are weather-proofed and will work fine on covered porches or even completely outdoor patios.
Things to Consider
Rocking chairs serve two purposes: as furniture and as decoration. Make sure to consider both when buying. The best rocking chairs will be both comfortable and beautiful, and will suit the style of your home nicely.
It is also important to realize that you won't completely know how you feel in your new chair until you have bought it, assembled it, and sat down in it. Everyone's preferences are different, so the favorite rocking chair of one reviewer might not be your favorite. Make sure to check out warranties, return policies, and reviews of customer service just in case your new chair is not quite right for you.
Top 3 Models on the Market
This classic wooden rocking chair is dark brown and would be perfect in your living room. It is quite decorative due to the embossed back and detailed rod designs. Its arms are softly curved, contributing to the comfort of this chair.
This sturdy yet comfortable cedar rocking chair is a product of the log home industry and is made from renewable resources. It is insect and weather resistant, making it the best rocking chair for the outdoors, along with its natural log design.
This rocking chair is perhaps the most contemporary one on the market. Its sleek plastic body is sturdily connected to ash wood rockers by chrome steel supports and its smoothness makes for a comfortable chair. The plastic seat also comes in a large assortment of bright colors so that you're sure to find the perfect shade for any room.
Factors to Consider When Choosing
Price
Of course, one must always consider the price when looking for new things to add to a home. Many items are needed to make a home truly a home, and you don't want to spend all your money on one piece of furniture. You should also be aware that most rocking chairs are at least $100, and the best rocking chairs are often above $200, so if you see a 3-figure price tag, know that that is common for what you're buying.
Ease of Assembly
The biggest complaint about rocking chairs bought online is that they are difficult to assemble, often due to unclear directions from the manufacturer. Check reviews to see if users had undue difficulty assembling the rocking chair, and take your own handiness and experience with assembly into account.
Design
All rocking chairs are unique in some way. Some are created with elegant wooden rods or are embossed with detailed designs. Some look like they should be in a contemporary art museum and some look like they came straight from the 1800s. And some chairs are dark wood and some are lighter. With all the options out there, there is a rocking chair that suits every preference.
Comfort
This may be obvious, but hopefully you'll be sitting and rocking in your chair often, so make sure it will be comfortable! Take into account your size and what you want to use it for. Consider if the chair comes with any cushions, or if cushions are easily compatible if they are not included.
Price
Monarch Specialties: This rocking chair is an average-priced model that will fit in most people's budgets.
Lakeland Mills: This is a slightly more expensive rocking chair, but nowhere near the exorbitant prices of some high-end rocking chairs.
Eames Style: This rocking chair is by far the cheapest on the market, making it a real bargain.
Ease of Assembly
Monarch Specialties: The instructions included are quite bad, making the assembly difficult but not impossible.
Lakeland Mills: The manufacturer claims there is "easy assembly" but that is far from the truth. Though some handier buyers didn't struggle with it too much, many found it extremely difficult due to bad instructions and a lack of pre-drilled holes in the right places.
Eames Style: This rocking chair involves the easiest assembly. All you have to do is attach the wooden rockers to the stainless steel supports and you're done!
Design
Monarch Specialties: This beautiful rocking chair has an elegant and decorative design. It looks like it could have been made in the 1800s with its dark walnut color and embossed back.
Lakeland Mills: The rustic, natural design of this wooden rocking chair makes it best suited for the outdoors. There is elegance in its simple log structure and unaffected knotted wood appearance.
Eames Style: This rocking chair has an extremely contemporary design with a curved plastic seat molded into an abstract form that manages to comfortably cradle the body. It's on the smaller side for rocking chairs, but it comes in a variety of eye-catching colors.
Comfort
Monarch Specialties: This classic rocking chair has ample space for people of many body shapes and sizes. The deeply set back and significant height of the seat might not lend itself to shorter people, though. Some may also prefer cushions to form a more solid and soft back, but many enjoy it just the way it is.
Lakeland Mills: This model improves the comfort of standard wooden rocking chairs by using curved seat slats so that the sitter doesn't sink into the chair or feel the ends of the seat poking into the backs of their knees. The rocking motion of this chair is controlled to minimize excess movement. The seat is wide but not too deep—shorter people will find this chair just as comfortable as larger people.
Eames Style: This modern rocking chair is quite small compared to most rocking chairs, so it is most comfortable for children and adults of smaller sizes. The back is short and not very supportive and some buyers have found that the rocking motion is not very smooth.
Conclusion: Our Rocking Chair Reviews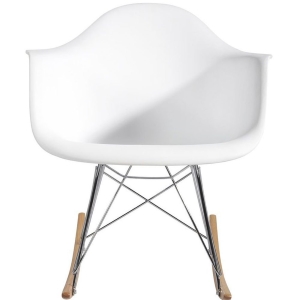 If you're looking for something simple and contemporary or are looking to buy a matching set, this is the best rocking chair for you. At its extremely cheap price, you can afford to buy two or three, and some buyers simply display them like the pieces of modern art they are. This rocking chair is a fun addition to any contemporary home.
Pros:
Considering how expensive most rocking chairs are, it's extremely affordable. It comes in many colors to match any interior and takes up a small amount of space. It is also easy to assemble and clean and could potentially be used outside if you do something to weatherproof the wooden rockers.
Cons:
It has little back and forth motion. Due to its size and how low it is to the ground, it is really only meant for small, short people and cannot hold more than about 200 pounds. It has a short back with no head rest, reducing comfort.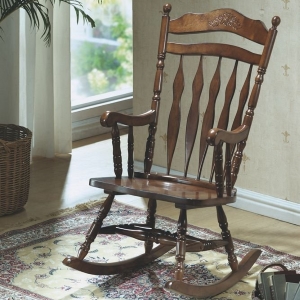 This is one of the most beautiful rocking chairs on the market today and lucky for you, it's not even that expensive. It's comfortable yet elegant and adds a classy feel to every room. This would also make a great gift for aging parents who could take advantage of the comfort of this piece to ease the pains that come with growing older.
Pros:
It is a great value, using quality wood and ornate decorations. The chair is very sturdy and comfortable and can accommodate larger people.
Cons:
It has a very confusing assembly due to bad instructions. The actual chair is a bit lighter in color than the picture implies. The wood has a strong lacquer smell at first. The chair may be too high and deep for shorter people.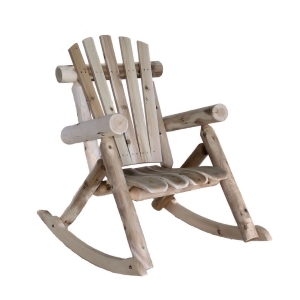 Though a bit more expensive, this rocking chair is well worth the money. If you're prone to sitting outdoors in the summer while enjoying cool beverages, this rocking chair is just right for you. Its natural log effect and weather-proofing make it a perfect addition to any backyard patio.
Pros:
It is insect and weather resistant, made of beautiful, natural white cedar with a curved seat to maximize comfort. The seat is wide yet it's not too deep, accommodating both larger and smaller people.
Cons:
It can be very difficult to assemble, and should be sanded to avoid splinters. It is also somewhat pricey and the rocking motion is limited.
Everyone, young and old, can and should enjoy rocking chairs. They can be classy or fun, invigorating or soothing, and the best rocking chairs are wonderful additions to any home.