Some links on this page are monetized by affiliate programs - see disclosure for details.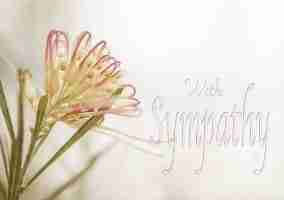 Even when its somewhat expected, death is always a shock. If someone in your life passes away, you'll want to send a sympathy card to their surviving family and friends. But selecting the right sympathy card, and crafting an appropriate message for the inside, can feel like a daunting task. Fortunately, our complete guide will walk you through what you need to do. While dealing with death is a sad time, here's how to provide an appropriate and comforting message for those still with us:
It's the Thought That Counts
The time after a death has occurred isn't just a sad time, it can always be an awkward time. Feeling anxious about when and how to reach out, and what to say when you do, is perfectly natural. Everybody worries they'll say or do the wrong thing and accidentally sound foolish or upset those who are grieving.
But don't let nervousness cause inaction. Go ahead and send a sympathy card soon after learning about the death. Cards can often feel reassuring in the immediate aftermath of a death because they can help the grieving person feel less alone.
Also Read: Our Picks The The Top 10 Get Well Soon Gifts
What Phrases to Avoid
Generally, a sincere message will always be well-received. People dealing with a death are often experiencing a hectic time, and they most likely won't even remember the specifics of your message. But they will remember if you reached out in a positive way.
However, there are certain phrases you'll probably want to avoid. They can be misinterpreted and be unintentionally upsetting. Don't write the following messages in a sympathy card:
"Everything happens for a reason" – This can sound thoughtless.
"He/she was so young" – This statement adds an unnecessary element of hardship.
"I know how you feel" – This statement can feel presumptuous.
Also, avoid any messages which offer advice about what the person should do. Everybody grieves in different ways. Comparing your situation to someone else's can make it seem like you're trying to "one-up" them and minimize what they're going through.
Condolence Cards: Suitable for Many Different Situations
Condolence cards are the go-to type of sympathy card, appropriate in a wide range of scenarios. Common reasons you might need a condolence card include:
You knew the deceased well and want to send a condolence card to their family (who you don't know very well).
A person close to someone you know well passed away (but you didn't know the deceased very well)
Someone you don't know very well suffered a loss. The person could be a co-worker, acquaintance or similar.
In most of these situations, you're communicating with or about someone you didn't know very well. This likely means you won't be able to include much personalization in your message. But that's okay. Something short and sincere will be just fine.
Examples of condolence messages include:
"Thinking of you during this difficult time."
"Offering my sincere condolences."
"Please accept my deepest sympathies."
When offering condolences to surviving family members who you don't know very well, include a brief description of how you know the deceased such as "friend from college" or "co-worker for 15 years."
How to Express Appreciation for the Deceased
As much as possible, you want to personalize your sympathy card message. Focus on all the qualities you admired in the deceased. Knowing how their loved one inspired others can be a great source of comfort for surviving family members.
Try to be as specific as possible. If the person was a co-worker, mention how seeing them every day at the office was a delight. If the person was a teacher, talk about the impact they had on your life or career. If you're comfortable doing so, feel free to include a brief anecdote about the deceased.
Examples of Messages Which Show Appreciation Include:
"I'll always remember the kindness your mother showed me as my 10th-grade teacher."
"More than just a colleague, your son was a close friend as well."
"Your father will be missed by our entire family."
Offer to Help
Death can certainly feel overwhelming for the living. Many different tasks often to need be completed following the death of a loved one, which can be logistically difficult, especially because the survivors are grieving. If you're willing and able, include an offer of help with your message. While many people offer to be there when needed, offering specific assistance is often useful and appreciated.
Some ways you can help include:
Childcare
Meal preparation
House or yard work
Covering work shifts or other job-related obligations
Of course, don't make any promises you can't keep. But offering to help with a concrete task can be a practical way to help ease the grieving process. Also, remember many people will naturally refuse your offer at first out of politeness. It's okay to make the offer a second time and gently insist you really do want to help.
Send a Follow-Up Card
While you want to send a sympathy card soon after learning about a death, that's not the only time a card is appropriate. An additional card sent a few weeks or months after the death occurred can show the survivors they are still in your thoughts.
Birthdays, anniversaries and other important dates can be especially tough times for someone who has lost a loved one. Sending a card to acknowledge these special days is an easy way to show support.
Examples of follow-up messages include:
"Thinking of your mom on her birthday. So many fond memories of her."
"Even though this first Christmas without James is tough, you're in my thoughts and prayers."
"Not a day goes by when I don't think about the wonderful impact your son had on my life."
Final Thoughts
Death can be a difficult and uncomfortable subject to discuss. But don't worry. Nobody is expecting profound literature. Don't let the idea of writing a message make you anxious. Instead, keep your message short and sincere. A card with a thoughtful message is often a great way to reach out and help someone through a difficult time.