Some links on this page are monetized by affiliate programs - see disclosure for details.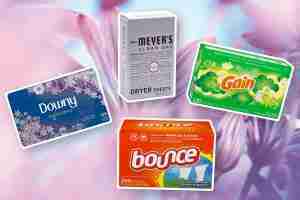 If you already use dryer sheets when washing and drying your clothes, then you know how beneficial they are. However, if you've never used them, you're probably completely unaware of how much you're missing it.
The best dryer sheets are designed to give your clothes a soft, soothing feel and a satisfying smell when you pull them out of the hot dryer. You simply insert the sheets in the dryer as it's drying clothes (or bedding and towels), and let the sheets work their magic. If you're looking for the top-rated smelling dryer sheets on the market, but are unaware of which ones are the best, this is the guide for you!
Compare the Top Ten Best Smelling Dryer Sheets of 2021

What to Know About Dryer Sheets
When perusing dryer sheets (sometimes known as fabric softener sheets), you'll probably start to think that they're all about the same. And while they do perform the same general function, the extent to which they perform that function varies.
In order to choose the right dryer sheets for you, there are a number of things you must consider. They include the number of sheets per pack, their scent, their overall capabilities, and their included ingredients.
Amount
Dryer sheets come in packs of all different sizes. While some packs include only around 80 sheets, others include around 250 sheets. The amount you purchase depends entirely on how many you'll need in the near future. While you can typically save money by buying in bulk, you don't want to overspend on dryer sheets which you end up not liking.
Scent and Smell
Dryer sheets are available with a bevy of different scents, from mountainy, atmospheric scents, to grassy, subdued scents. The type you choose is entirely dependent on your preferences. Just remember that this scent will follow your clothes everywhere. You can also choose fragrance-free versions if you are sensitive to smells or allergic to certain scents and ingredients.
Capabilities
Whereas some dryer sheets will only work to make your clothes softer to the touch (hence the "fabric softener sheets" name), other dryer sheets can reduce static electricity and prevent your clothes from clinging to your skin. If you're going to buy dryer sheets, you'd might as well buy the ones which prevent clinging and soften your clothes. Of course, dryer sheets with fragrances can also add a nice smell to your clothes.
Ingredients
Dryer sheets can include a number of different materials, some of them natural and some of them synthetic. While most of these ingredients are safe, some of them can be irritating to those who suffer from sensitive skin. There are dryer sheets on the market which are designed solely for those with sensitive skin. Keep an eye out for them if you've got this problem.
Top 10 Best Smelling Dryer Sheets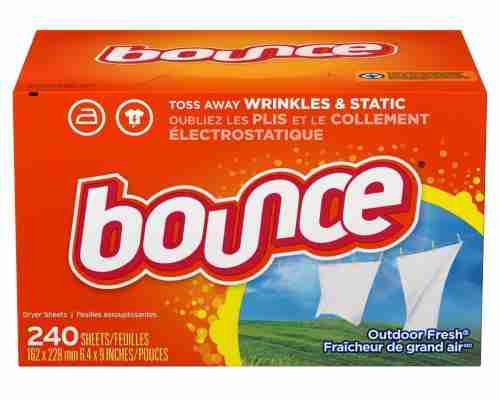 The first dryer sheets we'll review are the Bounce Fabric Softener Sheets. These come in a rather large box of 240 sheets, allowing to use them over quite a long period of time. Despite this, they're really pretty affordable.
They possess a sort of outdoor summer morning scent which is exactly what you want when it comes to clothes. It's fairly subdued, but still noticeable enough to make a legitimate difference.
These sheets are designed specifically to hinder the transfer of static electricity. This will not only prevent you from unwanted shocks, but from clingy, uncomfortable clothing as well. In addition to fighting off static electricity, these also do a terrific job of staving off wrinkles.
Compatible with any brand of dryer, they're made with a polyester substrate. They have a fairly thick construction, allowing them to be torn in half for lighter loads of laundry. All in all, these are phenomenal; arguably the best dryer sheets around.
Pros
Designed to prevent static buildup
240 count will last over long period of time
Compatible with all dryers
Helps to stave off wrinkles
Cons
No major cons to speak of
---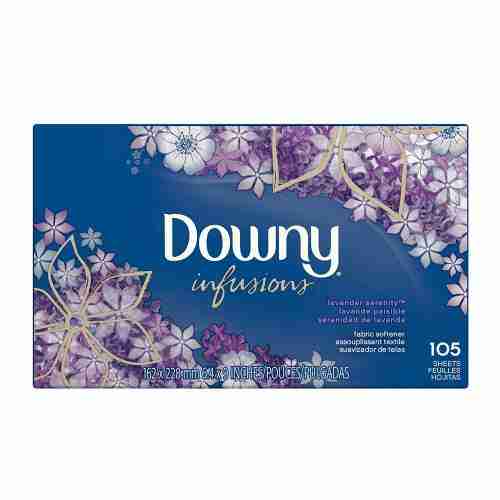 Next up on our list are these sheets from the reputable company, Downy. In terms of quality, these are right on par with the Bounce sheets reviewed above. The only legitimate difference is in the total amount of sheets. This pack has about half as many sheets as the Bounce pack, but is also around half the price.
Scent-wise, these have a fairly subdued lavender aroma. It's a pretty sweet and pleasant aroma overall, and shouldn't do much to disturb your senses.
Like the Bounce sheets, these do a terrific job of preventing static buildup. You shouldn't have to worry about your clothes clinging to your skin after a wash. They provide your clothes with a very soft and soothing texture.
Altogether, these are fantastic sheets. You aren't going to find any that are too much better. For such a low price, there's no excuse not to give them a try.
Pros
Pleasant lavender scent
Stave off static electricity
Leave a soft texture that's gentle on skin
Very affordable
Cons
No major cons to speak of
---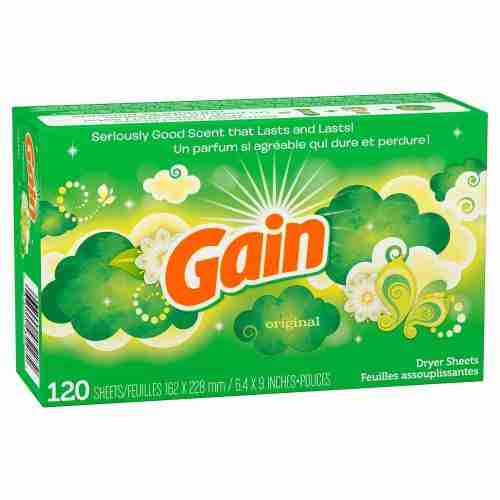 The Gain Dryer Sheets are right up there with the best, coming in packs of 120 at a price that is very comparable to the Downy sheets reviewed above.
These sheets pack the original Gain scent; a scent that smells something like freshly mown grass and assorted fruits. There are, however, other Gain dryer sheets available with the scents Moonlight Breeze and Tropical Sunlight.
Like the others, these are designed to reduce static buildup, ensuring dried clothes which fit comfortably against your skin.
In essence, there's no reason not to buy these. They get the job done as well as any, and provide a refreshing scent to boot. For such a low price, you've really got nothing to lose.
Pros
Pleasant, neutral, and grassy scent
Very affordable
Prevent the buildup of static
Come in packs of 120
Cons
No major cons to speak of
---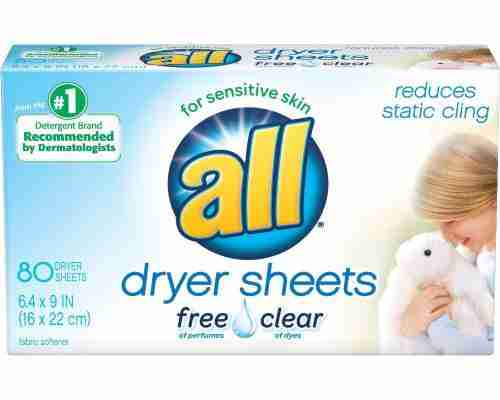 These all dryer sheets are of fairly high-quality, but are a little more expensive than the ones reviewed above. They're available for around the same price as the Gain and Downy sheets, but come in packs of 80 instead of 120.
They're designed to be specifically accommodating to sensitive skin. However, they don't really do much more than the sheets reviewed above. Which is to say, they're still useful, but for a price that can't quite be justified.
Manufactured to reduce static buildup, they leave your clothes feeling fairly soft to the touch and easy to wear.
While these aren't supposed to have a scent, they do have a bit of a chemical smell to them. It's not overwhelming, but it can be a little annoying, especially if you're not expecting it. Overall, these are the best scent-free dryer sheets that we've tested.
Pros
Does a terrific job of reducing static buildup
Leave clothes feeling fairly soft
100% free of dyes and perfumes
Cons
Quality doesn't justify the cost
Possesses a slight chemical smell
---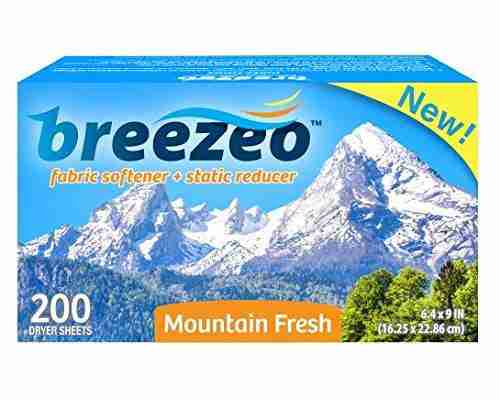 The next sheets on our list offer tons of uses for a reasonable price. Coming in packages of 200, they are about the same price as the Gain sheets reviewed above.
They have a Mountain Fresh scent which comes across as something like a wide open pasture on a spring day. The only problem with the smell is that it's ridiculously overwhelming, to say the least. For some, it might even be unbearable.
The sheets do, however, serve their purpose by doing a great job of eliminating static electricity. They make clothes soft and soothing to the touch.
If you're not bothered by strong scents, you can get a lot of bang for your buck with these. But if you're repulsed by strong scents, you'd be much better off looking elsewhere. You don't want to have to deal with unbearable aromas all day.
Pros
Fight off static electricity terrifically
Leave clothes feeling soft and soothing
Extremely affordable
Come in packages of 200
Cons
Smell can be too much for some
---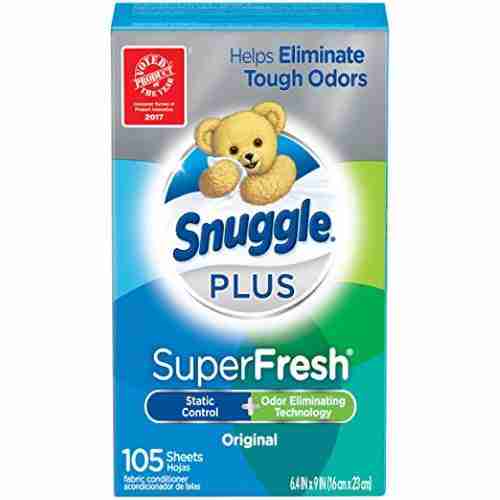 A great budget buy is this set of Snuggle dryer sheets. These affordable dryer sheets come in packs of 105, and provide quite a bit in terms of softening capabilities and static reduction.
The scent of these sheets is fairly pleasant, possessing a grassy, earthy quality. However, it might be a tad too strong for some tastes. There are more subdued dryer sheets on the market in terms of scent.
These sheets aren't quite as thick as some, but are thick enough to get the job done. In most cases, you won't be able to tear them in half. A half of a sheet won't suffice for most standard size loads.
In essence, this is a good, but not remarkable set of dryer sheets. It will, however, get the job done when you need it to. If you're looking for something reliable on the cheap, this is it.
Pros
Available for a very reasonable price
Possess a pleasant, earthy scent
Come in packs of 105
Help to reduce static
Cons
Scent is on the strong side
---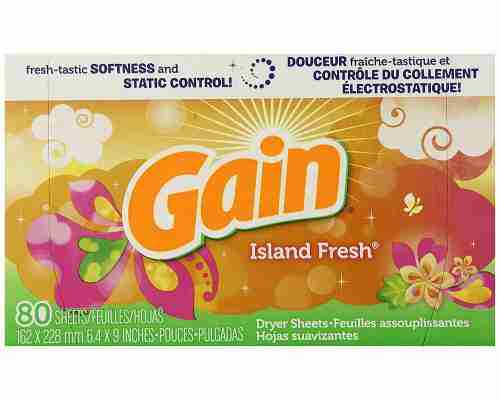 These next dryer sheets are of fairly high quality, but are most definitely on the expensive side when compared to other sheets. Still, these are some solid sheets and Gain makes the best-smelling dryer sheets in our opinion. They possess a fruity, tropical scent that won't overwhelm your laundry.
These Gain dryer sheets are fairly thick, allowing you to cut them in half when used in small loads of laundry. This will, at the very least, give you a little more bang for your buck and a great way to extend the life of this 80-pack.
In summary, these are very nice dryer sheets, but more expensive. The only reason you should choose them over less expensive options is if you enjoy their specific scent. You'll be hard-pressed to find this scent elsewhere.
Pros
Possess a very pleasant and unique scent
Will reduce static
Possess a thick construction
Add a soft touch to clothing
Cons
---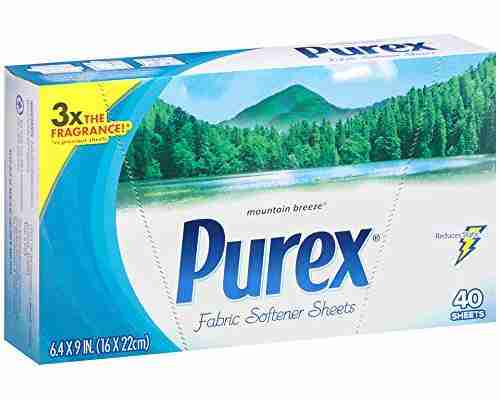 If you're seeking out a handful of dryer sheets for a very reasonable price, these ones from Purex are arguably your best option. Coming in packs of 40, they don't do anything out of the ordinary, but are some of the least expensive dryer sheets on the market.
They possess a mountainy, piney fragrance that is fairly subdued compared to others. Unfortunately, while the scent is pleasant, it tends to wear off rather quickly. This is fine if you don't like additional scent on your clothes, but a problem if you do.
Fortunately, they're thick enough to tear in half and use in smaller sized loads of laundry. This will allow you to get excellent value for your money.
Altogether, these are a solid budget buy. For the price, you can't expect anything better. If you're just looking for something usable, this is a decent option.
Pros
Pleasant mountain-y scent
Help to reduce static
Add softness to clothing
Cons
Scent wears off rapidly
Only come in packs of 40
---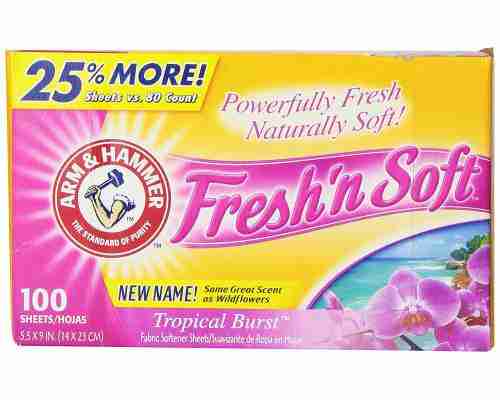 This set of dryer sheets from Arm & Hammer is a solid set for an average price. Coming in packs of 100, it will likely last you over at least half a year.
The scent of these sheets is fruity, flowery, and tropical, evoking a feeling of springtime by the ocean. This aroma is fairly subdued, adding just a hint to your clothes, and not overwhelming them entirely.
These sheets do a terrific job of preventing static buildup, ensuring that your clothes don't cling and stick to your body.
Possessing a fairly thick construction, they can be ripped in half when used with small loads of laundry. Overall, these are fairly standard dryer sheets at a slightly above average price. If you enjoy the scent, there's no reason not to buy them.
Pros
Prevents static buildup
Adds a refreshing tropical scent to your clothing
Makes clothing soft to the touch
Possess fairly thick construction
Cons
---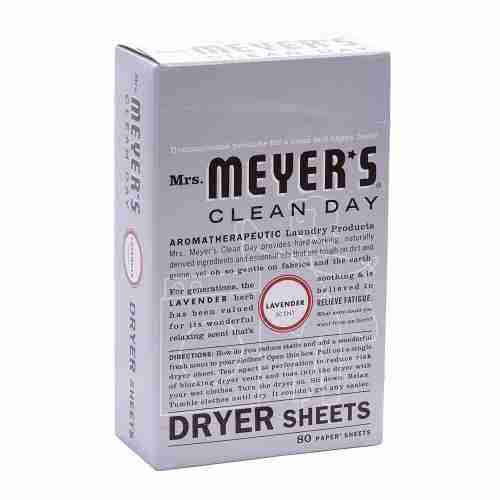 The last sheets on our list are these ones from Mrs. Meyer's. Coming in packs of 80, they possess a pretty lavender aroma. The only problem with it is that it can be a little overwhelming at times. If you're sensitive to smells, it might not be the most ideal choice for you.
Made entirely out of natural ingredients, these sheets are terrific for sensitive skin. These natural ingredients include essential oils as well as a softening agent which has been derived from vegetables.
While these aren't outstanding dryer sheets by any stretch, they are all-natural and void of animal-testing, making these the best eco-friendly dryer sheets we've tested.
Pros
Possess all-natural ingredients
Good for sensitive skin
Reduce static buildup
Cons
Only come in packs of 80
Scent can be strong for some
Frequently Asked Questions About Dryer Sheets
Can Dryer Sheets Harm my Clothes or Dryer?
Generally, dryer sheets are safe to use, but you'll want to be aware of a few potential risks. The sheets leave a light coating of softener on clothes and the inside of the dryer. Eventually, this coating can clog the lint filter and reduce air circulation.
To prevent dryer overheating, clean the lint filter with a fine brush and a solution of dish detergent and hot water. Of course, this is in addition to removing lint from the screen with each use of the dryer. The extra cleaning helps remove the invisible buildup from the dryer sheets.
Also, be sure to remove the dryer sheet after every load of laundry. Otherwise, the sheets can find their way into vents or filters and create a potential hazard. When throwing away a dryer sheet, make sure it's out of reach of children and pets.
What are Dryer Sheets Made of?
Many dryer sheets are created with the same base materials: nonwoven polyester. It is then soaked with a softener that activated when heat is applied, which then is able to spread through your laundry when tumbling dry.
What are Dryer Sheets Used For?
Dryer sheets although simple and easy to use, has many purposes. They work to remove the static build-up caused by heat in the dryer. They also make your fabrics smell fresh and new, being able to pick the perfect scent of your preference. Lastly, dryer sheets help make your fabrics softer to the touch, and who doesn't want that?