Some links on this page are monetized by affiliate programs - see disclosure for details.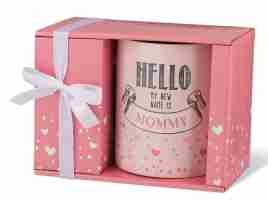 Being a new mom is one of the most exciting and fulfilling periods of any woman's life. After having spent between 9 and 10 months dealing with struggle, exhaustion, and morning sickness, they are rewarded with a brand new baby girl or boy. All of their hard work and sacrifice is finally paid off. This is clearly a cause for celebration. But how can you, as a friend or relative to a new mom, help her celebrate this wonderful time in her life? A gift is certainly a good place to start.
If you want to show your friend, sister, cousin or otherwise that you're proud of her and excited for her foray into parenthood, a gift can help to show her exactly how you feel. A small gift will go a long way in helping her ease into the huge responsibility of raising, nurturing, and mentoring a new human life.
These are the Top 10 Best Gifts for New Moms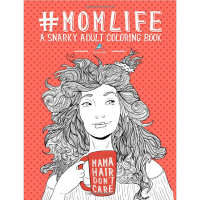 Being a new mom isn't all about looking after your child. New mother's need some time to themselves as well; some time to sit down, relax, and clear their minds. For that reason, we suggest your purchase the new mother in your life this Mom Life Adult Coloring Book.
Filled with 72 pages of humorous and relatable black and white pictures, this coloring book is a great resource for allowing new moms to express their artistic creativity. If the new mom in your life likes coloring and has a sense of humor, she will love this.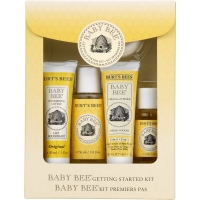 The biggest part of being a new mother is taking care of a brand new baby girl or boy. In order to do this, mother's must purchase a bevy of health-related products. To help the new mother in your life out with this endeavour, you might consider gifting her this Burt's Bees Baby Bee Getting Started Gift Set.
Equipped with five trial size baby products, including baby lotion, soap, shampoo, oil, and cream-to-powder, it has everything a new mother needs to maintain her child's hygiene. Made out of all-natural ingredients, these products are as pure as can be.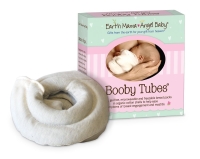 If the new mother in your life chooses to breastfeed her child, she's undoubtedly going to experience some pain and discomfort in her breasts. For this reason, we suggest that you purchase her these Baby Booby Tubes by Earth Mama Angel.
Made of 100% organic cotton and filled with natural flax seed, these breast packs can help to reduce swelling and pain between breastfeeding sessions. Capable of being placed in the refrigerator or being warmed up, they can be used as both ice packs and heating devices.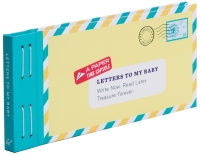 Although at the time it seems as if it's going by fairly slowly, a new baby's infancy really does fly by quickly. To help capture the precious moments in a baby's life, mothers are going to want to document them. That's why we suggest that you gift this Letters to My Baby Paper Time Capsule to the new mother in your life.
Filled with 12 fold-and-mail letters, this book allows new mothers to write handwritten notes to their young children which can be opened at a later date. This will allow these children to understand how their mothers felt about them while they were raising them into young adults.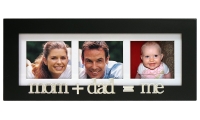 What new mother doesn't dote over her new child? There isn't a mother in the world who doesn't want to proudly display her beautiful baby boy or girl to the world. To help the mother in your life do this, you might consider purchasing her this Mom+Dad=Me Picture Frame by Malden.
Capable of holding up to three 3 x 3 pictures, this frame is labeled with the words "mom," "dad," and "me," allowing new mothers to display pictures of themselves, their husbands, and their new babies. Made out of black wood and adorned with silver metal letters, it will look great in any room.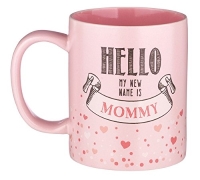 Between nursing their new children, changing their diapers, and keeping them happy, new mothers can begin to become a little exhausted. For this reason, they need to consume quite a bit of caffeine. That's why we suggest that you gift this coffee mug by Grasslands Road to the new mom in your life.
Adorned with the words "Hello My New Name is Mommy," it's the perfect coffee receptacle for any new mother. Made out of polished ceramic, it is capable of holding up to 12 ounces of liquid at one time.
Parenting for the first time can be fairly difficult. After all, it's not as if new parents get a chance to practice at it. For new mothers who have to nurse their babies and recover from pregnancy, it can be doubly difficult. But what might help a new mom is this baby survival guide by Dawn Dais.
Filled with 264 pages which describe the harsh realities and straightforward solutions of new motherhood, it is a borderline necessity for all new moms. Available in Kindle and paperback forms, it can be read in both traditional and modern styles.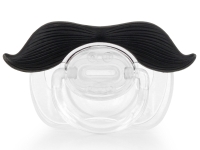 Raising a new baby boy or girl can be a strenuous task to say the least. Sometimes a mom just has to laugh once in awhile. Perhaps you can help her do this by purchasing her this Mustache Pacifier by Baby Epic.
Made out of BPA-free, odorless, 100% food-grade silicone, this mustachioed pacifier will help to calm down any baby, and bring everybody a laugh while doing so. Whether she has a baby girl or boy, the new mother in your life will undoubtedly love this gift.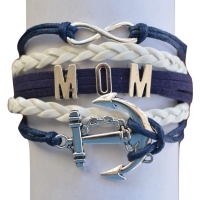 Most new mothers are proud to carry the title of "mom," and rightfully so. Bringing a new child into this world and raising him or her up into a well-balanced human being is one of the most admirable things a person can do. Perhaps the new mother in your life would like to carry this title by wearing this Mom Bracelet by Infinity Collection.
Made out of different types of clothes and metals, it can be adjusted to fit wrists of 6.5 inches in diameter to 8.5 inches in diameter. Adorned with a "MOM" charm, it is a perfect way for new mothers to represent their recent foray into motherhood.
A new mother's #1 priority is taking care of her new baby. To do this, she is going to need a lot of different products, from lotions, to powders, to pacifiers, to clothes, and more. That's why we suggest these Gerber Onesies as a gift for the new mom in your life.
Appropriate for both boys and girls, these onesies are available in sizes up to 9 months old. Made of 100% cotton and equipped with snap closures, they are both supremely comfortable and easy to put on.
What Makes a Great Gift for a New Mom?
New moms have just gone through some huge, monumental changes in their lives. These changes occur emotionally, psychologically, and physically. From a new sense of responsibility, to a more in-tune maternal instinct, to the gaining of weight in order to help produce a strong and healthy new baby, they have truly undergone complete transformations. In order to help them come to terms with these transformations, they need to know that the people who they love are on their side. They need to know that they have their undying love and support. But what type of gift demonstrates this?
There are a number of things to consider when choosing a gift for a new mother. If these things are taken into careful consideration and analyzed thoroughly, you will undoubtedly find that great gift.
Try to Make Her Life Easier
New mothers have a lot on their plates. From nursing their new child, to changing his or her diapers, to rocking him or her to sleep, they must put in a lot of time and effort in order to raise a healthy, happy, well-adjusted child.
For this reason, they need every resource at their disposal as is logistically possible. These resources will help the new mom in your life to accomplish tasks and take on responsibilities with less effort, and to do so in less time.
Work Within Your Budget
While you certainly want to purchase a gift for the new mother in your life, you also have to remember to take care of yourself as well. Between bills, food, rent, and perhaps the care of your own child, you have many needs that must be met with the money in your bank account.
For this reason, it's important to work within your specific budget. Regardless of what you get the new mom in your life, she will be happy that you thought of her and cared enough to get her anything in the first place. There are a number of useful gifts that can be purchased at reasonable prices.
Don't Disparage Comfort
Between waking up at all hours of the night, nursing, and recovering from a grueling pregnancy, new mothers are undoubtedly going to be exhausted. Not only are they going to want some time to relax, they're going to need some time to relax.
If you want to help make their relaxation time as fulfilling as possible, you might consider purchasing a gift that is comforting in some way; whether that be physically, psychologically, or emotionally.A new mom certainly isn't going to bulk at a gift that helps take some of the weight off her shoulders.
Consider Her Health
Pregnancy and new motherhood can put quite a strain on a woman. This strain manifests itself in equal parts physical, psychological, and emotional manners. There is often an effort by new mothers to put everybody else's needs before their own, neglecting themselves in the process.
It's vital that the new mother in your life remembers how important her health and wellbeing is as well. Try to think of how a gift to her can help promote a healthy lifestyle. After all, without a healthy mom, there can't be a healthy child.
Types of Gifts to Consider for New Moms
Fun Sedentary Gifts
After having just gotten through a long, grueling pregnancy, new mothers are not going to be in the mood for moving around a lot. However, they're still going to want to have fun. New motherhood is exhausting, and it's important that new moms can do things to help take some weight off of their shoulders every once in awhile.
A fun, sedentary gift can include anything from a coloring book, to a board game, to a video game, and more; anything that brings joy to a new mom's mind without requiring that she exerts a great deal of physical effort.
Items for the Baby
Sometimes the best gift for a brand new mom is a gift that will help her brand new baby. After all, for many mothers, their children become their entire lives. They dedicate themselves to making their children happy and fulfilled.
There are a number of items you could purchase for a new mom's baby, including onesies, bottles, pacifiers, and toys.
Healthy Living Gifts
As stated above, many new mothers have a tendency to neglect their own health and well-being in order to care for their child. But in order for the child to be as healthy as possible, it's necessary for the mother to be as healthy as possible.
Healthy living gifts, such as lotions, herbal teas, essential oil diffusers, or exercise equipment can help to foster an environment of positive physical, psychological, and emotional health.
Comfortable Clothing
Taking care of a newborn baby can be an exhausting and strenuous job. In order to make it as easy as possible, it's important that a new mother feels comfortable while doing it. So, what better way to help the new mother in your life feel comfortable than new comfortable clothing?
Comfortable clothing includes everything from robes, to shirts, to slippers, to pajamas, and more. Each of these items will help to make every new mother's life as calm and relaxing as possible.
How to Choose the Best Gift for the New Mom in Your Life
While choosing a gift for the new mother in your life may seem difficult, the truth of the matter is that it's rather easy. Most new mothers have a need for the same types of items, from baby clothes, to comfortable clothing for themselves, to sedentary games, and more. You must simply figure out what exactly the new mom in your life wants and needs.
Obviously, you shouldn't get her something that doesn't fit her specific personality type. But as long as it does, your gift can be just about anything. In any case, she'll be happy that you thought of her and that you were proud of her.
In Conclusion
Regardless of who the new mom in your life is, she is almost undoubtedly excited, and a little bit nervous about her foray into motherhood. From changing diapers, to nursing, to stifling cries and screams, she has a lot of exhausting, but fulfilling work ahead of her. To show her that you support her in her quest to raise a happy, healthy, well-functioning member of the human race, you should buy her a gift that helps her in her quest. Motherhood can be difficult. Motherhood can be rewarding. And motherhood can be everything in between. Show the new mother in your life that you care about her experience and journey. Buy her a useful and exciting new gift.